The N-Terminal Domain of Spike Protein Is Not the Enteric Tropism Determinant for Transmissible Gastroenteritis Virus in Piglets
1
State Key Laboratory of Agricultural Microbiology, College of Veterinary Medicine, Huazhong Agricultural University, Wuhan 430070, China
2
Key Laboratory of Preventive Veterinary Medicine in Hubei Province, The Cooperative Innovation Center for Sustainable Pig Production, Wuhan 430070, China
3
Departments of Pathology, College of Veterinary Medicine, University of Georgia, Athens, GA 30602, USA
4
College of Life Science and Technology, Huazhong Agricultural University, Wuhan 430070, China
*
Author to whom correspondence should be addressed.
Received: 4 March 2019 / Revised: 24 March 2019 / Accepted: 26 March 2019 / Published: 30 March 2019
Abstract
Transmissible gastroenteritis virus (TGEV) is the etiologic agent of transmissible gastroenteritis in pigs, and the N-terminal domain of TGEV spike protein is generally recognized as both the virulence determinant and enteric tropism determinant. Here, we assembled a full-length infectious cDNA clone of TGEV in a bacterial artificial chromosome. Using a novel approach, the clustered regularly interspaced short palindromic repeat (CRISPR)/CRISPR-associated protein 9 (Cas9) systems efficiently and rapidly rescued another recombinant virus with a 224-amino-acid deletion in the N-terminal domain of the TGEV
Spike
gene (S_NTD224), which is analogous to the N-terminal domain of porcine respiratory coronavirus. S_NTD224 notably affected the TGEV growth kinetics in PK-15 cells but was not essential for recombinant virus survival. In animal experiments with 13 two-day-old piglets, the TGEV recombinant viruses with/without S_NTD224 deletion induced obvious clinical signs and mortality. Together, our results directly demonstrated that S_NTD224 of TGEV mildly influenced TGEV virulence but was not the enteric tropism determinant and provide new insights for the development of a new attenuated vaccine against TGEV. Importantly, the optimized reverse genetics platform used in this study will simplify the construction of mutant infectious clones and help accelerate progress in coronavirus research.
View Full-Text
►

▼

Figures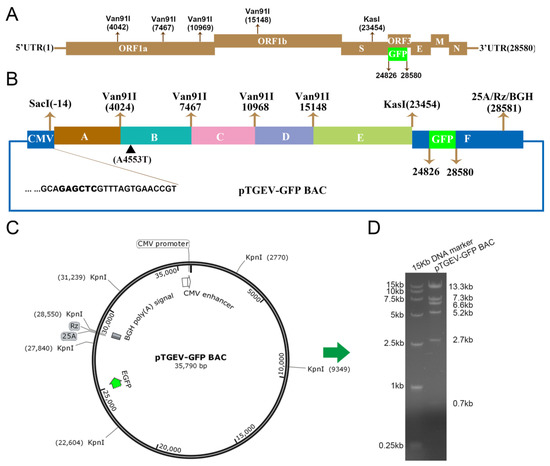 Figure 1
This is an open access article distributed under the
Creative Commons Attribution License
which permits unrestricted use, distribution, and reproduction in any medium, provided the original work is properly cited (CC BY 4.0).

Share & Cite This Article
MDPI and ACS Style
Wang, G.; Liang, R.; Liu, Z.; Shen, Z.; Shi, J.; Shi, Y.; Deng, F.; Xiao, S.; Fu, Z.F.; Peng, G. The N-Terminal Domain of Spike Protein Is Not the Enteric Tropism Determinant for Transmissible Gastroenteritis Virus in Piglets. Viruses 2019, 11, 313.
Note that from the first issue of 2016, MDPI journals use article numbers instead of page numbers. See further details here.
Related Articles
Comments
[Return to top]