Open Access This article is
freely available
re-usable
Review
The Clinical Features, Pathogenesis and Methotrexate Therapy of Chronic Chikungunya Arthritis
1
Department of Infectious Diseases and Tropical Medicine, Federal University of Minas Gerais, Belo Horizonte, Minas Gerais 31270-901, Brazil
2
Nuffield Department of Orthopaedics, Rheumatology and Musculoskeletal Sciences, University of Oxford, Windmill Road, Oxford, OX3 7LDR, UK
3
Department of Biochemistry and Immunology, Federal University of Minas Gerais, Belo Horizonte, Minas Gerais 31270-901, Brazil
4
Department of Immunology and Microbiology, University of Colorado School of Medicine, Aurora, CO 80045, USA
5
Section of Rheumatology, Allery and Immunology, Yale University School of Medicine, New Haven, CT 06510, USA
*
Author to whom correspondence should be addressed.
Received: 24 February 2019 / Accepted: 19 March 2019 / Published: 22 March 2019
Abstract
:
Chikungunya fever (CHIKF) is an emerging viral infection that has spread widely, along with its
Aedes
vectors, throughout the tropics and beyond, causing explosive epidemics of acute illness and persistent disabling arthritis. The rheumatic symptoms associated with chikungunya virus (CHIKV) infection include polyarthralgia, polyarthritis, morning stiffness, joint edema, and erythema. Chronic CHIK arthritis (CCA) often causes severe pain and associated disability. The pathogenesis of CCA is not well understood. Proposed hypotheses include the persistence of a low level of replicating virus in the joints, the persistence of viral RNA in the synovium, and the induction of autoimmunity. In this review, we describe the main hypotheses of CCA pathogenesis, some of which support methotrexate (MTX) treatment which has been shown to be effective in preliminary studies in CCA.
Keywords:
chikungunya virus; chronic chikungunya arthritis; pathogenesis; methotrexate
2. Chronic Chikungunya Arthritis
3. Replication Cycle of Chikungunya Virus
4. Pathogenesis of Chronic Chikungunya Arthritis
There are intriguing similarities in the immunological phenotypes of peripheral blood mononuclear cells of patients with RA and CCA (CCA), but the pathobiology of CCA is not well understood. Proposed hypotheses include the persistence of a low level of replicating virus in the joints, the persistence of viral RNA in synovium, and the induction of autoimmunity [
63
].
4.1. Cytokine/Chemokine Responses
4.2. Cellular Response
An inefficient antiviral response due to disturbed immune cell function (NK, T cell, B cell, etc.) may be a possible reason for the persistence of the virus and/or chronic arthralgia [
71
]. For example, in one study, the expression of NKG2A and CD94 inhibitory receptors on natural killer (NK)/natural killer T cell (NKT) cells from chronic CHIK patients was elevated [
71
]. Another study that examined human synovial biopsies with CCA showed a high fraction of activated CD69 + CD4 + T cells, suggesting that these cells may contribute to chronic disease [
64
]. Indeed, a study reported the reduced frequency of NK-like T cells, lower expression of perforin + NK, and higher expression of TNF-α + NK-like T and IFN-γ + NK-like T cells as markers of chronic arthritic diseases [
72
].
4.3. Autoimmunity
Experiments using non-human primates and mice demonstrated that the RNA and CHIKV antigen remained detectable in musculoskeletal and other tissues for months after infection. In mice, the long-term persistence of viral RNA was associated with chronic inflammatory pathology and immune activation [
73
]. In the mouse model, chronic arthritis may be related to persistent, replicating, transcriptionally active CHIKV RNA [
74
]. In contrast, in an analysis of 33 patients 22 months after acute infection, no viral RNA or proteins were identified in the synovial fluid, suggesting that viral persistence may not be necessary for persistent arthritis [
75
]. The authors suggested that autoantigens or autoreactive lymphocytes could be present in the synovium or muscle tissue, contributing to the CCA.
Immunohistology on muscle biopsies from two CHIKV-infected patients with a myositic syndrome showed that viral antigens were found exclusively inside skeletal muscle progenitor cells; viral RNA has also been detected in synovial and muscle tissue biopsies collected from patients with CCA [
51
,
63
,
76
].
5. Methotrexate Therapy of Chronic Chikungunya Arthritis
6. Conclusions
The reported improvement of CCA patients treated with MTX may be a pathway for understanding the uncertain pathogenesis of this emerging form of arthritis. The similarities in the clinical and pathogenic characteristics of CCA and RA make MTX an essential drug to evaluate in CCA. A better understanding of the treatment of CCA should provide further insights, not only in this disease, but in other forms of inflammatory arthritis, including RA.
Author Contributions
All authors have made substantial contributions to the conception of the work and have drafted the work or substantively revised it; A.N.D. has approved the submitted version; they agree to be personally accountable for their contributions and for questions related to the accuracy or integrity of any part of the work. Conceptualization, J.K.A., P.C.T., M.M.T., T.E.T.M. and R.T.S.; Writing—Original Draft Preparation, J.K.A., P.C.T., M.M.T., T.E.T.M. and R.T.S.; Writing—Review & Editing, J.K.A., P.C.T., M.M.T., T.E.T.M. and R.T.S.
Conflicts of Interest
The authors declare no conflict of interest.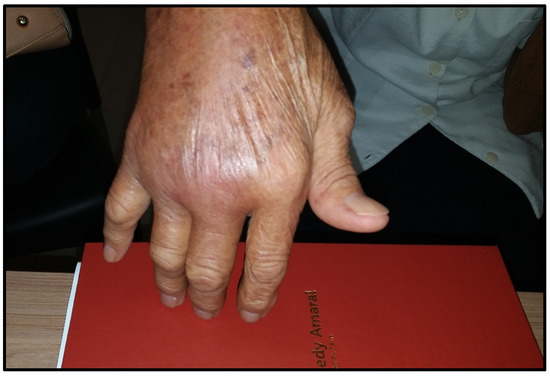 Figure 1. Woman, 82 years old, 2 years after CHIKV infection. Intense arthritis of metacarpophalangeal joints and wrist.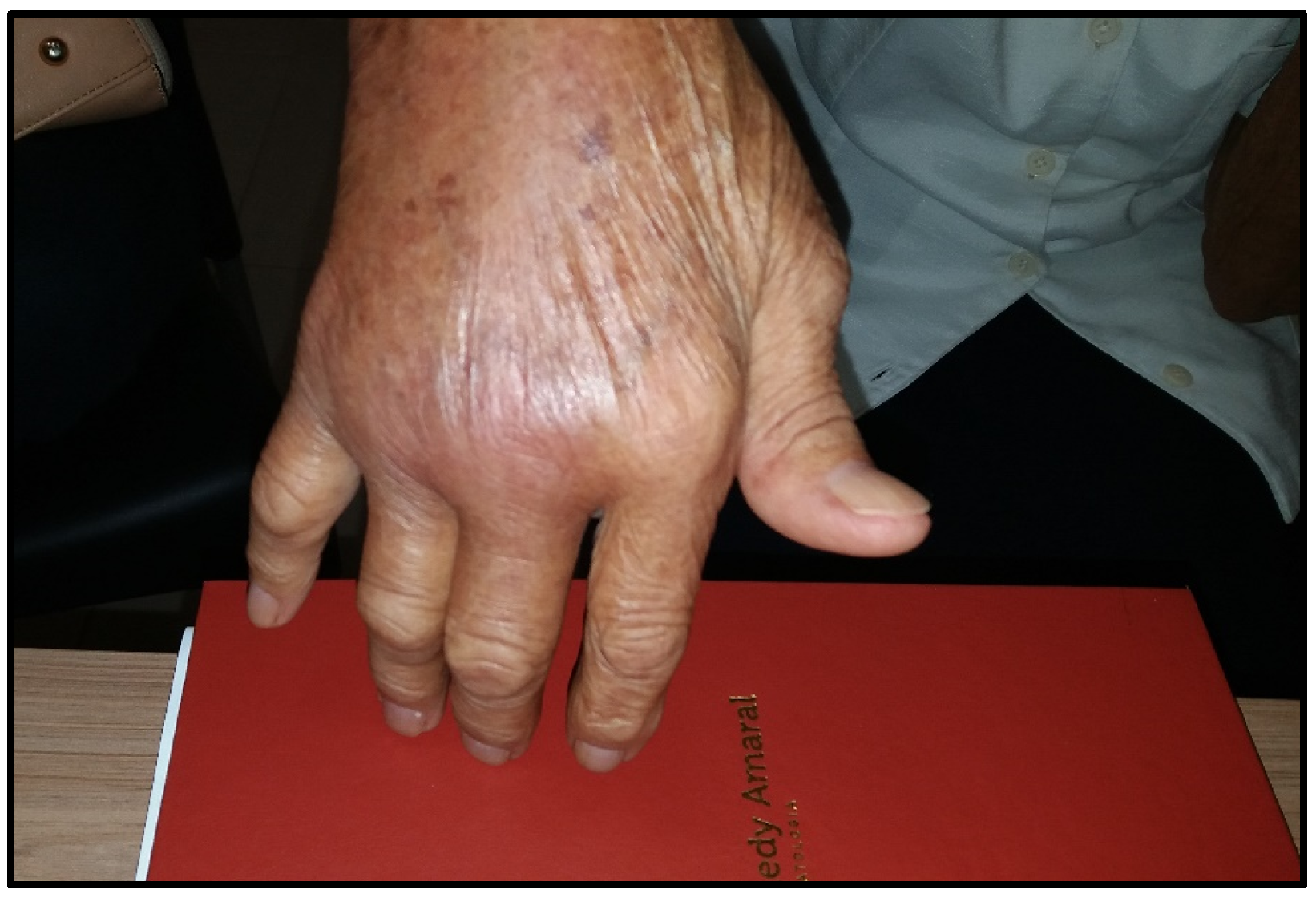 Figure 2. Cytokines that participate in the pathogenic process of acute and chronic phases of CHIKV infection and likely mechanism of action of MTX therapy.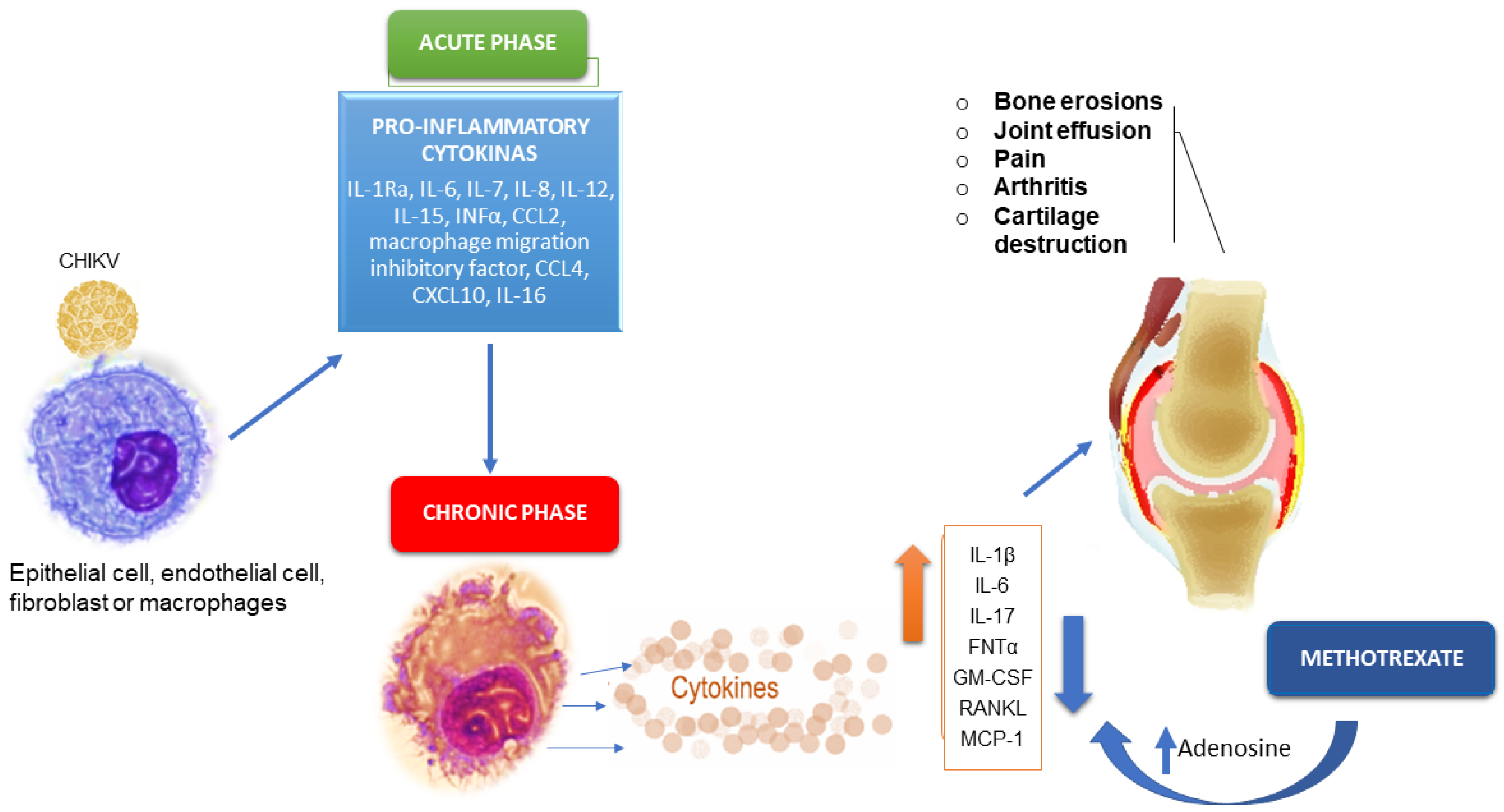 © 2019 by the authors. Licensee MDPI, Basel, Switzerland. This article is an open access article distributed under the terms and conditions of the Creative Commons Attribution (CC BY) license (http://creativecommons.org/licenses/by/4.0/).