Function, Architecture, and Biogenesis of Reovirus Replication Neoorganelles
1
Cell Structure Laboratory, National Center for Biotechnology, CNB-CSIC, Cantoblanco Campus, 28049 Madrid, Spain
2
Department of Pathology, Microbiology, and Immunology, Vanderbilt University School of Medicine, Nashville, TN 37232, USA
3
Department of Microbiology and Molecular Genetics, University of Pittsburgh School of Medicine, Pittsburgh, PA 15219, USA
4
Department of Pediatrics, University of Pittsburgh School of Medicine, Pittsburgh, PA 15224, USA
5
Center for Microbial Pathogenesis, UPMC Children's Hospital of Pittsburgh, Pittsburgh, PA 15224, USA
*
Authors to whom correspondence should be addressed.
Received: 26 January 2019 / Revised: 17 March 2019 / Accepted: 19 March 2019 / Published: 21 March 2019
Abstract
Most viruses that replicate in the cytoplasm of host cells form neoorganelles that serve as sites of viral genome replication and particle assembly. These highly specialized structures concentrate viral proteins and nucleic acids, prevent the activation of cell-intrinsic defenses, and coordinate the release of progeny particles. Reoviruses are common pathogens of mammals that have been linked to celiac disease and show promise for oncolytic applications. These viruses form nonenveloped, double-shelled virions that contain ten segments of double-stranded RNA. Replication organelles in reovirus-infected cells are nucleated by viral nonstructural proteins µNS and σNS. Both proteins partition the endoplasmic reticulum to form the matrix of these structures. The resultant membranous webs likely serve to anchor viral RNA–protein complexes for the replication of the reovirus genome and the assembly of progeny virions. Ongoing studies of reovirus replication organelles will advance our knowledge about the strategies used by viruses to commandeer host biosynthetic pathways and may expose new targets for therapeutic intervention against diverse families of pathogenic viruses.
View Full-Text
►

▼

Figures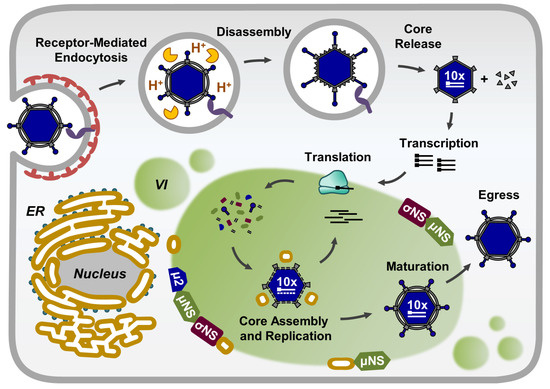 Figure 1
This is an open access article distributed under the
Creative Commons Attribution License
which permits unrestricted use, distribution, and reproduction in any medium, provided the original work is properly cited (CC BY 4.0).

Share & Cite This Article
MDPI and ACS Style
Tenorio, R.; Fernández de Castro, I.; Knowlton, J.J.; Zamora, P.F.; Sutherland, D.M.; Risco, C.; Dermody, T.S. Function, Architecture, and Biogenesis of Reovirus Replication Neoorganelles. Viruses 2019, 11, 288.
Note that from the first issue of 2016, MDPI journals use article numbers instead of page numbers. See further details here.
Related Articles
Comments
[Return to top]