Open Access This article is
freely available
re-usable
Review
Cat and Mouse: HIV Transcription in Latency, Immune Evasion and Cure/Remission Strategies
Département de Microbiologie et Infectiologie, Faculté de Médecine et des Sciences de la Santé and Centre de recherche du CHUS, Université de Sherbrooke, Sherbrooke, QC J1E 4K8, Canada
*
Author to whom correspondence should be addressed.
Received: 16 January 2019 / Accepted: 13 March 2019 / Published: 18 March 2019
Abstract
:
There is broad scientific and societal consensus that finding a cure for HIV infection must be pursued. The major barrier to achieving a cure for HIV/AIDS is the capacity of the HIV virus to avoid both immune surveillance and current antiretroviral therapy (ART) by rapidly establishing latently infected cell populations, termed latent reservoirs. Here, we provide an overview of the rapidly evolving field of HIV cure/remission research, highlighting recent progress and ongoing challenges in the understanding of HIV reservoirs, the role of HIV transcription in latency and immune evasion. We review the major approaches towards a cure that are currently being explored and further argue that small molecules that inhibit HIV transcription, and therefore uncouple HIV gene expression from signals sent by the host immune response, might be a particularly promising approach to attain a cure or remission. We emphasize that a better understanding of the game of "cat and mouse" between the host immune system and the HIV virus is a crucial knowledge gap to be filled in both cure and vaccine research.
Keywords:
HIV; latency; transcription; cure; remission; immune evasion; immunotherapy
Funding
Work on HIV cure research was supported by a CIHR Operating Grant (Funding Reference Number CHR-126637), and by The Canadian HIV Cure Enterprise Team Grant HIG-133050 to B.B. from the CIHR in partnership with CANFAR and IAS.
Acknowledgments
We thank Annie Leclerc for assistance in the preparation of figures. We thank all members of CanCURE for helpful discussions. We thank two anonymous reviewers, John Rohde, Arndt Benecke and Robert Reinhard for critical comments on the manuscript.
Conflicts of Interest
The authors declare no conflict of interest. The funders had no role in the design of the study; in the collection, analyses, or interpretation of data; in the writing of the manuscript, or in the decision to publish the results.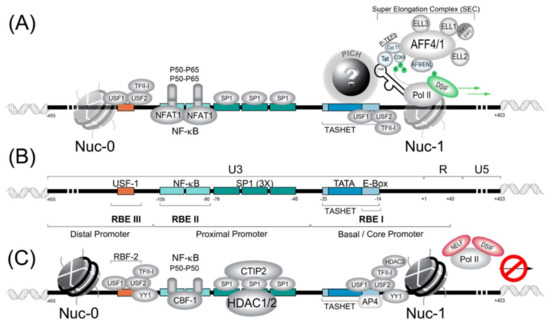 Figure 1.
The human immunodeficiency virus (HIV) 5′ long terminal repeat (LTR) promoter region responsible for directed viral transcription is schematically represented. (
A
) The HIV LTR in its active state is depicted where host cell transcription factors and viral Tat activate transcription.
PICH
refers to
p
re-
i
nitiation
c
omplexes of
H
IV whose full identity remains an enigma.
TASHET
is the
T
ATA box and
a
djacent
s
equences of
H
IV
e
ssential for
T
at
trans
-activation. The
s
uper
e
longator
c
omplex (
SEC
) is shown at the right. (
B
) For clarity, key
cis
-acting DNA elements are shown in the absence of transcription factors.
RBE
refer to
R
BF-
b
inding
e
lements. (
C
) The HIV LTR is shown in a hypothetical repressed state associated with viral latency.
RBF
-2 refers to the
R
as-
r
esponsive region
b
inding
f
actor
2
. Note that certain transcription factors can play both positive and negative roles in HIV latency depending on the cellular context. See text for details.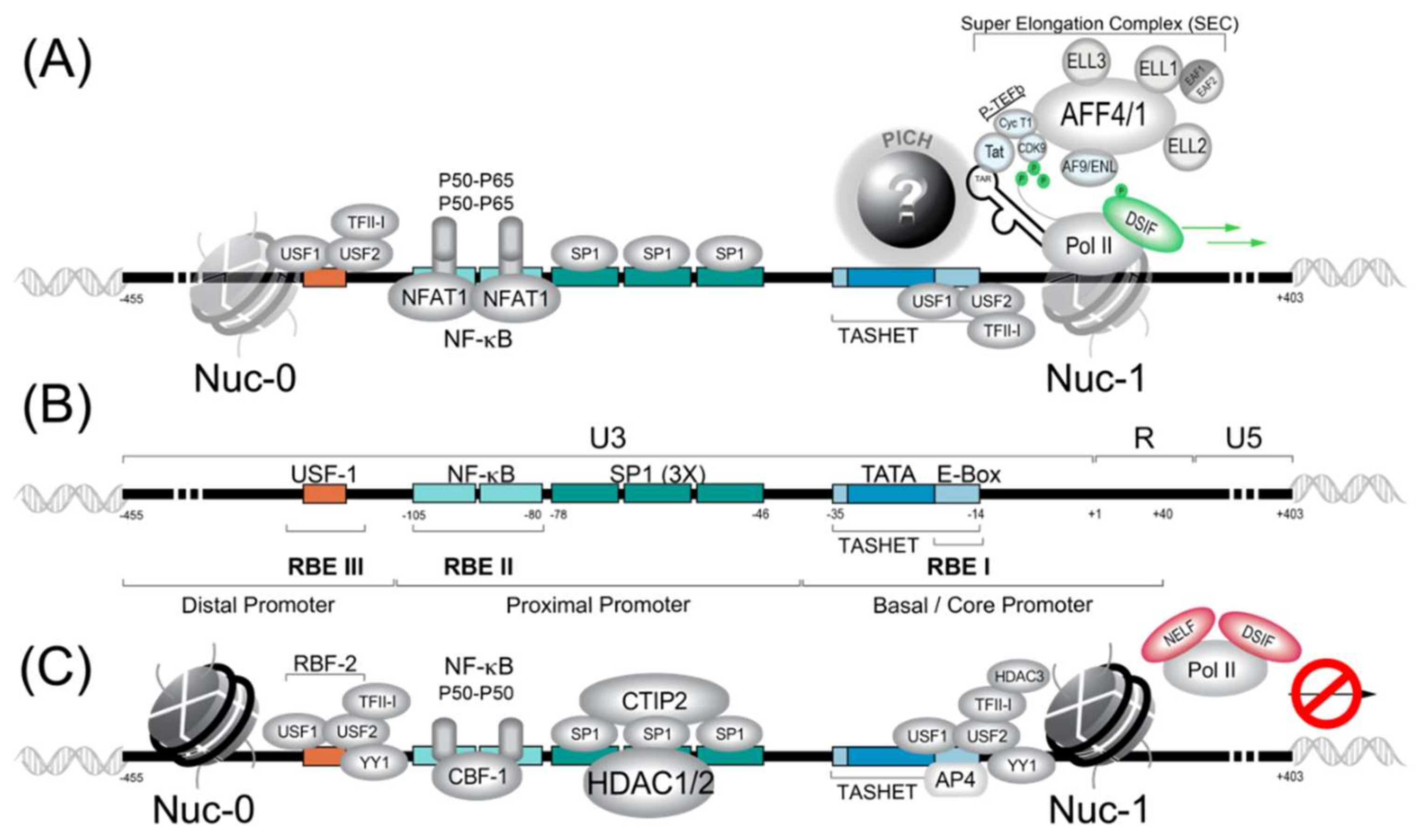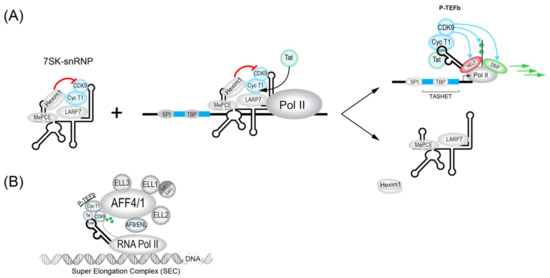 Figure 2.
The role of the 7SK-snRNP/Tat/TAR in the activation of the HIV LTR is schematized. (
A
) The inactive HEXIM1-bound form of the 7SK-snRNP complex (left) forms upon the HIV LTR in its inactive state (middle). The HIV Tat
trans
-activator binds to Cyclin T1 to favor the recruitment of the active P-TEFb upon the HIV LTR (right top) and the release of an inactive form of 7SK-snRNP that lacks HEXIM1 (right bottom). Active P-TEFb phosphorylates the CTD of Pol II and other elongation factors to promote elongation of transcription. (
B
) A more detailed schematic view of Tat during activation of the HIV LTR in association with the super elongator complex (SEC). Tat plays a crucial role in the reactivation of HIV from latency and its action can be mimicked by several latency reversing agents (LRAs), such as JQ1.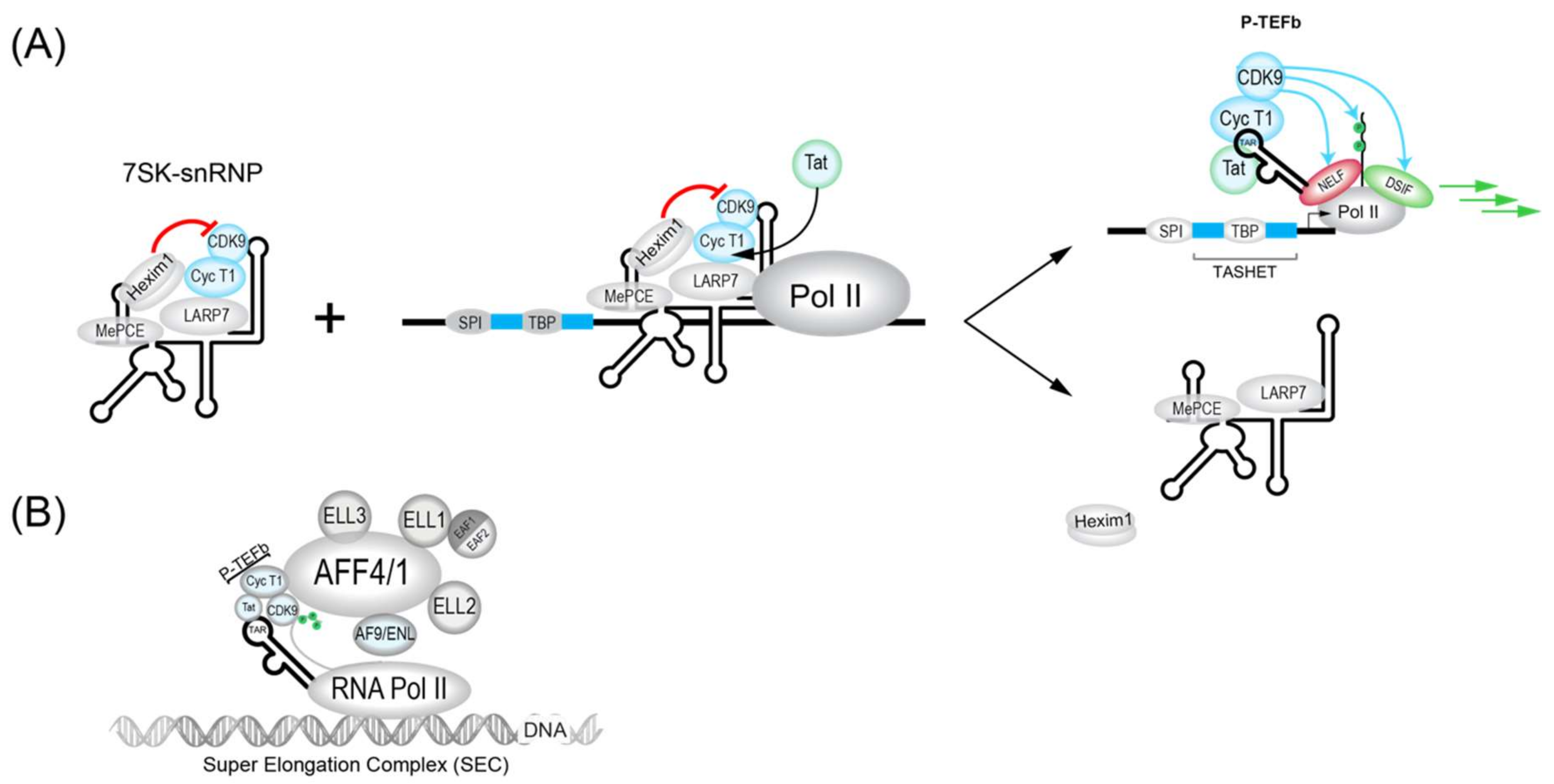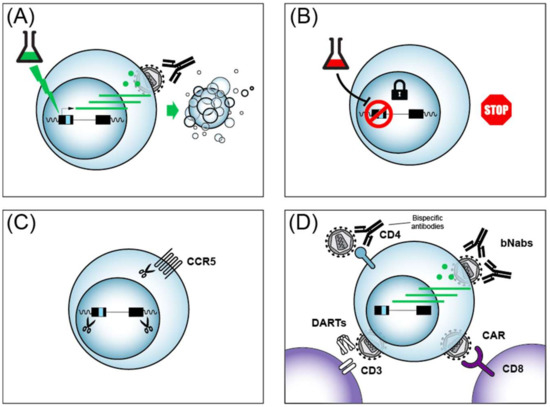 Figure 3. Four major strategies for an HIV cure or remission. (A) The shock and kill strategy to purge viral reservoirs is illustrated. See text for details. (B) The block and lock strategy for a functional cure with HIV in deep latency is illustrated. See text for details. (C) Genome editing by CRISPR/Cas9 to excise the HIV provirus or edit essential host dependency factors (e.g., CCR5). (D) Immunotherapy strategies to enhance the host cell immune response against HIV. CD4+ helper lymphocytes are in blue and CD8+ cytotoxic lymphocytes are in purple.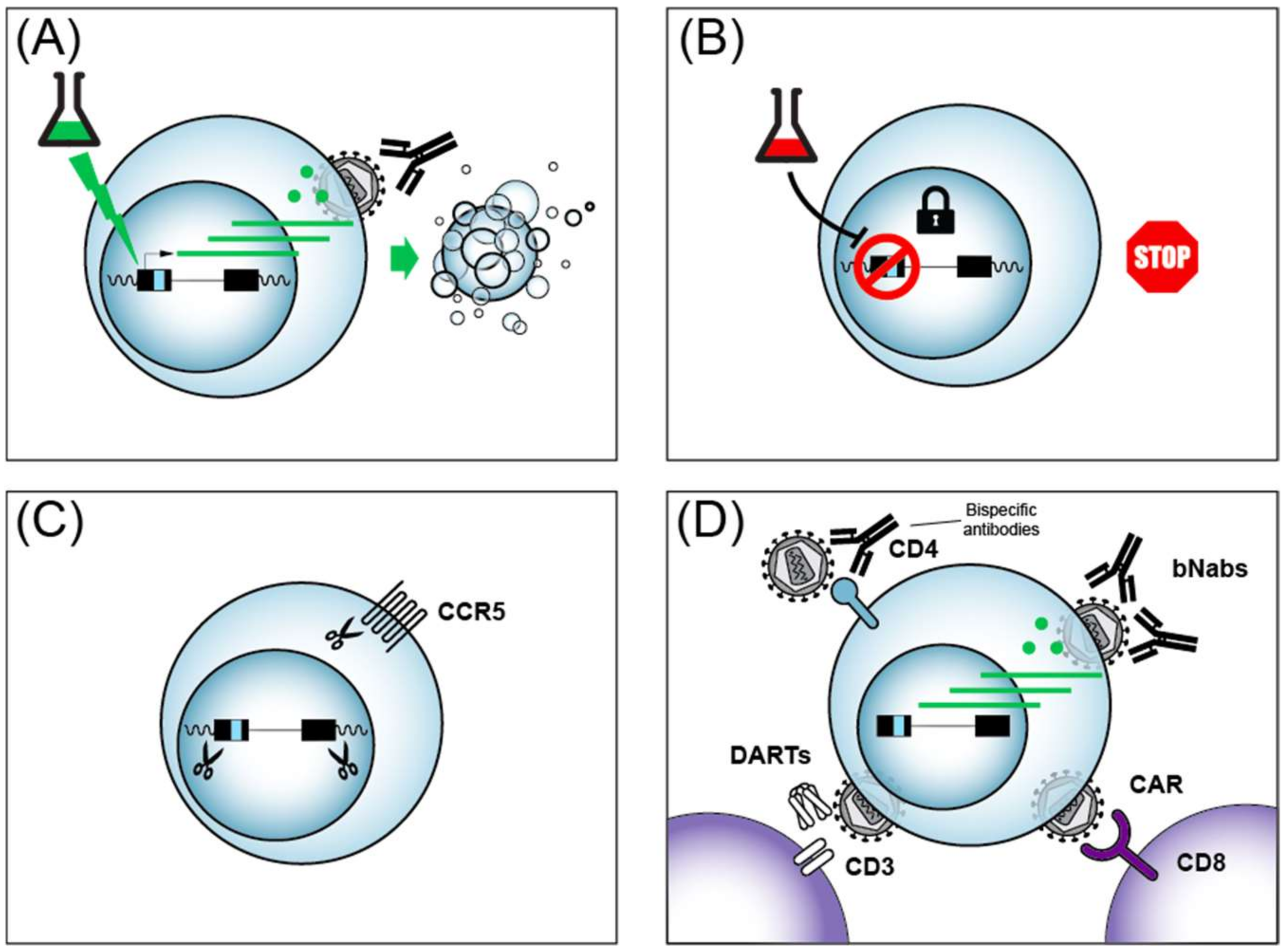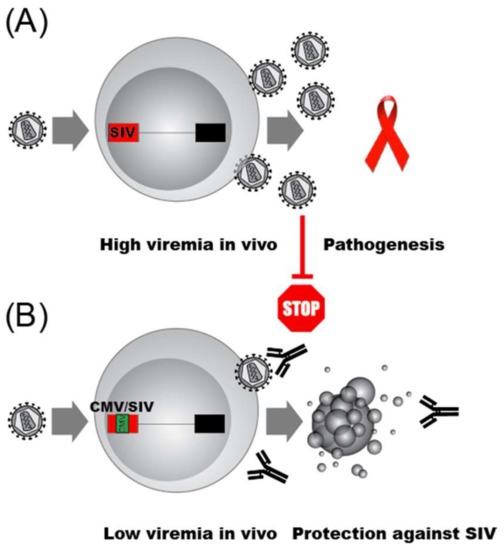 Figure 4. The essential role of the SIV LTR in immune evasion is depicted. (A) A virus containing the wild type promoter infects to produce high viremia levels and AIDS-like disease in macaque monkeys. (B) A virus with a chimeric promoter, in which a portion of the SIV promoter has been replaced by a fragment of the CMV promoter, is replication competent but produces the same peak viral output as the parental SIV in cultured cells, but low level viremia in macaque monkeys. Animals infected by a virus whose expression is driven by the SIV/CMV swapped promoter achieve immune clearance of the SIV/CMV chimeric virus and are then protected against infection by the wild type SIV virus.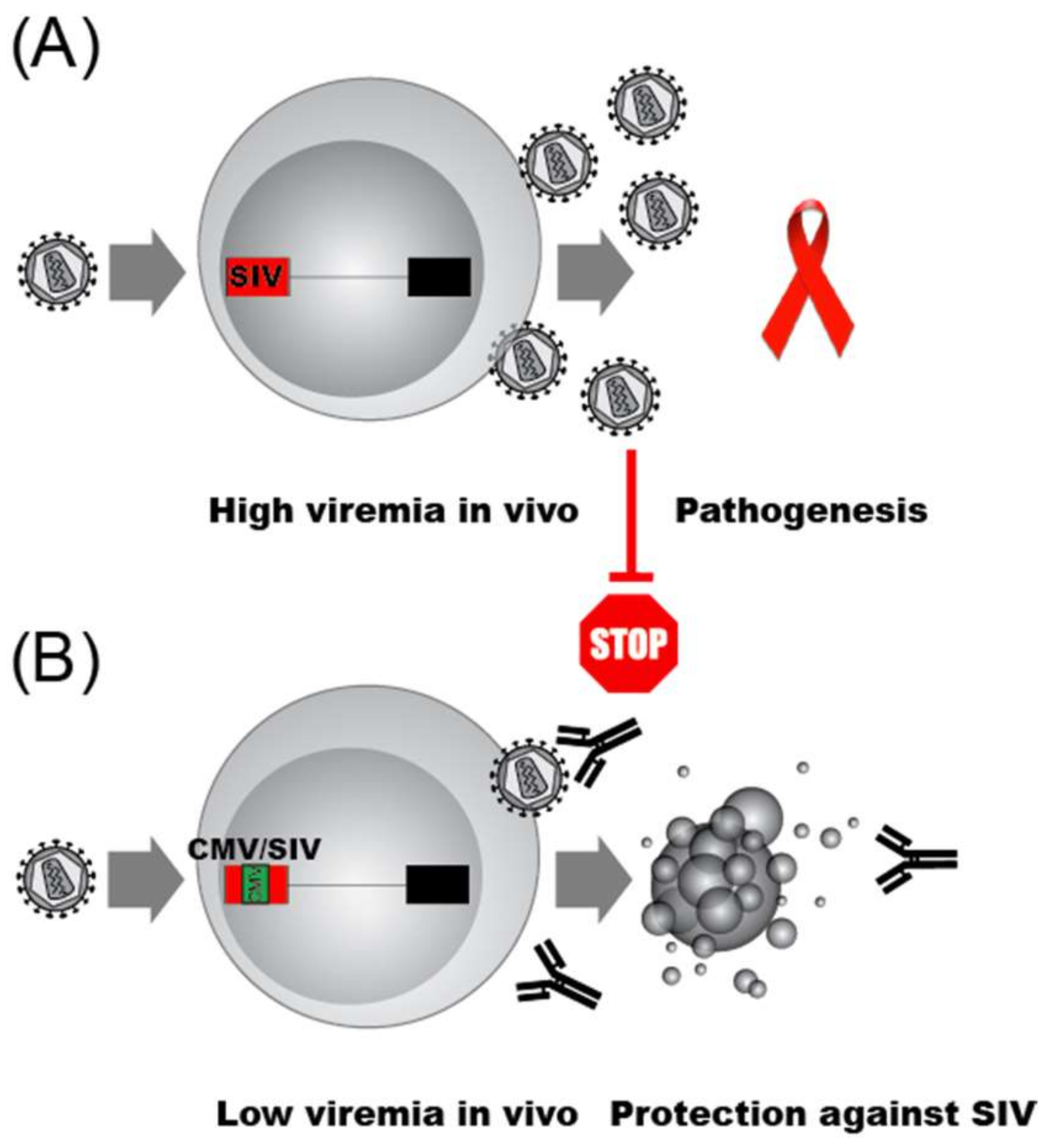 | Latency Reversing Agent (LRA) * | LRA Class (Target/Pathway) | Reference (s) |
| --- | --- | --- |
| Valproic acid | HDAC inhibitor | [284] |
| SAHA | HDAC inhibitor | [285] |
| Romidepsin | HDAC inhibitor | [286] |
| JQ1 | BET domain inhibitor/BRD4 | [199] |
| MMQO | BET domain inhibitor/BRD4 | [201] |
| Prostratin | Stimulates PKC/NF-κB | [287] |
| BIX01294 | Methyltransferase inhibitor | [288] |
* Note that to date clinical trials with LRAs have not shown a significant reduction in viral reservoirs (see text).
| Latency Promoting Agent (LPA) | LPA Mode of Action | Animal Model Data | Clinical Trial Data |
| --- | --- | --- | --- |
| dAC | Binds HIV tat to inhibit transcription [292] | Represses viral rebound in BLT humanized mice [289] | N.A. |
| ABX464 | HIV Rev inhibitor [296]; HIV splicing enhancer [298] | Delayed viral rebound in NOG humanized mice [297] | Good safety and tolerability; measurable reduction in HIV DNA [304] |
| Curaxin (CBL0100) | FACT inhibitor [300] | N.A. | N.A. |
| levosimendan | Inhibits HIV transcription [301] | N.A. | N.A. |

© 2019 by the authors. Licensee MDPI, Basel, Switzerland. This article is an open access article distributed under the terms and conditions of the Creative Commons Attribution (CC BY) license (http://creativecommons.org/licenses/by/4.0/).