Class A Scavenger Receptors Are Used by Frog Virus 3 During Its Cellular Entry
1
Department of Health Sciences, Wilfrid Laurier University, Waterloo, ON N2L 3C5, Canada
2
Department of Biology, Wilfrid Laurier University, Waterloo, ON N2L 3C5, Canada
3
Department of Biological Sciences, George Washington University, Washington, DC 20052, USA
*
Author to whom correspondence should be addressed.
Received: 29 December 2018 / Revised: 16 January 2019 / Accepted: 20 January 2019 / Published: 23 January 2019
Abstract
Frog virus 3 (FV3) is the type species of the genus
Ranavirus
(family Iridoviridae). FV3 and FV3-like viruses are globally distributed infectious agents with the capacity to replicate in three vertebrate classes (teleosts, amphibians, and reptiles). At the cellular level, FV3 and FV3-like viruses can infect cells from virtually all vertebrate classes. To date, the cellular receptors that are involved in the FV3 entry process are unknown. Class A scavenger receptors (SR-As) are a family of evolutionarily conserved cell-surface receptors that bind a wide range of chemically distinct polyanionic ligands and can function as cellular receptors for other DNA viruses, including vaccinia virus and herpes simplex virus. The present study aimed to determine whether SR-As are involved in FV3 cellular entry. By using well-defined SR-A competitive and non-competitive ligand-blocking assays and absolute qPCR, we demonstrated that the SR-A competitive ligands drastically reduced the quantities of cell-associated viral loads in frog cells. Moreover, inducing the expression of a human SR-AI in an SR-A null cell line significantly increased FV3–cell association. Together, our results indicate that SR-As are utilized by FV3 during the cellular entry process.
View Full-Text
►

▼

Figures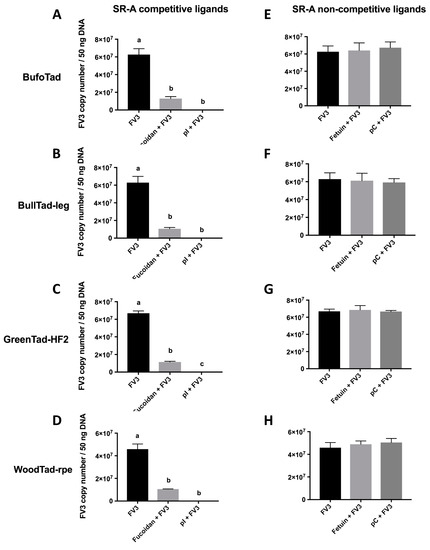 Figure 1
This is an open access article distributed under the
Creative Commons Attribution License
which permits unrestricted use, distribution, and reproduction in any medium, provided the original work is properly cited (CC BY 4.0).

Share & Cite This Article
MDPI and ACS Style
Vo, N.T.K.; Guerreiro, M.; Yaparla, A.; Grayfer, L.; DeWitte-Orr, S.J. Class A Scavenger Receptors Are Used by Frog Virus 3 During Its Cellular Entry. Viruses 2019, 11, 93.
Note that from the first issue of 2016, MDPI journals use article numbers instead of page numbers. See further details here.
Related Articles
Comments
[Return to top]