Induction of Tier 1 HIV Neutralizing Antibodies by Envelope Trimers Incorporated into a Replication Competent Vesicular Stomatitis Virus Vector
1
Division of Virology, Medical University of Innsbruck, 6020 Innsbruck, Austria
2
Christian Doppler Laboratory for Viral Immunotherapy of Cancer, Medical University of Innsbruck, 6020 Innsbruck, Austria
3
Central Laboratory Animal Facility, Medical University of Innsbruck, 6020 Innsbruck, Austria
4
Institut de Biologie Structurale (IBS), CNRS, CEA, Université Grenoble Alpes, 38044 Grenoble, France
5
Division of Hematology and Oncology, Perelman School of Medicine, University of Pennsylvania, Philadelphia, PA 19104, USA
6
Dana-Farber Cancer Institute, Harvard Medical School and Harvard School of Public Health, Boston, MA 02215, USA
7
Duke Human Vaccine Institute, Duke University School of Medicine, Durham, NC 27710, USA
8
Center for Virology and Vaccine Research, Beth Israel Deaconess Medical Center, Harvard Medical School, Boston, MA 02115, USA
*
Author to whom correspondence should be addressed.
Received: 10 January 2019 / Revised: 4 February 2019 / Accepted: 12 February 2019 / Published: 15 February 2019
Abstract
A chimeric vesicular stomatitis virus with the glycoprotein of the lymphocytic choriomeningitis virus, VSV-GP, is a potent viral vaccine vector that overcomes several of the limitations of wild-type VSV. Here, we evaluated the potential of VSV-GP as an HIV vaccine vector. We introduced genes for different variants of the HIV-1 envelope protein Env, i.e., secreted or membrane-anchored, intact or mutated furin cleavage site or different C-termini, into the genome of VSV-GP. We found that the addition of the Env antigen did not attenuate VSV-GP replication. All HIV-1 Env variants were expressed in VSV-GP infected cells and some were incorporated very efficiently into VSV-GP particles. Crucial epitopes for binding of broadly neutralizing antibodies against HIV-1 such as MPER (membrane-proximal external region), CD4 binding site, V1V2 and V3 loop were present on the surface of VSV-GP-Env particles. Binding of quaternary antibodies indicated a trimeric structure of VSV-GP incorporated Env. We detected high HIV-1 antibody titers in mice and showed that vectors expressing membrane-anchored Env elicited higher antibody titers than vectors that secreted Envs. In rabbits, Tier 1A HIV-1 neutralizing antibodies were detectable after prime immunization and titers further increased after boosting with a second immunization. Taken together, VSV-GP-Env is a promising vector vaccine against HIV-1 infection since this vector permits incorporation of native monomeric and/or trimeric HIV-1 Env into a viral membrane.
View Full-Text
►

▼

Figures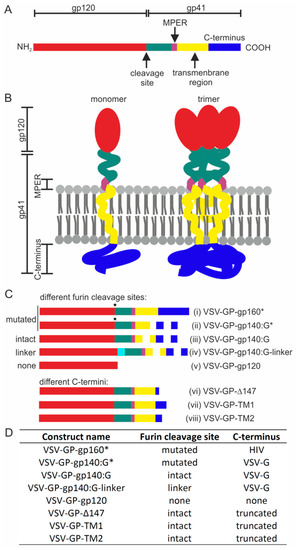 Figure 1
This is an open access article distributed under the
Creative Commons Attribution License
which permits unrestricted use, distribution, and reproduction in any medium, provided the original work is properly cited (CC BY 4.0).

Share & Cite This Article
MDPI and ACS Style
Bresk, C.A.; Hofer, T.; Wilmschen, S.; Krismer, M.; Beierfuß, A.; Effantin, G.; Weissenhorn, W.; Hogan, M.J.; Jordan, A.P.O.; Gelman, R.S.; Montefiori, D.C.; Liao, H.-X.; Schmitz, J.E.; Haynes, B.F.; von Laer, D.; Kimpel, J. Induction of Tier 1 HIV Neutralizing Antibodies by Envelope Trimers Incorporated into a Replication Competent Vesicular Stomatitis Virus Vector. Viruses 2019, 11, 159.
Note that from the first issue of 2016, MDPI journals use article numbers instead of page numbers. See further details here.
Related Articles
Comments
[Return to top]