A Novel MVA-Based HIV Vaccine Candidate (MVA-gp145-GPN) Co-Expressing Clade C Membrane-Bound Trimeric gp145 Env and Gag-Induced Virus-Like Particles (VLPs) Triggered Broad and Multifunctional HIV-1-Specific T Cell and Antibody Responses
1
Department of Molecular and Cellular Biology, Centro Nacional de Biotecnología, Consejo Superior de Investigaciones Científicas (CNB-CSIC), Campus de Cantoblanco, 28049 Madrid, Spain
2
Biocomputing Unit, Centro Nacional de Biotecnología, Consejo Superior de Investigaciones Científicas (CNB-CSIC), Campus de Cantoblanco, 28049 Madrid, Spain
*
Authors to whom correspondence should be addressed.
Received: 22 January 2019 / Revised: 12 February 2019 / Accepted: 13 February 2019 / Published: 16 February 2019
Full-Text
|
PDF
[5394 KB, uploaded 16 February 2019]
|
|

Review Reports
Abstract
The development of an effective Human Immunodeficiency Virus (HIV) vaccine that is able to stimulate both the humoral and cellular HIV-1-specific immune responses remains a major priority challenge. In this study, we described the generation and preclinical evaluation of single and double modified vaccinia virus Ankara (MVA)-based candidates expressing the HIV-1 clade C membrane-bound gp145(ZM96) trimeric protein and/or the Gag(ZM96)-Pol-Nef(CN54) (GPN) polyprotein that was processed to form Gag-induced virus-like particles (VLPs). In vitro characterization of MVA recombinants revealed the stable integration of HIV-1 genes without affecting its replication capacity. In cells that were infected with Env-expressing viruses, the gp145 protein was inserted into the plasma membrane exposing critical epitopes that were recognized by broadly neutralizing antibodies (bNAbs), whereas Gag-induced VLPs were released from cells that were infected with GPN-expressing viruses. VLP particles as well as purified MVA virions contain Env and Gag visualized by immunoelectron microscopy and western-blot of fractions that were obtained after detergent treatments of purified virus particles. In BALB/c mice, homologous MVA-gp145-GPN prime/boost regimen induced broad and polyfunctional Env- and Gag-specific CD4 T cells and antigen-specific T follicular helper (Tfh) and Germinal Center (GC) B cells, which correlated with robust HIV-1-specific humoral responses. Overall, these results support the consideration of MVA-gp145-GPN vector as a potential vaccine candidate against HIV-1.
View Full-Text
►

▼

Figures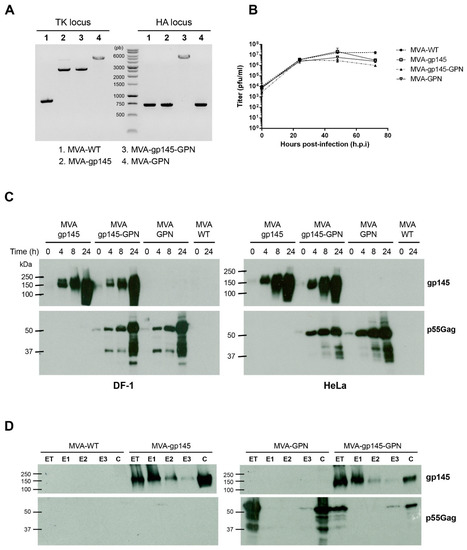 Figure 1
This is an open access article distributed under the
Creative Commons Attribution License
which permits unrestricted use, distribution, and reproduction in any medium, provided the original work is properly cited (CC BY 4.0).

Share & Cite This Article
MDPI and ACS Style
Perdiguero, B.; Sánchez-Corzo, C.; Sorzano, C.O.S.; Saiz, L.; Mediavilla, P.; Esteban, M.; Gómez, C.E. A Novel MVA-Based HIV Vaccine Candidate (MVA-gp145-GPN) Co-Expressing Clade C Membrane-Bound Trimeric gp145 Env and Gag-Induced Virus-Like Particles (VLPs) Triggered Broad and Multifunctional HIV-1-Specific T Cell and Antibody Responses. Viruses 2019, 11, 160.
Note that from the first issue of 2016, MDPI journals use article numbers instead of page numbers. See further details here.
Related Articles
Comments
[Return to top]