Open Access This article is
freely available
re-usable
Review
Simian Foamy Viruses in Central and South America: A New World of Discovery
1
Departamento de Genética, Universidade Federal do Rio de Janeiro, Rio de Janeiro 21941-617, RJ, Brazil
2
Laboratory Branch, Division of HIV/AIDS Prevention, National Center for HIV/AIDS, Hepatitis, STD, and TB Prevention, Centers for Disease Control and Prevention, Atlanta, GA 30329, USA
3
Programa de Oncovirologia, Instituto Nacional de Câncer, Riod e Janeiro, RJ 20231-050, RJ, Brazil
*
Author to whom correspondence should be addressed.
Received: 30 September 2019 / Accepted: 18 October 2019 / Published: 20 October 2019
Abstract
:
Foamy viruses (FVs) are the only exogenous retrovirus to date known to infect neotropical primates (NPs). In the last decade, an increasing number of strains have been completely or partially sequenced, and molecular evolution analyses have identified an ancient co-speciation with their hosts. In this review, the improvement of diagnostic techniques that allowed the determination of a more accurate prevalence of simian FVs (SFVs) in captive and free-living NPs is discussed. Determination of DNA viral load in American primates indicates that oral tissues are the viral replicative site and that buccal swab collection can be an alternative to diagnose SFV infection in NPs. Finally, the transmission potential of NP SFVs to primate workers in zoos and primate centers of the Americas is examined.
Keywords:
spumaretrovirus; new world primates; simian retrovirus
1. Introduction
Spumaretroviruses are complex, exogenous retroviruses in the
Spumaretrovirinae
subfamily known to infect different mammalian orders, such as nonhuman primates (NHPs), felines, bovines and equines [
1
]. In NHPs, spumaretroviruses are also called simian foamy viruses (SFVs). Despite being the only reported exogenous retrovirus known to infect neotropical primates (NPs), as first reported in 1973 [
2
], little is known about this viral infection. Recently published studies using improved molecular and serologic techniques for SFV diagnosis in NPs have shed light on the prevalence, transmission routes and zoonotic potential of these NP viruses.
2. Neotropical Primates: Taxonomy and Evolution
3. Diversity and Origin of SFVs in the Americas
4. NP SFV Prevalence and Viral Detection Methodologies
5. NP SFV Epidemiology and Transmission
6. SFV Cross-Species Transmission
7. Perspectives
While considerable progress has been made in recent years to better understand the epidemiology and evolutionary history of NP SFVs, more research is needed. Additional SFV genomes should be sequenced, with emphasis on those infecting species from the Pitheciidae family (titi, saki and uacari monkeys) and the
Aotus
genus (owl monkeys), in order to clarify the evolutionary relationships of SFV among NPs, especially the unusual relationships of SFV that infect squirrel monkeys (
Saimiri
sp). Studies published to date with NPs have used a large number of specimens of various captive genera and species, but few specimens of each species. Future work should focus on studies of the viral epidemiology of wild NPs, with a reasonable number of specimens per species. RNA VL in oral tissues needs to be determined, as well as which tissues are targeted by SFV infection in NPs. Follow-up studies of workers with direct or indirect contact with NPs should continue to clarify whether SFV infection is resolved or if the virus persists in certain cells or body compartments. Additional studies of persons naturally exposed to NPs and their SFV infections are needed to define zoonotic risks for these viruses.
Author Contributions
All authors contributed equally to this paper with the conception and design of the paper, literature review and analysis, drafting, critical revision and editing, and approval of the final version.
Funding
This research received no external funding.
Acknowledgments
Use of trade names is for identification only and does not imply endorsement by the U.S. Department of Health and Human Services, the Public Health Service, or the Centers for Disease Control and Prevention (CDC). The findings and conclusions in this report are those of the authors and do not necessarily represent the views of the CDC, or any of the authors' affiliated institutions.).
Conflicts of Interest
The authors declare no conflict of interest.
Figure 1.
Global primate distribution. In orange, countries with native species of primates. Data were extracted from IUCN/SSC Primate Specialist group web site
www.primate-sg.org/threat_primate_habitat_country/
on August 15th. Graph art was generated using mapchart.net.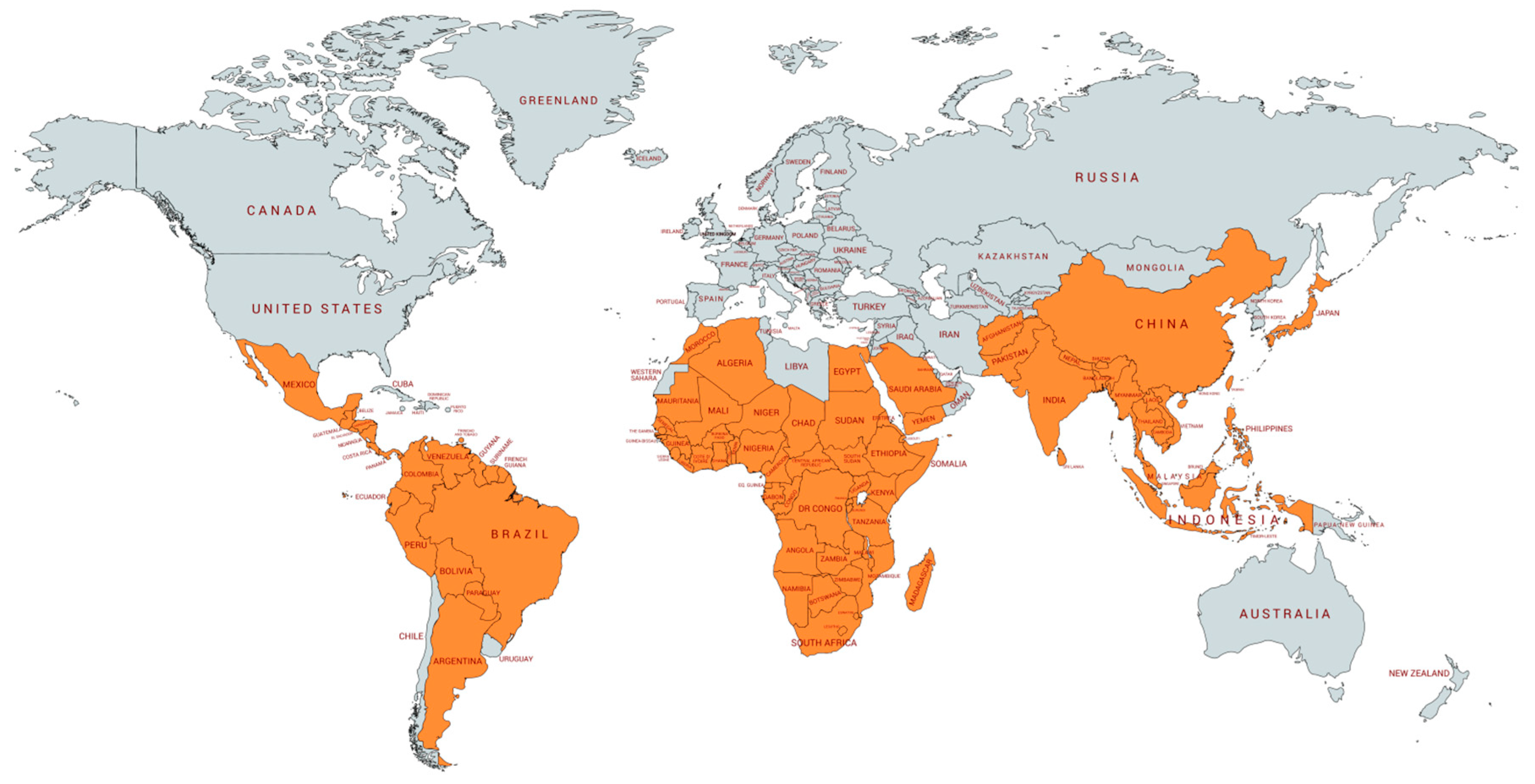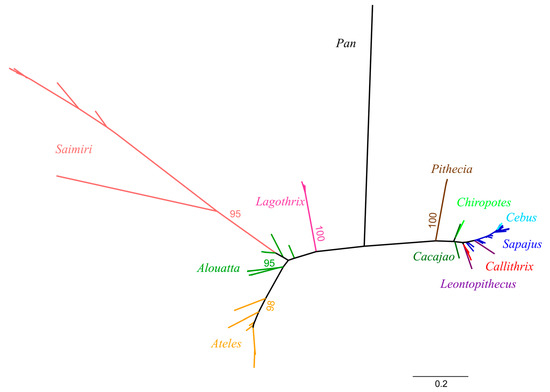 Figure 2. Phylogenetic relationships of simian foamy viruses from neotropical primates (NPs). Unrooted tree inferred by maximum likelihood analysis of an alignment of 411 nucleotides of partial polymerase sequences with 1000 bootstrap replicates. Different NP genera and bootstrap values are indicated by distinct colors. Distance bar is shown at the bottom.
Figure 3.
Structural organization of complete simian foamy virus (SFV) and feline foamy virus (FFV) genomes. SFVcja (
Callithrix jaccus
), SFVsxa (
Sapajus xanthosternos
), SFVssc (
Saimiri sciureus
), SFVaxx (
Ateles
sp.), SFVbar (
Brachyteles aracnoides
), SFVptr (
Pan troglodytes
), FFVfca (
Feline catus
). LTR, long terminal repeat; GAG, group specific antigen, POL, polymerase; ENV, envelope; TAS, transcriptional activator; BEL2, between the ENV and LTR.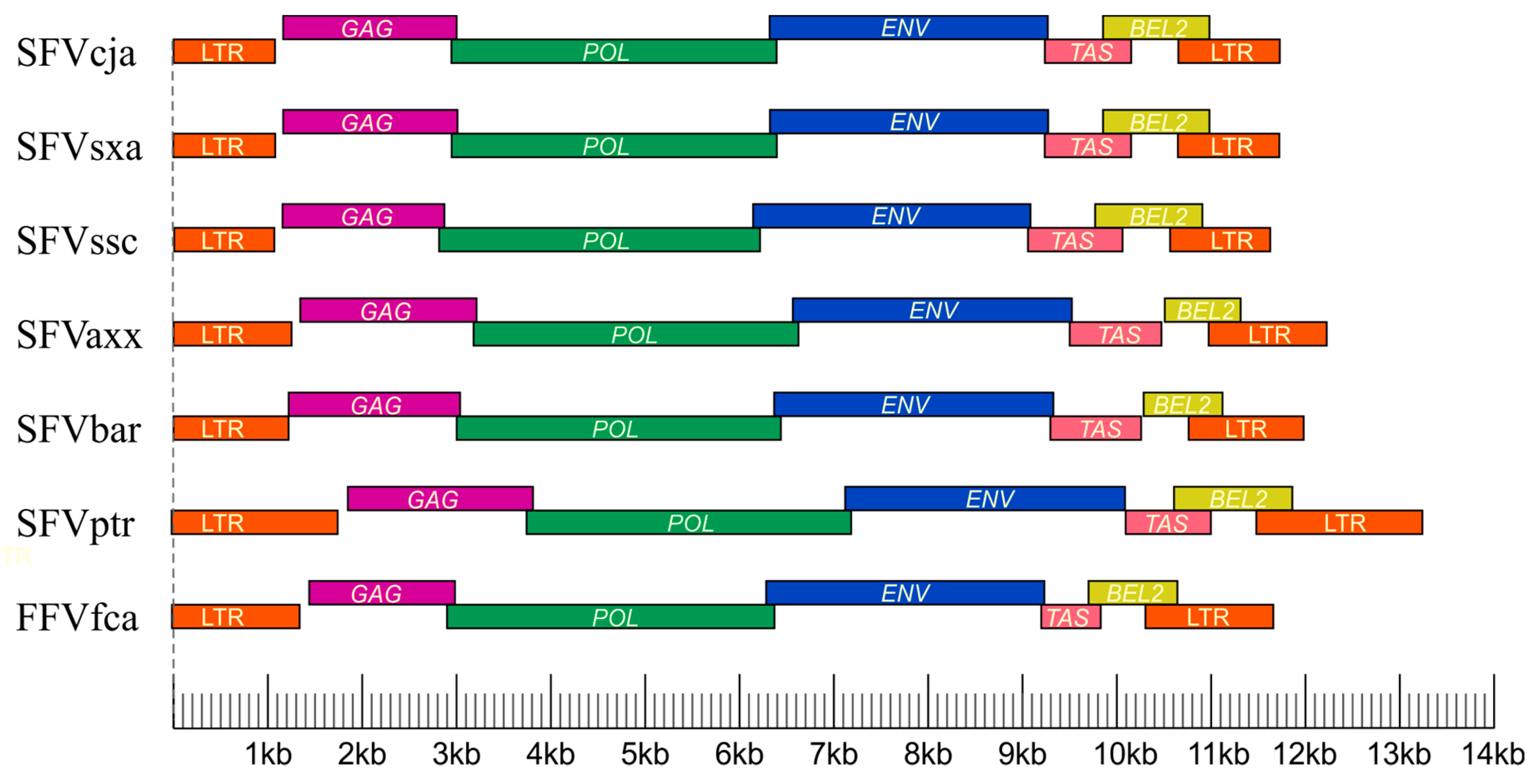 Table 1. Simian foamy virus (SFV) diversity in neotropical primates revealed by virus detection and complete or partial genome characterization.
Primate Family
Genus
Common Name
Complete Genome 1
Partial Genome
(LTR/

gag

and/or

pol

) 1
Diagnostic-PCR and/or qPCR and/or WB Serology 1
Cebidae

Aotus

owl monkey
SFVaaz, SFVatr, SFVani

Callimico

marmoset
SFVcgo

Callithrix

marmoset
SFVcja
SFVcge
SFVcau

Cebus

capuchin
SFVcal
SFVcol

Leontopithecus

tamarin
SFVlro, SFVlcm
SFVlcp

Mico

marmoset
SFVmhu

Saguinus

tamarin
SFVsbi, SFVsfu, SFVsmi, SFVsoe

Saimiri

squirrel monkey
SFVssc
SFVsbo, SFVsus

Sapajus

capuchin
SFVsxa
SFVsap, SFVsfl, SFVsro
Atelidae

Alouatta

howler monkey
SFVabe, SFVaca, SFVagu, SFVase
SFVapl

Ateles

spider monkey
SFVaxx
SFVage, SFVahy, SFVach
SFVafu, SFVapn

Brachyteles

wooly spider monkey
SFVbar

Lagothrix

wooly monkey
SFVlla
Pitheciidae

Cacajao

uakari
___
SFVcca, SFVcme

Callicebus

titi
___
___
SFVcmo

Pithecia

saki
___
SFVppi
1 Species definition for SFV by primate genera:

Aloutta

: SFVabe (

Alouatta belzebul

), SFVaca (

Alouatta caraya

), SFVagu (

Alouatta guariba

), SFVase (

Alouatta seniculus

); SFVapl (

Alouatta palliata

);

Aotus

: SFVaaz (

Aotus azarae

), SFVatr (

Aotus trivirgatus

), SFVani (

Aotus nigriceps

);

Ateles

: SFVage (

Ateles geoffroyi

), SFVahy (

Ateles hybridus

), SFVach (

Ateles chamek

), SFVafu (

Ateles fusciceps

), SFVapn (

Ateles paniscus

), SFVaxx (

Ateles

sp.);

Brachyteles

: SFVbar (

Brachyteles aracnoides

);

Cacajao

: SFVcca (

Cacajao calvus

), SFVcme (

Cacajao melanocephalus

);

Callicebus

: SFVcmo (

Callicebus moloch

);

Callimico

: SFVcgo (

Callimico goeldii

);

Callithrix

: SFVcau (

Callithrix aurita

), SFVcge (

Callithrix geoffroyi

), SFVcja (

Callithrix jaccus

);

Cebus:

SFVcal (

Cebus albifrons

), SFVcol (

Cebus olivaceus

);

Lagothrix

: SFVlia (

Lagothrix lagotricha

)

Leontopithecus:

SFVlcm (

Leontopithecus chrysomelas

), SFVlcp (

Leontopithecus chrysopygus

), SFVlro (

Leontopithecus rosalia

);

Mico

: SFVmhu (

Mico humeralifer

);

Pithecia

: SFVppi (

Pithecia pithecia

);

Saguinus

: SFVsbi (

Saguinus bicolor

), SFVsfu (

Saguinus fuscicollis

), SFVsmi (

Saguinus midas

), SFVsoe (

Saguinus oedipus

);

Saimiri

: SFVsbo (

Saimiri boliviensis

), SFVssc (

Saimiri sciureus

), SFVsbo (

Saimiri ustus

);

Sapajus

: SFVsap (

Sapajus apella

), SFVsfl (

Sapajus flavius

), SFVsro (

Sapajus robustus

), SFVsxa (

Sapajus xanthosternos

).
Study
Methodology
Sites
Prevalence
Hooks, 1975 [2]
Serology
Colony
61%
Marczynska et al., 1981 [18]
Serology
Colony
54%
Muniz et al., 2013 [23]
Diag. PCR 1
Brazilian zoo and primatology center
Wild primates
23%
29%
Ghersi et al., 2015 [25]
Serology and
Diag. PCR
Peruvian and US zoos
Peruvian rescue center
Illegal trade market
45–47%
19%
Muniz et al., 2015 [24]
Serology and
Diag. PCR
Brazilian zoo and primatology center
51%

© 2019 by the authors. Licensee MDPI, Basel, Switzerland. This article is an open access article distributed under the terms and conditions of the Creative Commons Attribution (CC BY) license (http://creativecommons.org/licenses/by/4.0/).