A Victorivirus and Two Novel Mitoviruses Co-Infected the Plant Pathogen
Nigrospora oryzae
Hunan Provincial Key Laboratory for Biology and Control of Plant Diseases and Insect Pests, Hunan Agricultural University, Changsha 410128, China
*
Authors to whom correspondence should be addressed.
Received: 11 December 2018 / Revised: 16 January 2019 / Accepted: 17 January 2019 / Published: 19 January 2019
Abstract
Three dsRNAs, in sizes of approximately 2.5–5 kbp, were detected in the plant pathogenic fungus
Nigrospora oryzae
strain CS-7.5-4. Genomic analysis showed that the 5.0 kb dsRNA was a victorivirus named as
Nigrospora oryzae
victorivirus 2 (NoRV2). The genome of NoRV2 was 5166 bp in length containing two overlapping open reading frames (ORFs), ORF1 and ORF2. ORF1 was deduced to encode a coat protein (CP) showing homology to the CPs of viruses belonging to the Totiviridae family. The stop codon of ORF1 and the start codon of ORF2 were overlapped by the tetranucleotide sequence AUGA. ORF2 was predicted to encode an RNA-dependent RNA polymerase (RdRp), which was highly similar to the RdRps of victoriviruses. Virus-like particle examination demonstrated that the genome of NoRV2 was solely encapsidated by viral particles with a diameter of approximately 35 nm. The other two dsRNAs that were less than 3.0 kb were predicted to be the genomes of two mitoviruses, named as
Nigrospora oryzae
mitovirus 1 (NoMV1) and
Nigrospora oryzae
mitovirus 2 (NoMV2). Both NoMV1 and NoMV2 were A-U rich and with lengths of 2865 and 2507 bp, respectively. Mitochondrial codon usage inferred that each of the two mitoviruses contains a major large ORF encoding a mitoviral RdRp. Horizontal transfer experiments showed that the NoMV1 and NoMV2 could be cotransmitted horizontally via hyphal contact to other virus-free
N. oryzae
strains and causes phenotypic change to the recipient, such as an increase in growth rate. This is the first report of mitoviruses in
N. oryzae
.
View Full-Text
►

▼

Figures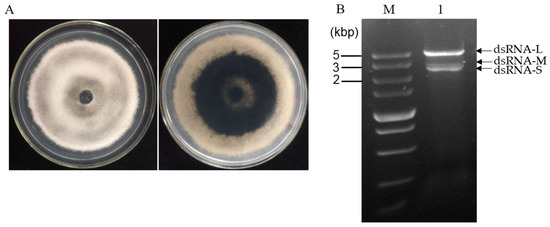 Figure 1
This is an open access article distributed under the
Creative Commons Attribution License
which permits unrestricted use, distribution, and reproduction in any medium, provided the original work is properly cited (CC BY 4.0).

Share & Cite This Article
MDPI and ACS Style
Liu, H.; Liu, R.; Li, C.X.; Wang, H.; Zhu, H.J.; Gao, B.D.; Zhou, Q.; Zhong, J. A Victorivirus and Two Novel Mitoviruses Co-Infected the Plant Pathogen Nigrospora oryzae. Viruses 2019, 11, 83.
Note that from the first issue of 2016, MDPI journals use article numbers instead of page numbers. See further details here.
Related Articles
Comments
[Return to top]