Insights into the Human Virome Using CRISPR Spacers from Microbiomes
Department of Food, Bioprocessing and Nutrition Sciences, North Carolina State University, 400 Dan Allen Drive, Campus BOX 7624, Raleigh, NC 27695, USA
*
Author to whom correspondence should be addressed.
Received: 8 August 2018 / Revised: 31 August 2018 / Accepted: 3 September 2018 / Published: 7 September 2018
Abstract
Due to recent advances in next-generation sequencing over the past decade, our understanding of the human microbiome and its relationship to health and disease has increased dramatically. Yet, our insights into the human virome, and its interplay with important microbes that impact human health, is relatively limited. Prokaryotic and eukaryotic viruses are present throughout the human body, comprising a large and diverse population which influences several niches and impacts our health at various body sites. The presence of prokaryotic viruses like phages, has been documented at many different body sites, with the human gut being the richest ecological niche. Clustered Regularly Interspaced Short Palindromic Repeats (CRISPR) and associated proteins constitute the adaptive immune system of bacteria, which prevents attack by invasive nucleic acid. CRISPR-Cas systems function by uptake and integration of foreign genetic element sequences into the CRISPR array, which constitutes a genomic archive of iterative vaccination events. Consequently, CRISPR spacers can be investigated to reconstruct interplay between viruses and bacteria, and metagenomic sequencing data can be exploited to provide insights into host-phage interactions within a niche. Here, we show how the CRISPR spacer content of commensal and pathogenic bacteria can be used to determine the evidence of their phage exposure. This framework opens new opportunities for investigating host-virus dynamics in metagenomic data, and highlights the need to dedicate more efforts for virome sampling and sequencing.
View Full-Text
►

▼

Figures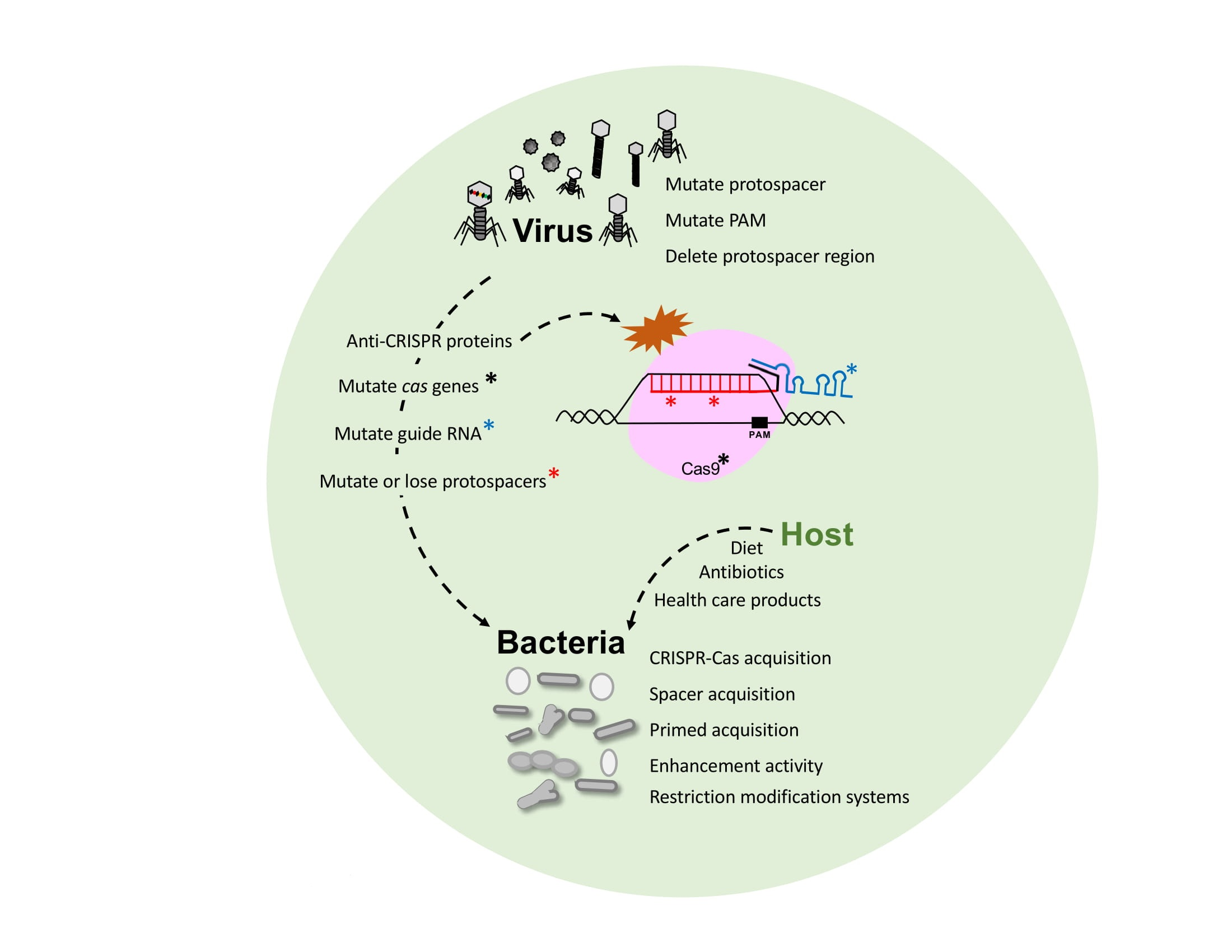 Graphical abstract
This is an open access article distributed under the
Creative Commons Attribution License
which permits unrestricted use, distribution, and reproduction in any medium, provided the original work is properly cited (CC BY 4.0).

Share & Cite This Article
MDPI and ACS Style
Hidalgo-Cantabrana, C.; Sanozky-Dawes, R.; Barrangou, R. Insights into the Human Virome Using CRISPR Spacers from Microbiomes. Viruses 2018, 10, 479.
Note that from the first issue of 2016, MDPI journals use article numbers instead of page numbers. See further details here.
Related Articles
Comments
[Return to top]