The Odd "RB" Phage—Identification of Arabinosylation as a New Epigenetic Modification of DNA in T4-Like Phage RB69
1
Department of Biochemistry and Molecular Biology, University of Maryland School of Medicine, 108 N. Greene St., Baltimore, MD 21201, USA
2
Gosnell School of Life Sciences, Rochester Institute of Technology, 85 Lomb Memorial Drive, Rochester, NY 14623, USA
3
Institute of Human Virology, University of Maryland School of Medicine, 725 West Lombard Street, Baltimore, MD 21201, USA
4
Department of Chemistry and Biochemistry, University of Maryland, 8051 Regents Drive, College Park, MD 20742, USA
*
Authors to whom correspondence should be addressed.
Received: 30 April 2018 / Revised: 4 June 2018 / Accepted: 6 June 2018 / Published: 8 June 2018
Abstract
In bacteriophages related to T4, hydroxymethylcytosine (hmC) is incorporated into the genomic DNA during DNA replication and is then further modified to glucosyl-hmC by phage-encoded glucosyltransferases. Previous studies have shown that RB69 shares a core set of genes with T4 and relatives. However, unlike the other "RB" phages, RB69 is unable to recombine its DNA with T4 or with the other "RB" isolates. In addition, despite having homologs to the T4 enzymes used to synthesize hmC, RB69 has no identified homolog to known glucosyltransferase genes. In this study we sought to understand the basis for RB69's behavior using high-pH anion exchange chromatography (HPAEC) and mass spectrometry. Our analyses identified a novel phage epigenetic DNA sugar modification in RB69 DNA, which we have designated arabinosyl-hmC (ara-hmC). We sought a putative glucosyltranserase responsible for this novel modification and determined that RB69 also has a novel transferase gene, ORF003c, that is likely responsible for the arabinosyl-specific modification. We propose that ara-hmC was responsible for RB69 being unable to participate in genetic exchange with other hmC-containing T-even phages, and for its described incipient speciation. The RB69 ara-hmC also likely protects its DNA from some anti-phage type-IV restriction endonucleases. Several T4-related phages, such as
E. coli
phage JS09 and
Shigella
phage Shf125875 have homologs to RB69 ORF003c, suggesting the ara-hmC modification may be relatively common in T4-related phages, highlighting the importance of further work to understand the role of this modification and the biochemical pathway responsible for its production.
View Full-Text
►

▼

Figures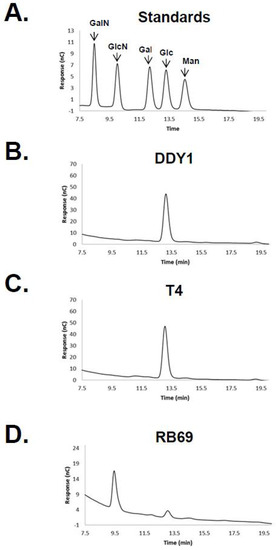 Figure 1
This is an open access article distributed under the
Creative Commons Attribution License
which permits unrestricted use, distribution, and reproduction in any medium, provided the original work is properly cited (CC BY 4.0).

Share & Cite This Article
MDPI and ACS Style
Thomas, J.A.; Orwenyo, J.; Wang, L.-X.; Black, L.W. The Odd "RB" Phage—Identification of Arabinosylation as a New Epigenetic Modification of DNA in T4-Like Phage RB69. Viruses 2018, 10, 313.
Note that from the first issue of 2016, MDPI journals use article numbers instead of page numbers. See further details here.
Related Articles
Comments
[Return to top]