piRNA Profiling of Dengue Virus Type 2-Infected Asian Tiger Mosquito and Midgut Tissues
1
Guangdong Provincial Key Laboratory of Tropical Disease Research, Department of Pathogen Biology, School of Public Health, Southern Medical University, Guangzhou 510515, Guangdong, China
2
National Institute for Viral Disease Control and Prevention, Chinese Center for Disease Control and Prevention, Beijing 102206, China
*
Author to whom correspondence should be addressed.
Received: 10 February 2018 / Revised: 9 April 2018 / Accepted: 20 April 2018 / Published: 22 April 2018
Abstract
The Asian tiger mosquito,
Aedes albopictus
, is a competent vector for the majority of arboviruses. The mosquito innate immune response is a primary determinant for arthropod-borne virus transmission, and the midgut is the first barrier to pathogen transmission. Mosquito antiviral immunity is primarily mediated by the small interfering RNA pathway. However, the roles that the P-element induced wimpy testis (PIWI)-interacting RNA (piRNA) pathway play in antiviral immunity in
Ae. albopictus
and its midgut still need further exploration. This study aimed to explore the profiles of both viral-derived and host-originated piRNAs in the whole body and midgut infected with Dengue virus 2 (DENV-2) in
Ae. albopictus
, and to elucidate gene expression profile differences of the PIWI protein family between adult females and their midguts. A deep sequencing-based method was used to identify and analyze small non-coding RNAs, especially the piRNA profiles in DENV-2-infected
Ae. albopictus
and its midgut. The top-ranked, differentially-expressed piRNAs were further validated using Stem-loop qRT-PCR. Bioinformatics analyses and reverse-transcription PCR (RT-PCR) methods were used to detect PIWI protein family members, and their expression profiles. DENV-2 derived piRNAs (vpiRNA, 24–30 nts) were observed in both infected
Ae. albopictus
and its midgut; however, only vpiRNA in the whole-body library had a weak preference for adenine at position 10 (10A) in the sense molecules as a feature of secondary piRNA. These vpiRNAs were not equally distributed, instead they were derived from a few specific regions of the genome, especially several hot spots, and displayed an obvious positive strand bias. We refer to the differentially expressed host piRNAs after DENV infection as virus-induced host endogenous piRNAs (vepiRNAs). However, we found that vepiRNAs were abundant in mosquito whole-body tissue, but deficient in the midgut. A total of eleven PIWI family genes were identified in
Ae. albopictus
; however, only AalPiwi5–7 and AalAgo3(1–2) were readily detected in the midgut. The characteristics of piRNAs in DENV-2-infected
Ae. albopictus
adult females were similar to those previously described for flavivirus infections but were not observed in the midgut. The reduced levels of vepiRNAs and incomplete expression of PIWI pathway genes in midgut samples from DENV-2-infected
Ae. albopictus
suggests that viral regulation of host piRNAs may not be an important factor in the midgut.
View Full-Text
►

▼

Figures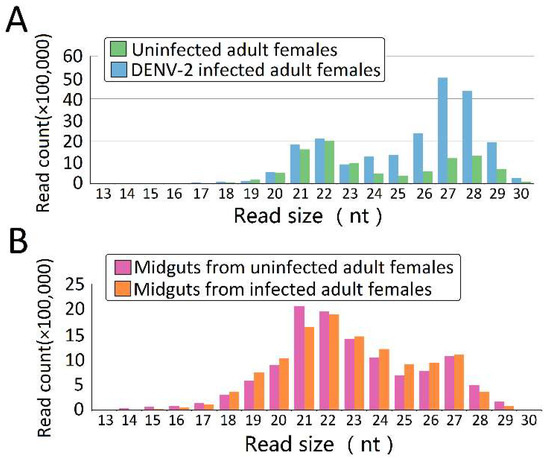 Figure 1
This is an open access article distributed under the
Creative Commons Attribution License
which permits unrestricted use, distribution, and reproduction in any medium, provided the original work is properly cited (CC BY 4.0).

Share & Cite This Article
MDPI and ACS Style
Wang, Y.; Jin, B.; Liu, P.; Li, J.; Chen, X.; Gu, J. piRNA Profiling of Dengue Virus Type 2-Infected Asian Tiger Mosquito and Midgut Tissues. Viruses 2018, 10, 213.
Note that from the first issue of 2016, MDPI journals use article numbers instead of page numbers. See further details here.
Related Articles
Comments
[Return to top]