Persistence and Intra-Host Genetic Evolution of Zika Virus Infection in Symptomatic Adults: A Special View in the Male Reproductive System
1
Department of Microbiology, Institute of Biomedical Sciences, University of São Paulo, São Paulo, SP 05508-000, Brazil
2
Medical School Clinic Hospital, University of São Paulo, São Paulo, SP 05403-000, Brazil
3
Center for Genome Sciences, US Army Medical Research Institute of Infectious Diseases, Frederick, MD 21702, USA
4
The Pathogen and Microbiome Institute, Northern Arizona University, Flagstaff, AZ 86011-4073, USA
5
Virology Laboratory, Butantan Institute, São Paulo, SP 05503-900, Brazil
6
Pasteur Institute, State Health Department, São Paulo, SP 1103-000, Brazil
7
Immunochemistry Laboratory, Butantan Institute, São Paulo, SP 05503-900, Brazil
8
Department of Cellular and Developmental Biology, Institute of Biomedical Sciences, University of São Paulo, São Paulo, SP 05508-000, Brazil
9
Department of Environmental, Agricultural and Occupational Health, University of Nebraska Medical Center, Omaha, NE 68198-4388, USA
10
Institute of Infectology Emílio Ribas e Pontifícia Universidade Católica (PUC-SP), São Paulo, SP 01246-900, Brazil
†
These authors contributed equally for the paper.
‡
These authors contributed equally for the paper.
*
Author to whom correspondence should be addressed.
Received: 22 August 2018 / Revised: 4 October 2018 / Accepted: 20 October 2018 / Published: 7 November 2018
Abstract
We followed the presence of Zika virus (ZIKV) in four healthy adults (two men and two women), for periods ranging from 78 to 298 days post symptom onset. The patients were evaluated regarding the presence of the virus in different body fluids (blood, saliva, urine and semen), development of immune responses (including antibodies, cytokines and chemokines), and virus genetic variation within samples collected from semen and urine during the infection course. The analysis was focused primarily on the two male patients who shed the virus for up to 158 days after the initial symptoms. ZIKV particles were detected in the spermatozoa cytoplasm and flagella, in immature sperm cells and could also be isolated from semen in cell culture, confirming that the virus is able to preserve integrity and infectivity during replication in the male reproductive system (MRS). Despite the damage caused by ZIKV infection within the MRS, our data showed that ZIKV infection did not result in infertility at least in one of the male patients. This patient was able to conceive a child after the infection. We also detected alterations in the male genital cytokine milieu, which could play an important role in the replication and transmission of the virus which could considerably increase the risk of ZIKV sexual spread. In addition, full genome ZIKV sequences were obtained from several samples (mainly semen), which allowed us to monitor the evolution of the virus within a patient during the infection course. We observed genetic changes over time in consensus sequences and lower frequency intra-host single nucleotide variants (iSNV), that suggested independent compartmentalization of ZIKV populations in the reproductive and urinary systems. Altogether, the present observations confirm the risks associated with the long-term replication and shedding of ZIKV in the MRS and help to elucidate patterns of intra-host genetic evolution during long term replication of the virus.
View Full-Text
►

▼

Figures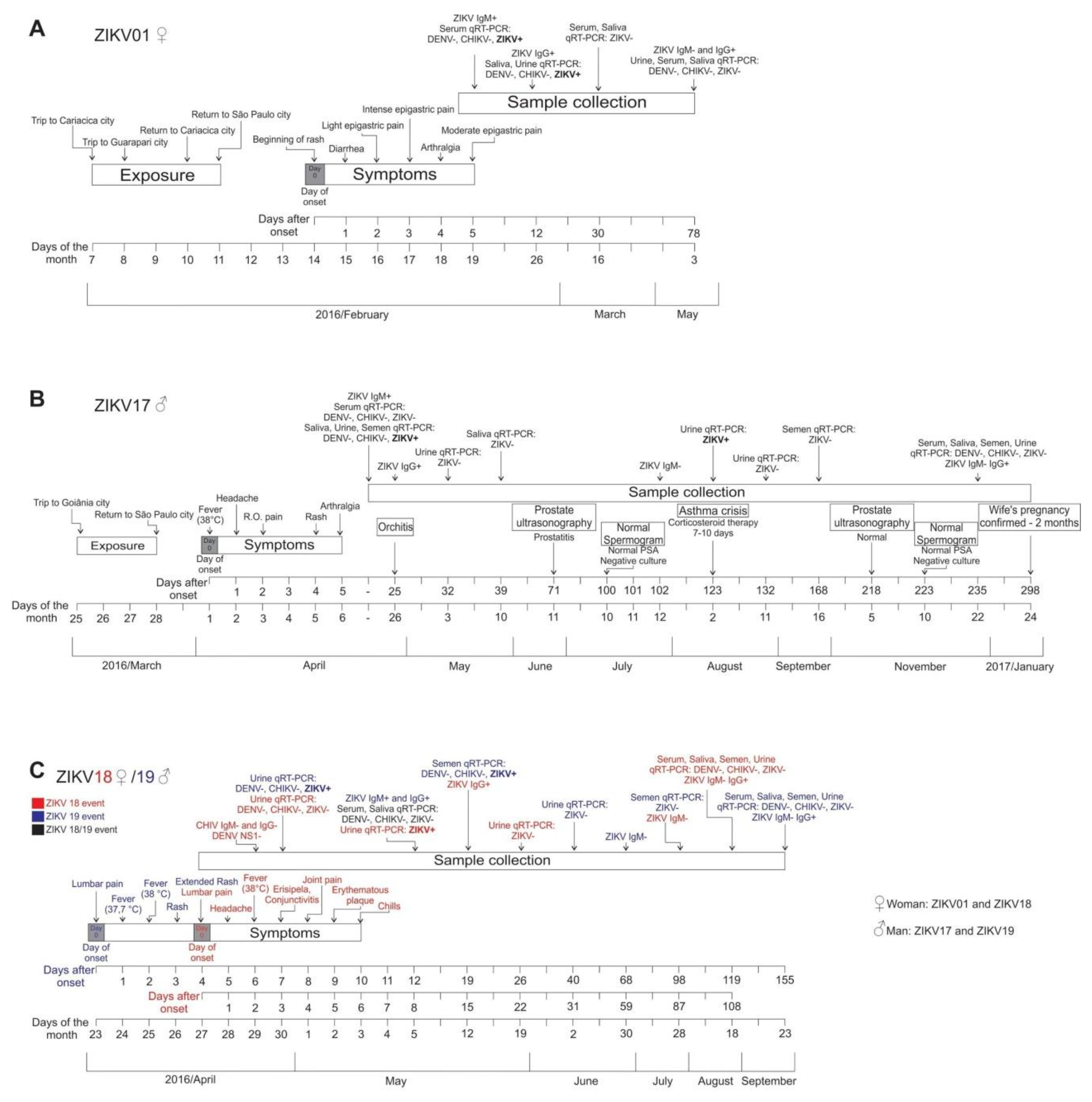 Figure 1
This is an open access article distributed under the
Creative Commons Attribution License
which permits unrestricted use, distribution, and reproduction in any medium, provided the original work is properly cited (CC BY 4.0).

Share & Cite This Article
MDPI and ACS Style
Oliveira, D.B.L.; Durigon, G.S.; Mendes, É.A.; Ladner, J.T.; Andreata-Santos, R.; Araujo, D.B.; Botosso, V.F.; Paola, N.D.; Neto, D.F.L.; Cunha, M.P.; Braconi, C.T.; Alves, R.P.S.; Jesus, M.R.; Pereira, L.R.; Melo, S.R.; Mesquita, F.S.; Silveira, V.B.; Thomazelli, L.M.; Favoretto, S.R.; Almonfrey, F.B.; Abdulkader, R.C.R.M.; Gabrili, J.M.; Tambourgi, D.V.; Oliveira, S.F.; Prieto, K.; Wiley, M.R.; Ferreira, L.C.S.; Silva, M.V.; Palacios, G.F.; Zanotto, P.M.A.; Durigon, E.L. Persistence and Intra-Host Genetic Evolution of Zika Virus Infection in Symptomatic Adults: A Special View in the Male Reproductive System. Viruses 2018, 10, 615.
Note that from the first issue of 2016, MDPI journals use article numbers instead of page numbers. See further details here.
Related Articles
Comments
[Return to top]