Open Access This article is
freely available
re-usable
Article
Persistence and Intra-Host Genetic Evolution of Zika Virus Infection in Symptomatic Adults: A Special View in the Male Reproductive System
1
Department of Microbiology, Institute of Biomedical Sciences, University of São Paulo, São Paulo, SP 05508-000, Brazil
2
Medical School Clinic Hospital, University of São Paulo, São Paulo, SP 05403-000, Brazil
3
Center for Genome Sciences, US Army Medical Research Institute of Infectious Diseases, Frederick, MD 21702, USA
4
The Pathogen and Microbiome Institute, Northern Arizona University, Flagstaff, AZ 86011-4073, USA
5
Virology Laboratory, Butantan Institute, São Paulo, SP 05503-900, Brazil
6
Pasteur Institute, State Health Department, São Paulo, SP 1103-000, Brazil
7
Immunochemistry Laboratory, Butantan Institute, São Paulo, SP 05503-900, Brazil
8
Department of Cellular and Developmental Biology, Institute of Biomedical Sciences, University of São Paulo, São Paulo, SP 05508-000, Brazil
9
Department of Environmental, Agricultural and Occupational Health, University of Nebraska Medical Center, Omaha, NE 68198-4388, USA
10
Institute of Infectology Emílio Ribas e Pontifícia Universidade Católica (PUC-SP), São Paulo, SP 01246-900, Brazil
†
These authors contributed equally for the paper.

‡
These authors contributed equally for the paper.

Received: 22 August 2018 / Accepted: 20 October 2018 / Published: 7 November 2018
Abstract
:
We followed the presence of Zika virus (ZIKV) in four healthy adults (two men and two women), for periods ranging from 78 to 298 days post symptom onset. The patients were evaluated regarding the presence of the virus in different body fluids (blood, saliva, urine and semen), development of immune responses (including antibodies, cytokines and chemokines), and virus genetic variation within samples collected from semen and urine during the infection course. The analysis was focused primarily on the two male patients who shed the virus for up to 158 days after the initial symptoms. ZIKV particles were detected in the spermatozoa cytoplasm and flagella, in immature sperm cells and could also be isolated from semen in cell culture, confirming that the virus is able to preserve integrity and infectivity during replication in the male reproductive system (MRS). Despite the damage caused by ZIKV infection within the MRS, our data showed that ZIKV infection did not result in infertility at least in one of the male patients. This patient was able to conceive a child after the infection. We also detected alterations in the male genital cytokine milieu, which could play an important role in the replication and transmission of the virus which could considerably increase the risk of ZIKV sexual spread. In addition, full genome ZIKV sequences were obtained from several samples (mainly semen), which allowed us to monitor the evolution of the virus within a patient during the infection course. We observed genetic changes over time in consensus sequences and lower frequency intra-host single nucleotide variants (iSNV), that suggested independent compartmentalization of ZIKV populations in the reproductive and urinary systems. Altogether, the present observations confirm the risks associated with the long-term replication and shedding of ZIKV in the MRS and help to elucidate patterns of intra-host genetic evolution during long term replication of the virus.
Keywords:
Zika virus; flavivirus; arbovirus; sexual transmission; host genetic variation; immune response
Supplementary Materials
The following are available online
https://www.mdpi.com/1999-4915/10/11/615/s1
: Figure S1: ZIKV characterization by IFI in semen samples, Figure S2: ZIKV detection in semen samples from patient ZIKV17; Figure S3: Concentration of cytokines, chemokines, RNA viral load and laboratorial follow-up of patients ZIKV17 and ZIKV19, Figure S4: Significantly higher proportion of nonsynonymous mutations in low frequency variants; Table S1: qRT-PCR Ct obtained from body fluid samples; Table S2: Zika virus genomes produced in this study; Table S3: Intra-host variant summary; Table S4: Substitution rate estimates for ZIKV during prolonged infection of male reproductive system; Table S5: Probes used for Zika virus targeted enrichment; Table S6: Algorithms for genetic evolution; Table S7: GenBank accessions for the consensus genomes.
Author Contributions
Writing, review, editing and original draft preparation D.B.L.O., G.S.D., E.A.M., J.T.L., L.C.S.F., P.M.A.Z., V.F.B., E.L.D.; Supervision and funding acquisition, G.F.P., P.M.A.Z., E.L.D., L.C.S.F., D.V.T.; Investigation and writing and review D.B.L.O., G.S.D., E.A.M., J.T.L., R.A.S., V.F.B., D.B.A., N.D.P., D.F.L.N., M.P.C., C.T.B., R.P.S.A., M.R.J., L.R.P., S.R.M., F.S.M., V.B.S., L.M.T., S.R.F., F.B.A., R.C.R.M.A., J.M.G., D.V.T., S.F.O., K.P., M.R.W., M.V.S.
Funding
Funding was granted by Fundação de Amparo à Pesquisa do Estado de São Paulo (FAPESP), projects Nº 2013/07467-1 (DVT); 2014/16333-1 (SRF); 2014/17766-9 (PMAZ); 2016/08727-5 and 2017/50007-2 (DBLO); 2016/20045-7 (LCSF and ELD) and Conselho Nacional de Pesquisa (CNPq) Project 303244/2013-5 (DVT); 440409/2016-0 (LCSF) and Coordenação de Aperfeiçoamento de Pessoal de Nível Superior (CAPES) project 88881.130787/2016-01 (LCSF). Received a FAPESP fellowship: 2014/27228-4 (EAM), 2014/03911-7 (CTB), 2015/25643-7 (FSM), 2016/08204-2 (MPC), 2013/26942-2 (LRP), 2015/02352 (RPSA), 2016/03605-9 (DFLN), 2016/10161-0 (VBS). Received a CAPES fellowship: 88887.131387/2016-00 (DBA); 1522381 (SRM); 1796450 (CTB) and 1473645 (RAS); received CAPES/PRONEX fellowship (JMG), respectively.
Acknowledgments
We thank José Lopes from LVCM-USP for technical support at the diagnosis, Mario Costa Cruz from CEFAP-USP for technical assistance at the Confocal IFA, Gaspar Ferreira de Lima and Roberto Cabado for technical assistance at the Electron Microscopy facilities at USP and Eduardo Gimenes Martins for the administrative and technical support. Our institutional review board approved this study and all biological samples were collected under the approval of the Ethics Committee of the Institute of Biomedical Science (ICB), USP. The authors have no other disclosures. The Center for Genome Sciences at the US Army Medical Research Institute of Infectious Diseases (USAMRIID) was supported for this project by the Defense Advanced Research Projects Agency (DARPA, PI: C. Kane). The content of this publication does not necessarily reflect the views or policies of the US Army.
Conflicts of Interest
The authors declare no conflict of interest.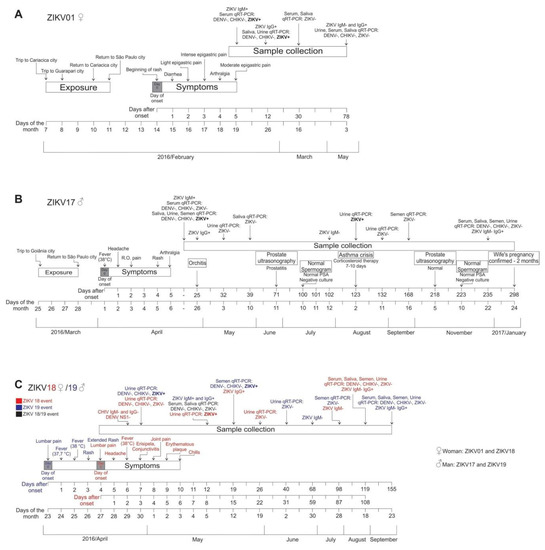 Figure 1. Timelines of ZIKV exposure, symptoms and sample collection in the four subjects enrolled in the present study. Periods of exposure, symptom onset, serology and molecular detection results of ZIKV in the followed subjects are described as: (A) case 1—female (ZIKV01), (B) case 2—male (ZIKV17), (C) case 3—female (ZIKV18) and case 4—male (ZIKV19). Day 0 denotes the onset of symptoms.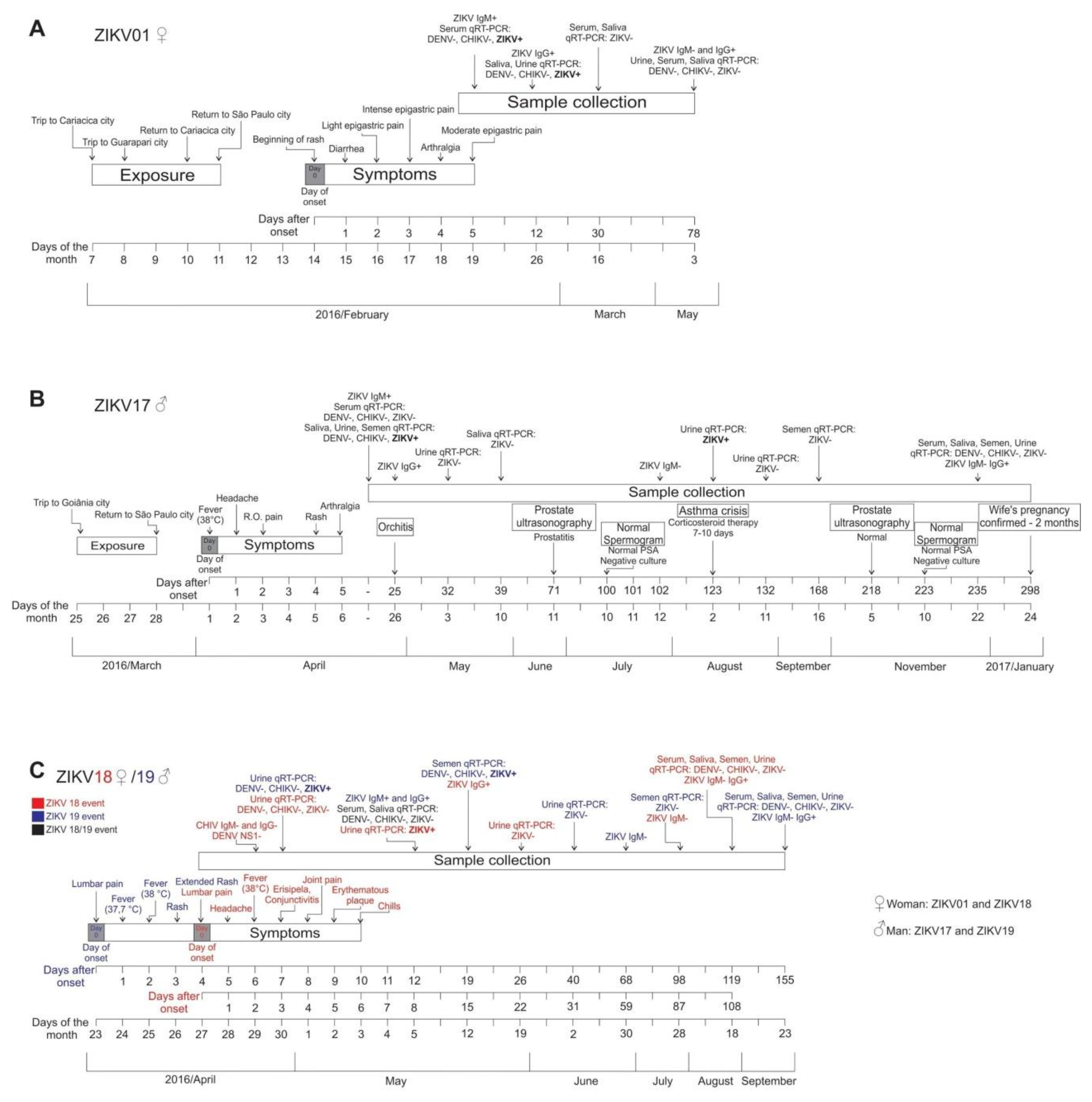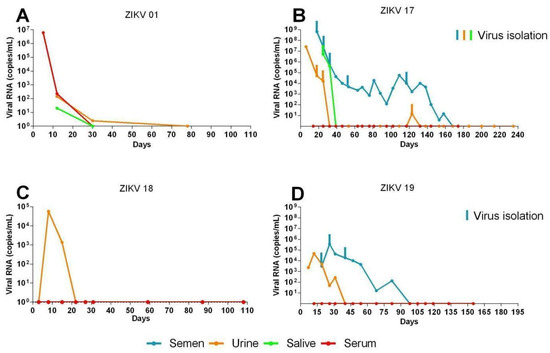 Figure 2. ZIKV RNA load in patient's body fluids and clinical isolates on culture. The graph shows the viral load (genome copies/mL) versus excretion time (days after symptoms onset) of the weekly collection of urine (orange), saliva (green) and serum (red) samples from patients ZIKV01 (A), ZIKV17 (B), ZIKV18 (C) and ZIKV19 (D), in addition to the semen (blue) of the two men involved in the study (C,D). To confirm the viability of the excreted virus, the urine samples collected from days 18 and 25 after symptoms, saliva from day 25 and the semen from days 18, 25, 32, 53 and 117 for patient ZIKV17 and semen samples from patient ZIKV19 from days 19, 26 and 40 after symptoms onset were tested and the ones with positive results in cell culture are exhibited. All clinical samples and isolated samples were analyzed by qRT-PCR.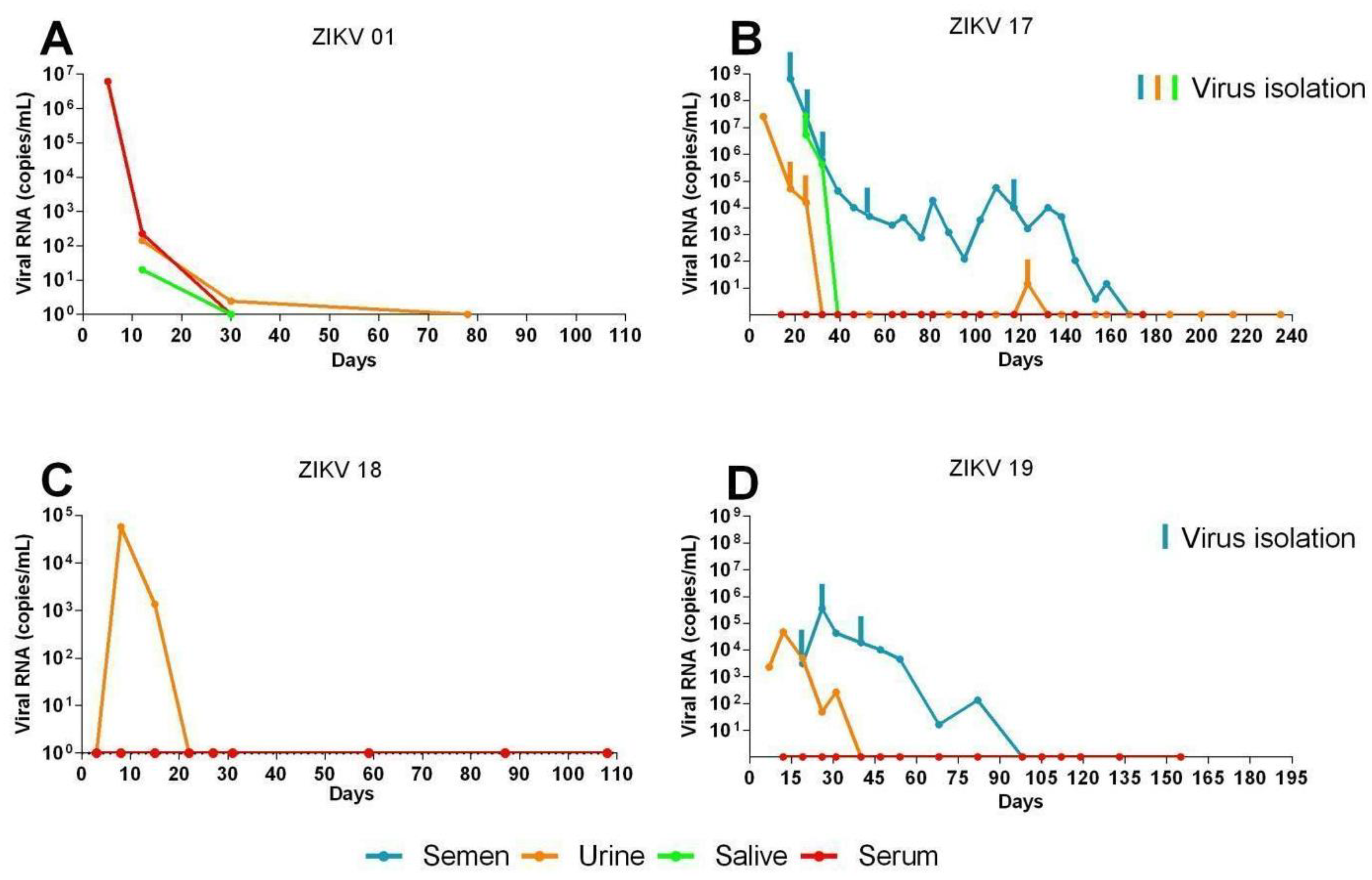 Figure 3. Detection of ZIKV in semen and C636 cells. (A) Detection by Indirect Immunofluorescence assay using anti-ZIKV specific antibody. Spermatozoa from semen sample collected from patient ZIKV17 at day 39 stained with FITC conjugate (in green) for virus location and with DAPI for nucleus staining (in blue). The viruses were located in the cytoplasm and flagella. C6/36 cell culture infected with virus from ZIKV17 semen sample. The cell infected presents with a green color (lower right panel). (B) Electron Microscopy of ultrathin sections of semen sample. (B1) A lower-power view of ZIKV particles inside an infected cell, with the characteristic of an immature sperm cell. (B2) Viral particles in a magnified view of the same cell in (B1). (B3) C6/36 cell infected with a semen sample from patient ZIKV17 with a cluster of dense virions located in the cytoplasm (red arrow).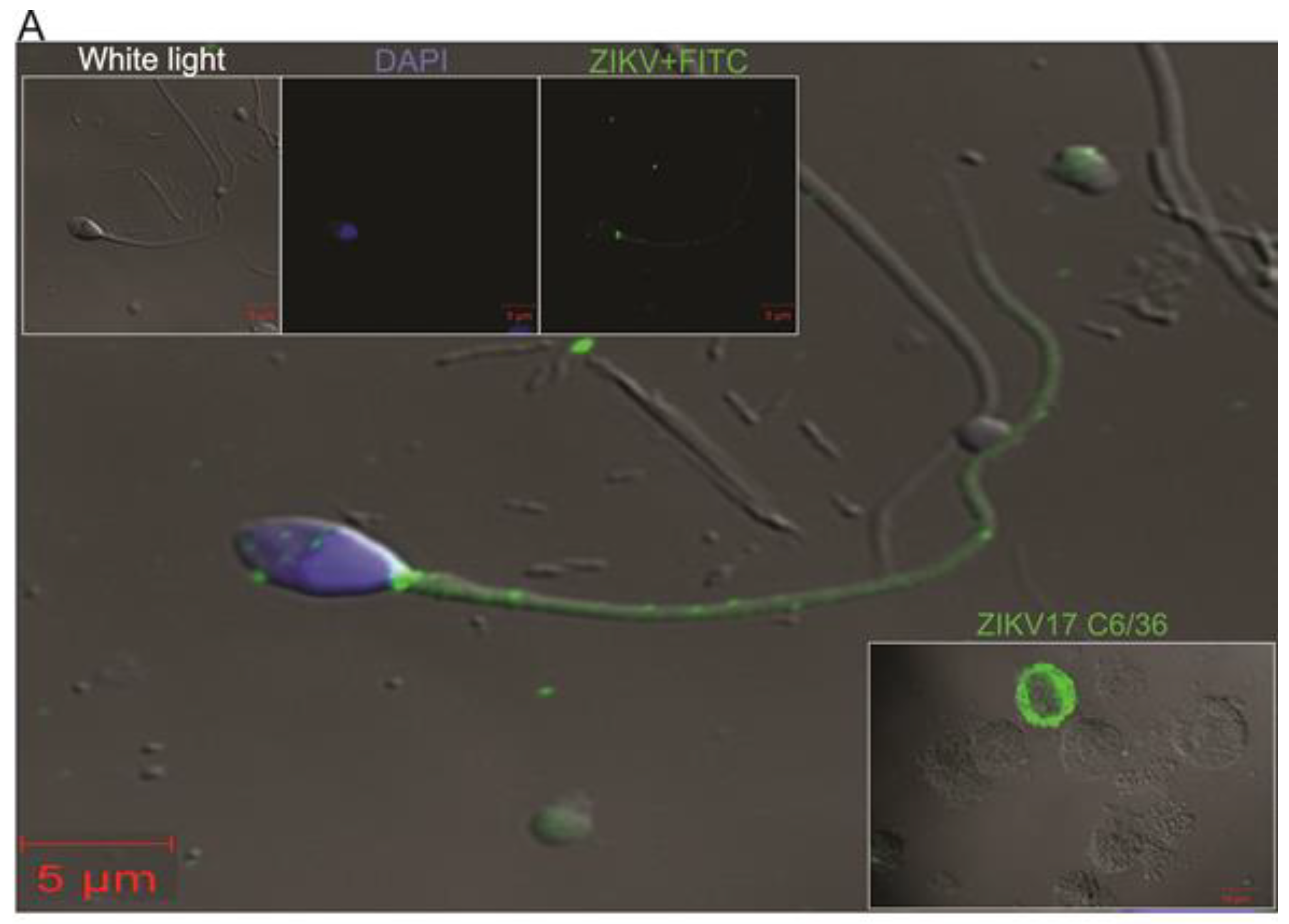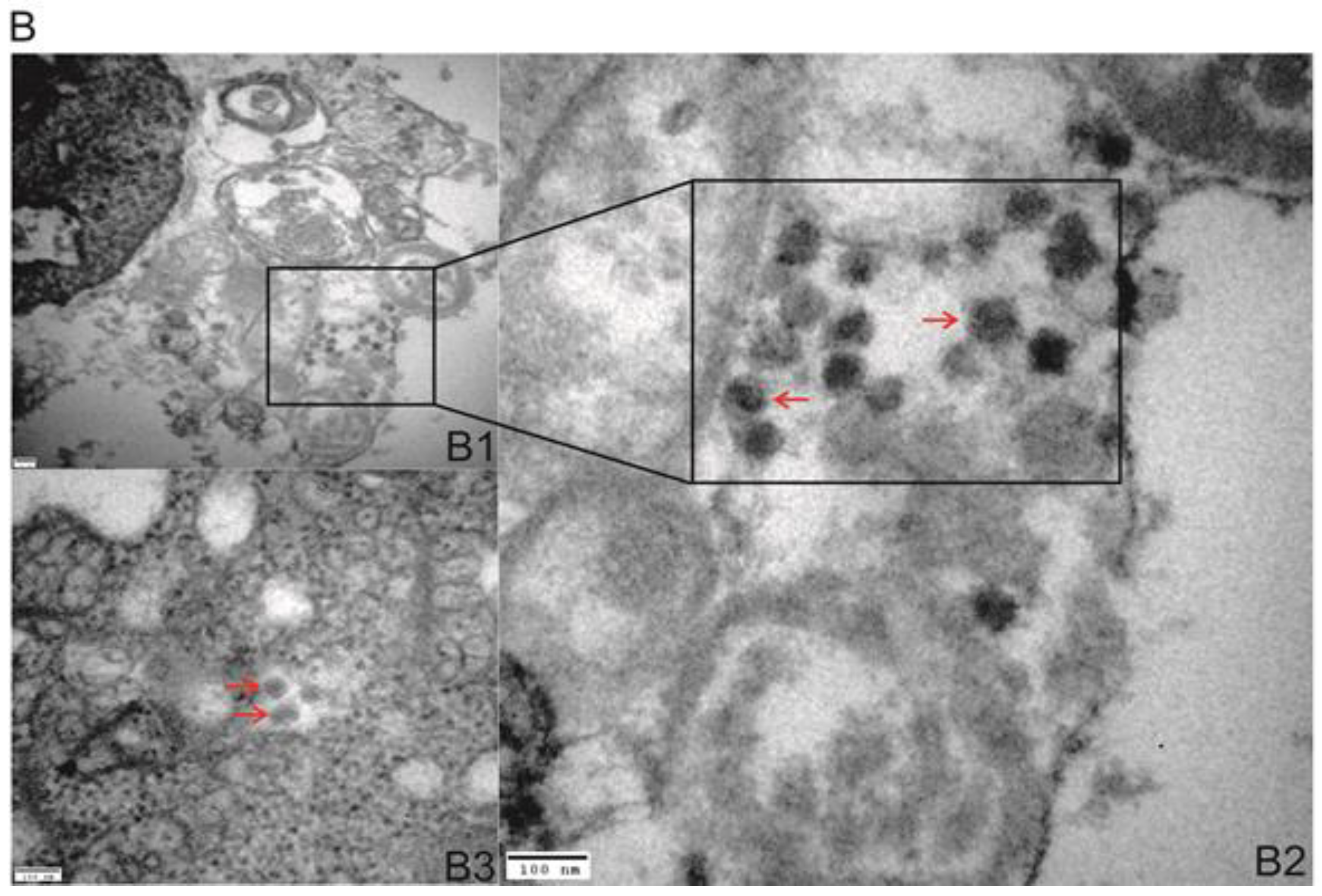 Figure 4.
Concentration of cytokines, chemokines and RNA viral load determined on semen of patients ZIKV17 (
A
) and ZIKV19 (
B
). The levels of the following cytokines and chemokines were measured in blood and seminal plasma—IL-2, IL-4, IL-6, CXCL8 (IL-8), IL-10, IL-17, IFN-γ, TNF–α, CCL2 (MCP-1), CCL5 (RANTES), CXCL9 (MIG), CXCL10 (IP-10). The results are representative of two distinct experiments performed in duplicate. Values of
p
less them 0.05 were considered statistically significant (*
p
< 0.05; **
p
< 0.001; ***
p
< 0.0001—concentration of cytokines/chemokines in ZIKV patients versus control (semen from Zika—uninfected individual), ###
p
< 0.0001 correlation of concentration of cytokine/chemokines in different days after symptoms onset). IL-2, IL-4, IL17A and TNF–α were not detected in the seminal plasma of both patients. No cytokines or chemokines were detected in serum of both patients—serum results were below the limit of detection of the kit (20 pg/mL for cytokines and 10 pg/mL for chemokines).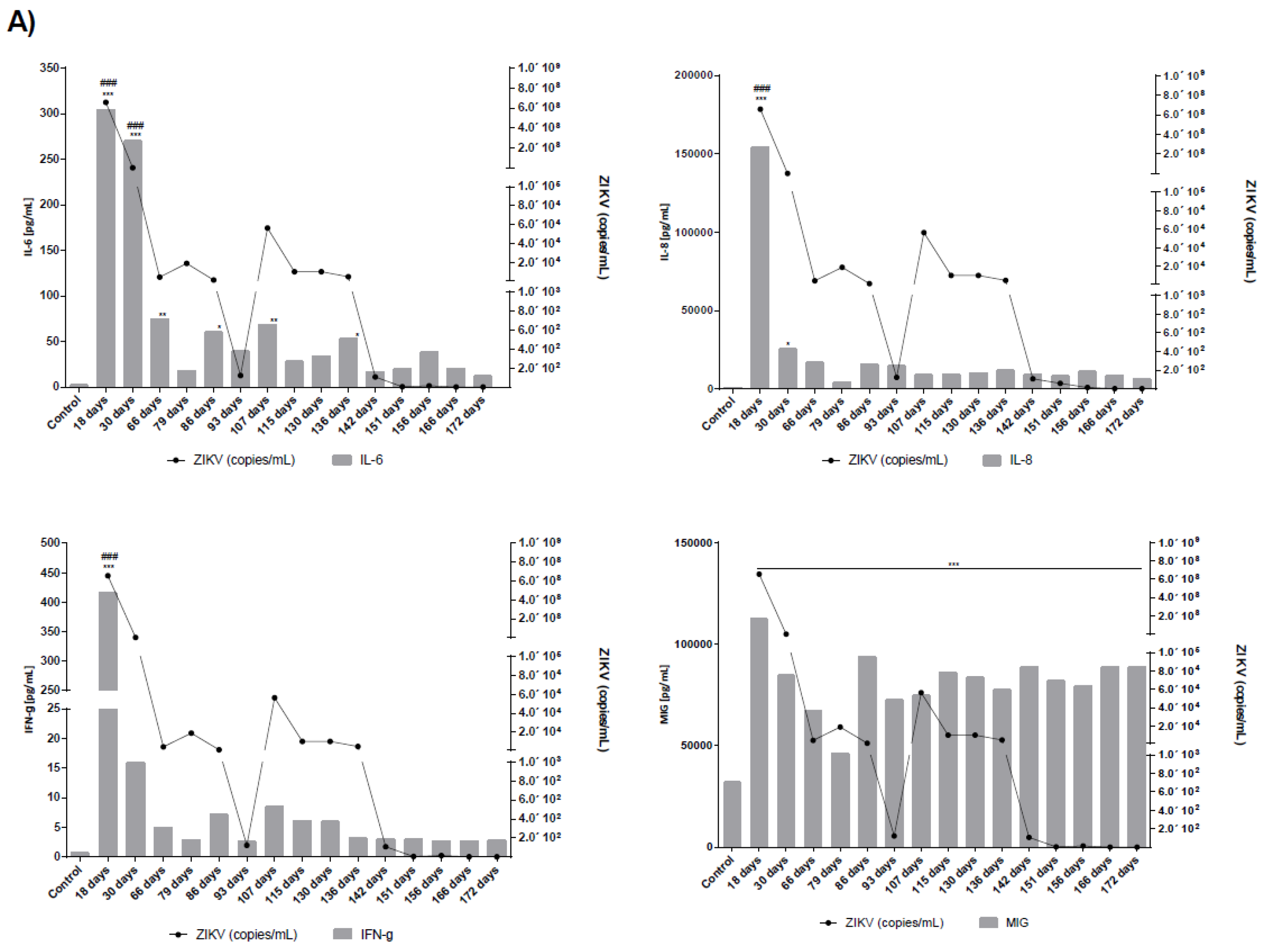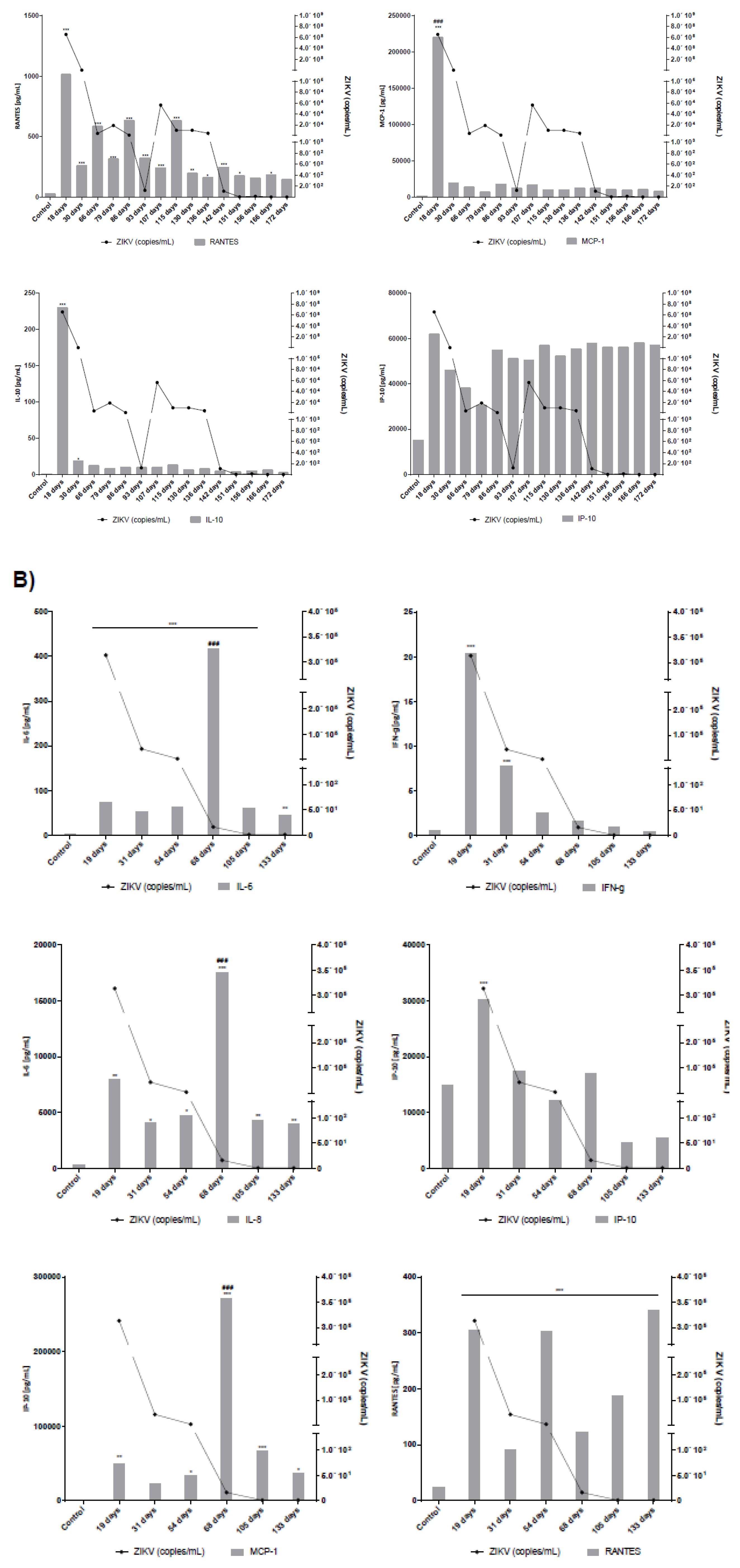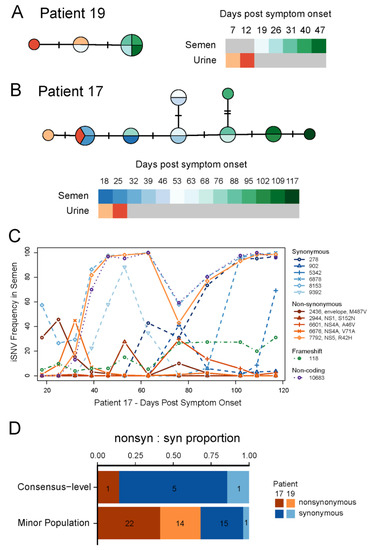 Figure 5.
Evolution of ZIKV populations throughout the infection course. Median-joining haplotype networks constructed from full genome alignments of the consensus sequences from patients ZIKV19 (
A
) and ZIKV17 (
B
). Colors indicate sample type and collection date relative to symptoms onset. Each dash represents a single nucleotide substitution differentiating consensus sequences from different samples. (
C
) Intra host single nucleotide variant (iSNV) frequencies over time in semen samples collected from patient ZIKV17. The legend indicates the nucleotide position of each iSNV relative to KX197192.1 (GenBank) and for non-synonymous changes, the affected protein and amino acid change. Only positions with a minimum frequency ≥25% in at least one sample are shown. See
Table S3
for details about these mutations and others present at lower frequencies. (
D
) Proportion of nonsynonymous and synonymous ZIKV iSNVs observed in semen samples from patients ZIKV17 and ZIKV19. The relative counts of nonsynonymous and synonymous variants observed above (consensus-level) and below 50% frequency (minor population) in at least one sample were significantly different (Fisher's exact test
p
-value = 0.01).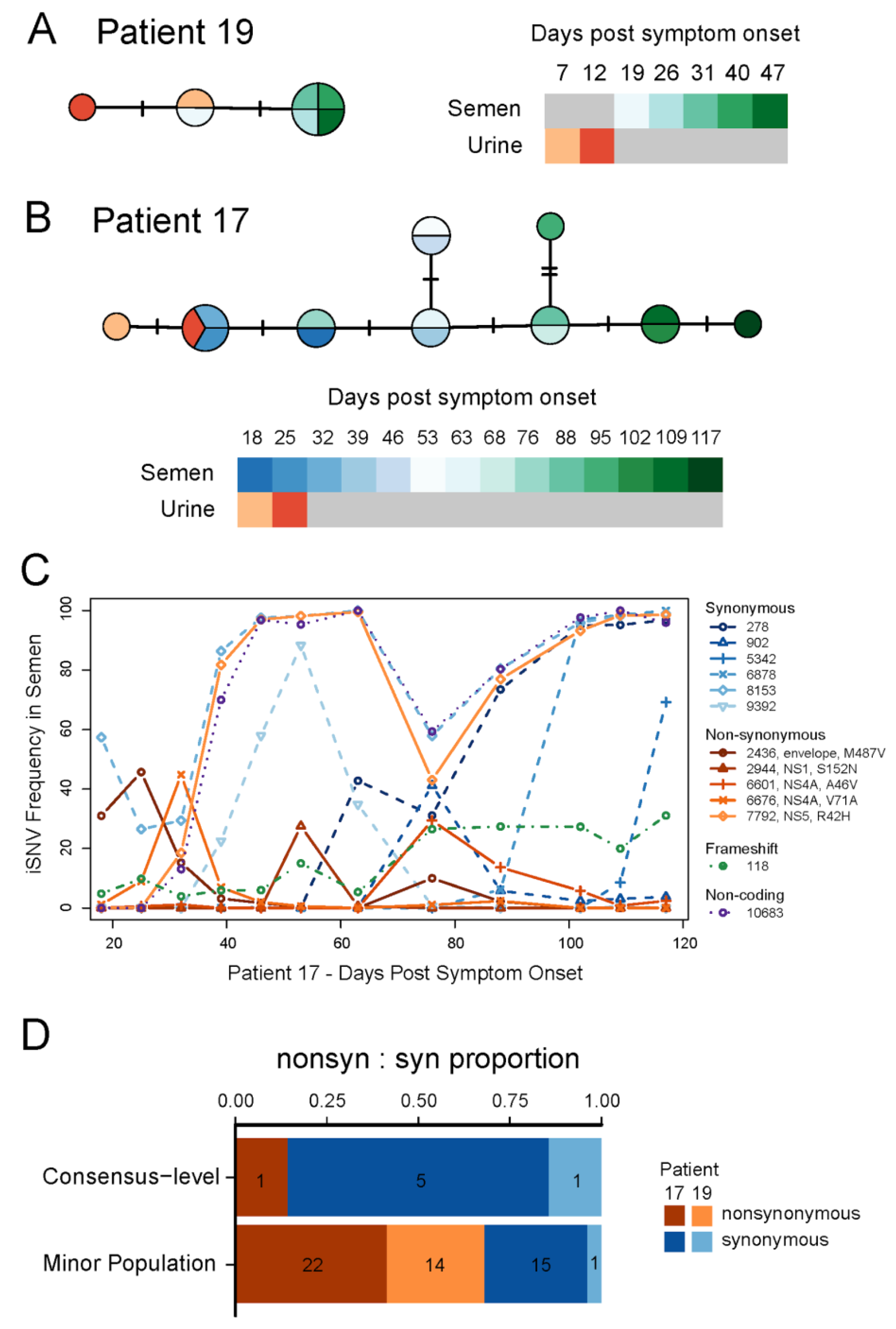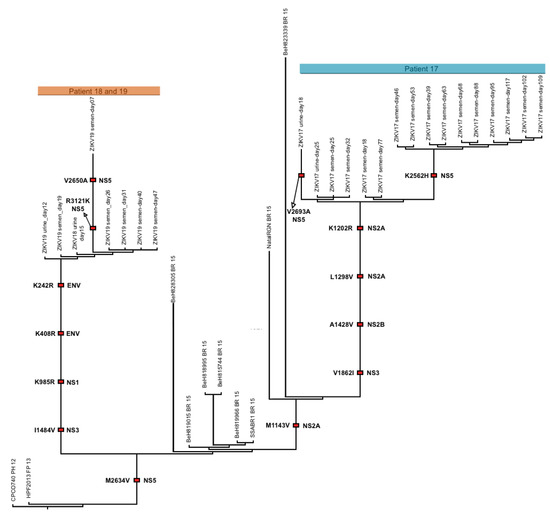 Figure 6.
Dendogram showing the most parsimonious unique amino acid changes with high consistency index (CI=1) (black framed red boxes). Reconstructions were made using a set of ZIKV polyproteins from African and Asian lineage viruses. Branch lengths are shown proportional to the number of most parsimonious reconstructions (MPR) of amino acid changes. Amino acid changes that define patient clades are shown as well as the viral proteins affected. Each patient clade (which had 100% support in ML tree shown in
Figure S3
) was supported by four synapomorphic changes. For both patients ZIKV19 and ZIKV17 changes were observed in the NS5 protein. Although we only show the results for selection detection methods for the three patients, elevated rates of non-synonymous changes were detected for all of the codons containing unique amino acid changes shown. The multiple EM for motif elicitation (MEME) algorithm detected significant positive selection (
p
-value = 0.03) acting on the codons containing the two NS5 changes observed during infection of patient ZIKV17. All MPRs were detected with FUBAR with a Bayes factor >3 and had elevated
dN
. Sites detected by 2-rates FEL had nonsynonymous changes in the absence of detectable synonymous changes. Significant negative, purifying selection was detected by all methods used on several sites of the polyprotein.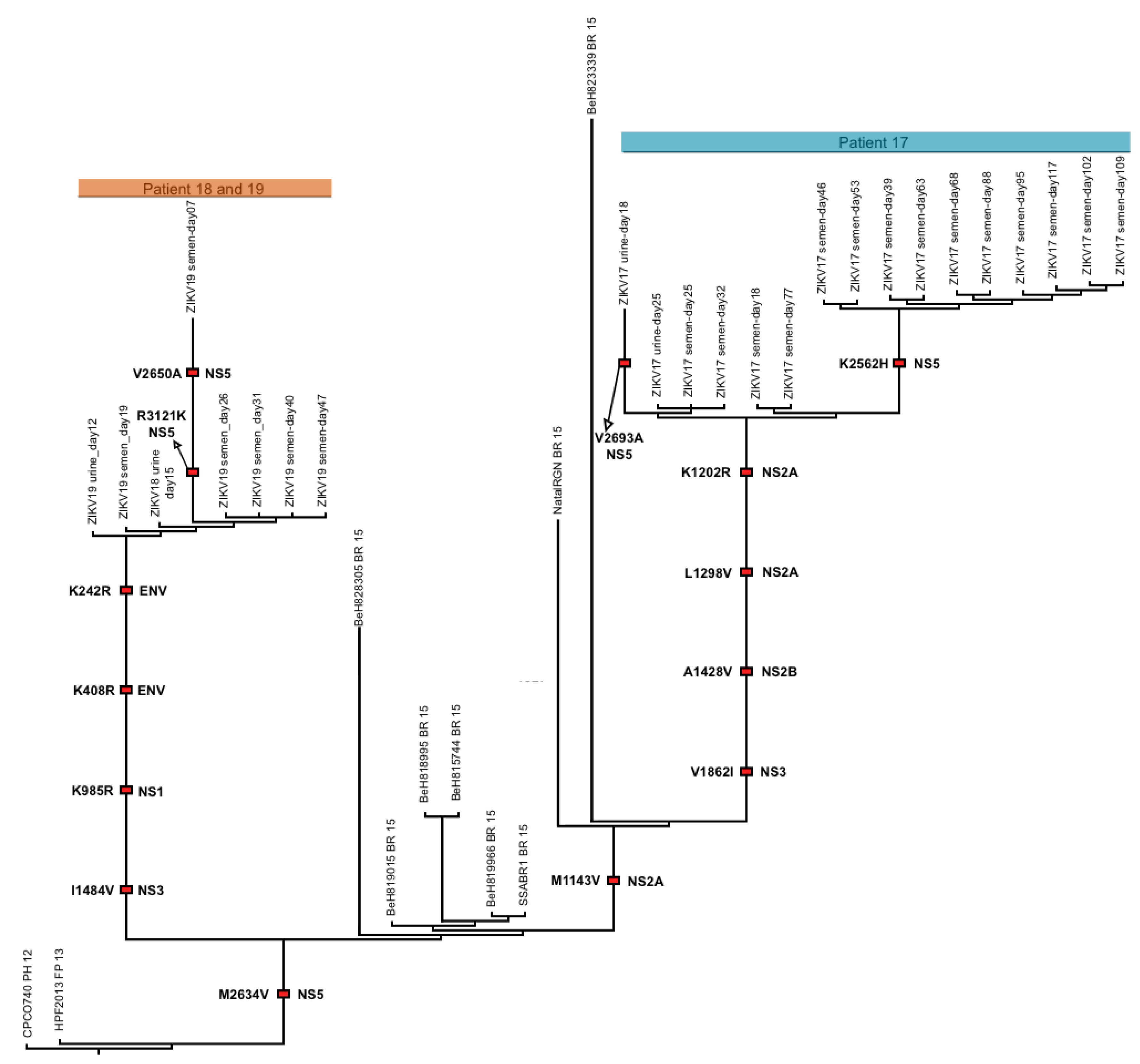 © 2018 by the authors. Licensee MDPI, Basel, Switzerland. This article is an open access article distributed under the terms and conditions of the Creative Commons Attribution (CC BY) license (http://creativecommons.org/licenses/by/4.0/).