Evolution of Codon Usage Bias in Henipaviruses Is Governed by Natural Selection and Is Host-Specific
1
National Institute of High Security Animal Diseases, Bhopal 462022, India
2
Department of Microbiology, Icahn School of Medicine at Mount Sinai, New York, NY 10029, USA
3
Supercomputing Facility for Bioinformatics & Computational Biology, Indian Institute of Technology, Delhi 110016, India
4
Laboratory for Structural Bioinformatics, Center for Biosystems Dynamics Research, RIKEN, Kanagawa 2300045, Japan
5
The Pirbright Institute, Woking GU24 0NF, UK
*
Author to whom correspondence should be addressed.
Received: 27 September 2018 / Revised: 28 October 2018 / Accepted: 30 October 2018 / Published: 1 November 2018
Abstract
Hendra virus (HeV) and Nipah virus (NiV) are among a group of emerging
bat
-borne paramyxoviruses that have crossed their species-barrier several times by infecting several hosts with a high fatality rate in
human beings
. Despite the fatal nature of their infection, a comprehensive study to explore their evolution and adaptation in different hosts is lacking. A study of codon usage patterns in henipaviruses may provide some fruitful insight into their evolutionary processes of synonymous codon usage and host-adapted evolution. Here, we performed a systematic evolutionary and codon usage bias analysis of henipaviruses. We found a low codon usage bias in the coding sequences of henipaviruses and that natural selection, mutation pressure, and nucleotide compositions shapes the codon usage patterns of henipaviruses, with natural selection being more important than the others. Also, henipaviruses showed the highest level of adaptation to
bats
of the genus
Pteropus
in the codon adaptation index (CAI), relative to the codon de-optimization index (RCDI), and similarity index (SiD) analyses. Furthermore, a comparison to recently identified henipa-like viruses indicated a high tRNA adaptation index of henipaviruses for
human beings
, mainly due to F, G and L proteins. Consequently, the study concedes the substantial emergence of henipaviruses in
human beings
, particularly when paired with frequent exposure to direct/indirect
bat
excretions.
View Full-Text
►

▼

Figures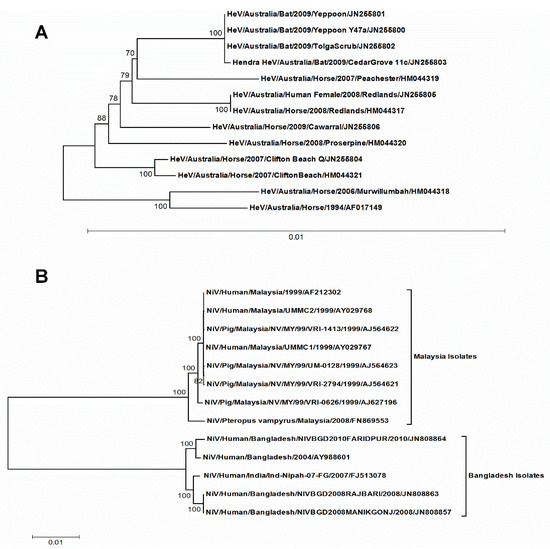 Figure 1
This is an open access article distributed under the
Creative Commons Attribution License
which permits unrestricted use, distribution, and reproduction in any medium, provided the original work is properly cited (CC BY 4.0).

Share & Cite This Article
MDPI and ACS Style
Kumar, N.; Kulkarni, D.D.; Lee, B.; Kaushik, R.; Bhatia, S.; Sood, R.; Pateriya, A.K.; Bhat, S.; Singh, V.P. Evolution of Codon Usage Bias in Henipaviruses Is Governed by Natural Selection and Is Host-Specific. Viruses 2018, 10, 604.
Note that from the first issue of 2016, MDPI journals use article numbers instead of page numbers. See further details here.
Related Articles
Comments
[Return to top]