Open Access This article is
freely available
re-usable
Communication
Fetal Brain Infection Is Not a Unique Characteristic of Brazilian Zika Viruses
1
Australian Infectious Diseases Research Centre, School of Chemistry and Molecular Biosciences, The University of Queensland, St. Lucia 4072, Australia
2
Inflammation Biology Group, QIMR Berghofer Medical Research Institute, Brisbane 4006, Australia
3
Department of Virology I, National Institute of Infectious Diseases, Tokyo 162-8640, Japan
†
These authors contributed equally to this work.

Received: 29 August 2018 / Accepted: 30 September 2018 / Published: 3 October 2018
Abstract
:
The recent emergence of Zika virus (ZIKV) in Brazil was associated with an increased number of fetal brain infections that resulted in a spectrum of congenital neurological complications known as congenital Zika syndrome (CZS). Herein, we generated
de novo
from sequence data an early Asian lineage ZIKV isolate (ZIKV-MY; Malaysia, 1966) not associated with microcephaly and compared the
in vitro
replication kinetics and fetal brain infection in interferon α/β receptor 1 knockout (IFNAR1
−/−
) dams of this isolate and of a Brazilian isolate (ZIKV-Natal; Natal, 2015) unequivocally associated with microcephaly. The replication efficiencies of ZIKV-MY and ZIKV-Natal in A549 and Vero cells were similar, while ZIKV-MY replicated more efficiently in wild-type (WT) and IFNAR
−/−
mouse embryonic fibroblasts. Viremias in IFNAR1
−/−
dams were similar after infection with ZIKV-MY or ZIKV-Natal, and importantly, infection of fetal brains was also not significantly different. Thus, fetal brain infection does not appear to be a unique feature of Brazilian ZIKV isolates.
Keywords:
Zika virus; pregnancy; fetal infection; congenital Zika syndrome; Asian lineage
Author Contributions
Conceptualization, A.A.K., A.S., Y.X.S.; methodology, A.A.K., A.S., Y.X.S., N.A.P., A.A.A.; investigation: Y.X.S., N.Y.P., E.N., A.A.A.; formal analysis, Y.X.S., E.N., A.A.K., A.S.; writing—original draft preparation, Y.X.S., N.Y.P., A.A.K., A.S.; writing—review and editing, Y.X.S., A.A.K., A.S.; supervision, Y.X.S., A.A.K., A.S.; project administration, Y.X.S., A.A.K., A.S.; funding acquisition, A.A.K., A.S., Y.X.S.
Funding
This research was funded by the National Health and Medical Research Council (NHMRC) of Australia, grant number APP1144950. A.A.K. and A.S. are Research Fellows with the NHMRC. N.A.P. was supported by an Advance Queensland Research Fellowship from the Queensland Government, Australia. E.N. was supported in part by the Daiichi Sankyo Foundation of Life Science, Japan.
Acknowledgments
The authors would like to thank the animal house staff of QIMR B for their assistance with the animal work.
Conflicts of Interest
The authors declare no conflict of interest. The funders had no role in the design of the study; in the collection, analyses, or interpretation of data; in the writing of the manuscript, or in the decision to publish the results.
Figure 1.
De novo generation and characterization of ZIKV-MY. (
a
) Schematic of Circular Polymerase Extension Reaction (CPER) fragments used for recovering ZIKV-MY. All fragments, except for the UTR-linker, are drawn to scale; (
b
) Plaque morphology on a Vero cell monolayer of ZIKV-MY recovered from the culture supernatant of CPER-transfected Vero cells, compared to ZIKV-Natal; Growth kinetics of ZIKV-MY versus ZIKV-Natal was performed on (
c
) Vero, (
d
) A549, (
e
) WT MEF, and (
f
) IFNAR
−/−
MEF cells at their indicated multiplicity of infection (MOI), and culture supernatants were harvested at the indicated time points post-infection and titered by plaque assay. The dashed lines represent the limit of detection of the assay. Means and ± SE are shown. Statistical analyses were performed using
t
-tests (
n
= three biological replicates); statistically significant are differences shown in panel (
f
) **—
p
= 0.008, ***—
p
< 0.001.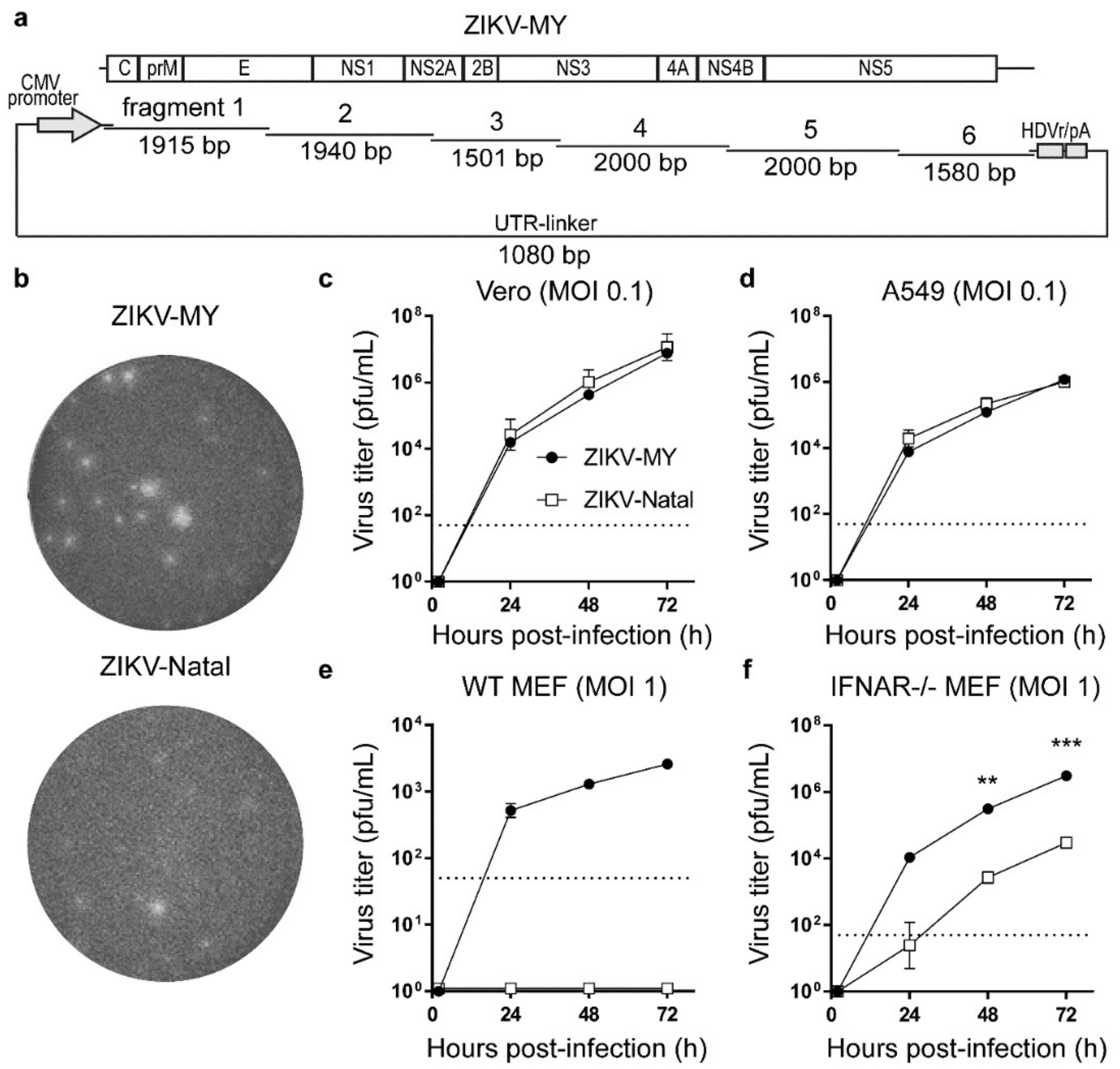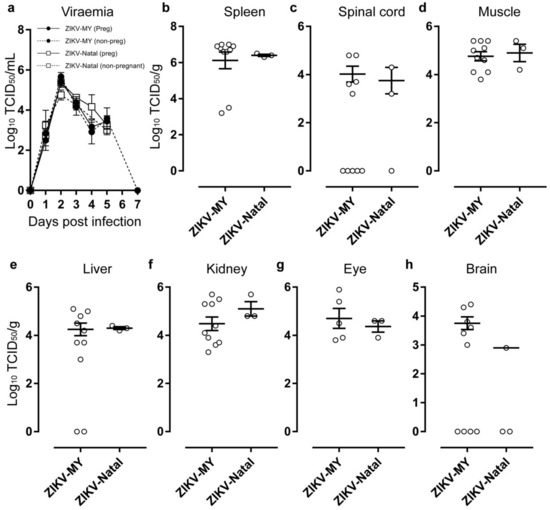 Figure 2.
ZIKV-MY and ZIKV-Natal replicate to similar levels
in vivo.
(
a
) Interferon α/β receptor 1 knockout (IFNAR1
−/−
) C57BL/6 female mice were infected with ZIKV-MY or ZIKV-Natal. Pregnant mice were infected at E12.5 of gestation. Viremia was determined daily for five days post-infection. Pregnant mice were euthanized at E17.5, and their (
b
) spleen, (
c
) spinal cord, (
d
) muscle, (
e
) liver, (
f
) kidney, (
g
) eye, and (
h
) brain samples were processed to determine the viral titers by the CCID
50
assay.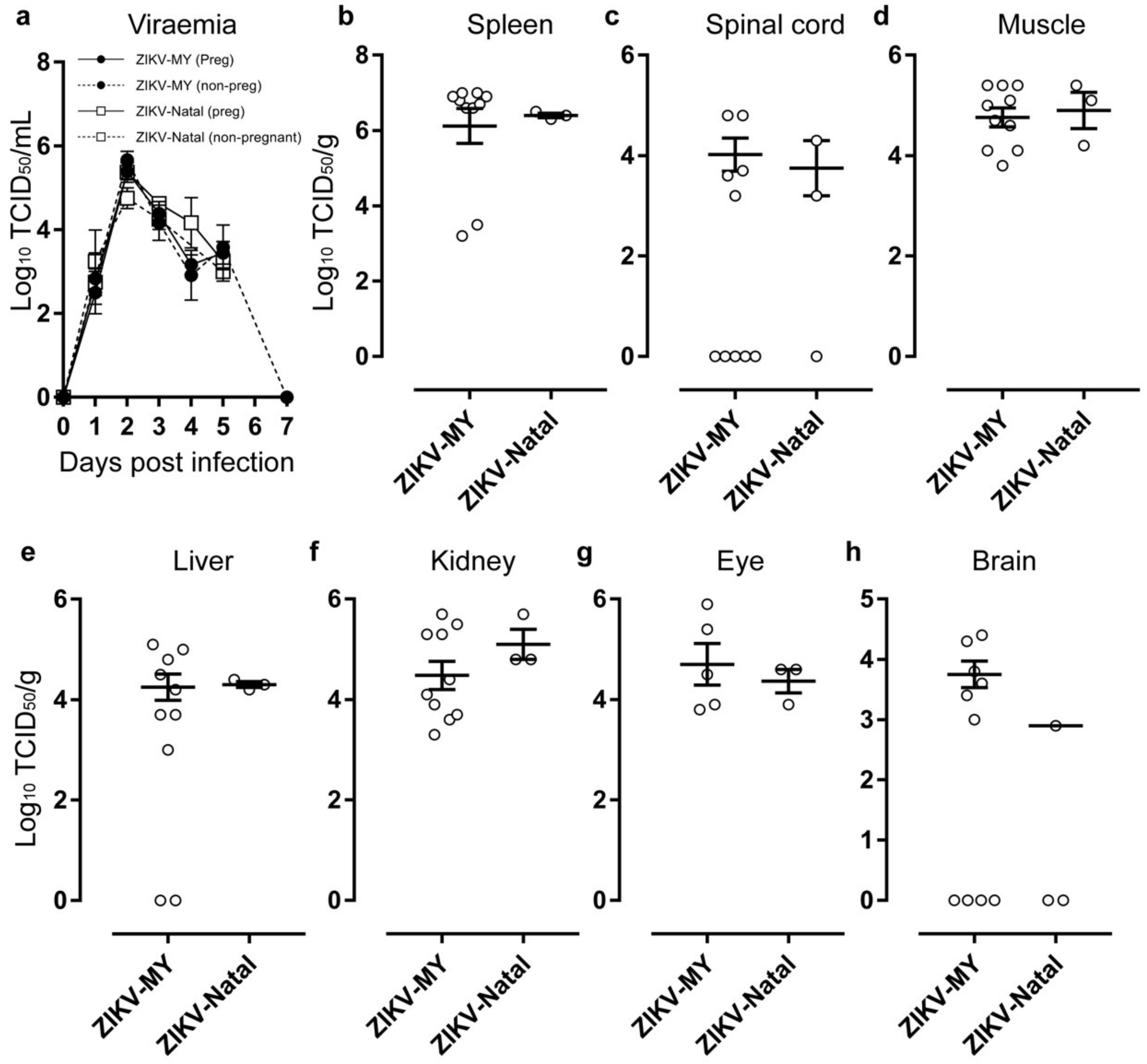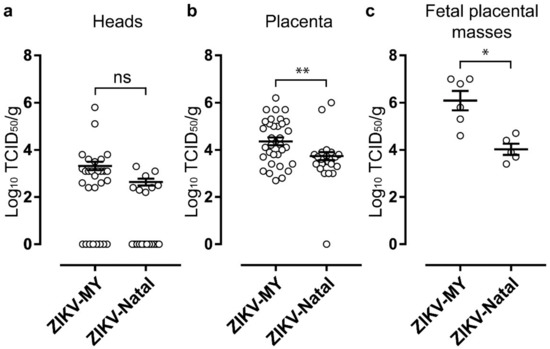 Figure 3.
Fetal and placental virus titers after infection with ZIKV-MY or ZIKV-Natal. IFNAR1
−/−
C57BL/6 pregnant mice were infected with ZIKV-MY or ZIKV-Natal at E12.5 and were euthanized at E17.5 of gestation. (
a
) Fetal heads, (
b
) placenta, and (
c
) deformed fetal–placental masses were collected, and tissue viral titers determined by the CCID
50
assay. *—
p
= 0.002; **—
p
= 0.045.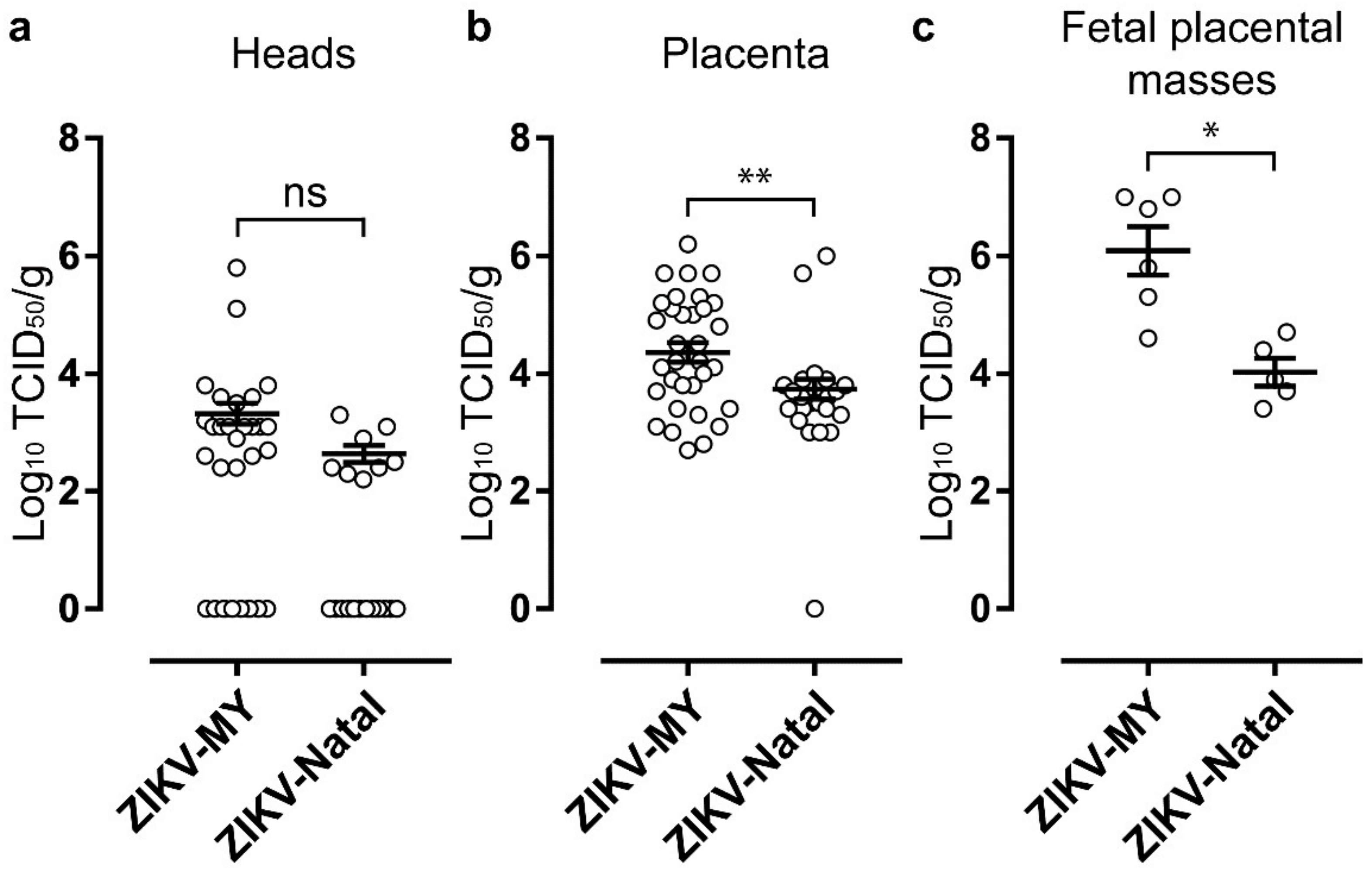 Table 1. Primers used for generation of cDNA amplicons of parental P6-740 Malaysian 1966 Zika virus isolate (ZIKV-MY) and ZIKV-Natal (Brazilian isolate)/MY chimeric virus.
| WT ZIKV-MY Primers | Primer Sequence (5′ to 3′) |
| --- | --- |
| Fragment 1 Forward | AGTTGTTGATCTGTGTGAATCAGAC |
| Fragment 1 Reverse | GTGAACGCCGCGGTACATAAGGAGTATG |
| Fragment 2 Forward | CATACTCCTTATGTACCGCGGCGTTCAC |
| Fragment 2 Reverse | GATGAAAGAGACCAGCAACGCGGG |
| Fragment 3 Forward | CCCGCGTTGCTGGTCTCTTTCATC |
| Fragment 3 Reverse | CAGCAGCGACAACCCTGGTTGGAG |
| Fragment 4 Forward | CTCCAACCAGGGTTGTCGCTGCTG |
| Fragment 4 Reverse | GTACATGTAGTGCGCCACGAGCAGAATG |
| Fragment 5 Forward | CATTCTGCTCGTGGCGCACTACATGTAC |
| Fragment 5 Reverse | CTCCTGGTGTGCGGCTCATTTCTTC |
| Fragment 6 Forward | GAAGAAATGAGCCGCACACCAGGAG |
| Fragment 6 Reverse | AGACCCATGGATTTCCCCACACCG |
| Chimeric primers | Primer sequence (5′ to 3′) |
| Natal 5′C (MY1966) R | CTCCCACGTCTGGTGACCTCCACTGCCATAGCTGTGGTCAGCAG |
| MY1966prM_F | GTGGAGGTCACCAGACGTG |
| MY1966E_R | AGCAGAGACGGCTGTAGATAGG |
| Natal NS1-junc2 (MY1966) F | CTTCCTATCTACAGCCGTCTCTGCTGATGTGGGGTGCTCGGTG |
Protein
Amino Acid Position (Within Protein)
African, MR766 1947 (146× SM, 1× C6/36, 1× Vero)
African, Nigeria 1968 (21× SM, 1× Vero)
Malaysian ZIKV-MY 1966 (6× SM, 1× BHK, 1× C6/36, 8× Vero)
African, DakAr41525 1985 (5× Vero, 1× C6/36, 2× Vero)
Brazilian ZIKV-Natal 2015 (No Passaging)
Brazilian, Suriname 2015 (4× Vero)
prM
1
A
A
V
A
A
A
17
S
S
S
S
N
N
21
K
K
K
K
E
E
31
V
V
V
V
M
M
E
154–156
NDT
Deleted
NDI
NDT
NDT
NDT
393
D
D
D
D
E
E
473
V
V
V
V
M
M
487
T
T
T
T
M
M
NS1
146
E
K
K
K
E
K
188
V
V
A
V
V
V
233
T
T
T
T
A
T
264
V
V
V
V
M
M
349
M
M
M
M
V
M
NS2A
117
A
A
V
A
A
A
143
A
A
A
A
V
V
NS3
400
N
N
N
N
H
H
472
M
M
M
M
L
L
584
Y
Y
Y
Y
H
H
NS4B
14
A
A
G
A
S
S
26
M
V
M
M
I
I
49
L
L
L
L
F
F
98
M
M
M
M
I
I
180
I
A
I
V
V
V
184
V
V
V
V
I
I
186
L
L
L
L
S
S
240
T
T
T
T
I
T
NS5
115
M
M
T
M
V
V
140
P
P
S
P
P
P
230
I
I
I
I
T
T
268
A
A
A
A
V
V
276
M
M
L
M
M
M
283
I
I
V
I
I
I
377
N
N
N
N
S
S
527
A
A
T
A
I
I
531
K
K
K
K
R
R
588
G
G
R
G
K
K
643
P
P
P
P
S
S
648
R
R
S
R
N
N
704
S
S
S
S
D
D
714
H
H
Y
H
H
H
720
Y
H
Y
H
H
H
868
D
D
D
D
N
N
Accession numbers: ZIKV-MY (KX694533), ZIKV-Natal (KU527068), MR766 (HQ234498), Nigeria (HQ234500) DakAr41525 (KU955591), Suriname (KU312312). SM—suckling mouse brain.

© 2018 by the authors. Licensee MDPI, Basel, Switzerland. This article is an open access article distributed under the terms and conditions of the Creative Commons Attribution (CC BY) license (http://creativecommons.org/licenses/by/4.0/).