Open Access This article is
freely available
re-usable
Article
Bacteriophage GC1, a Novel Tectivirus Infecting
Gluconobacter Cerinus
, an Acetic Acid Bacterium Associated with Wine-Making
1
Institut des Sciences de la Vigne et du Vin (ISVV), University Bordeaux, Equipe d'Accueil 4577, Unité de Recherche Oenologie, 33882 Villenave d'Ornon, France
2
Department of Microbiology, Institut Pasteur, 75015 Paris, France
3
Institut National de la Recherche Agronomique (INRA), ISVV, Unité Sous Contrat 1366 Oenologie, 33882 Villenave d'Ornon, France
4
Bordeaux Imaging Center, University Bordeaux, Unité Mixte de Service 3420 CNRS-Unité de Service 4, Institut National de la Santé et de la Recherche Médicale, 33076 Bordeaux, France
*
Author to whom correspondence should be addressed.
Received: 14 November 2017 / Accepted: 12 January 2018 / Published: 16 January 2018
Abstract
:
The
Gluconobacter
phage GC1 is a novel member of the
Tectiviridae
family isolated from a juice sample collected during dry white wine making. The bacteriophage infects
Gluconobacter cerinus
, an acetic acid bacterium which represents a spoilage microorganism during wine making, mainly because it is able to produce ethyl alcohol and transform it into acetic acid. Transmission electron microscopy revealed tail-less icosahedral particles with a diameter of ~78 nm. The linear double-stranded DNA genome of GC1 (16,523 base pairs) contains terminal inverted repeats and carries 36 open reading frames, only a handful of which could be functionally annotated. These encode for the key proteins involved in DNA replication (protein-primed family B DNA polymerase) as well as in virion structure and assembly (major capsid protein, genome packaging ATPase (adenosine triphosphatase) and several minor capsid proteins). GC1 is the first tectivirus infecting an alphaproteobacterial host and is thus far the only temperate tectivirus of gram-negative bacteria. Based on distinctive sequence and life-style features, we propose that GC1 represents a new genus within the
Tectiviridae
, which we tentatively named "
Gammatectivirus
". Furthermore, GC1 helps to bridge the gap in the sequence space between alphatectiviruses and betatectiviruses.
Keywords:
bacteriophage; tectivirus; wine making; must; acetic acid bacteria;
Gluconobacter cerinus
Acknowledgments
Support for this project was provided by the French ANR (grants ANR-10-INBS-04-01 to the national infrastructure France BioImaging, ANR-14-CE20-0007 to the Enology group and ANR-17-CE15-0005-01 to Mart Krupovic).
Author Contributions
Claire le Marrec, Cécile Philippe and Fety Jaomanjaka conceived and designed the experiments; Cécile Philippe, Melina Petrel and Fety Jaomanjaka performed the experiments; Claire le Marrec, Fety Jaomanjaka, Olivier Claisse and Mart Krupovic analysed the data; Cécile Philippe, Fety Jaomanjaka and Olivier Claisse contributed to reagents/materials/analysis tools; and Claire le Marrec and Mart Krupovic wrote the paper.
Conflicts of Interest
The authors declare no conflict of interest.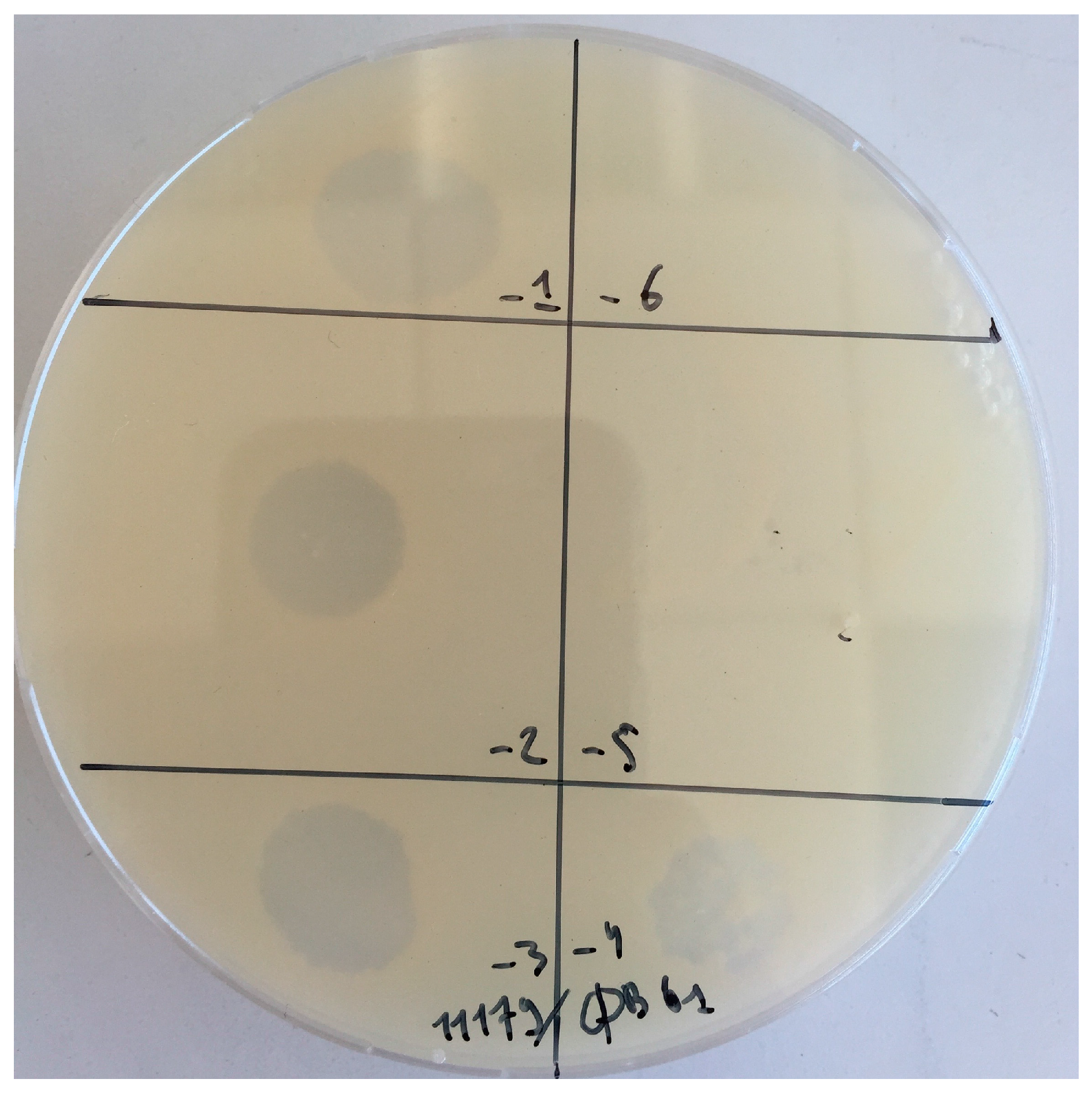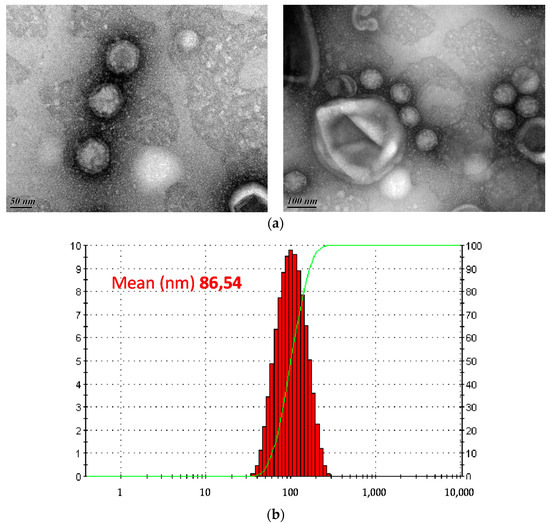 Figure 2. Morphology and size of BG1 particles. (a) Transmission electron micrographs of phage GC1. Scale bars are 50 nm (left) and 100 nm (right); (b) Average size (nm) of the particles in dynamic light scattering (DLS) analysis, using a Zetasizer Z/S system (Malvern, UK).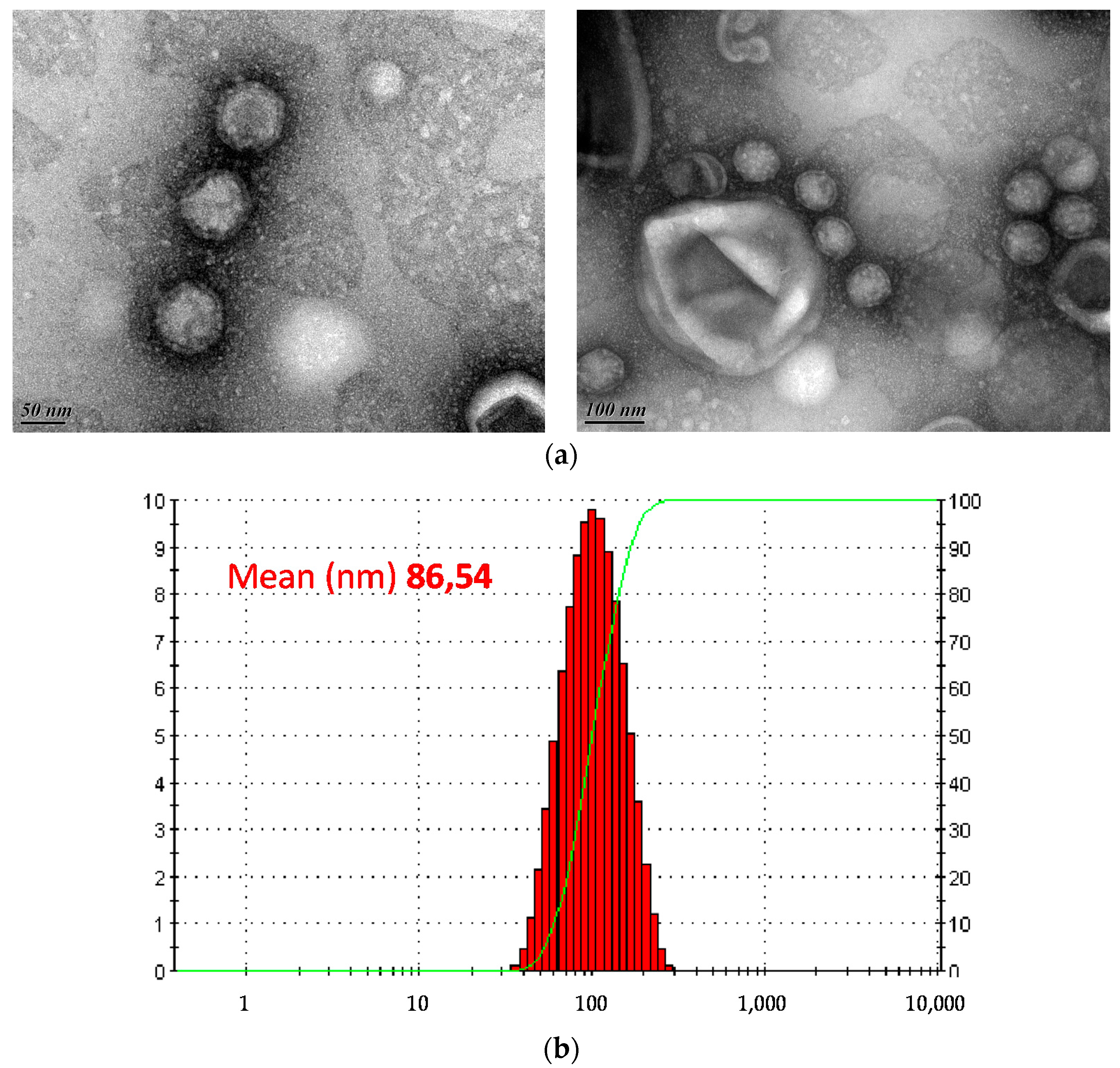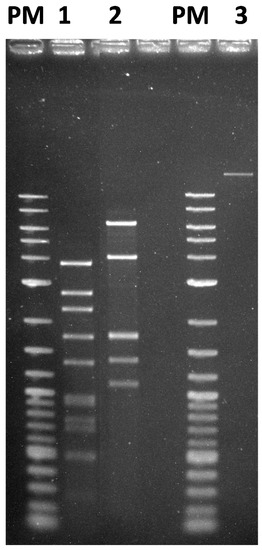 Figure 3.
Restriction enzyme patterns of phage GC1 DNA. Lane 1,
Eco
RI; lane 2,
Eco
RV, lane 3, undigested DNA. PM, 2-Log DNA ladder (Biolabs, Ipswich, MA, USA).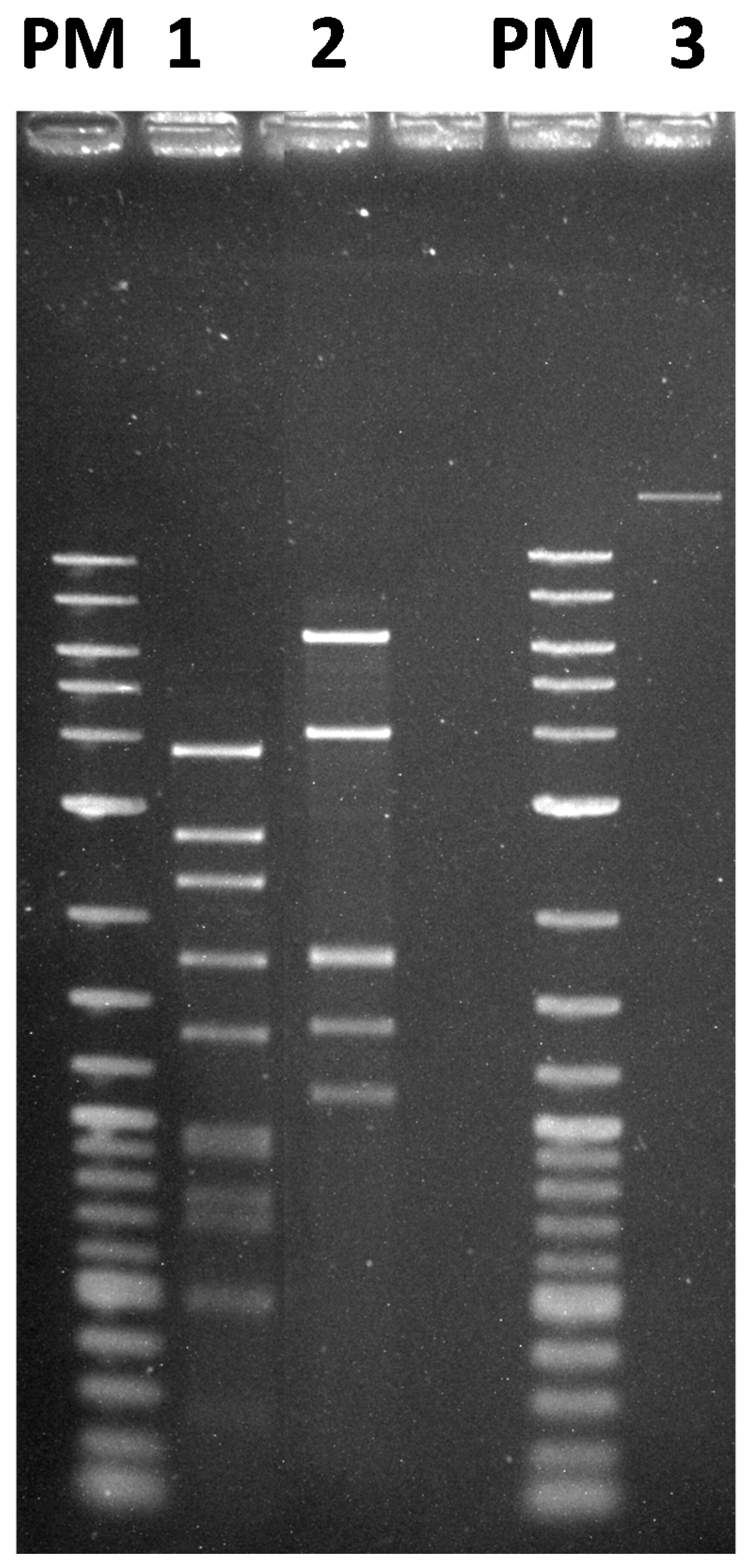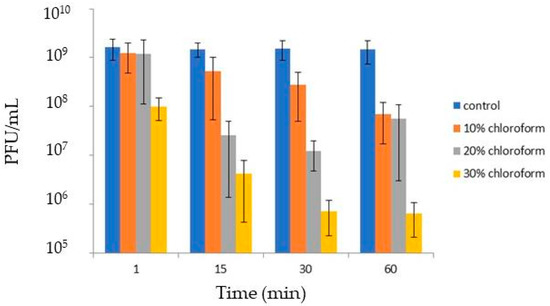 Figure 4. Sensitivity of GC1 to chloroform. The phage lysate was added with chloroform (10%, 20% or 30%). After incubation for 1, 15, 30 or 60 min at room temperature, PFU were enumerated.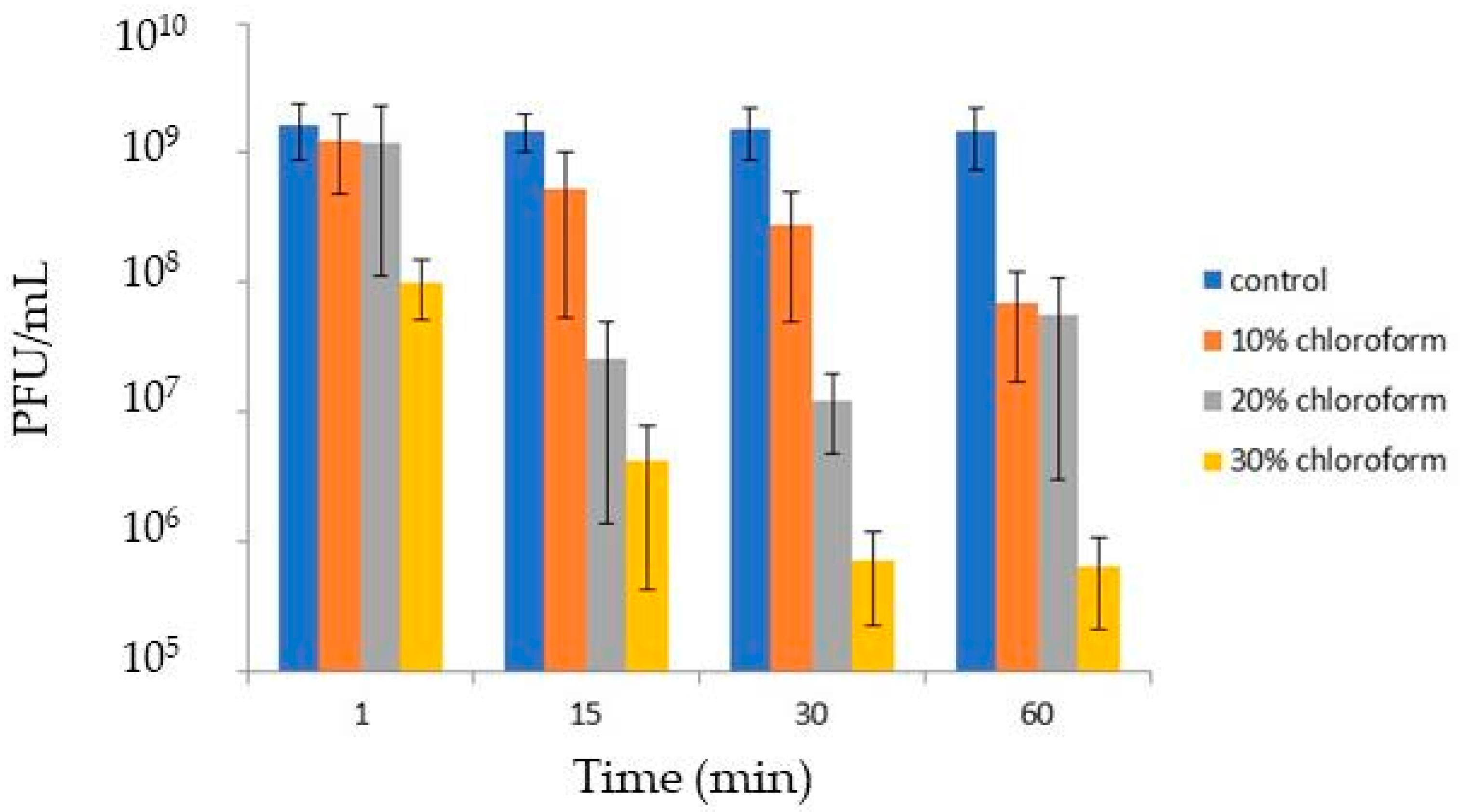 Figure 5.
Genome maps of tectiviruses GC1, PRD1 and Bam35. The figure was generated using EasyFig [
44
] and shows the similarity between translated nucleotide sequences as determined by the tblastx algorithm. Abbreviations: TP, terminal protein; DNAP, family B DNA polymerase; MCP, major capsid protein; str. Protein, structural protein; SSB, single-stranded DNA-binding protein; DBP, DNA-binding protein. ORFs shared with alphatectiviruses are highlighted in light yellow (see
Table S1
for annotations). ORFs filled in grey do not have homologs in either of the other two genomes. The color code for gene function is DNAP (red), muramidase (green), packaging ATPase (orange), MCP (blue), transglycosylase (green).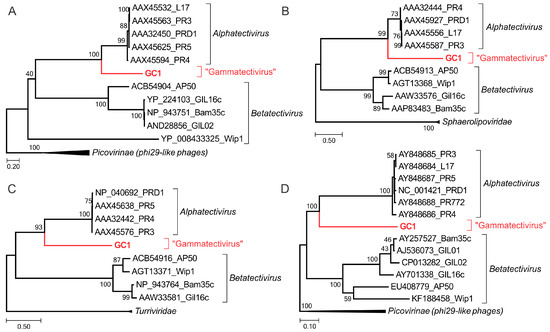 Figure 6.
Phylogenetic relationship of GC1 compared with other tectiviruses based on the three conserved proteins: the major capsid protein (
A
); packaging ATPase (
B
) and DNAP (
C
); Phylogenetic tree computed using the Genome BLAST Distance Phylogeny (GBDP) strategy (
D
); Maximum likelihood phylogenetic trees (
A
–
C
) were computed using the best-fit substitution models for given alignments (see Materials and Methods), as determined by PhyML [
50
]. The trees were rooted with taxa including the closest homologs of the corresponding proteins outside of the family
Tectiviridae
. Scale bars in (
A
–
C
) represent the number of substitutions per site, whereas in panel (
D
); the branch lengths are scaled according to the distance formula (
d
6
) used for the calculation, i.e. sum of all identities found in high-scoring segment pairs between the two proteomes divided by total genome length.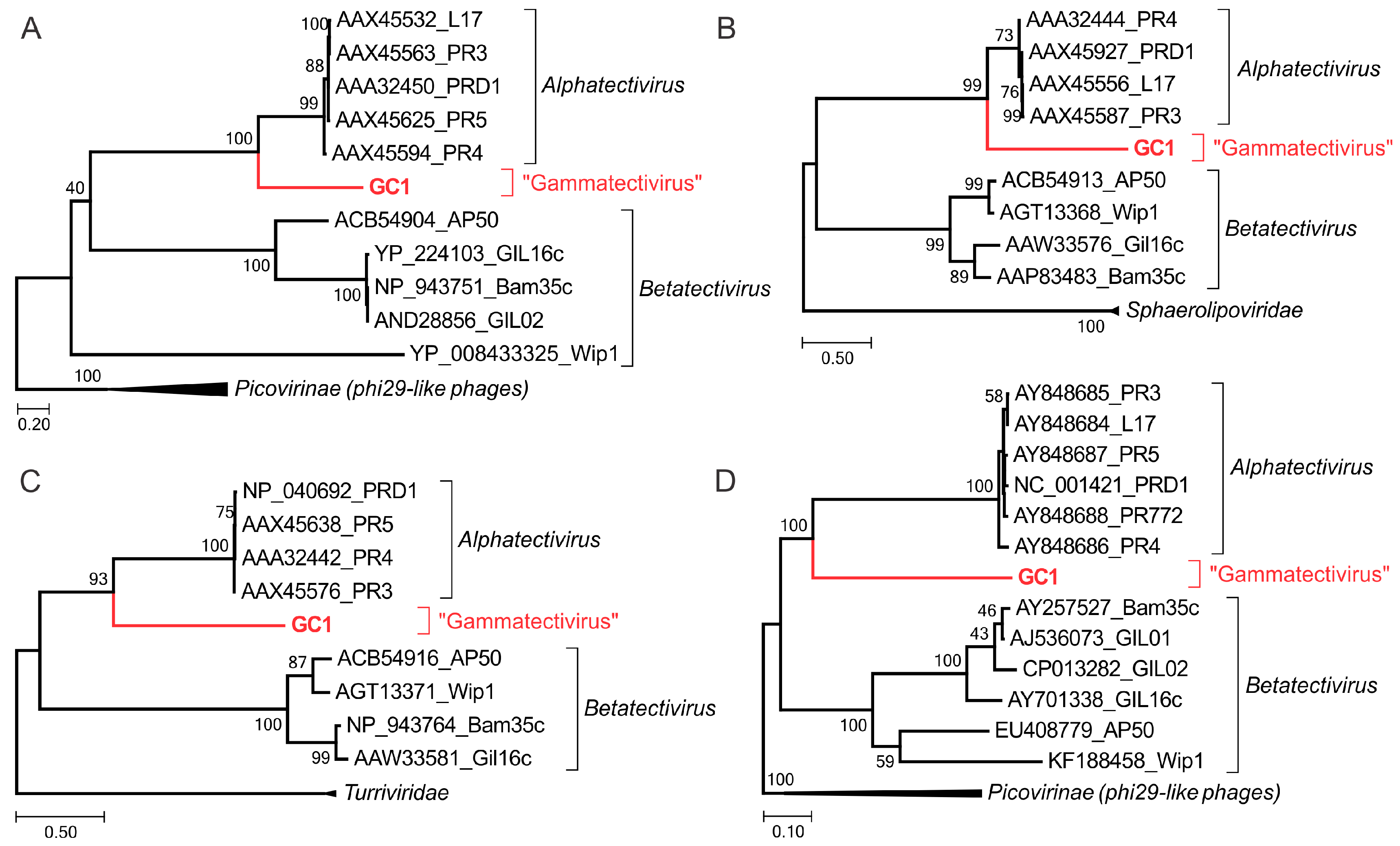 Strains
Name
Isolation
Year
Source

Acetobacter aceti

CRBO08ba14
2008
Grapes, Aquitaine
CIP103111 *
na
Alcohol vinegar
ATCC15973 *
na
Wine vinegar

Acetobacter pasteurianus

CRBO03ba01, CRBO03ba02
2003
na
CRBO08ba01, CRBO08ba03
2008
Grapes, Aquitaine

Gluconobacter cerinus

CRBO11174, CRBO11176, CRBO11178, CRBO11179
2011
Matured grapes, Grande Ferrade, INRA Bordeaux
CRBO96ba02
1996
Grapes, Pessac-Leognan
CRBO96ba39
1997
Matured grapes, Bordeaux (La Tour Blanche)

Gluconobacter oxydans

CRBO11187
2011
Matured grapes, Bordeaux
CRBO11203, CRBO11204, CRBO11205
2011
Matured grapes, Léoville
* Type strain; na, non available.
Number
Samples Characteristics a
Presence of Phages b
Wine
Appellation/Grape Variety
Step
67, 68, 69, 70
Sweet white
Sauternes/Sémillon
Must
−
14
PDC
−
12
Dry white
Bordeaux/Sémillon
PDC
−
1
Bordeaux/SauvBlanc
Must
−
2
Juice for PDC
+
26
PDC
−
27, 29
Early AF
−
31
Lussac Saint Emilion/SauvBlanc
PDC
−
125
Red
Saint-Emilion/CabFranc
−
18
Saint Emilion/Merlot
Must
−
62
−
3
Lussac Saint Emilion/Merlot
Must
−
30
−
22, 23, 24
PDC
−
60, 63
Margaux/Merlot
Must
−
61
Entre-Deux-Mers/Merlot
Must
−
143
Pomerol/CabSauv
MLF
−
144, 147
Pomerol/Merlot
−
148
Gers-Gamay/Merlot
−
149
Gers/Merlot
−
151, 153
Medoc/CabSauv
−
a The 30 samples were obtained from a collection of 166 samples (numbered 1 to 166) as previously reported [38]. They were provided by different wine estates located in the Bordeaux area during the 2013 and 2014 vintages and collected at different steps during wine making (PDC, pied de cuve; AF, alcoholic fermentation; MLF, malolactic fermentation). They were previously shown to contain active phages against the lactic acid bacterium

Oenococcus oeni

[38]. b Each of the 30 samples was tested against a panel of 17 isolates belonging to the two main genera of AAB associated with wine making, namely

Gluconobacter

and

Acetobacter

and presence/absence of plaques is indicated (+/−). Plaques identified in sample 2 were observed on

G. cerinus

CRBO11179.
Name
Sequence (5′-3′)
Position on GC1-Genome

ITR-F

CTCTTCCACGGCAACAATCC
271–252
16,253–16,272

ITR-R

ACAAGTACTACAGGGAGGGG
52–71
16,472–16,453

gp36-F

TAAGCGCGGATGGTTTAAGC
15,957–15,976

gp1-F

TACAATCGTGACGGCGGATA
886–867
Primers ITR-R and gp1-F amplified a 835 bp amplicon (left ITR). Primers ITR-R and gp36 F amplified a 516 bp amplicon (right ITR) (see Figure 5).

© 2018 by the authors. Licensee MDPI, Basel, Switzerland. This article is an open access article distributed under the terms and conditions of the Creative Commons Attribution (CC BY) license (http://creativecommons.org/licenses/by/4.0/).