Open Access This article is
freely available
re-usable
Review
Structural Insights in Multifunctional Papillomavirus Oncoproteins
Équipe Labellisée Ligue 2015, Department of Integrated Structural Biology, Institut de Génétique et de Biologie Moléculaire et Cellulaire (IGBMC), INSERM U1258/CNRS UMR 7104/Université de Strasbourg, 1 rue Laurent Fries, BP 10142, F-67404 Illkirch, France
*
Author to whom correspondence should be addressed.
Received: 3 December 2017 / Accepted: 11 January 2018 / Published: 15 January 2018
Abstract
:
Since their discovery in the mid-eighties, the main papillomavirus oncoproteins E6 and E7 have been recalcitrant to high-resolution structure analysis. However, in the last decade a wealth of three-dimensional information has been gained on both proteins whether free or complexed to host target proteins. Here, we first summarize the diverse activities of these small multifunctional oncoproteins. Next, we review the available structural data and the new insights they provide about the evolution of E6 and E7, their multiple interactions and their functional variability across human papillomavirus (HPV) species.
Keywords:
papillomaviruses; oncoproteins; structure; X-ray; NMR; virus-host interactomics
2. E6 and E7 Are Multifunctional Proteins
2.1. E6 and E7 Interact with Large Numbers of Host Target Proteins
For the best-studied mammalian PVs, both E6 and E7 have been found to interact with numerous distinct cellular target proteins involved in a variety of cellular functions [
16
,
17
,
31
,
32
,
33
,
34
,
35
,
36
]. Importantly, E6 proteins from distinct HPV species recognize distinct subsets of the full panel of potential E6 targets [
31
]. This exquisite capacity of different E6 proteins to recognize particular pools of targets likely contributes to the particular biological traits of each HPV type in terms of tropism, viral cycle, or pathogenicity. The same multifunctional character, undergoing variations across HPV species, has been observed for HPV E7 oncoproteins [
31
].
2.2. Viral Domain-Motif Hijacking Strategies Explain E6 and E7 Multifunctionality
One can cite at least three well-documented examples of domain-motif network hijacking by the viral oncoproteins E6 and E7.
2.3. E6 and E7 Divert the Host Ubiquitination Machinery
Frequently, E6 and E7 not only bind to their targets but also provoke their accelerated destruction by the Ubiquitin Proteasome System (UPS) [
55
,
56
]. This is generally achieved via a tripartite interaction, in which the viral oncoprotein recruits, on the one hand, a UPS enzyme (generally, an E3 ubiquitin ligase) and on the other hand a target cellular protein. The target protein is subsequently poly-ubiquitinated, then degraded by the proteasome system, while the viral oncoprotein and the ubiquitin ligase are recycled for degrading the next molecule of target protein. The best documented case of such "UPS hijacking" by HPVs is performed by the E6 oncoprotein of high-risk mucosal (hrm) HPVs. The Hrm-HPV E6 binds to E6AP (also called UbE3A), a cellular E3 ubiquitin ligase containing a HECT (Homologous to E6AP C-Terminal) domain specialized in poly-ubiquitination of target proteins. The resulting E6/E6AP complex then recruits the p53 anti-apoptotic tumor suppressor protein, provoking its poly-ubiquitination and subsequent degradation by the proteasome [
57
,
58
]. In a somehow comparable process, the E7 oncoprotein of hrm-HPVs binds to the cullin 2 ubiquitin ligase, resulting in the proteasome-dependent degradation of pRb [
59
,
60
]. In a recent work, screening of a library expressing 590 proteins related to the UPS confirmed E6AP and members of cullin family as UPS targets of hrm HPV E6 and E7, respectively, and identified novel potential targets for both oncoproteins [
61
].
2.4. E6 and E7 and Nucleic Acids
While the best studied molecular activities of E6 and E7 proteins are related to their ability to interact with target cellular proteins, both E6 and E7 have early been suggested to interact also with nucleic acids [
62
,
63
,
64
]. This hypothesis was based on the fact that both E6 and E7 contain conserved zinc-binding domains with sequences distantly reminiscent of the zinc finger domains of transcription factors, including repeats of four conserved cysteine residues. Indeed, a subset of E6 proteins from high-risk mucosal HPV types was found to interact with high affinity and selectivity with 4-way DNA junctions [
65
] and the residues responsible for DNA binding were localized within the C-terminal zinc-binding domain of these E6 proteins [
66
,
67
,
68
]. The E6 proteins of high-risk mucosal HPVs have also been found to be RNA-binding proteins that can inhibit splicing of pre-mRNAs [
69
]. How these nucleic-acid binding properties are utilized during the virus lifecycle, and whether they contribute to the oncogenic phenotype, is still poorly understood.
2.5. The Multifunctionality Issue: How to Make Sense of Complexity?
The multifunctional character of PV oncoproteins raises the problem of how to rank/evaluate the individual contributions of their numerous interactions and of the subsequent biochemical reactions to viral tropism, lifecycle, and pathogenesis. At the limits, one may either consider that all observed interactions are equally and indistinctively relevant ("big-bag complexity" view point), or consider on the contrary that only a few interactions are relevant with all the rest being artefactual or fortuitous ("extreme reductionism" view point). A way to reconcile these opposite view points may be to consider that each identified interaction of E6 or E7 participates in viral tropism, lifecycle, and pathogenesis according to a given "weight", and that the observed phenotype emerges from the combination of all the differently weighted interactions and subsequent reactions. In such a "combinatorial-weighted" approach, the list of interactions taken into consideration remains the same for each E6 or E7 protein across the HPV phylogenetic tree, but the weight allocated to each individual interaction varies for each viral type considered.
How could one quantify the weight allocated to each viral-host interaction? One approach may be to use quantitative information derived from mass spectrometry (MS). In a remarkable work, White and collaborators [
31
,
36
] have used E6 proteins from 16 different HPV types belonging to eight different species and two different HPV genera (α and β), to identify 153 E6-binding cellular proteins. Each E6 protein considered was found to bind detectably to only a reduced subset of these 153 proteins. In addition, each E6 protein varied in its efficiency of pulling down each particular partner. This information was quantified in the form of a "Normalized Weighted D-score" that computed the uniqueness, abundance, and reproducibility of each identified E6-target interaction. In another study by Thomas et al. [
70
], resin beads pre-saturated with synthetic PDZ-Binding Motifs (PBMs) derived from 10 different HPV E6 proteins were incubated with keratinocyte extracts, leading to the pull-down and MS-based identification of 19 E6-binding PDZ domain-containing host cell proteins. Thanks to a reproducible protocol where only the PBM sequence varied, the normalized mean numbers of peptides of each pulled-down host protein identified by MS provided quantitative scores representative of the preferences of each E6 protein.
Another approach to allocating a quantitative weight to the different viral-host interactions could be to measure the affinity displayed by the viral protein towards each potential cellular partner. Recently, Vincentelli et al. [
71
] bacterially expressed 209 PDZ domains, representing 79% of the entire complement of human PDZ domains (the "PDZome") and used a high-throughput chromatographic approach (the holdup assay) to systematically measure in vitro the affinities of each expressed PDZ domain towards the PBMs of E6 proteins from the two highest-risk mucosal HPV types, 16 and 18. The data were represented in the form of "PDZome-binding specificity profiles", which allow visualizing and comparing at one glance the binding strengths of each E6 PBM towards all individual domains of the human PDZome.
3. Sequence and Structure of E6 and E7 Oncoproteins
3.1. Amino Acid Sequence Features of E6 and E7
3.2. History of Progress towards E6 and E7 Tri-Dimensional Structures
The E6 and E7 proteins were identified as major PV oncoproteins in the mid-80s [
81
,
82
,
83
,
84
,
85
], immediately promoting the first attempts to produce these proteins in recombinant form [
86
,
87
,
88
,
89
]. Nevertheless, the first structures of the isolated zinc-binding domains of either E6 [
67
] or E7 [
76
,
78
] were only released in 2006, whereas the first structures of full-length mammalian PV E6 proteins were released in 2013 [
75
], almost thirty years after the discovery of E6 and E7 oncoproteins. This was mainly due to difficulties in producing homogeneous soluble samples of recombinant E6 and E7 proteins. The search for soluble E6 samples amenable to structural analysis has been particularly arduous, going through the following steps: (i) experimental delimitation of the two zinc-binding domains [
68
,
74
,
90
,
91
]; (ii) solubilization of E6 by means of fusion to the highly soluble bacterial Maltose Binding Protein (MBP) [
92
,
93
,
94
,
95
]; (iii) biophysical characterization of E6 oligomers [
92
,
93
,
94
,
96
,
97
]; (iv) separation of soluble monomeric MBP-E6 fusions from soluble aggregated MBP-E6 fusions [
92
,
93
,
94
]; (v) solubilizing mutagenesis of E6 proteins to replace exposed non-conserved cysteine residues that promote intermolecular disulfide bridging during E6 purification and storage [
92
,
93
,
94
]; (vi) solubilizing mutagenesis of E6 proteins to replace surface exposed hydrophobic residues that promote oligomerization of purified E6 [
91
]; (vii) solubilization and stabilization of E6 proteins by binding to their cognate LxxLL motif [
75
,
95
,
98
]. Therefore, it was the interdependent progress in understanding the mechanisms of E6 self-association and in finding strategies to prevent these mechanisms that ultimately led to the resolution of structures of E6 proteins [
67
,
75
,
91
,
98
].
3.3. Structure of the Zinc-Binding Domains of E6
The folded regions of E6 and E7 contain zinc-binding folds that have not yet been observed elsewhere in the living kingdom, although some of their structural characteristics can be found within other proteins.
3.4. Structure of the Zinc-Binding Domains of E7 and Comparison to E6 Domains
3.5. Conformation of Uncomplexed Mammalian E6 in Solution
To date, no crystal structure of uncomplexed full-length mammalian PV E6 could be obtained despite significant efforts. However, the NMR analysis of full-length E6 has provided extended insight on the conformation of free E6 in solution [
91
]. Most backbone amide signals of the full-length E6 construct could be identified and were found to overlay with signals in its separated E6N and E6C domains. This indicated that the structures of the domains were preserved in the context of the full-length protein. However, most of the resonances of the interdomain linker (residues 75–82) could not be observed, likely due to dynamic processes. NMR measurements of the tumbling correlation time (τc) indicated that the uncomplexed full-length E6 protein behaved as a rigid monomer rather than two independently tumbling domains [
91
]. This suggests that the interdomain linker may transiently adopt, in free E6 in solution, the helical conformation that is observed in the crystal structure of LxxLL-complexed E6 (
Figure 2
E, see also
Figure 4
A). This would represent a typical example of "conformational selection". Conformational selection is a theoretical framework, which proposes that unliganded proteins already adopt—or "sample"—, in a proportion that varies for each case considered, the conformation that they will adopt in the bound state [
113
].
While the conformation of free E6 represents an interesting and not fully resolved biophysical issue, it is rather the E6 proteins bound to their host targets that exert biological and pathogenic effects. In addition, full-length HPV E6 proteins appear to be expressed in very low amounts in tumor cells [
97
,
114
] so that they may essentially exist in the form of target-bound complexes. These considerations have motivated structural investigation of E6 proteins in complexes with cellular target proteins, as will be described in the next paragraphs.
4. Structure and Specificity of E6-Target Complexes
4.1. Structure of Full-Length Mammalian E6 Proteins Bound to Target LxxLL Motifs
4.2. Why Do Apparently Unrelated E6 Target Proteins Contain a Conserved E6-Binding LxxLL Motif? The CBP-P300 Hypothesis
Most mammalian E6 proteins recognize acidic LxxLL motifs [
75
], yet E6 proteins of distinct PV species recognize different subcategories of these motifs and hence recruit distinct LxxLL-containing host proteins [
32
,
36
,
75
]. The LxxLL motifs targetted by E6 proteins are highly conserved in their respective cellular proteins across mammals and sometimes even across the whole vertebrate lineage. These LxxLL motifs are unlikely to be conserved in diverse host proteins for the sole purpose of binding to viral E6. Rather, they may participate in a common host function, whose perturbation is useful to the viral lifecycle. LxxLL motifs are frequent in transcriptional co-activators, where they mediate crucial protein–protein interactions [
119
,
120
]. Remarkably, the best characterized LxxLL-containing E6 targets, i.e., E6AP [
121
], p53 [
122
], MAML1 [
123
], IRF3 [
124
], paxillin [
125
] and its close paralog ARA55 (Androgen Receptor Associated protein 55) [
126
], hADA3 (human Transcriptional Adapter 3) [
127
] and CCR4-Not complex [
128
], are all involved in transcriptional activation or co-activation. Moreover, most of them have been shown to interact with the CBP-p300 protein [
121
,
122
,
123
,
124
,
126
,
127
,
128
], which is itself a direct target of some E6 proteins, such as those of HPV16 and β1 HPVs [
36
,
129
]. CBP-p300 is a central transcriptional co-activator with acetyltransferase activity involved in numerous functions, including the host innate antiviral response [
124
,
130
]. Therefore perturbation of CBP-P300 activity is a consistent feature of many viruses [
131
]. Moreover, CBP-p300 is also involved in tumorigenic pathways [
132
]. Remarkably, CBP-p300 not only contains LxxLL motifs that bind to transcription factors [
132
,
133
], but it also recruits LxxLL motifs from co-activator proteins. In particular, the KIX domain of CBP-p300 modulates CBP-p300 activity by binding to acidic LxxLL motifs [
134
] reminiscent of those preferentially targeted by E6 proteins.
Based on the above-mentioned published observations, it is tempting to speculate that all mammalian E6 proteins share the ability to interfere with CBP-300 activity by directly interacting with CBP-300 or by capturing acidic LxxLL motifs within cellular partners of CBP-p300. This conserved ability to interfere with CBP-p300 activity would not only make sense for mammalian PVs to counteract innate immunity responses, but might also contribute to PV-induced oncogenesis. Indeed, the oncoprotein AML1-ETO, a fusion protein associated with acute myeloid leukemia (AML), competes with CBP-p300 for binding to the acidic LxxLL motif of E-proteins, a family of transcription factors that normally interact via their LxxLL motif with the KIX domain of CBP-p300 [
134
,
135
]. In a similar way, E6 oncoproteins might perform part of their tumorigenic action by competitively blocking the access of cellular acidic LxxLL motifs to CBP-p300. Besides, the acidic LxxLL motifs recognized by E6 proteins may also bind and regulate transcriptional activators or co-activators other than CBP-p300, that remain to be identified.
4.3. Structure of the Ternary E6/E6AP/p53 Complex
4.4. Structural Basis of Hijacking of PDZ Domains and Rb Pocket Domains by High-Risk Mucosal HPVs
5. Exploitation of High-Resolution Structural Data for In Vivo Inhibition of E6 Oncogenic Activity
Despite their very recent release, the high-resolution structural data available on E6-target complexes have already started to be utilized for the exploration of potential therapeutic applications.
As discussed above, all high-risk mucosal E6 oncoproteins bind to PDZ domains and LxxLL motifs; both of these activities are crucial for HPV-induced oncogenesis; and high-resolution data are available on both E6-PDZ and E6-LxxLL complexes. This inspired two distinct research groups to design chimeric PDZ-LxxLL [
22
] and LxxLL-PDZ [
149
] fusion proteins. Both types of constructs were shown to act as strong bivalent E6 ligands displaying a nanomolar affinity. Furthermore, the PDZ-LxxLL chimera was shown to bind strongly and specifically to E6 proteins of all high-risk mucosal HPV types, and to provoke apoptotic death of HPV-positive cells derived from cervical tumors [
22
].
In another study, pep11**, a peptide displaying potent pro-apoptotic effects in HPV16-positive cells [
24
], has been probed by NMR for its specific interaction with full-length HPV16 E6 in solution [
23
]. The interaction was shown to be in the nanomolar affinity range, and to induce time-dependent aggregation and subsequent precipitation of E6. Prior knowledge of most backbone frequencies of HPV16 E6 [
91
] allowed for the mapping of the pep11**-binding surface on HPV16 E6. This surface was found to overlap with the E6AP-binding surface of E6, thereby providing a strong structural basis to the likely hypothesis that the pro-apoptotic effects of pep11** are mediated, at least in part, by its specific binding to HPV16 E6.
Finally, the structural data on E6/E6AP complexes have been utilized for in silico docking of small molecule E6 ligands displaying E6 inhibitory activity in the micromolar affinity range. It should be noted however, that the docking onto E6 3D structure did not serve the design of the small molecules, as it was only performed
a posteriori
to verify that the molecules characterized in this work could potentially be accommodated within the E6 pocket [
28
,
30
].
6. Conclusions
High-resolution structural analysis of the multifunctional E6 and E7 oncoproteins had been awaited for many years after their discovery. In the last decade, progress in production and solubilization of these proteins paved the way to breakthrough advances. The structures of zinc-binding domains of several E6 and E7 proteins have been solved by NMR and crystallography, revealing two zinc-binding folds probably derived from a common ancestor. Next, combined structural and biophysical data have depicted the strategies employed by E6 and E7 oncoproteins to hijack host domain-motif interaction networks. Several X-ray and NMR structures have described the mode of binding of short linear interaction motifs from both E6 and E7 to target host domains (PDZ and pocket domains, respectively). In parallel, quantitative proteomics approaches have been developed to identify and rank among the entire complement of human PDZ domains, those which bind best to each HPV E6 oncoprotein analyzed. Furthermore, X-ray structures of two E6-LxxLL complexes have described commonalities and differences in the recognition of host LxxLL motifs, a conserved property of most mammalian E6 proteins. Very recently, a trimer composed of HPV16 E6, the LxxLL motif of E6AP, and core domain of p53 has been solved by X-ray crystallography, depicting the mode of assembly of a viral p53 degradation complex.
Nonetheless, there are still exciting avenues to explore concerning the biophysical and structural characterization of HPV oncoprotein activities. It will be interesting to further investigate the molecular basis of papillomaviral motif/domain hijacking strategies by combining quantitative proteomic analysis of the LxxLL interactomes of diverse human or mammalian PV species, with the resolution of additional E6-LxxLL structures of particular interest, such as α-HPV E6/IRF3, β-HPV E6/MAML1 and β-HPV E6/CBP-p300. In these complexes, it will be important to extend the size of the host protein constructs involved by including, whenever possible, the full-length cellular proteins, rather than their sole LxxLL motifs. A particularly challenging aim will be to visualize at high resolution the p53 degradation complex including full-length E6 protein, full-length E6AP ligase (850 amino acids, possibly trimeric) and full-length p53 tetramer (4 × 393 amino acids). Last but not least, a research with high potential impact on human health will consist of exploiting the novel high-resolution structures of HPV oncoprotein–host protein complexes for the design and optimization of small molecule inhibitors of the pathogenic activities of HPVs.
Acknowledgments
The authors thank colleagues of the Travé team for helpful discussion, and former colleagues of the Oncoprotein team, particularly Katia Zanier, Sebastian Charbonnier and Yves Nominé, for their invaluable participation in the structural work cited in this review. The authors also thank the reviewers for careful reading, useful comments and expert editing of the manuscript. This work received institutional support from le Centre National de la Recherche Scientifique (CNRS), Université de Strasbourg, Institut National de la Santé et de la Recherche Médicale (INSERM) and Région Alsace. The work was supported in part by grants from Ligue contre le Cancer (équipe labellisée 2015), National Institutes of Health (grant R01CA134737), Instruct (ESFRI), the French Infrastructure for Integrated Structural Biology (FRISBI) and Fondation pour La Recherche Medicale (fellowship to Irina Suarez). The authors declare that the content is solely their responsibility and does not represent the official views of the National Institutes of Health.
Conflicts of Interest
The authors declare no conflict of interest.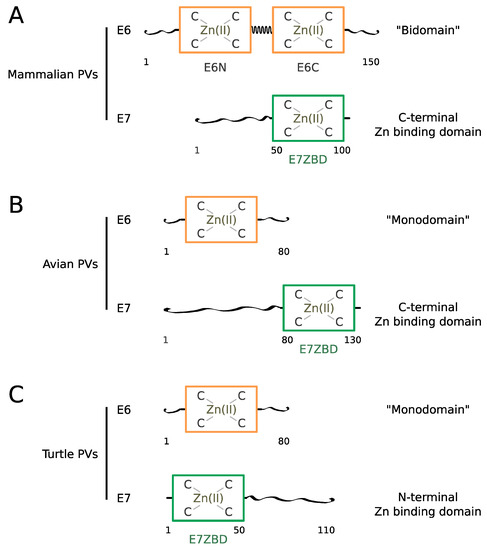 Figure 1. Schematics of E6 and E7 sequences across distinct vertebrates: (A) mammals; (B) birds; (C) turtles. Folded zinc-binding domains and unfolded regions are represented as rectangles and extended strings, respectively. Approximate amino-acid numbering is indicated below the schemes.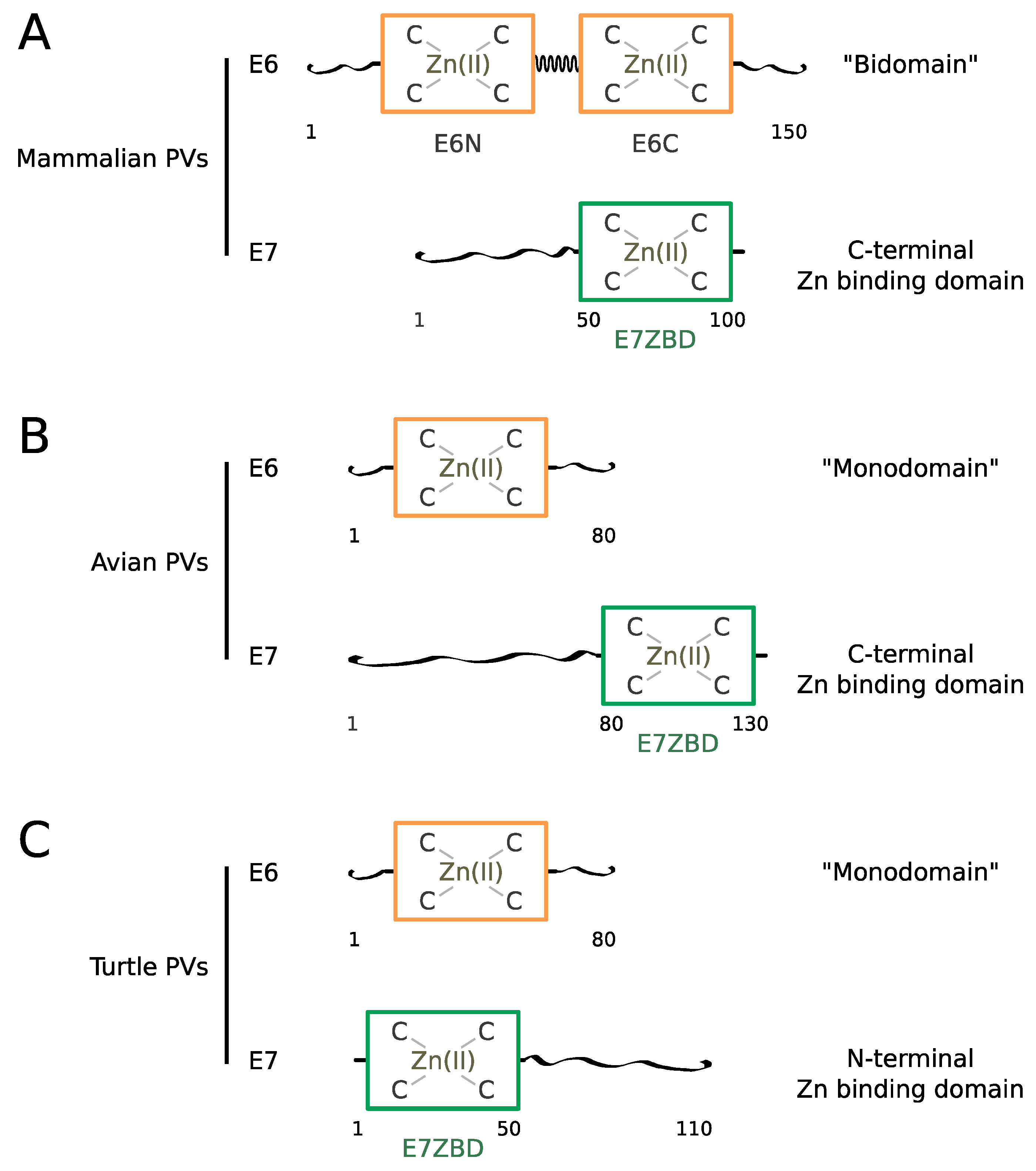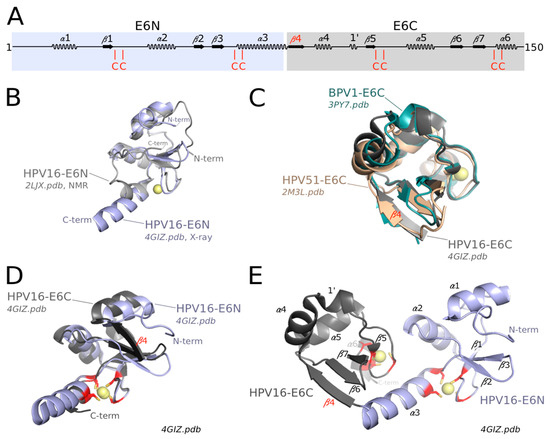 Figure 2.
Architecture of mammalian human papillomavirus (HPV) E6. (
A
) Secondary structure elements of mammalian HPV16 E6. E6N is shaded in blue, E6C is shaded in gray; (
B
) Superimposition of HPV16 E6N domain solved by NMR [
91
] and HPV16 E6N domain from the crystal structure of the E6/E6AP LxxLL complex [
75
]; (
C
) Superimposition of HPV16 E6C domain from the crystal structure of the E6/E6AP LxxLL complex [
75
], HPV51 E6C domain solved by NMR [
101
] and bovine papillomavirus 1 (BPV1) E6C domain from the crystal structure of the BPV1 E6/paxillin LxxLL complex [
75
]; (
D
) Superimposition of HPV16 E6N and E6C domains from the crystal structure of the HPV16 E6/E6AP LxxLL complex [
75
]; (
E
) Structure of LxxLL-bound mammalian HPV16 E6 [
75
] (LxxLL motif not shown for clarity). Zinc-coordinating cysteines are highlighted in red. Secondary elements are numbered as in [
75
]. Spheres are Zinc (II) atoms. All structural views in this article were prepared using Pymol (
http://www.pymol.org/
).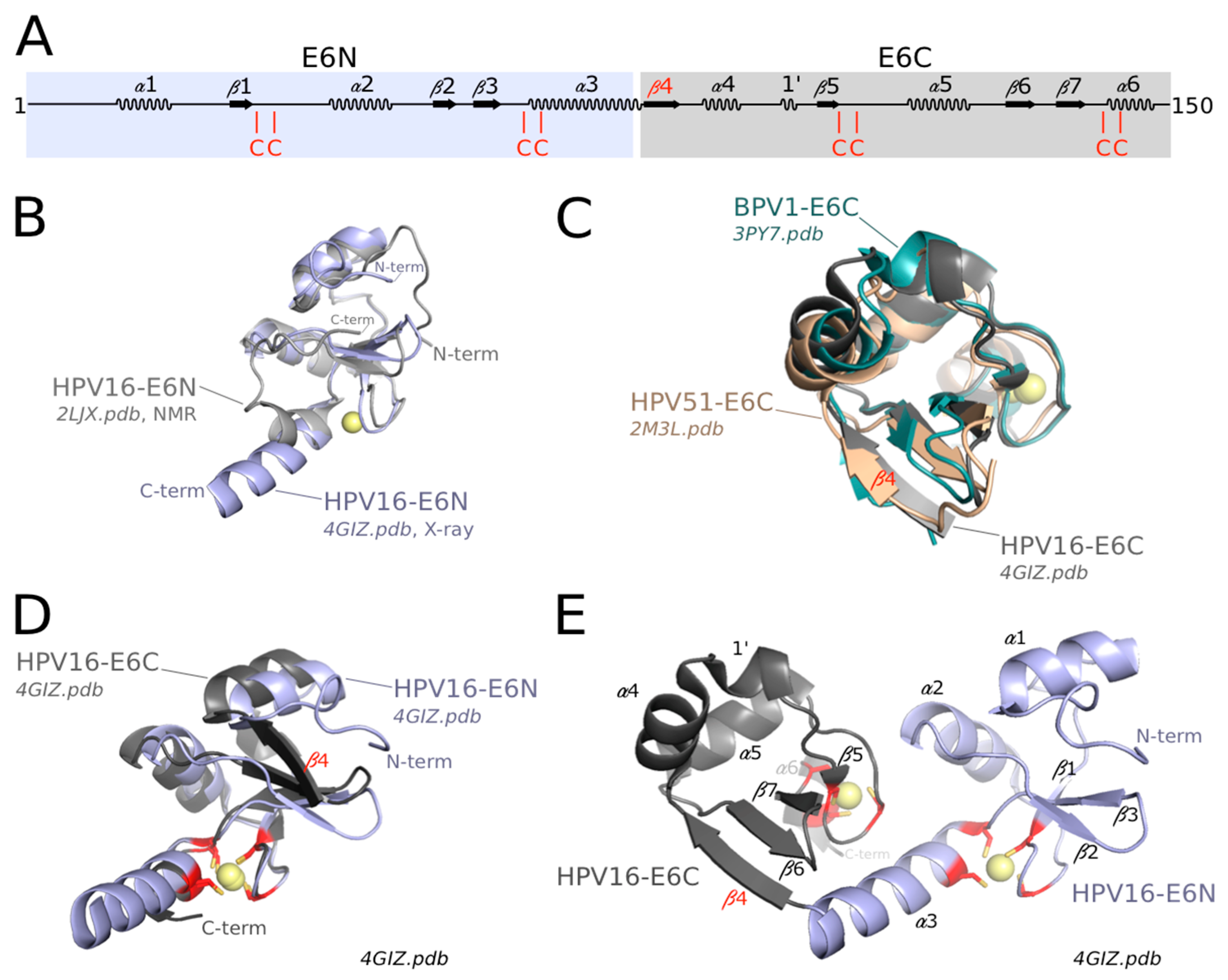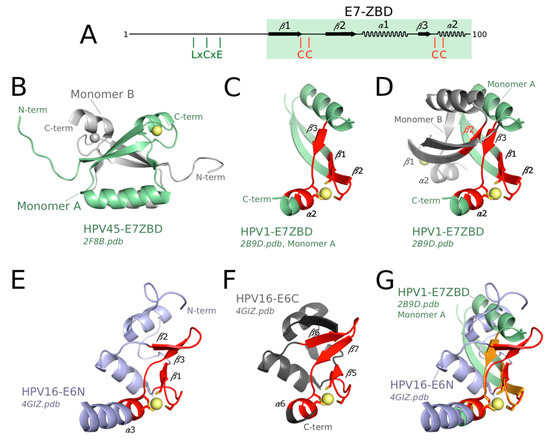 Figure 3.
Structure of mammalian papillomavirus (PV) E7 ZBD and comparison to mammalian PV E6N and E6C. (
A
) Schematics of mammalian HPV E7 sequence. Mammalian PV E7 proteins contain an intrinsically unfolded N-terminus bearing a conserved LxCxE sequence (as indicated on the sheme) among other putative interaction motifs, followed by a folded zinc-binding domain (E7-ZBD) shaded in green, with four conserved cysteine (C) residues as indicated; (
B
) Solution structure of HPV45 E7 ZBD homodimer [
76
]. A comparable structure was also obtained by crystallography for the E7 ZBD of HPV1 E7 [
78
]; (
C
) Elements of the treble clef motif of E7 ZBD (in red) in context of the E7 ZBD monomer; (
D
) Elements of the treble clef motif of E7 ZBD (in red) in context of the E7 ZBD dimer; (
E
) Elements of the treble clef motif of E6N (in red); (
F
) Elements of the treble clef motif of E6C (in red); (
G
) Superimposition of HPV1 E7-ZBD and HPV16 E6N, enlighting common features of their treble clef motifs, indicated in orange and red color, respectively. Spheres are Zinc (II) atoms.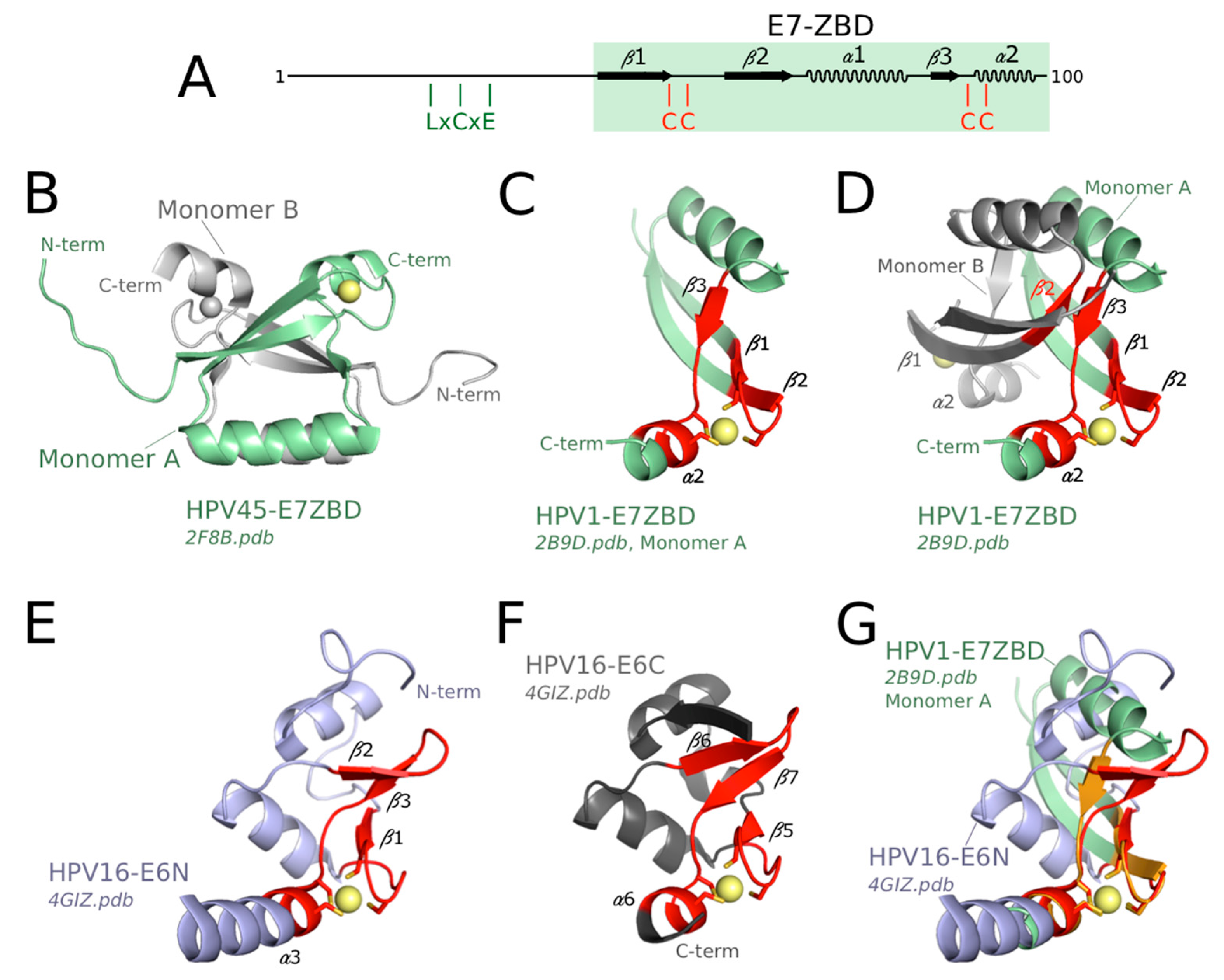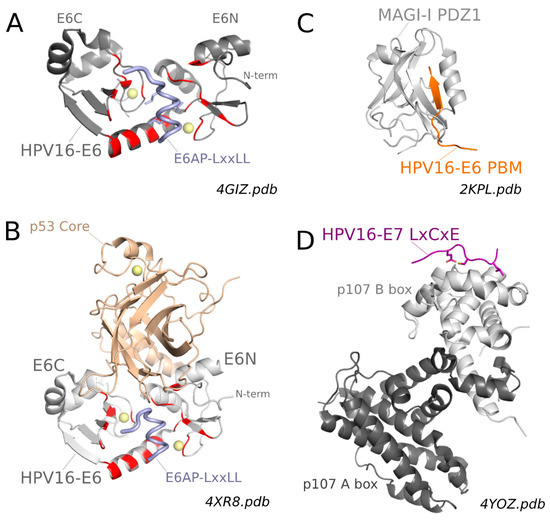 Figure 4.
Main structural data on HPV16 E6 and E7 bound to cellular targets. (
A
) Crystal structure of full-length HPV16 E6 bound to the LxxLL motif of E6AP [
75
] LxxLL binding residues are highlighted in red; (
B
) Crystal structure of HPV16 E6 bound to the LxxLL motif of E6AP and the core domain of p53 [
98
]; (
C
) Solution structure of MAGI-1 (membrane associated guanylate kinase inverted 1) PDZ 2/6 bound to the C-terminal PDZ-Binding Motif (PBM) of HPV16 E6 [
115
]. LxxLL binding residues are highlighted in red; (
D
) Crystal structure of p107 pocket domain (composed of A-box and B-box) bound to the LxCxE motif of HPV16 E7 [
116
]. A comparable crystal structure was previously obtained for pRb pocket domain bound to the LxCxE motif of HPV16 E7 [
117
].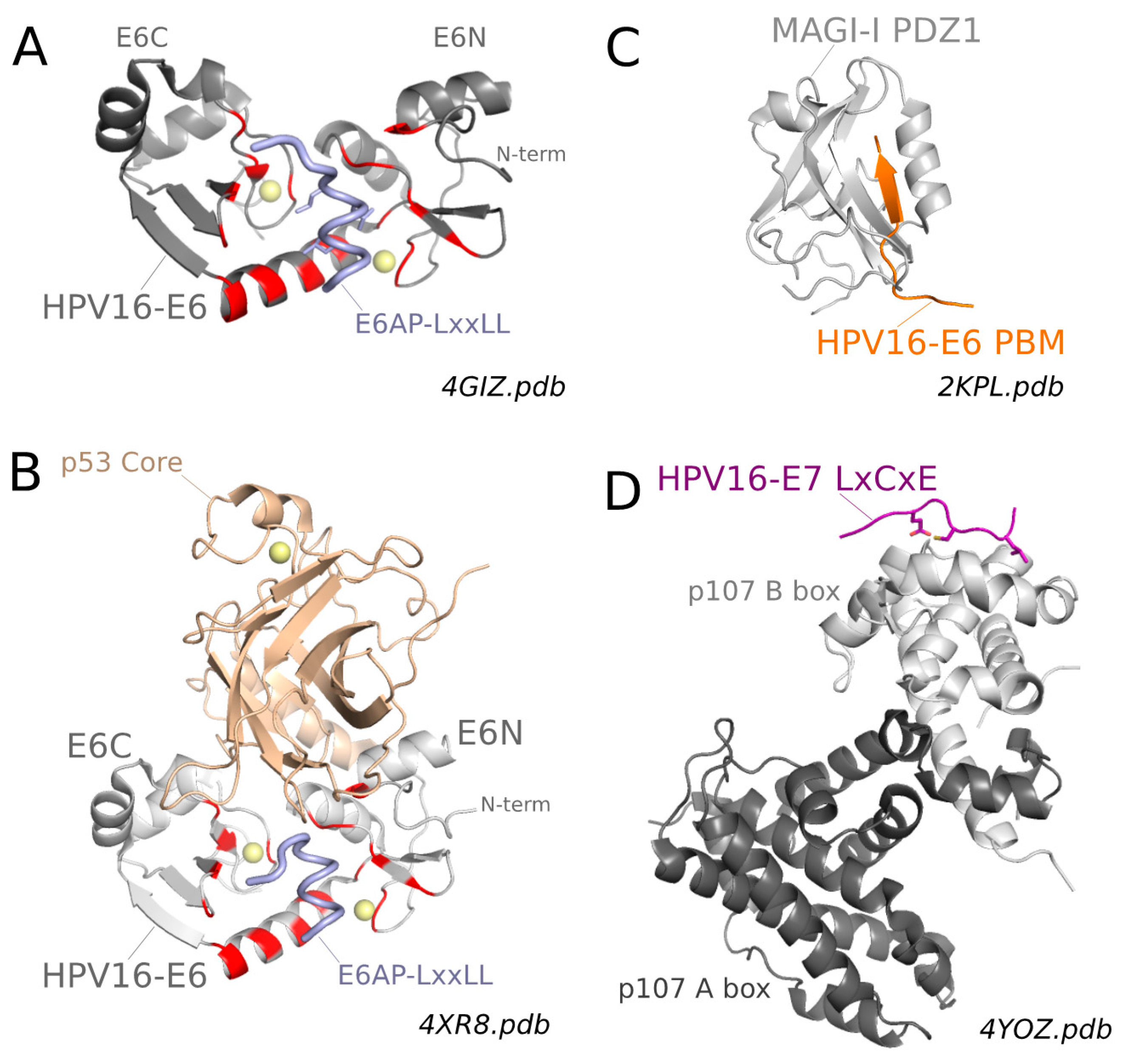 © 2018 by the authors. Licensee MDPI, Basel, Switzerland. This article is an open access article distributed under the terms and conditions of the Creative Commons Attribution (CC BY) license (http://creativecommons.org/licenses/by/4.0/).