An Improved Bacterial-Foraging Optimization-Based Machine Learning Framework for Predicting the Severity of Somatization Disorder
1
Mental Health Education Center, Wenzhou University, Wenzhou 325035, China
2
Department of Computer Science, Wenzhou University, Wenzhou 325035, China
3
College of Computer Science and Technology, Jilin University, Changchun 130012, China
*
Author to whom correspondence should be addressed.
Received: 22 December 2017 / Revised: 21 January 2018 / Accepted: 30 January 2018 / Published: 6 February 2018
Abstract
It is of great clinical significance to establish an accurate intelligent model to diagnose the somatization disorder of community correctional personnel. In this study, a novel machine learning framework is proposed to predict the severity of somatization disorder in community correction personnel. The core of this framework is to adopt the improved bacterial foraging optimization (IBFO) to optimize two key parameters (penalty coefficient and the kernel width) of a kernel extreme learning machine (KELM) and build an IBFO-based KELM (IBFO-KELM) for the diagnosis of somatization disorder patients. The main innovation point of the IBFO-KELM model is the introduction of opposition-based learning strategies in traditional bacteria foraging optimization, which increases the diversity of bacterial species, keeps a uniform distribution of individuals of initial population, and improves the convergence rate of the BFO optimization process as well as the probability of escaping from the local optimal solution. In order to verify the effectiveness of the method proposed in this study, a 10-fold cross-validation method based on data from a symptom self-assessment scale (SCL-90) is used to make comparison among IBFO-KELM, BFO-KELM (model based on the original bacterial foraging optimization model), GA-KELM (model based on genetic algorithm), PSO-KELM (model based on particle swarm optimization algorithm) and Grid-KELM (model based on grid search method). The experimental results show that the proposed IBFO-KELM prediction model has better performance than other methods in terms of classification accuracy, Matthews correlation coefficient (MCC), sensitivity and specificity. It can distinguish very well between severe somatization disorder and mild somatization and assist the psychological doctor with clinical diagnosis.
View Full-Text
►

▼

Figures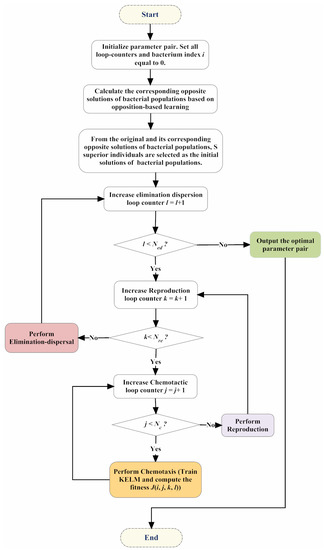 Figure 1
This is an open access article distributed under the
Creative Commons Attribution License
which permits unrestricted use, distribution, and reproduction in any medium, provided the original work is properly cited (CC BY 4.0).

Share & Cite This Article
MDPI and ACS Style
Lv, X.; Chen, H.; Zhang, Q.; Li, X.; Huang, H.; Wang, G. An Improved Bacterial-Foraging Optimization-Based Machine Learning Framework for Predicting the Severity of Somatization Disorder. Algorithms 2018, 11, 17.
Note that from the first issue of 2016, MDPI journals use article numbers instead of page numbers. See further details here.
Related Articles
Comments
[Return to top]