Synthesis of Mixed Cu/Ce Oxide Nanoparticles by the Oil-in-Water Microemulsion Reaction Method
1
Institut de Química Avançada de Catalunya (IQAC-CSIC) y CIBER en Biotecnología, Biomateriales y Nanomedicina (Ciber-BBN), Jordi Girona 18-26, Barcelona 08034, Spain
2
Mc Bride Chemolux S.A.R.L, Rue de I'Industrie, Foetz 3895, Luxembourg
3
Centro de Investigación en Materiales Avanzados, S. C. (CIMAV), Unidad Monterrey, Alianza Norte 202, Parque de Investigación e Innovación Tecnológica, Apodaca 66628, Mexico
4
Universidad Autónoma de Nuevo León, Facultad de Ingeniería Civil, Departamento de Ecomateriales y Energía. Cd. Universitaria, San Nicolás de los Garza 66455, Mexico
*
Author to whom correspondence should be addressed.
Academic Editors: Andrea P. Reverberi and Marco Salerno
Received: 25 April 2016 / Revised: 6 June 2016 / Accepted: 10 June 2016 / Published: 16 June 2016
Abstract
Cerium oxide and mixed Cu/Ce oxide nanoparticles were prepared by the oil-in-water (O/W) microemulsion reaction method in mild conditions. The Cu/Ce molar ratio was varied between 0/100 and 50/50. According to X-ray diffraction (XRD), below 30/70 Cu/Ce molar ratio, the materials presented a single phase consistent with cubic fluorite CeO
2
. However, above Cu/Ce molar ratio 30/70, an excess monoclinic CuO phase in coexistence with the predominant Cu/Ce mixed oxide was detected by XRD and High-Resolution Transmission Electron Microscopy (HRTEM). Raman spectroscopy showed that oxygen vacancies increased significantly as the Cu content was increased. Band gap (
E
g
) was investigated as a function of the Cu/Ce molar ratio, resulting in values from 2.91 eV for CeO
2
to 2.32 eV for the mixed oxide with 30/70 Cu/Ce molar ratio. These results indicate that below 30/70 Cu/Ce molar ratio, Cu
2+
is at least partially incorporated into the ceria lattice and very well dispersed in general. In addition, the photodegradation of Indigo Carmine dye under visible light irradiation was explored for selected samples; it was shown that these materials can remove such contaminants, either by adsorption and/or photodegradation. The results obtained will encourage investigation into the optical and photocatalytic properties of these mixed oxides, for widening their potential applications.
View Full-Text
►

▼

Figures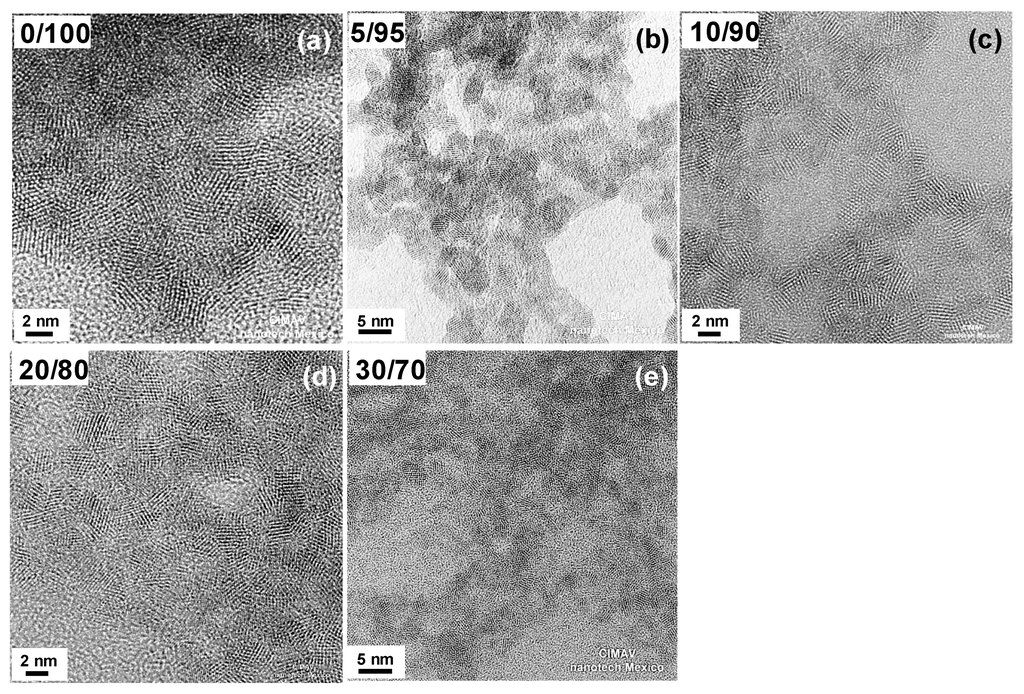 Figure 1
This is an open access article distributed under the
Creative Commons Attribution License
which permits unrestricted use, distribution, and reproduction in any medium, provided the original work is properly cited (CC BY 4.0).

Share & Cite This Article
MDPI and ACS Style
Pemartin-Biernath, K.; Vela-González, A.V.; Moreno-Trejo, M.B.; Leyva-Porras, C.; Castañeda-Reyna, I.E.; Juárez-Ramírez, I.; Solans, C.; Sánchez-Domínguez, M. Synthesis of Mixed Cu/Ce Oxide Nanoparticles by the Oil-in-Water Microemulsion Reaction Method. Materials 2016, 9, 480.
Note that from the first issue of 2016, MDPI journals use article numbers instead of page numbers. See further details here.
Related Articles
Comments
[Return to top]