Synthesis, X-ray Structure, Optical, and Electrochemical Properties of a White-Light-Emitting Molecule
Department of Chemical Engineering, Feng Chia University, Taichung 40724, Taiwan
*
Author to whom correspondence should be addressed.
Academic Editor: Jang-Kun Song
Received: 2 December 2015 / Revised: 30 December 2015 / Accepted: 4 January 2016 / Published: 14 January 2016
Abstract
A new white-light-emitting molecule (
1
) was synthesized and characterized by NMR spectroscopy, high resolution mass spectrometry, and single-crystal X-ray diffraction. Compound
1
crystallizes in the orthorhombic space group
Pnma
, with
a
= 12.6814(6),
b
= 7.0824(4),
c
= 17.4628(9) Å, α = 90°, β = 90°, γ = 90°. In the crystal, molecules are linked by weak intermolecular C-H···O hydrogen bonds, forming an infinite chain along [100], generating a
C
(10) motif. Compound
1
possesses an intramolecular six-membered-ring hydrogen bond, from which excited-state intramolecular proton transfer (ESIPT) takes place from the phenolic proton to the carbonyl oxygen, resulting in a tautomer that is in equilibrium with the normal species, exhibiting a dual emission that covers almost all of the visible spectrum and consequently generates white light. It exhibits one irreversible one-electron oxidation and two irreversible one-electron reductions in dichloromethane at modest potentials. Furthermore, the geometric structures, frontier molecular orbitals (MOs), and the potential energy curves (PECs) for
1
in the ground and the first singlet excited state were fully rationalized by density functional theory (DFT) and time-dependent DFT calculations. The results demonstrate that the forward and backward ESIPT may happen on a similar timescale, enabling the excited-state equilibrium to be established.
View Full-Text
►

▼

Figures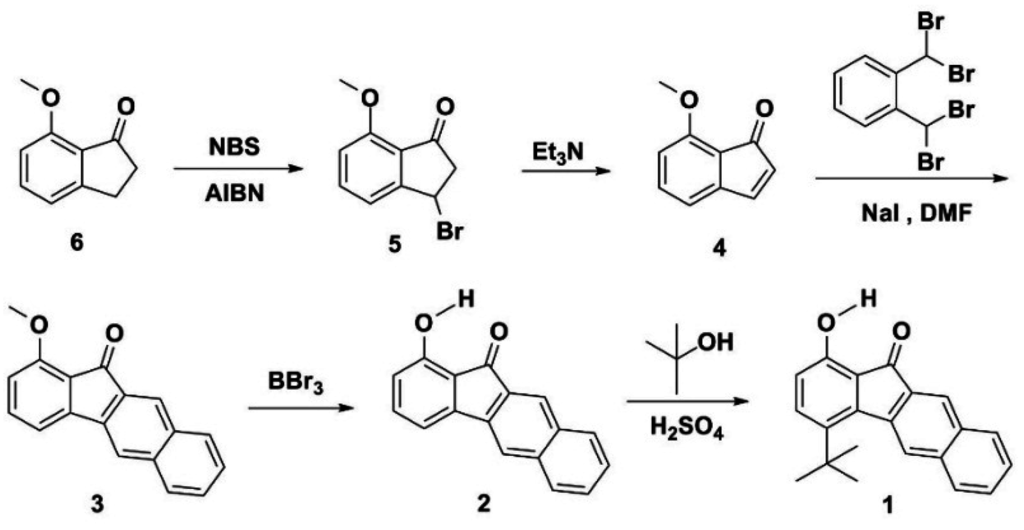 Figure 1
This is an open access article distributed under the
Creative Commons Attribution License
which permits unrestricted use, distribution, and reproduction in any medium, provided the original work is properly cited (CC BY 4.0).

Share & Cite This Article
MDPI and ACS Style
Hu, J.-W.; Wu, Y.-H.; Tsai, H.-Y.; Chen, K.-Y. Synthesis, X-ray Structure, Optical, and Electrochemical Properties of a White-Light-Emitting Molecule. Materials 2016, 9, 48.
Note that from the first issue of 2016, MDPI journals use article numbers instead of page numbers. See further details here.
Related Articles
Comments
[Return to top]