A Comparative Study of the Adsorption of Methylene Blue onto Synthesized Nanoscale Zero-Valent Iron-Bamboo and Manganese-Bamboo Composites
1
Department of Chemistry, University of Ilorin, P.M.B 1515, Ilorin 240222, Nigeria
2
Environmental and Nano Science Research Group, Department of Chemistry, University of the Western Cape, Private Bag X17, Bellville 7535, South Africa
*
Author to whom correspondence should be addressed.
Received: 1 April 2014 / Revised: 13 May 2014 / Accepted: 23 May 2014 / Published: 12 June 2014
Abstract
In this study, bamboo impregnated with nanoscale zero-valent iron (nZVI) and nanoscale manganese (nMn) were prepared by the aqueous phase borohydride reduction method and characterized using scanning electron microscopy (SEM), Fourier transform infrared spectroscopy (FTIR) and PIXE analysis. The synthesized nMn-bamboo and nZVI-bamboo composites were subsequently applied to the sorption of methylene blue (MB) dye from aqueous solution. The adsorption of MB dye was investigated under various experimental conditions such as pH, contact time, initial concentration of MB dye and adsorbent dosage. The results showed that the synthesized nZVI-bamboo composite was more effective than nMn-bamboo composite in terms of higher MB dye adsorption capacity of 322.5 mg/g compared to 263.5 mg/g of nMn-bamboo composite. At a concentration of 140 mg/L MB dye, 0.02 g of nZVI-bamboo and nMn-bamboo composites resulted in 79.6% and 78.3% removal, respectively, at 165 rpm, contact time of 120 min and at a solution pH of 7.6. The equilibrium data was best represented by Freundlich isotherm model and the pseudo-second order kinetic model better explained the kinetic data for both nZVI-bamboo and nMn-bamboo composites.
View Full-Text
►

▼

Figures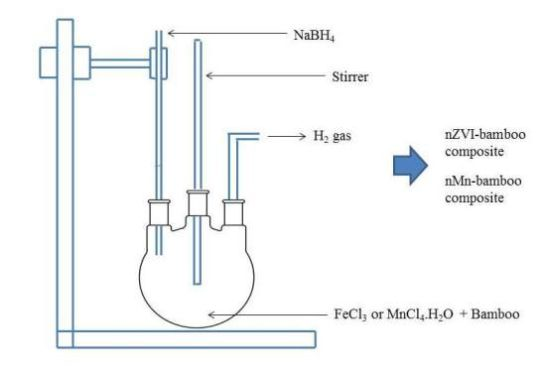 Graphical abstract

Share & Cite This Article
MDPI and ACS Style
Shaibu, S.E.; Adekola, F.A.; Adegoke, H.I.; Ayanda, O.S. A Comparative Study of the Adsorption of Methylene Blue onto Synthesized Nanoscale Zero-Valent Iron-Bamboo and Manganese-Bamboo Composites. Materials 2014, 7, 4493-4507.
Related Articles
Comments
[Return to top]