Effect of Organo-Modified Nanoclay on the Thermal and Bulk Structural Properties of Poly(3-hydroxybutyrate)-Epoxidized Natural Rubber Blends: Formation of Multi-Components Biobased Nanohybrids
Advanced Material Research Laboratory, School of Chemical Sciences, Universiti Sains Malaysia, Penang 11800, Malaysia
*
Author to whom correspondence should be addressed.
Received: 7 December 2013 / Revised: 14 May 2014 / Accepted: 20 May 2014 / Published: 13 June 2014
Abstract
Multi-component nanohybrids comprising of organo-modified montmorillonite (MMT) and immiscible biopolymer blends of poly(3-hydroxybutyrate) (PHB) and epoxidized natural rubber (ENR-50) were prepared by solvent casting technique. The one and three dimensional morphology of PHB/ENR-50/MMT systems were studied using Polarizing Optical Microscopy (POM) and Scanning Electron Microscopy (SEM). Differential scanning calorimetry (DSC) technique was used to evaluate the thermal properties of the nanohybrids. The melting temperature (
T
m
) and enthalpy of melting (Δ
H
m
) of PHB decrease with respect to the increase in ENR-50 as well as MMT content. The non-isothermal decomposition of the nanohybrids was studied using thermogravimetric (TG-DTG) analysis. FTIR-ATR spectra supported ring opening of the epoxide group via reaction with carboxyl group of PHB and amines of organic modifier. The reaction mechanism towards the formation of the nanohybrids is proposed.
View Full-Text
►

▼

Figures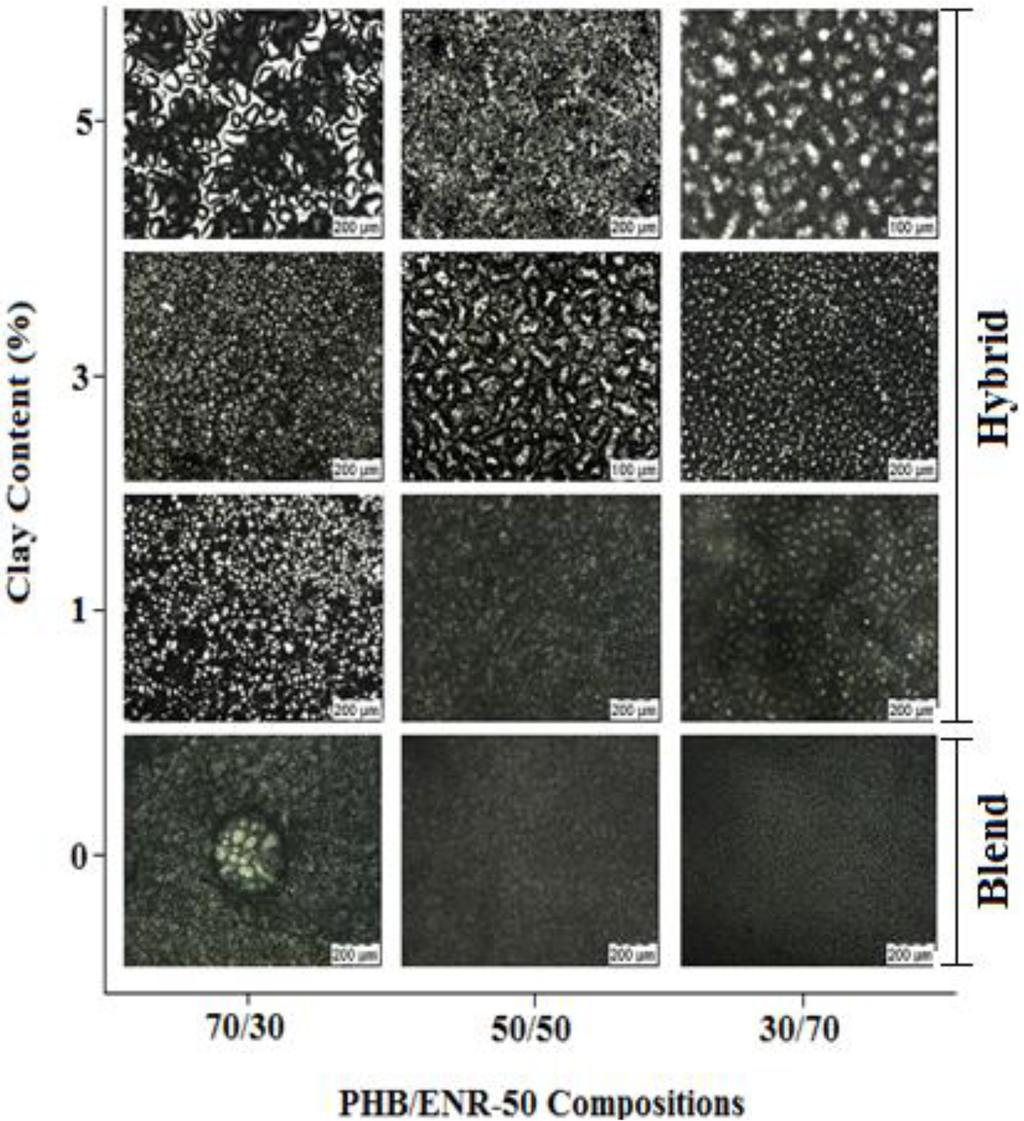 Figure 1

Share & Cite This Article
MDPI and ACS Style
Salehabadi, A.; Bakar, M.A.; Bakar, N.H.H.A. Effect of Organo-Modified Nanoclay on the Thermal and Bulk Structural Properties of Poly(3-hydroxybutyrate)-Epoxidized Natural Rubber Blends: Formation of Multi-Components Biobased Nanohybrids. Materials 2014, 7, 4508-4523.
Related Articles
Comments
[Return to top]