ZnCr2O4 Inclusions in ZnO Matrix Investigated by Probe-Corrected STEM-EELS
1
Department of Physics, Centre for Materials Science and Nanotechnology, University of Oslo, N-0316 Oslo, Norway
2
SINTEF Materials and Chemistry, NO-0314 Oslo, Norway
*
Author to whom correspondence should be addressed.
Received: 4 March 2019 / Revised: 12 March 2019 / Accepted: 13 March 2019 / Published: 16 March 2019
Abstract
The ZnCr
2
O
4
/ZnO materials system has a wide range of potential applications, for example, as a photocatalytic material for waste-water treatment and gas sensing. In this study, probe-corrected high-resolution scanning transmission electron microscopy and geometric phase analysis were utilized to study the dislocation structure and strain distribution at the interface between zinc oxide (ZnO) and embedded zinc chromium oxide (ZnCr
2
O
4
) particles. Ball-milled and dry-pressed ZnO and chromium oxide (α-Cr
2
O
3
) powder formed ZnCr
2
O
4
inclusions in ZnO with size ~400 nm, where the interface properties depended on the interface orientation. In particular, sharp interfaces were observed for ZnO [2
3]/ZnCr
2
O
4
[1
0] orientations, while ZnO [1
10]/ZnCr
2
O
4
[112] orientations revealed an interface over several atomic layers, with a high density of dislocations. Further, monochromated electron energy-loss spectroscopy was employed to map the optical band gap of ZnCr
2
O
4
nanoparticles in the ZnO matrix and their interface, where the average band gap of ZnCr
2
O
4
nanoparticles was measured to be 3.84 ± 0.03 eV, in contrast to 3.22 ± 0.01 eV for the ZnO matrix.
View Full-Text
►

▼

Figures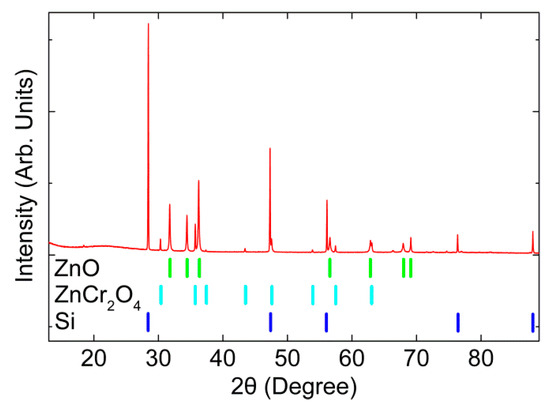 Figure 1
This is an open access article distributed under the
Creative Commons Attribution License
which permits unrestricted use, distribution, and reproduction in any medium, provided the original work is properly cited (CC BY 4.0).

Share & Cite This Article
MDPI and ACS Style
Zhan, W.; Kosinskiy, A.Y.; Vines, L.; Johansen, K.M.; Carvalho, P.A.; Prytz, Ø. ZnCr2O4 Inclusions in ZnO Matrix Investigated by Probe-Corrected STEM-EELS. Materials 2019, 12, 888.
Note that from the first issue of 2016, MDPI journals use article numbers instead of page numbers. See further details here.
Related Articles
Comments
[Return to top]