PLA-Based Mineral-Doped Scaffolds Seeded with Human Periapical Cyst-Derived MSCs: A Promising Tool for Regenerative Healing in Dentistry
1
Tecnologica Research Institute, Stem Cell Unit, 88900 Crotone, Italy
2
Department of Neurosciences, Reproductive and Odontostomatological Sciences, University of Naples "Federico II", 80131 Napoli, Italy
3
Laboratory of Biomaterials and Oral Pathology, School of Dentistry, Department of Biomedical and Neuromotor Sciences, University of Bologna, 40125 Bologna, Italy
4
MDRCBB-Minnesota Dental Research Center for Biomaterials and Biomechanics, School of Dentistry, University of Minnesota, Minneapolis, MN 55455, USA
5
Department of Civil, Chemical, Environmental and Materials Engineering, University of Bologna, 40131 Bologna, Italy
6
Department of Prosthodontics and Dental Materials, School of Dental Medicine, University of Siena, 53100 Siena, Italy
7
University Hospitals Birmingham—NHS Foundation Trust, Birmingham B152GW, UK
8
Cellular Signalling Laboratory, Institute of Human Anatomy, Department of Biomedical and Neuromotor Sciences, University of Bologna, 40126 Bologna, Italy
*
Author to whom correspondence should be addressed.
Received: 22 January 2019 / Revised: 11 February 2019 / Accepted: 12 February 2019 / Published: 16 February 2019
Abstract
Human periapical cyst mesenchymal stem cells (hPCy-MSCs) are a newly discovered cell population innovatively collected from inflammatory periapical cysts. The use of this biological waste guarantees a source of stem cells without any impact on the surrounding healthy tissues, presenting a valuable potential in tissue engineering and regenerative medicine applications. In the present study, hPCy-MSCs were collected, isolated, and seeded on three experimental mineral-doped porous scaffolds produced by the thermally-induced phase-separation (TIPS) technique. Mineral-doped scaffolds, composed of polylactic acid (PLA), dicalcium phosphate dihydrate (DCPD), and/or hydraulic calcium silicate (CaSi), were produced by TIPS (PLA-10CaSi, PLA-5CaSi-5DCPD, PLA-10CaSi-10DCPD). Micro-CT analysis evaluated scaffolds micromorphology. Collected hPCy-MSCs, characterized by cytofluorimetry, were seeded on the scaffolds and tested for cell proliferation, cells viability, and gene expression for osteogenic and odontogenic differentiation (DMP-1, OSC, RUNX-2, HPRT). Micro-CT revealed an interconnected highly porous structure for all the scaffolds, similar total porosity with 99% open pores. Pore wall thickness increased with the percentage of CaSi and DCPD. Cells seeded on mineral-doped scaffolds showed a superior proliferation compared to pure PLA scaffolds (control), particularly on PLA-10CaSi-10DCPD at day 12. A higher number of non-viable (red stained) cells was observable on PLA scaffolds at days 14 and 21. DMP-1 expression increased in hPCy-MSCs cultured on all mineral-doped scaffolds, in particular on PLA-5CaSi-5DCPD and PLA-10CaSi-10DCPD. In conclusion, the innovative combination of experimental scaffolds colonized with autologous stem cells from periapical cyst represent a promising strategy for regenerative healing of periapical and alveolar bone.
View Full-Text
►

▼

Figures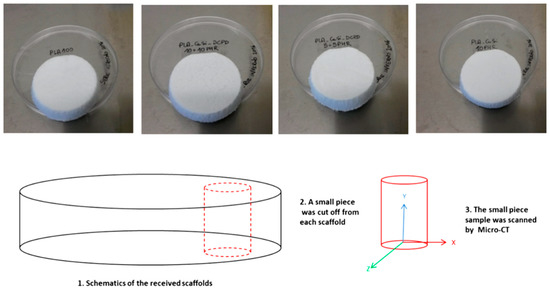 Figure 1
This is an open access article distributed under the
Creative Commons Attribution License
which permits unrestricted use, distribution, and reproduction in any medium, provided the original work is properly cited (CC BY 4.0).

Share & Cite This Article
MDPI and ACS Style
Tatullo, M.; Spagnuolo, G.; Codispoti, B.; Zamparini, F.; Zhang, A.; Esposti, M.D.; Aparicio, C.; Rengo, C.; Nuzzolese, M.; Manzoli, L.; Fava, F.; Prati, C.; Fabbri, P.; Gandolfi, M.G. PLA-Based Mineral-Doped Scaffolds Seeded with Human Periapical Cyst-Derived MSCs: A Promising Tool for Regenerative Healing in Dentistry. Materials 2019, 12, 597.
Note that from the first issue of 2016, MDPI journals use article numbers instead of page numbers. See further details here.
Related Articles
Comments
[Return to top]