Open Access This article is
freely available
re-usable
Article
Studies on Cell Compatibility, Antibacterial Behavior, and Zeta Potential of Ag-Containing Polydopamine-Coated Bioactive Glass-Ceramic
1
Institute of Biomaterials, University of Erlangen-Nuremberg, 91058 Erlangen, Germany
2
Colorobbia Consulting s.r.l., 50053 Sovigliana Vinci, Florence, Italy
3
Department of Applied Science and Technology, Politecnico di Torino, 10129 Torino, Italy
4
Centre for Medical Physics and Technology, University of Erlangen-Nuremberg, 91052 Erlangen, Germany
*
Authors to whom correspondence should be addressed.
Received: 23 December 2018 / Accepted: 29 January 2019 / Published: 6 February 2019
Abstract
:
Dopamine is a small molecule that mimics the adhesive component (L-DOPA) of marine mussels with a catecholamine structure. Dopamine can spontaneously polymerize to form polydopamine (PDA) in a mild basic environment. PDA binds, in principle, to all types of surfaces and offers a platform for post-modification of surfaces. In this work, a novel Ag-containing polydopamine coating has been developed for the functionalization of bioactive glass-ceramics. In order to study the interactions between the surface of uncoated and coated samples and the environment, we have measured the surface zeta potential. Results confirmed that PDA can interact with the substrate through different chemical groups. A strongly negative surface zeta potential was measured, which is desirable for biocompatibility. The dual function of the material, namely the capability to exhibit bioactive behavior while being antibacterial and not harmful to mammalian cells, was assessed. The biocompatibility of the samples with MG-63 (osteoblast-like) cells was determined, as well as the antibacterial behavior against Gram-positive
Staphylococcus carnosus
and Gram-negative
Escherichia coli
bacteria. During cell biology tests, uncoated and PDA-coated samples showed biocompatibility, while cell viability on Ag-containing PDA-coated samples was reduced. On the other hand, antibacterial tests confirmed the strong antimicrobial properties of Ag-containing PDA-coated samples, although tailoring of the silver release will be necessary to modulate the dual effect of PDA and silver.
Keywords:
polydopamine; silver; antibacterial; biocompatibility; bioactive glass-ceramic; coatings
Author Contributions
R.T.-R. conceived the initial idea with A.R.B. and G.B.; R.T.-R. carried out the experiments and wrote the paper; A.G. and R.D. provided support during cell culture and later during the characterization, as well as analysis of the data; the antibacterial tests were carried out in the laboratory of W.H.G., who provided data evaluation; the surface zeta potential measurements were carried out in the laboratories of the Department of Applied Science and Technology, Politecnico di Torino, Italy, under the supervision of S.F. and S.S., who provided data evaluation. All authors checked the manuscript, provided necessary corrections and gave intellectual input.
Funding
This research was carried out within the EU Horizon 2020 framework project COACH (ITN-ETN, Grant agreement 642557).
Conflicts of Interest
The authors declare no conflict of interest.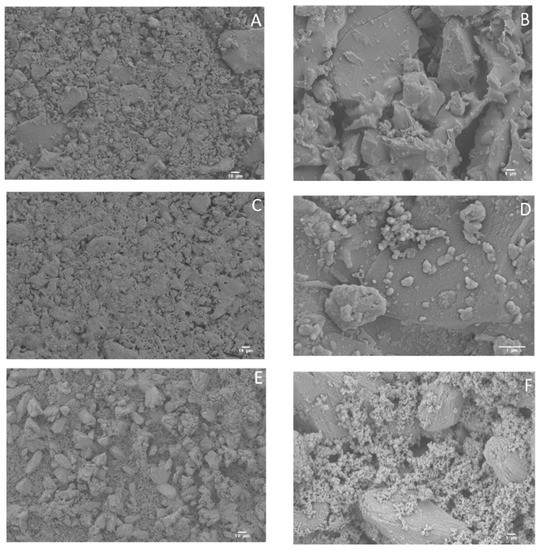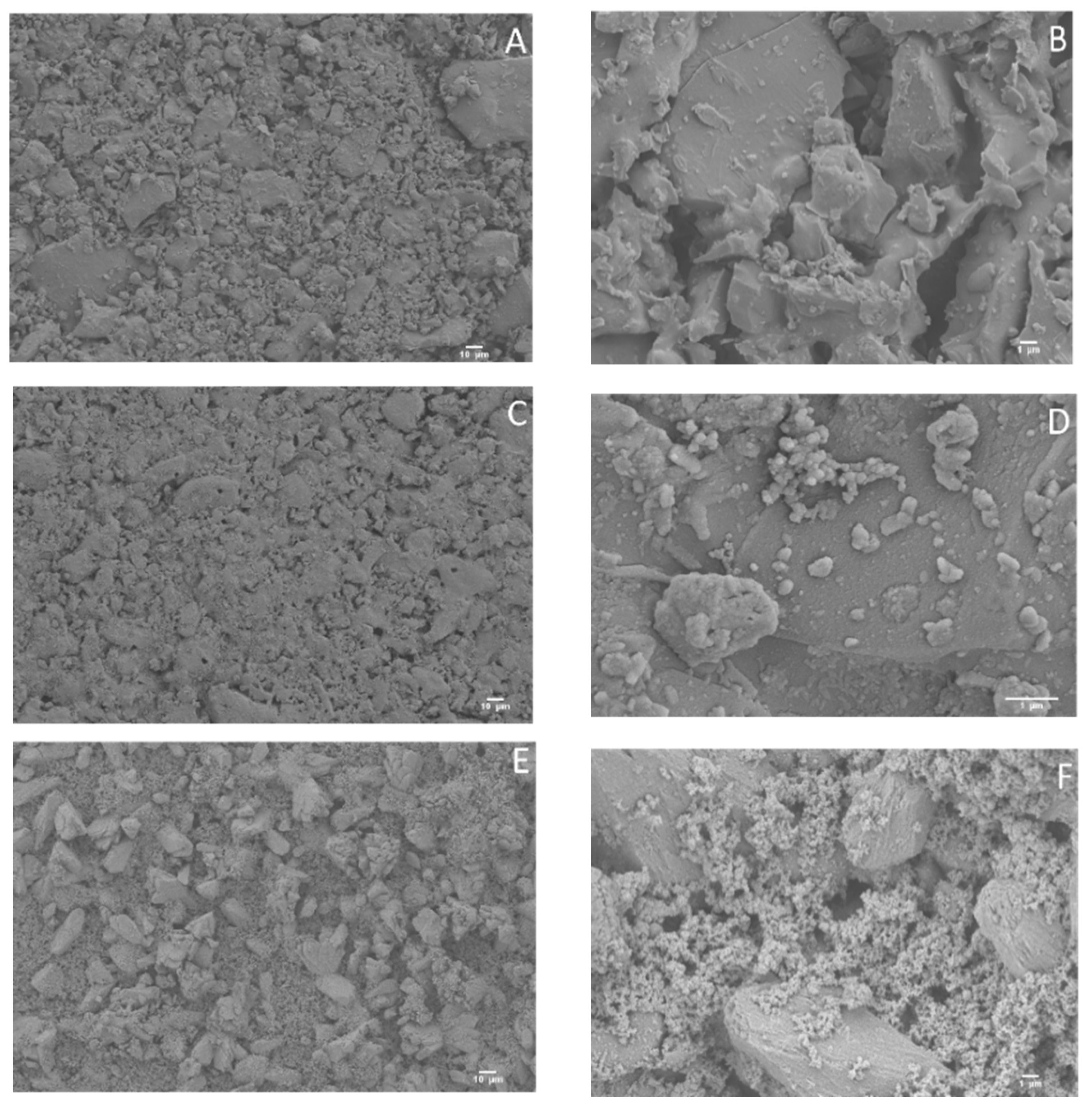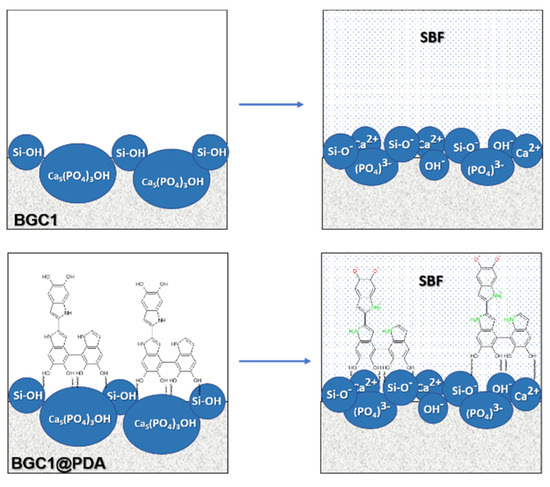 Figure 2.
Schematic representations of the origin of negative charge on the uncoated (BGC1) and coated (
[email protected]
) surface in diluted SBF at pH ≈ 7.4.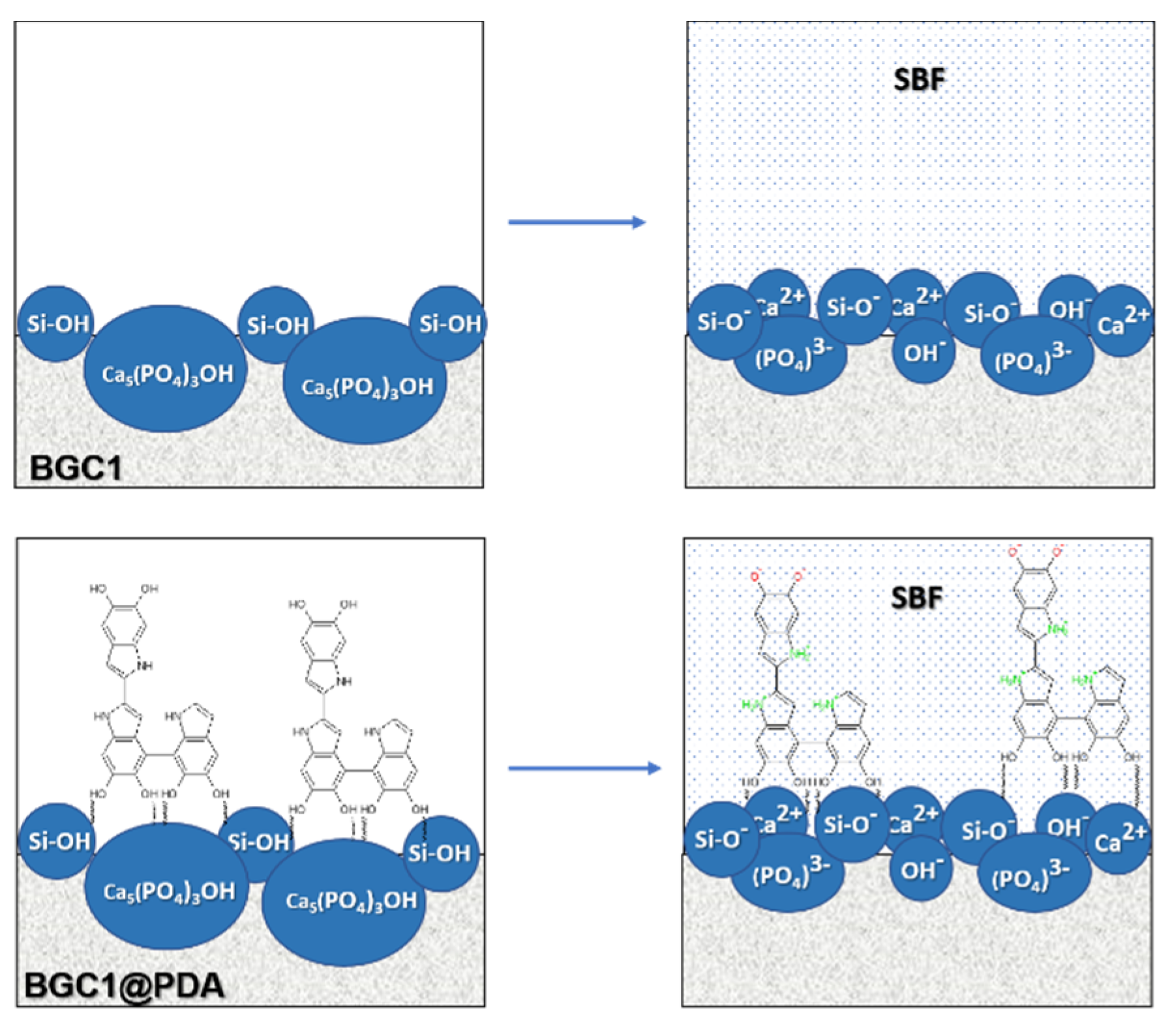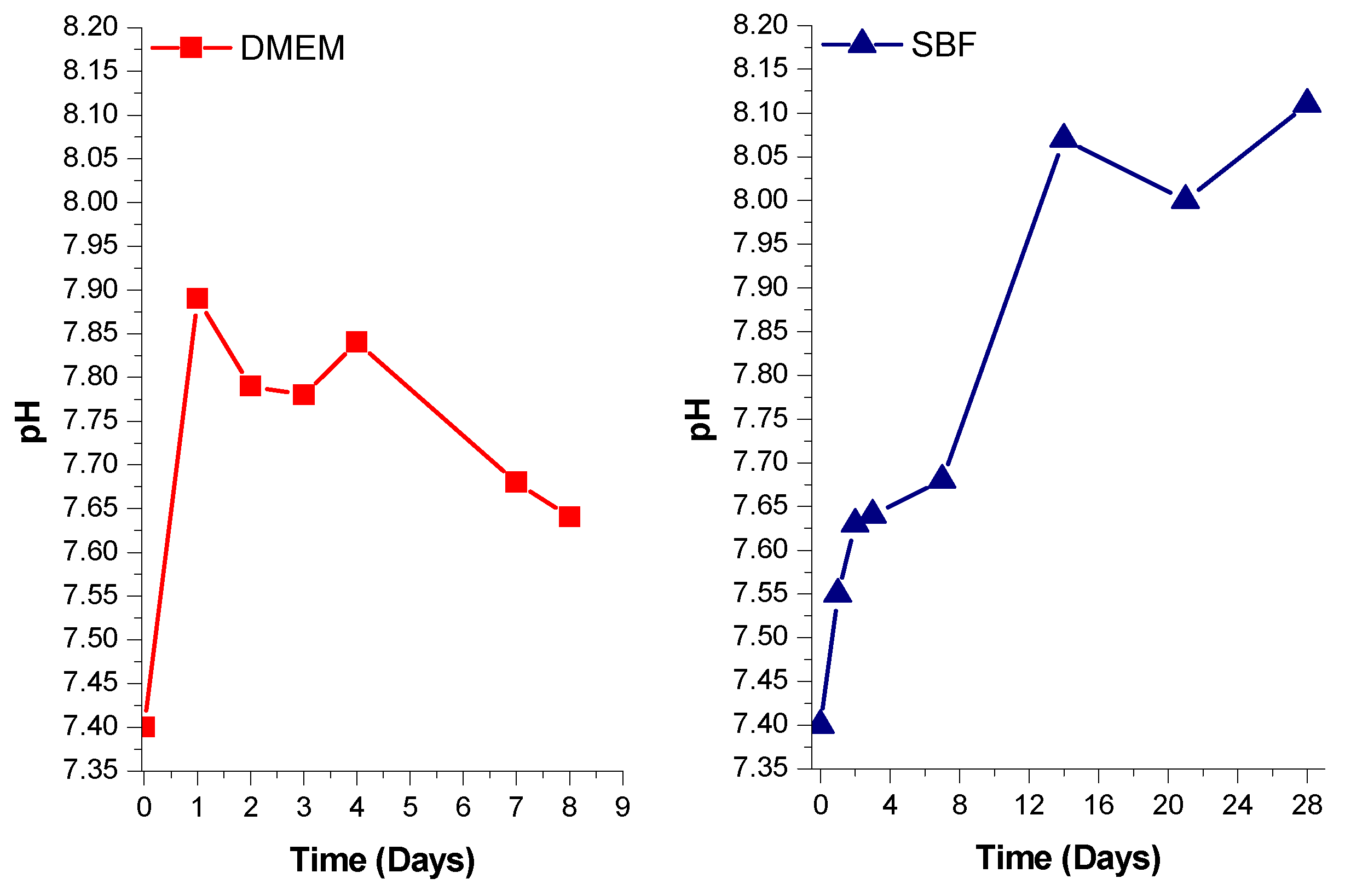 Figure 4.
Viability of MG-63 cells cultured onto BGC1,
[email protected]
and
[email protected]
@Ag samples for 48 hours. Significant differences are indicated in comparison to control: *
p
< 0.05, **
p
< 0.01 and ***
p
< 0.001 (Tukey's posthoc test).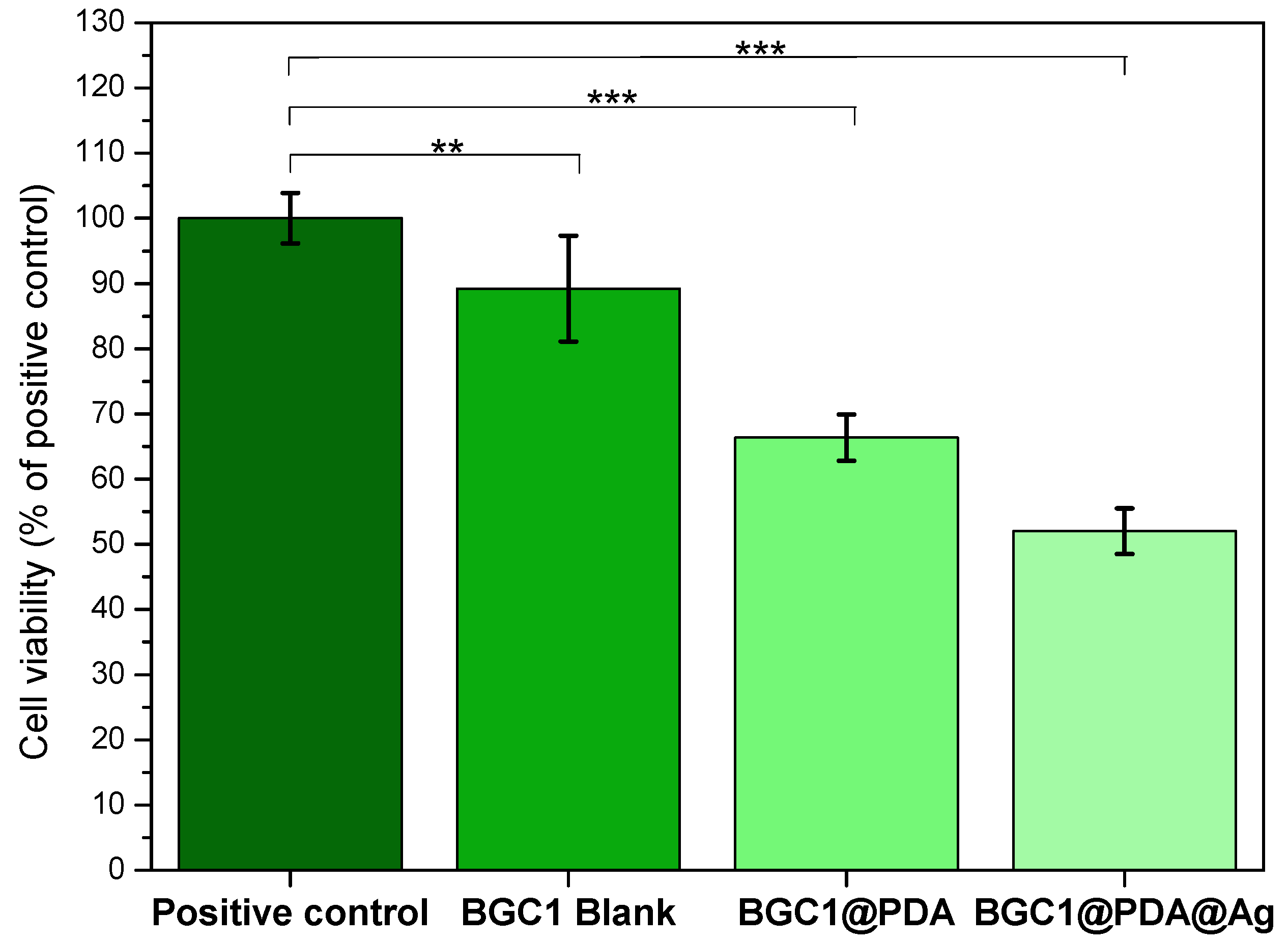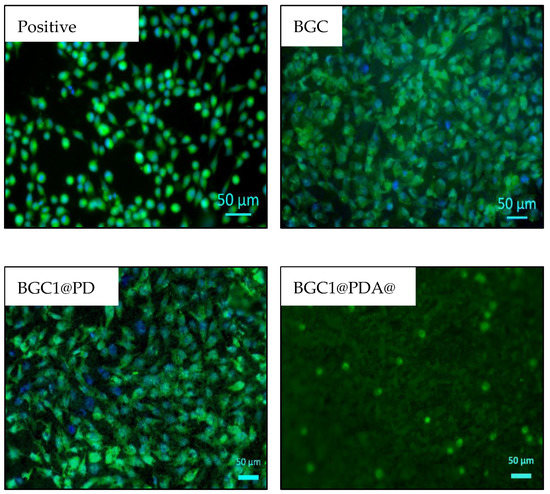 Figure 5. Fluorescence microscope images on different representative samples showing the results of calcein-DAPI staining of MG-63 cells after 48 hours of direct culture.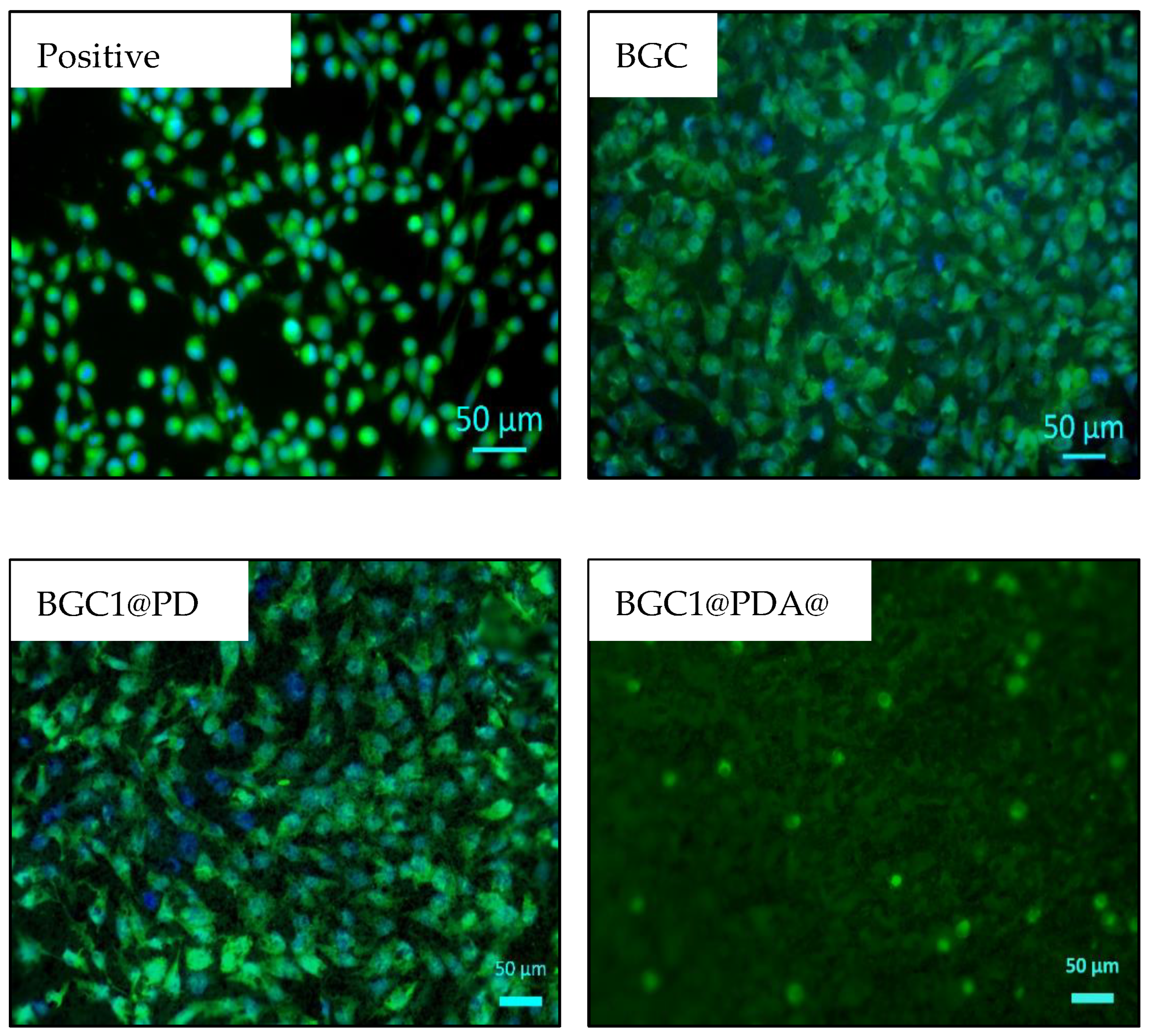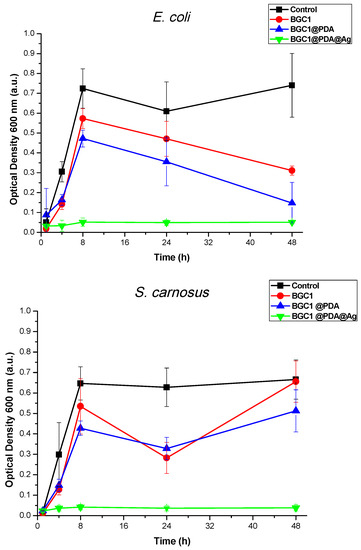 Figure 6.
Turbidity measurements on suspensions of both tested
Staphylococcus carnosus
and
Escherichia coli
strains in lysogeny broth (LB) medium on different samples, showing their different antibacterial effects.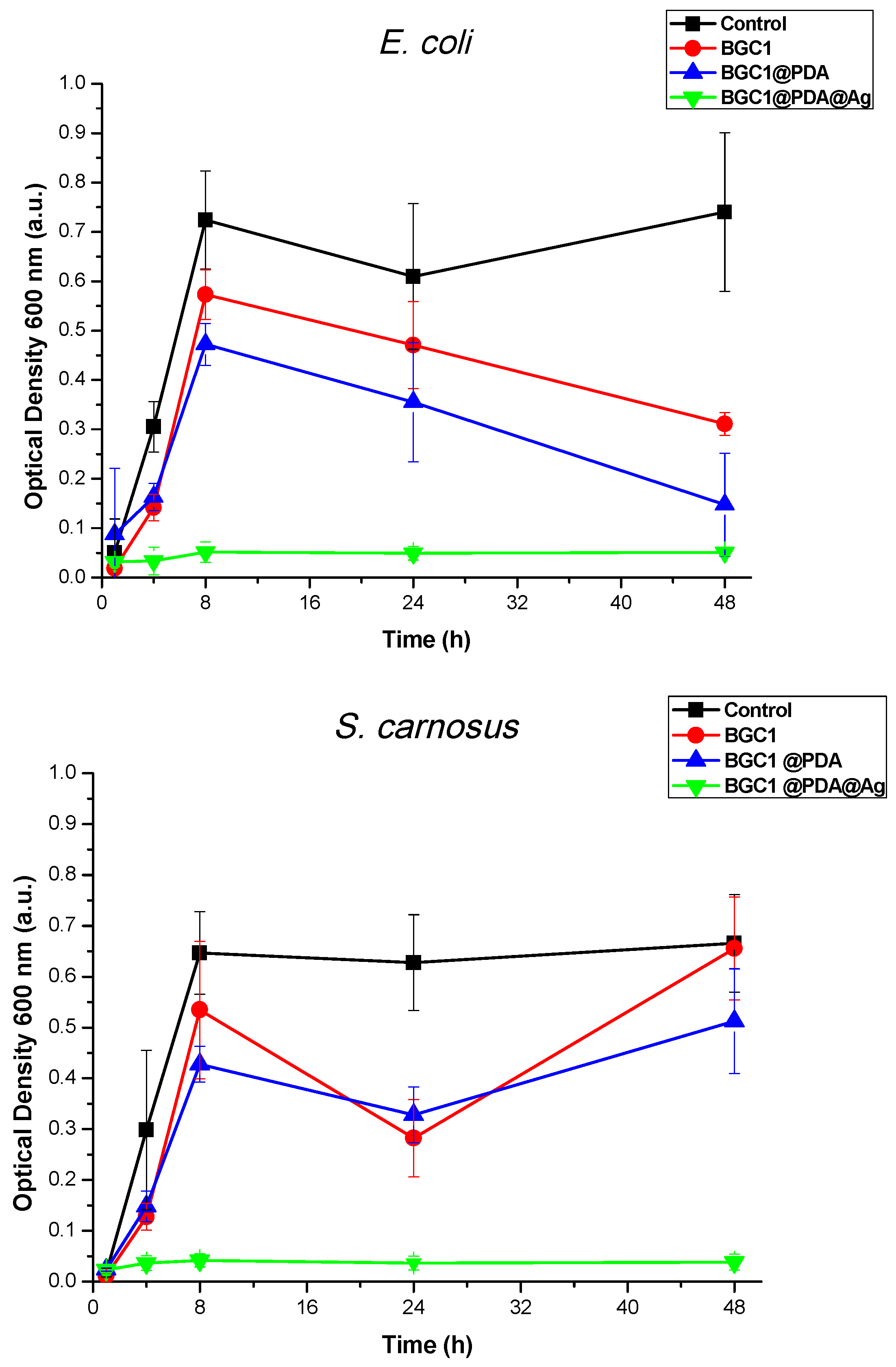 | - | Ra (μm) | Rmax (μm) |
| --- | --- | --- |
| Sintered ceramic-glass pellets, uncoated (BGC1) | 1.4 ± 0.3 | 12 ± 5 |
| BGC1 coated with polydopamine ([email protected]) | 1.0 ± 0.2 | 8 ± 2 |
| BGC1 coated with polydopamine and Ag ([email protected]@Ag) | 0.8 ± 0.1 | 6.1 ± 0.3 |

Table 2. Surface zeta potential of the different samples investigated (measurements in simulated body fluid (SBF)).
-
Initial Conditions
Measurements in SBF
-
pH
Conductivity (mS·m−1)
pH

Z

(mV)
BGC1
7.32
16.14
7.34 ± 0.01
−120 ± 9
[email protected]
7.33
16.84
7.33 ± 0.00
−83 ± 1
[email protected]@Ag
7.38
16.20
7.35 ± 0.00
−98 ± 1

© 2019 by the authors. Licensee MDPI, Basel, Switzerland. This article is an open access article distributed under the terms and conditions of the Creative Commons Attribution (CC BY) license (http://creativecommons.org/licenses/by/4.0/).