Open Access This article is
freely available
re-usable
Review
Hydroxyapatite and Fluorapatite in Conservative Dentistry and Oral Implantology—A Review
Analytical Group, Department of Analytical Chemistry and Biomaterials, Faculty of Pharmacy with Laboratory Medicine Division, Medical University of Warsaw, 02-097 Warsaw, Poland
*
Author to whom correspondence should be addressed.
Received: 29 July 2019 / Accepted: 20 August 2019 / Published: 22 August 2019
Abstract
:
Calcium phosphate, due to its similarity to the inorganic fraction of mineralized tissues, has played a key role in many areas of medicine, in particular, regenerative medicine and orthopedics. It has also found application in conservative dentistry and dental surgery, in particular, as components of toothpaste and mouth rinse, coatings of dental implants, cements, and bone substitute materials for the restoration of cavities in maxillofacial surgery. In dental applications, the most important role is played by hydroxyapatite and fluorapatite, i.e., calcium phosphates characterized by the highest chemical stability and very low solubility. This paper presents the role of both apatites in dentistry and a review of recent achievements in the field of the application of these materials.
Keywords:
hydroxyapatite; fluorapatite; dentistry; calcium phosphates
1. Introduction
In recent decades, one has been able to observe huge progress in the field of dentistry. This results not only from the development of dental techniques and methods of therapy but also from significant developments in biomaterial engineering. The science of biomaterials is constantly increasing due to innovative modifications of already known materials or completely new biomaterials for applications in dentistry. Biodegradable polymers, bioactive ceramics, bioglass or metals covered with a layer of material facilitating osseointegration and, above all, composite materials are the main directions in the development of dental biomaterials [
1
,
2
,
3
,
4
].
One of the more widely studied groups of materials comprises inorganic calcium phosphates (CaPs). It is worth noting that synthetic calcium phosphate material was first used to repair and regenerate bone tissue in 1920 by Albee, who employed crystalline calcium phosphate to repair surgically induced bone defects in rabbits [
5
,
6
,
7
]. Bioceramics based on calcium phosphate began to enjoy greater interest only at the end of the 1960s, when they were seen as biomaterials that could induce the reconstruction and repair of bone defects [
8
]. In the 1970s, researchers began to pay attention to the use of calcium phosphates in dental surgery. Particularly noteworthy is the work of Denissen and de Groot, in which cylinders made of hydroxyapatite (HA) were used as dental implants. In the 1980s, synthetic calcium phosphates were permanently introduced in implantology, and the research on the use of natural CaPs accelerated [
7
]. Currently, the possibility of using calcium phosphates as carriers of biologically active substances is being sought [
7
,
9
,
10
,
11
].
The reason why CaPs are such a popular object of research and applications is their similarity to the inorganic fraction of mineralized tissues, i.e., bone, enamel, dentin and cementum [
7
,
12
,
13
].
1.1. Dental Mineralized Tissues
The aim of this work is to present the current state of knowledge and progress in the development and the applicability of materials containing HA and FA in conservative dentistry and dental surgery.
1.2. Hydroxyapatite and Fluorapatite
2. The Role of HA and FA in Conservative Dentistry
Conservative dentistry focuses on keeping natural teeth in a healthy state. It includes prophylactic treatments aimed at restoring the natural appearance of teeth (whitening) or strengthening the dental tissue, as well as getting rid of changes associated with certain diseases (e.g., dental caries, tooth hypersensitivity). In the case of conservative dentistry, we usually deal with the use of gels, toothpastes and mouthwash.
Toothpastes with the Addition of HA or FA
3. Dental Implantology
In the case where prophylaxis or non-invasive treatment of dental diseases is insufficient, invasive methods are often necessary. In this case, HA is used as the implant material or the component of such a material, which, for example, can be in the form of implant coatings, scaffolds, blocks and cements.
3.1. Hydroxyapatite Coatings
3.2. Hydroxyapatite Scaffolds and Blocks
4. Summary
Over the years, HA has prompted increasing interest among researchers due to its unique properties. With the development of science, the use of this mineral has increased in further branches of science, including dentistry. Due to its similar structure to human bone tissue and biological properties, HA (and its derivatives, e.g., FA) is today one of the most popular materials used in dental implantology, as well as in the treatment and prophylaxis of dental diseases. This mineral is readily used in combination with other materials, which allows for an overall improvement in the properties of the product obtained and the marginalization of the defects of individual components. HA material is one of the most promising compounds used in dentistry, which is confirmed by the growing amount of research and work devoted to the development of this material.
Author Contributions
Surveyed literature, prepared the original paper draft: K.P.; co-authored the review: L.P.; conceived the idea, managed the scope, organized sections, co-authored and reviewed the manuscript: J.K. All authors discussed the results and commented on the manuscript.
Funding
By a research grant (Project NCN UMO-2016/22/E/ST5/00564) from the National Science Centre, Poland.
Conflicts of Interest
The authors declare no conflict of interest.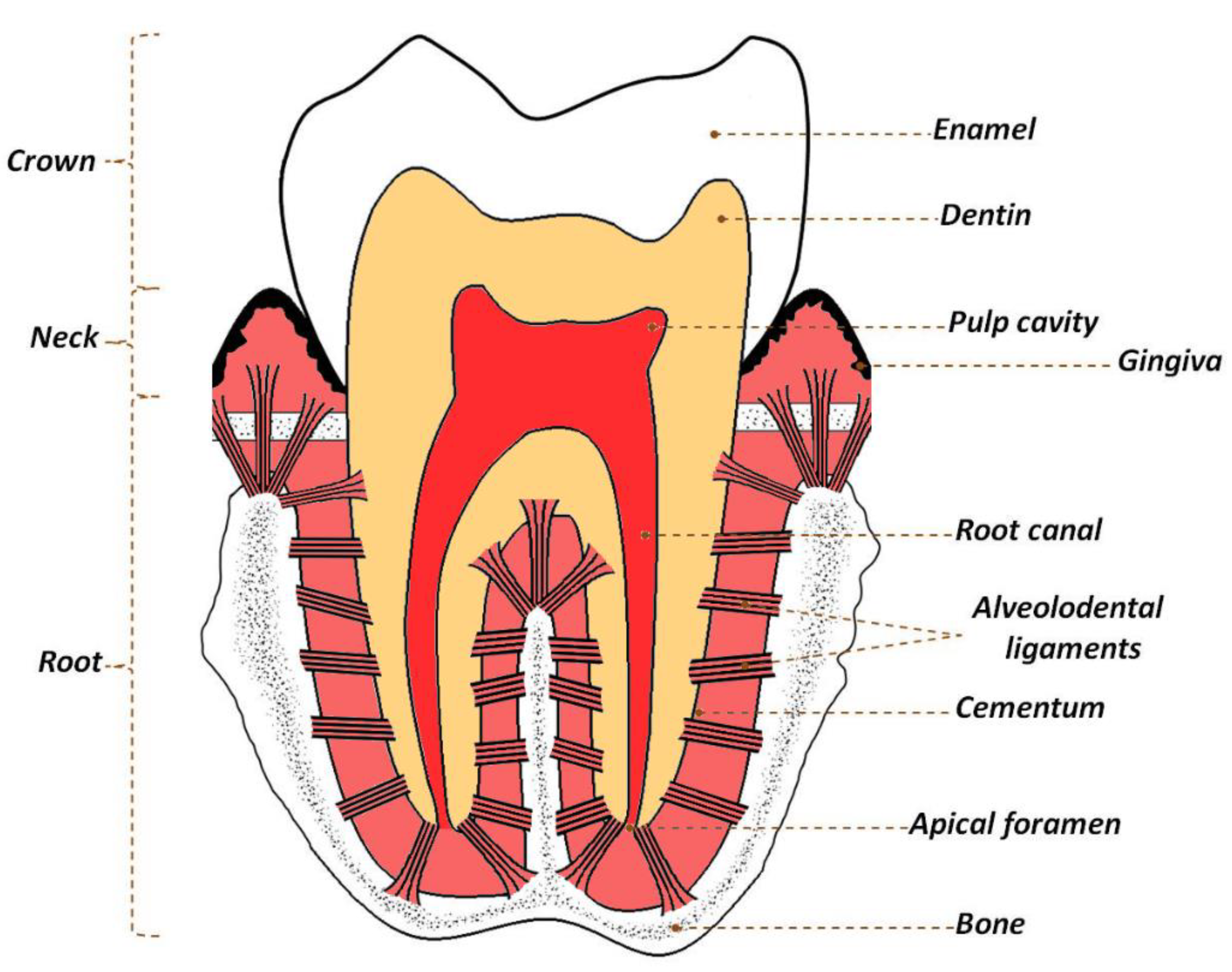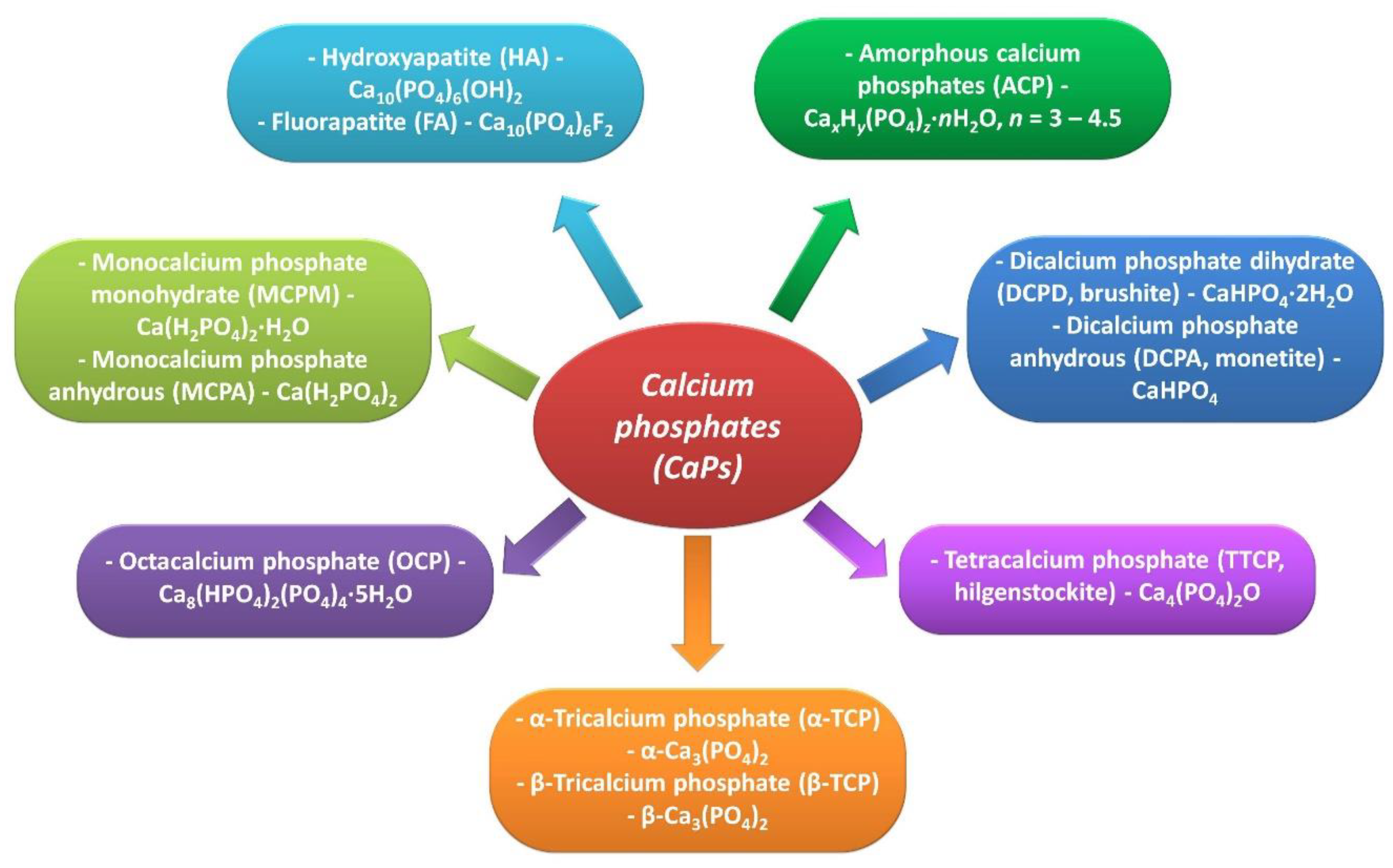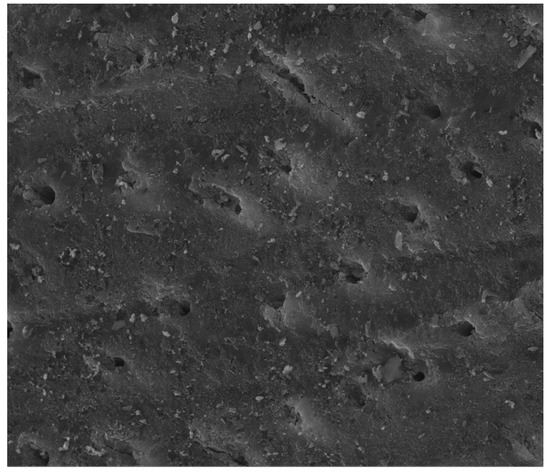 Figure 4.
Scanning electron microscopy (SEM) micrograph of a dentin disc, showing notable tubule occlusion after keeping it in a mixture of artificial saliva and HA containing toothpaste for one week (6000× magnification) (reprinted from ref. [
41
] with permission).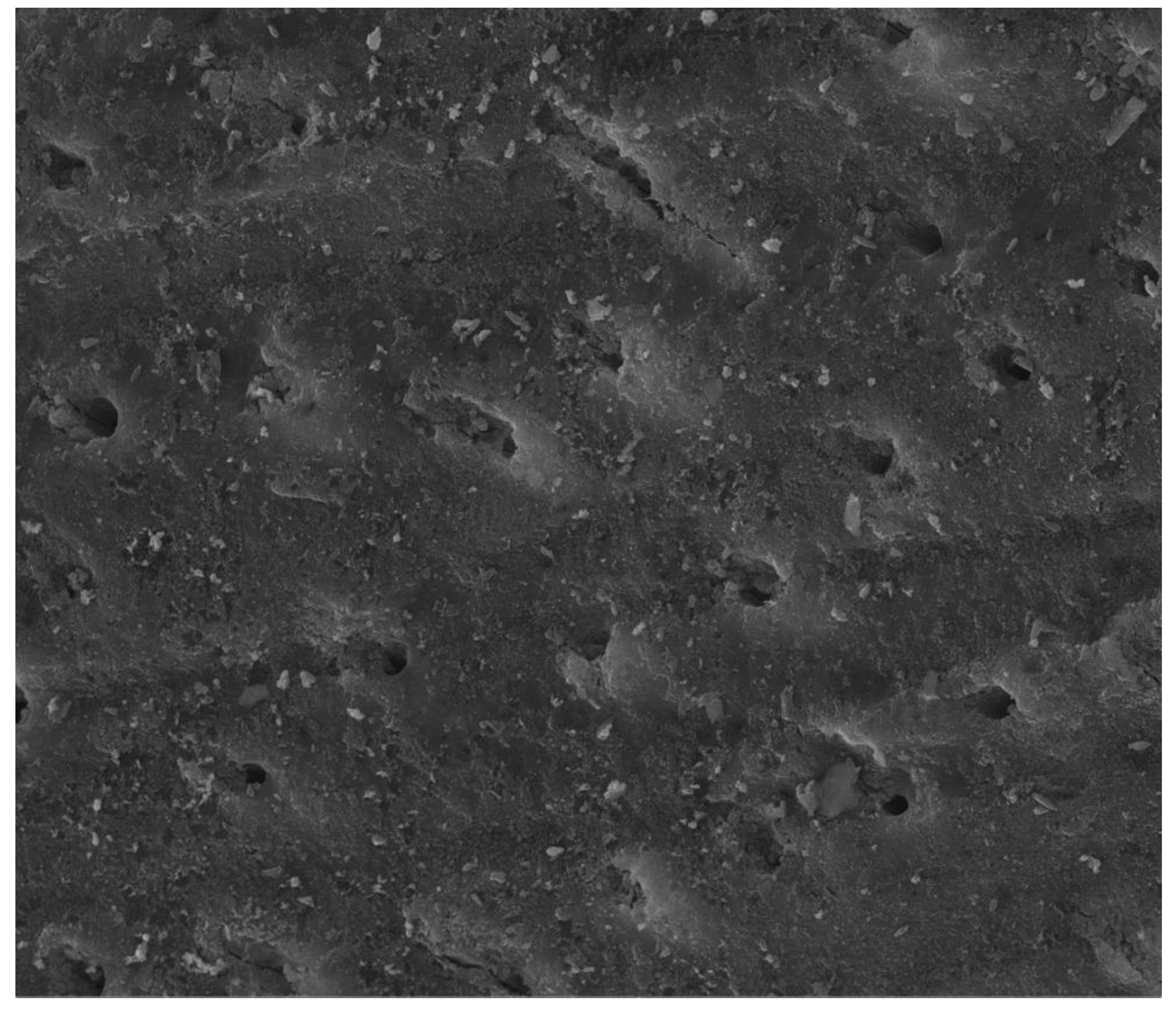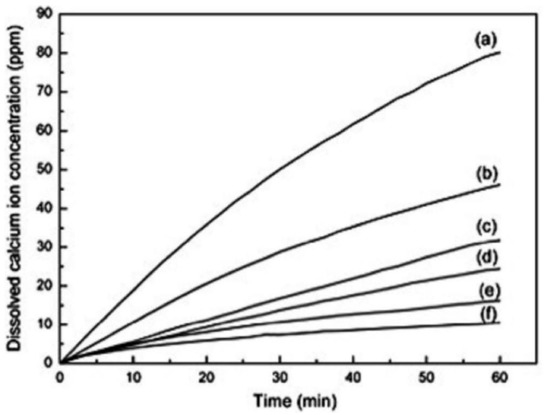 Figure 5.
Dissolution behavior of powders with various amount of HA and FA: (
a
) 0% FA, (
b
) 20% FA, (
c
) 40% FA, (
d
) 60% FA, (
e
) 80% FA, (
f
) 100% FA in Tris buffer (pH 7.3) over a period of 1h (reprinted from ref. [
62
] with permission).
Figure 6.
Dental implants (by Friadent) coated with CaP by a plasma-spray process (
a
: 10×,
b
: 1000× magnification;
a
: 1mm,
b
: 10 µm scale bars) (reprinted from ref. [
69
] with permission).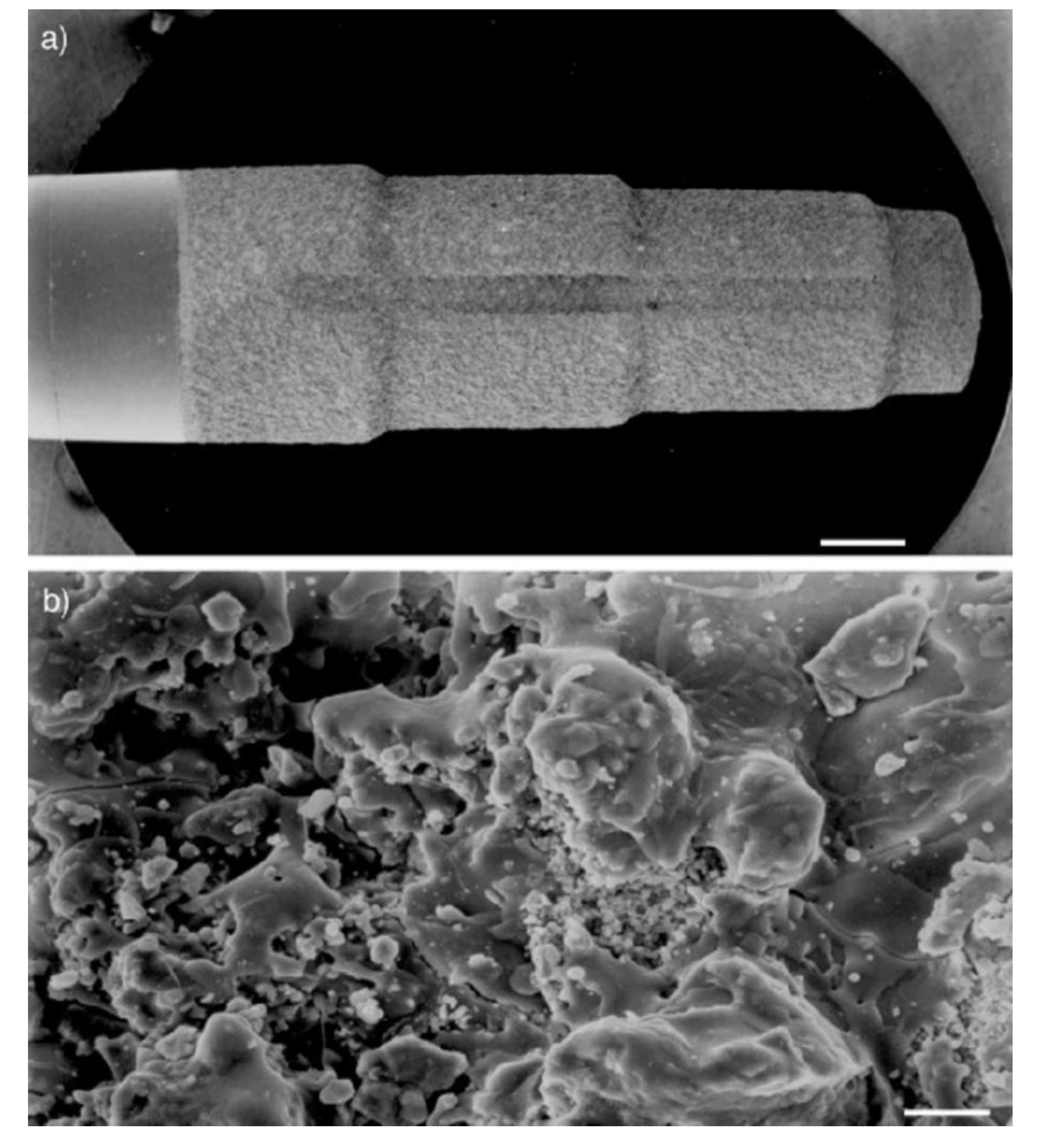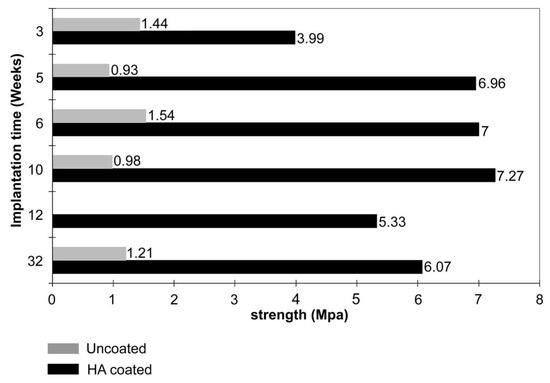 Figure 7.
Shows improvement of the interfacial bond strength in porous titanium with plasma-sprayed HA coating in comparison with uncoated porous titanium (reprinted from ref. [
76
] with permission).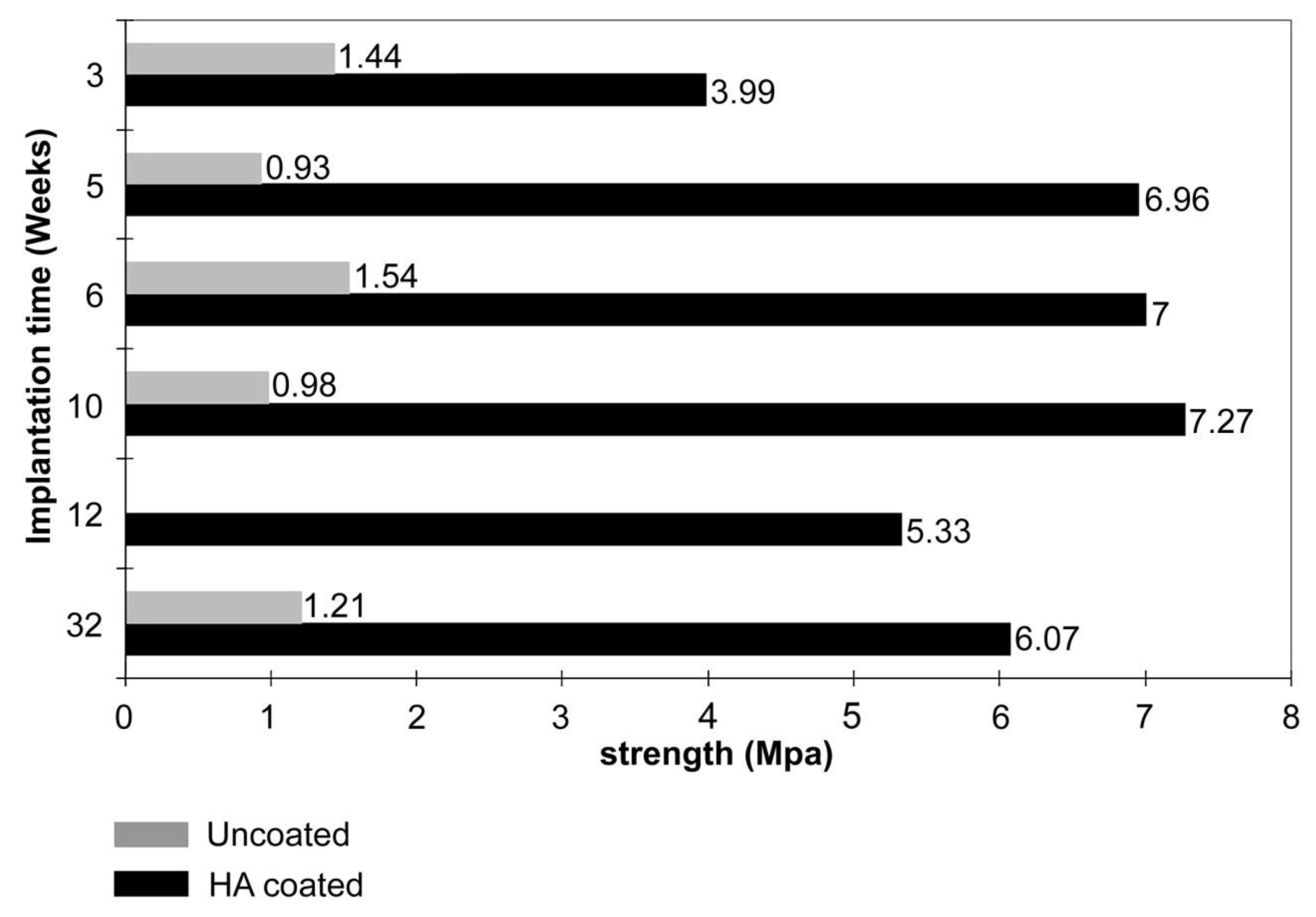 Figure 8.
SEM micrographs of biomimetic calcium phosphate coating. Magnification: 250× (left) and 2500× (right) (reprinted from ref. [
74
] with permission).


© 2019 by the authors. Licensee MDPI, Basel, Switzerland. This article is an open access article distributed under the terms and conditions of the Creative Commons Attribution (CC BY) license (http://creativecommons.org/licenses/by/4.0/).