Development of Smart Composites Based on Doped-TiO2 Nanoparticles with Visible Light Anticancer Properties
Laboratory of General Chemistry, School of Chemical Engineering, National Technical University of Athens, Zografou Campus, 9, Iroon Polytechniou str., 15780 Zografou, Greece
*
Author to whom correspondence should be addressed.
Received: 18 July 2019 / Revised: 8 August 2019 / Accepted: 11 August 2019 / Published: 14 August 2019
Abstract
In this study, the synthesis of smart, polymerically embedded titanium dioxide (TiO
2
) nanoparticles aimed to exhibit photo-induced anticancer properties under visible light irradiation is investigated. The TiO
2
nanoparticles were prepared by utilizing the sol gel method with different dopants, including nitrogen (N-doped), iron (Fe-doped), and nitrogen and iron (Fe,N-doped). The dopants were embedded in an interpenetrating (IP) network microgel synthesized by stimuli responsive poly (N-Isopropylacrylamide-co-polyacrylicacid)–pNipam-co-PAA forming composite particles. All the types of produced particles were characterized by X-ray powder diffraction, micro-Raman, Fourier-transform infrared, X-ray photoelectron, ultra-violet-visible spectroscopy, Field Emission Scanning Electron, Transmission Electron microscopy, and Dynamic Light Scattering techniques. The experimental findings indicate that the doped TiO
2
nanoparticles were successfully embedded in the microgel. The N-doped TiO
2
nano-powders and composite particles exhibit the best photocatalytic degradation of the pollutant methylene blue under visible light irradiation. Similarly, the highly malignant MDA-MB-231 breast cancer epithelial cells were susceptible to the inhibition of cell proliferation at visible light, especially in the presence of N-doped powders and composites, compared to the non-metastatic MCF-7 cells, which were not affected.
View Full-Text
►

▼

Figures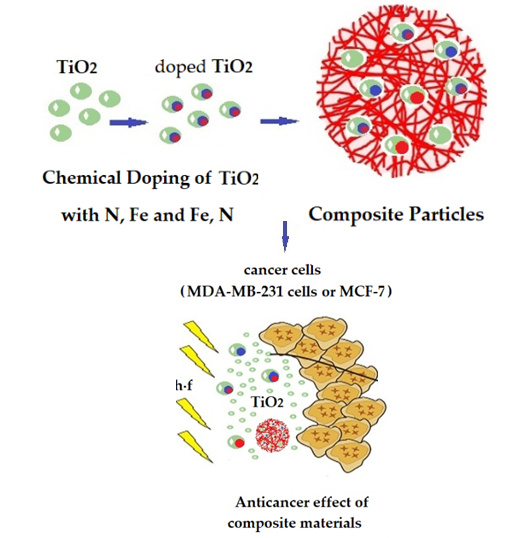 Graphical abstract
This is an open access article distributed under the
Creative Commons Attribution License
which permits unrestricted use, distribution, and reproduction in any medium, provided the original work is properly cited (CC BY 4.0).

Share & Cite This Article
MDPI and ACS Style
Galata, E.; Georgakopoulou, E.A.; Kassalia, M.-E.; Papadopoulou-Fermeli, N.; Pavlatou, E.A. Development of Smart Composites Based on Doped-TiO2 Nanoparticles with Visible Light Anticancer Properties. Materials 2019, 12, 2589.
Note that from the first issue of 2016, MDPI journals use article numbers instead of page numbers. See further details here.
Related Articles
Comments
[Return to top]