Open Access This article is
freely available
re-usable
Article
Dual Doping of Silicon and Manganese in Hydroxyapatites: Physicochemical Properties and Preliminary Biological Studies
1
Department of Analytical Chemistry and Biomaterials, Analytical Group, Faculty of Pharmacy with Laboratory Medicine Division, Medical University of Warsaw, ul. Banacha 1, 02-097 Warsaw, Poland
2
Department of Environmental Health Sciences, Faculty of Pharmacy with Laboratory Medicine Division, Medical University of Warsaw, ul. Banacha 1, 02-097 Warsaw, Poland
*
Author to whom correspondence should be addressed.
Received: 4 July 2019 / Accepted: 9 August 2019 / Published: 12 August 2019
Abstract
:
Silicated hydroxyapatite powders enriched with small amounts of manganese (Mn
2+
) cations were synthesized via two different methods: precipitation in aqueous solution and the solid-state method. The source of Mn
2+
ions was manganese acetate, while silicon was incorporated using two different reagents: silicon acetate and sodium metasilicate. Powder X-ray diffraction (PXRD) analysis showed that the powders obtained via the precipitation method consisted of single-phase nanocrystalline hydroxyapatite. In contrast, samples obtained via the solid-state method were heterogenous and contaminated with other phases, (i.e., calcium oxide, calcium hydroxide, and silicocarnotite) arising during thermal treatment. The transmission electron microscope (TEM) images showed powders obtained via the precipitation method were nanosized and elongated, while solid-state synthesis produced spherical microcrystals. The phase identification was complemented by Fourier transform infrared spectroscopy (FTIR). An in-depth analysis via solid-state nuclear magnetic resonance (ssNMR) was carried out, using phosphorus
31
P single-pulse Bloch decay (BD) (
31
P BD) and cross-polarization (CP) experiments from protons to silicon-29 nuclei (
1
H →
29
Si CP). The elemental measurements carried out using wavelength-dispersive X-ray fluorescence (WD-XRF) showed that the efficiency of introducing manganese and silicon ions was between 45% and 95%, depending on the synthesis method and the reagents. Preliminary biological tests on the bacteria
Allivibrio fisheri
(Microtox®) and the protozoan
Spirostomum ambiguum
(Spirotox) showed no toxic effect in any of the samples. The obtained materials may find potential application in regenerative medicine, bone implantology, and orthopedics as bone substitutes or implant coatings.
Keywords:
hydroxyapatite; manganese; silicon; biomaterials; infrared spectroscopy; nuclear magnetic resonance
2. Materials and Methods
2.1. Preparation of Samples
Synthesis of the materials was performed using two different methods (the precipitation method and the solid-state method) with two different sources of silicon (Na
2
SiO
3
or Si(CH
3
COO)
4
). The planned samples, with nominal composition Ca
9.997
Mn
0.003
(PO
4
)
5.3
(SiO
4
)
0.7
(OH)
1.3
and intended (Ca + Mn)/(P + Si) molar ratio of 1.67, are summarized in
Table 1
. Regardless of the silicon source, Si was introduced into hydroxyapatite in the form of orthosilicate SiO
4
4−
ions. In the case of metasilicate ions, hydrolysis occurred under the reaction conditions.
Precipitation synthesis was carried out at room temperature. Stoichiometric amounts of Ca(NO3)2∙4H2O and (CH3COO)2Mn were dissolved in 400 mL of distilled water in a flask under constant stirring. A Si-containing solution (Na2SiO3 or Si(CH3COO)4 dissolved in 50 mL of distilled water) and a P-containing solution ((NH4)2HPO4 dissolved in 50 mL of distilled water) were added dropwise to the Ca-Mn precursor solution using separate burettes. The pH was adjusted to approximately 10 using concentrated ammonia solution. The resultant precipitate was allowed to rest for 24 h for ageing. The precipitates were then filtered through a 0.8 µm pore size membrane filter under reduced pressure and rinsed several times with distilled water until the filtrate reached pH 7. This step was aimed at washing away residual reagents and soluble reaction products. The obtained precipitates were dried at 130 °C for 24 h and then ground in an agate mortar for physico-chemical and biological characterization.
For the solid-state synthesis, CaCO3, (CH3COO)2Mn, (NH4)2HPO4, and Na2SiO3 or Si(CH3COO)4 were used. The weighed substrates were ground in a ball mill and were pressed into tablets using a hydraulic press (pressure force 10 tons). The key step in the solid-state synthesis was sintering the tablets in the muffle furnace (Czylok FCF2,5SH, Jastrzębie-Zdrój, Poland) using the following temperature program: heating to 400 °C for 8 h, heating to 700 °C for 8 h, heating to 1000 °C for 8 h, then allowed to cool. To prevent the oxidation of Mn2+ ions, heating was carried out in an argon atmosphere. After the thermal treatment, the tablets were crushed in an agate mortar and the obtained powder was then subjected to further analysis.
2.2. Sample Characterization
The synthesized materials were analyzed via X-ray powder diffractometry (PXRD) using a Bruker D8 DISCOVER diffractometer (Bruker, Karlsruhe, Germany) with a Cu anticathode (λ = 1.54 Å). The scans were run from 20° to 70°, with a step size of 0.024°, a step time of 4 s, and a locked, coupled (theta–theta) geometry. Stoichiometric HA (inorganic crystal structure database ICSD #00-009-0432) was used as the reference pattern. On the basis of the diffraction patterns, the parameters of the unit cell (
a
and
c
) were estimated. The Scherrer equation (1) was used to calculate the crystal sizes of the samples synthesized by the precipitation method [
48
]:
where
d—crystallite size (nm)

λ—radiation wavelength (nm)

β—the peak full width at half maximum intensity (radians)

θ—the diffraction angle of the corresponding reflex (°).
The reflections at approximately 25.8° and 39.9° were chosen for the calculation.
A JEOL JEM-1400 transmission electron microscope (TEM, Jeol LTD, Tokyo, Japan) with an accelerating voltage of 80 kV was used to observe the morphology of the obtained powders. In order to prepare the samples for TEM analysis, they were suspended in ethanol and then dropped on a copper grid covered with Formvar.
Elemental analysis of the synthesized apatites was carried out via the WD-XRF method in the solid state, using tablets made of samples carefully triturated with microcrystalline cellulose. In order to determine the percentage weight of manganese and silicon in the samples, a standard curve of the signal-to-element concentration was made. The standard curve for each element consisted of five measurement points, while the blank sample was a tablet made of pure microcrystalline cellulose. To ensure uniform distribution of the standard in the tablet mass, the cellulose was mixed with a calculated amount of the standard solution, which was later evaporated. The cellulose was compressed into a tablet using a hydraulic press. Each measurement was carried out in triplicate using a WD-XRF ARL ADVANT'X spectrometer (Thermo Electron Corp., Waltham, MA, USA). The (Ca + Mn)/(P + Si) ratio of the samples was determined using energy-dispersive X-ray spectroscopic microanalysis (EDS INCA Energy TEM, Oxford Instruments, Abingdon, UK; Ca and P contents measured from six spots and then averaged).
The chemical composition of the samples was investigated using Fourier transform infrared spectroscopy (FTIR, Perkin Elmer, Waltham, MA, US). The samples were ground with KBr in an agate mortar and then analyzed from 4000 to 400 cm−1 using a Perkin Elmer Spectrum 1000 spectrometer. Spectra were obtained within 30 repetitions (scans) with a resolution of 2 cm−1.
Solid-state NMR experiments on 31P and 29Si nuclei were performed using a Bruker WB 400 spectrometer (Bruker, Karlsruhe, Germany). The following experiments were carried out: 31P single-pulse Bloch decay (31P BD) and cross-polarization from protons to silicon-29 nuclei (1H → 29Si CP). The samples were spun at 7 and 5 kHz for the 31P and 29Si experiments, respectively, at the magic angle spinning (MAS), using ZrO2 rotors. The 31P and 29Si chemical shifts were referenced to external 85% orthophosphoric acid and tetramethylosilane (TMS), respectively.
Preliminary toxicity tests were performed using two tests: Microtox® and Spirotox. Two different suspensions were prepared, i.e., 1 and 2 mg/mL. The Microtox® test was based on the lyophilized luminescent bacteria
Allivibrio fischeri
. The suspended samples were incubated for 15 min with the bacteria in disposable glass cuvettes and then the light output of the samples was measured in the Microtox® M500 analyser (Osprey Scientific, Edmonton, AB, Canada). All samples were run in duplicate. For the control, 2% NaCl was used.
The protozoan
Spirostomum ambiguum
was used in the Spirotox test, which was performed in polystyrene multiwell plates according to the standard protocol [
49
]. In each well, 10 organisms were placed together with the suspended materials. The samples were incubated in the dark at 25 °C for 24 and 48 h. Then, a dissection microscope was used to analyze the lethal response or deformation of the
S. ambiguum
cell. The sample was tested in triplicate in each acute toxicity test (Microtox® and Spirotox); however, the tests were repeated (performed twice). Tyrode's solution was used as a control.
3. Results and Discussion
4. Conclusions
Novel manganese and silicate co-substituted apatite materials were synthesized in this study. The study was aimed at comparing the physico-chemical properties of samples depending on the reagent used and the synthesis method. Samples were characterized using PXRD, FTIR, and ssNMR spectroscopy, as well as TEM and WD-XRF. Preliminary biological in vitro tests were also performed. Significant conclusions from these examinations are presented below.
Samples obtained using precipitation were nanocrystalline and monophasic. Solid-state samples were microcrystalline and contained secondary phases (impurities), i.e., calcium oxide, calcium hydroxide, and silicocarnotite, which were produced during the sintering process.

Manganese and silicon ions were successfully incorporated, as confirmed using WD-XRF and spectroscopic measurements. The substitution efficiency was between 45% and 95%, depending on the synthesis method and the reagents.

A higher efficiency of Mn2+ substitution occurred in the case of precipitation synthesis, while the substitution of silicon was favoured in the solid-state synthesis. In both cases, the yield was better when using silicon acetate instead of sodium metasilicate as a silicon source.

The introduction of ions did not significantly affect the crystallinity and unit cell parameters. The degree of crystallinity, as well as the size and shape of the crystals, depended mainly on the synthesis method.

According to the Microtox® and Spirotox tests, none of the samples was considered to be toxic. Such promising results may constitute the starting point for further biological research.
Author Contributions
K.S. participated in the synthesis and physicochemical analysis of the samples and wrote the manuscript. A.D. was responsible for the biological tests. J.K. provided the concept of the work, interpreted the results, and helped with the NMR analysis. All authors have contributed to and approved the manuscript.
Funding
This work was supported by a research grant (Project NCN UMO-2016/22/E/ST5/00564) from the National Science Centre, Poland, and a research grant (Project FW23/PM1/18) from Medical University of Warsaw.
Acknowledgments
The TEM studies were performed in the Laboratory of Electron Microscopy, Nencki Institute of Experimental Biology, Warsaw, Poland. We used equipment installed as part of a project sponsored by EU Structural Funds: Centre of Advanced Technology BIM; equipment was purchased for the Laboratory of Biological and Medical Imaging.
Conflicts of Interest
The authors declare no conflict of interest.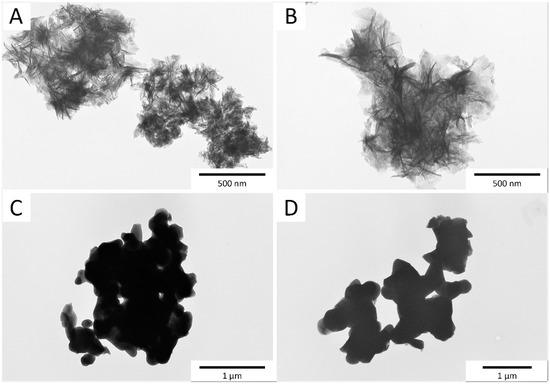 Figure 2. TEM images of the analyzed samples: (A) Mn,SiO4-HAw, (B) Mn,SiO3-HAw, (C) Mn,SiO4-Had, and (D) Mn,SiO3-HAd.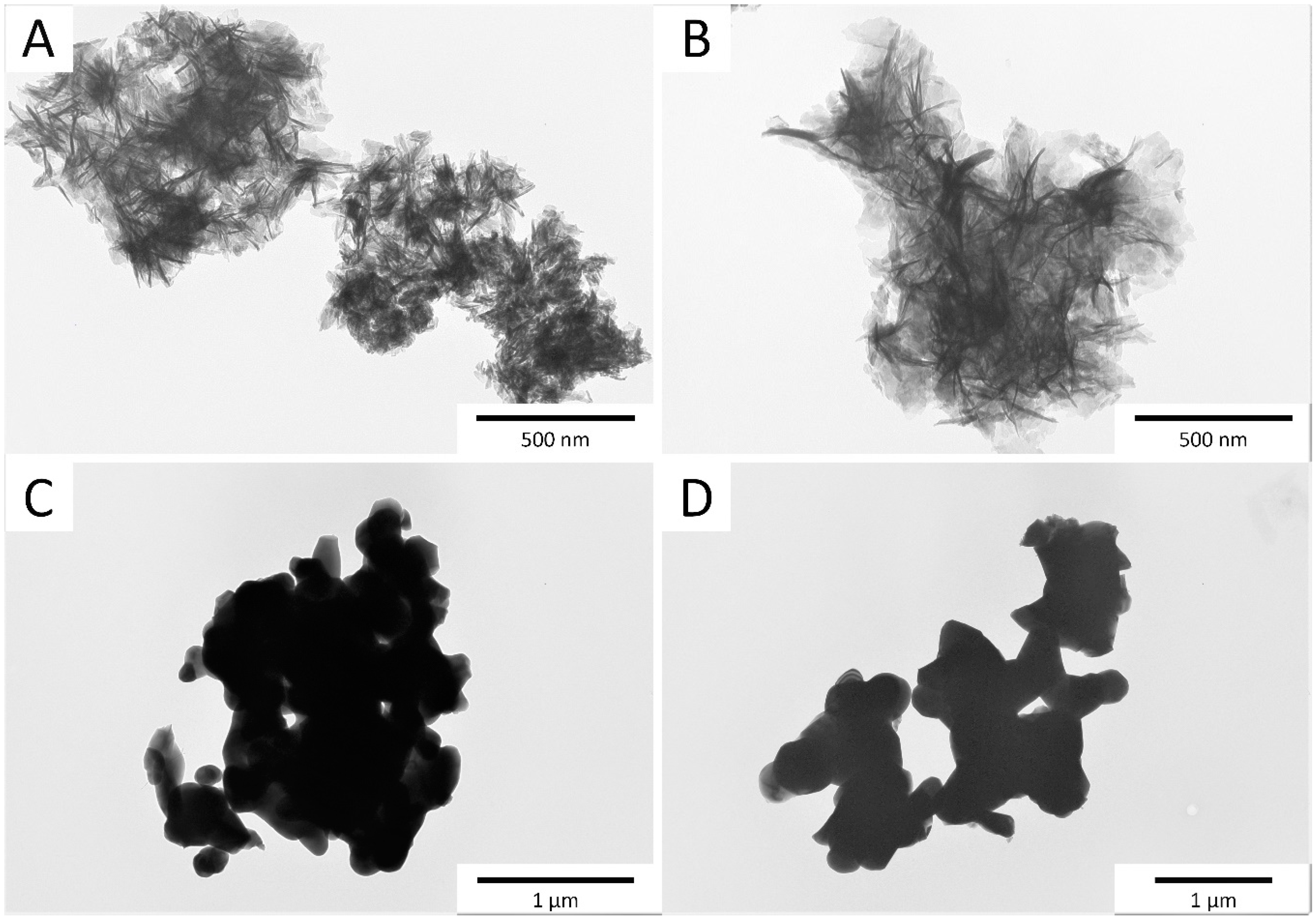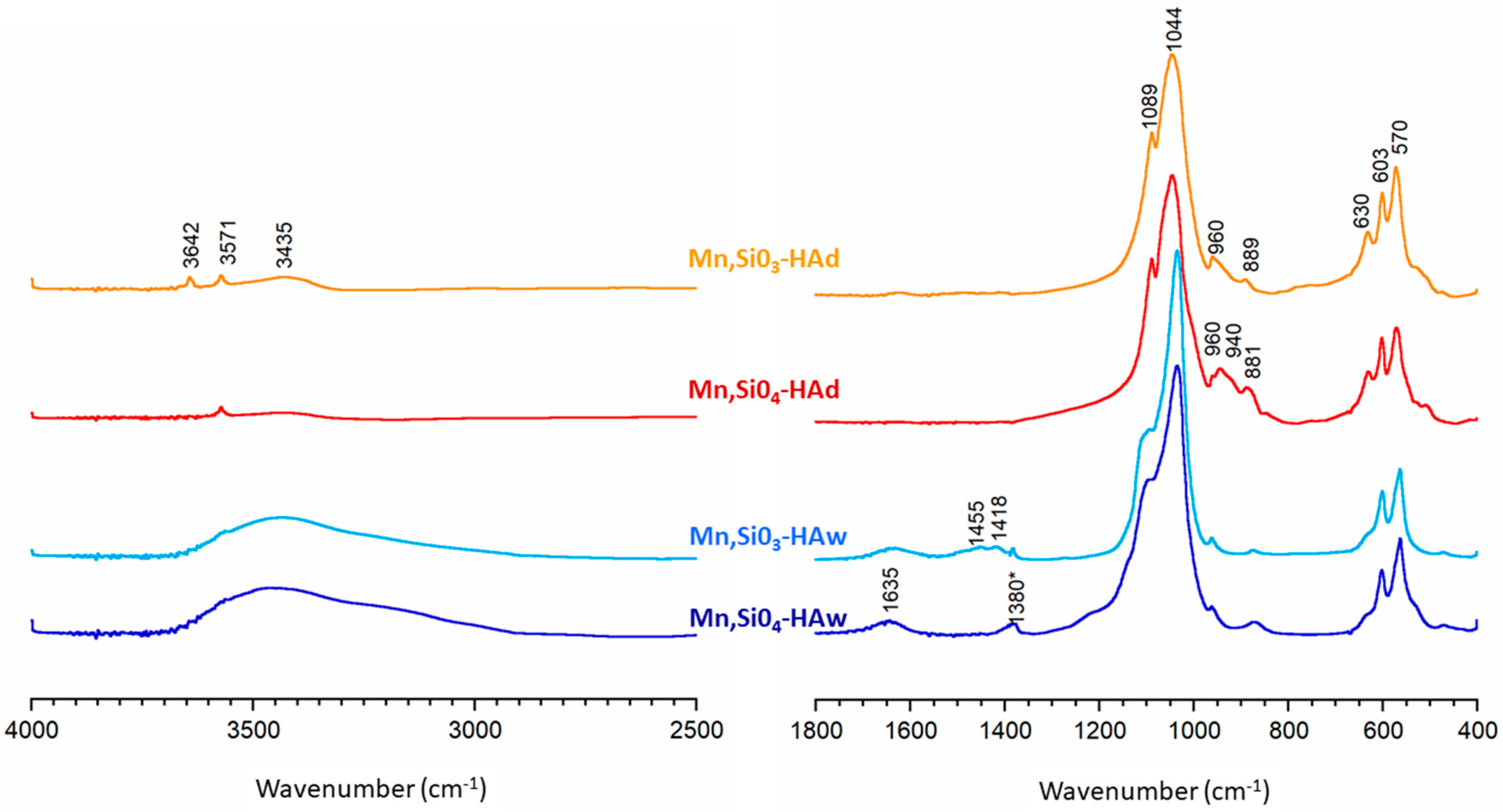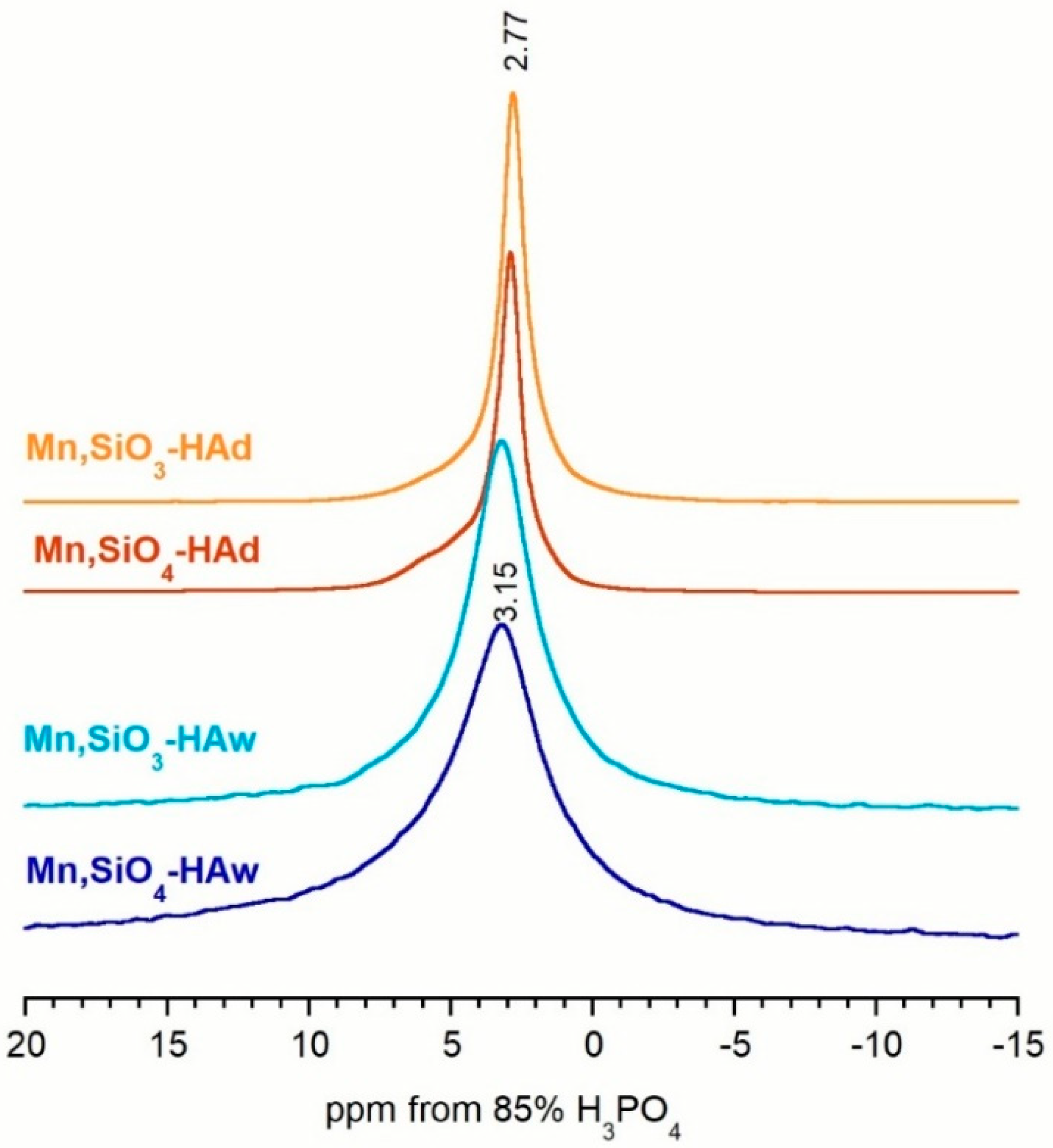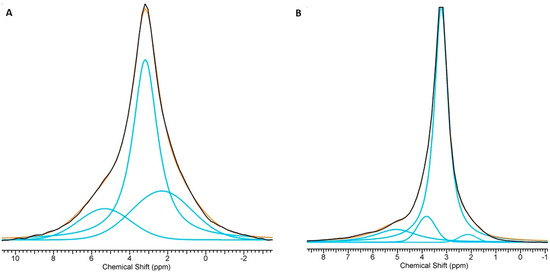 Figure 5. Representative deconvolution of the 31P BD NMR spectra: (A) Mn,SiO4-Haw and (B) Mn,SiO4-HAd.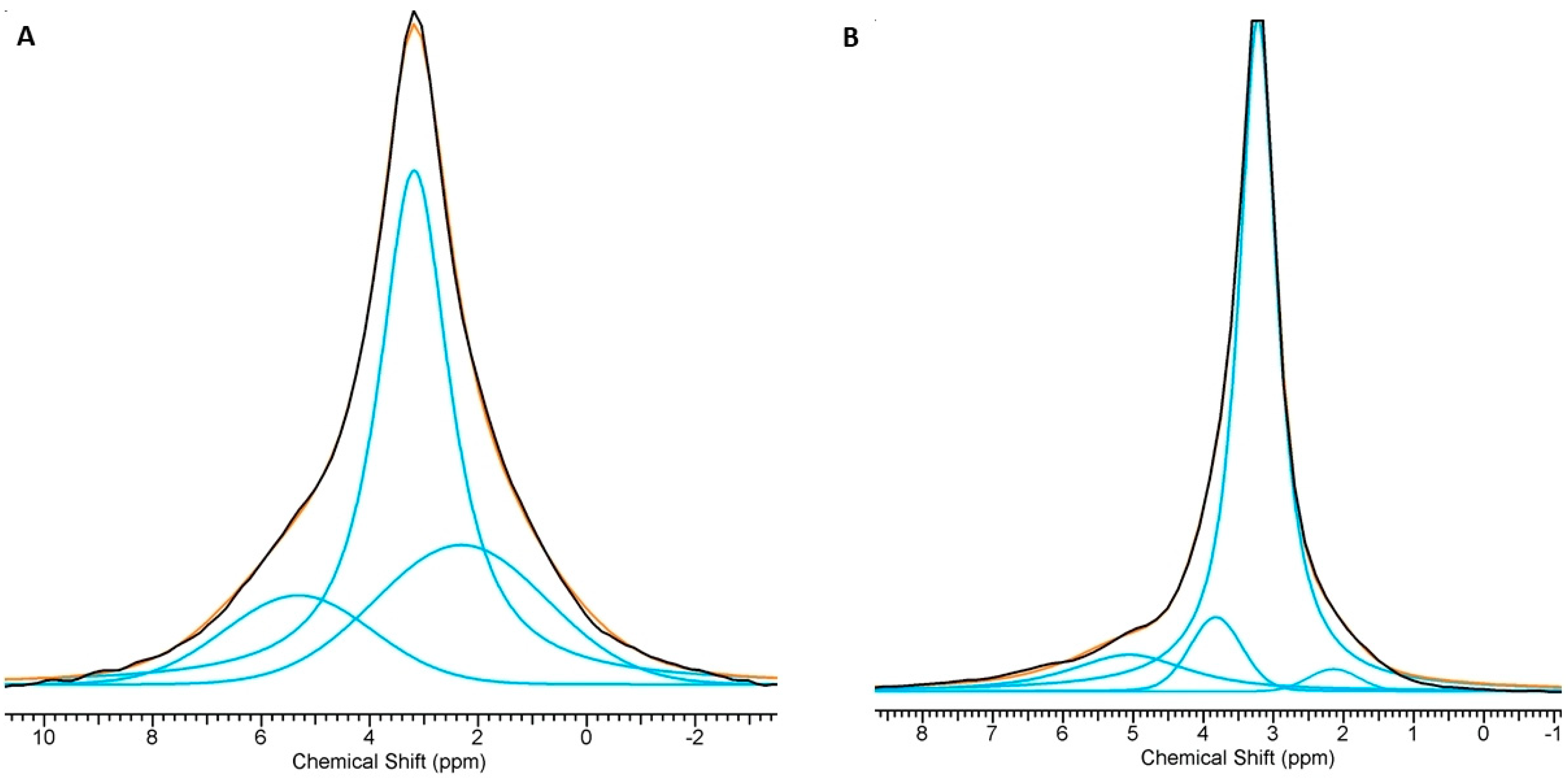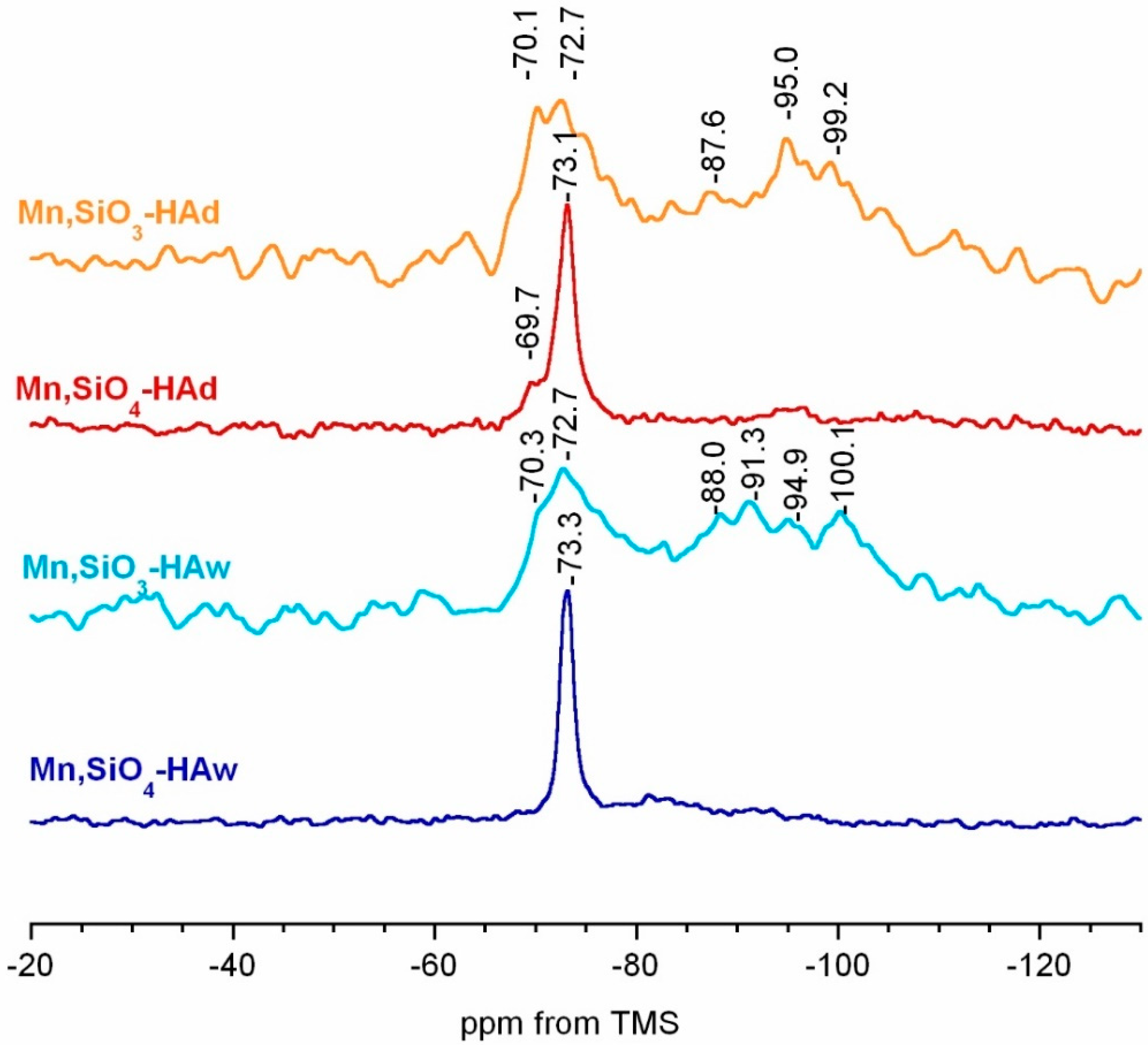 Mn,SiO3-HAw
Mn,SiO4-HAw
Mn,SiO3-HAd
Mn,SiO4-HAd
Synthesis method
Precipitation
Solid-state
Silicon source
Na2SiO3
Si(CH3COO)4
Na2SiO3
Si(CH3COO)4
Parameter

a

(Å) a
9.424
9.433
9.418
9.415
Parameter

c

(Å) a
6.882
6.875
6.886
6.896
Mn content (wt%)
0.0086 ± 0.0004
0.0110 ± 0.0004
0.0076 ± 0.0003
0.0080 ± 0.0004
Si content (wt%)
1.217 ± 0.005
1.512 ± 0.003
1.819 ± 0.003
1.879 ± 0.004
Mn substitution efficiency (%)
50.59
64.71
44.71
47.06
Si substitution efficiency (%)
61.48
76.34
91.88
94.90
(Ca + Mn)/(P + Si) molar ratio
1.54 ± 0.05
1.59 ± 0.04
1.61 ± 0.03
1.62 ± 0.05

Table 2. NMR deconvolution results for the 31P BD NMR experiments (FWHM—full width at half maximum).
Assignments
Chemical Shift (ppm)
FWHM (Hz)
Percentage of Total Area (%)
Mn,SiO4-HAw
≡POxH
2.31
606
27.4
main
3.18
256
57.4
≡POx
5.31
523
15.1
Mn,SiO3-HAw
≡POxH
2.25
640
22.3
main
3.22
248
54.5
≡POx
5.28
551
23.2
Mn,SiO4-HAd
≡POxH
2.14
138
2.4
main
3.22
108
77.0
≡POx
5.10
329
12.1
silicocarnotite
3.85
142
7.5
Mn,SiO3-HAd
≡POxH
2.33
145
4.2
main
3.15
111
78.5
≡POx
5.35
316
15.2
silicocarnotite
4.12
156
2.1
Sample
Microtox® (15 min-PE) 1
Spirotox 2
1.0 mg/mL
2.0 mg/mL
1.0 mg/mL
2.0 mg/mL
Mn,SiO4-HAw
0
0
NT
NT
Mn,SiO3-HAw
0
0
NT
NT
Mn,SiO4-HAd
0
0
NT
NT
Mn,SiO3-HAd
0
0
NT
NT
1 Percent of toxic effect after 15 min of incubation; 2 NT—not toxic.

© 2019 by the authors. Licensee MDPI, Basel, Switzerland. This article is an open access article distributed under the terms and conditions of the Creative Commons Attribution (CC BY) license (http://creativecommons.org/licenses/by/4.0/).