Open Access This article is
freely available
re-usable
Article
The Influence of Graphene in Improvement of Physico-Mechanical Properties in PMMA Denture Base Resins
1
Department of Prosthodontics and Dental Materials, Iuliu Hatieganu University of Medicine and Pharmacy, 32 Clinicilor, 400006 Cluj-Napoca, Romania
2
Department of Preventive Dental Medicine, Iuliu Hatieganu University of Medicine and Pharmacy, 31 Avram Iancu, 400083 Cluj-Napoca, Romania
3
Department of Polymer Composites, Institute of Chemistry Raluca Ripan, Babes-Bolyai University, 30 Fantanele Str., 400294 Cluj-Napoca, Romania
4
Institute for Computational Linguistics, University of Heidelberg, 325 Im Neuenheimerfeld, 69120 Heidelberg, Germany
5
Department of Physiology, Iuliu Hatieganu University of Medicine and Pharmacy, 1 Clinicilor, 400006 Cluj-Napoca, Romania
6
Department of Mechanical Engineering, Faculty of Mechanics, Technical University of Cluj-Napoca, 103-105 Muncii Bld., 400641 Cluj-Napoca, Romania
*
Author to whom correspondence should be addressed.
Received: 11 June 2019 / Accepted: 19 July 2019 / Published: 23 July 2019
Abstract
:
The clinical performances of dental materials depend on their mechanical profiles, determining their long-term deformation and wear resistance. This paper describes a study on the mechanical properties, water absorption and morphological properties of a polymethyl methacrylate (PMMA) resin enriched with graphene-silver nanoparticles (Gr-Ag). Two different concentrations—1 and 2 wt.%—of Gr-Ag were loaded into the PMMA material. For the mechanical characterization, the compression behavior, flexural strength and tensile strength were evaluated. Optical microscopy in polarized light and scanning electron microscopy were used for filler analysis. The filler addition led to an improvement in all mechanical properties, with slight changes being derived from the filler content variation. Gr-Ag use led to an increase in the applied maximum loads. Moreover, 1 wt.% Gr-Ag determined an increase of 174% in the modulus of rupture, which indicates high flexibility.
Keywords:
denture; graphene-Ag nanoparticles; polymethyl methacrylate; mechanical characterization; water absorption
1. Introduction
The mechanical properties of dental materials play a crucial role in their clinical performance and are strongly related to both processing and composition. For example, complete dentures, used for esthetic and functional restoration in edentulous patients, are subjected to high and complex mastication forces, that can lead to fractures. Improving resistance by increased denture thickness can be troublesome for patients, hence the importance of exploring other possibilities to enhance the mechanical properties of the acrylic resin.
In an attempt to improve both mechanical denture composite properties, PMMA resin was loaded with graphene-Ag nanoparticles (Gr-Ag). The present study aimed at the characterization of the new composites obtained by loading different ratios of Gr-Ag into a commercial auto-polymerized PMMA resin. The samples were evaluated for the compression behavior, flexural properties and tensile strength, as well as by their water absorption profiles and morphological aspects.
2. Materials and Methods
2.1. Graphene-Based Nanomaterial Preparation
Graphene-silver nanoparticles (Gr-Ag) used in this study were synthesized (in the Synthesis and Applications of Carbon Nanostructures Department of Institute for Research and Development of Isotopic and Molecular Technologies, Cluj-Napoca, Romania) by radio-frequency chemical vapor deposition (RF-CCVD) using catalytic silver nanoparticles distributed over magnesium oxide (Agx/MgO, where x = 3 wt.%). The synthesis was carried out using a methane flow of 80 mL/min and a reaction time of 60 min [
20
].The obtained graphene had6 layers decorated with Ag nanoclusters.
The experimental materials of a liquid self-polymerizing denture acrylic were obtained from Castavaria (Vertex Dental B.V., Centurion Baan 190, 3769 AV, Soesterberg, The Netherlands). The control sample contained only the acrylic denture material (M), while the samples P1 and P2 contained 1 (P1) and 2 (P2) wt.% Gr-Ag. The Gr-Ag obtained using a method described by Sava et al. [
21
], were mixed in the PMMA powder, using a vibrating lab device, then the powder and liquid mixture was cured for 30 min, at 55°C and 2.5 bar in a polymerizing device, as described in the product specifications. Sticks of 150mm/5mm were obtained, which were then sectioned in 1.5 mm disks, 10 for each sample. The sticks obtained are presented in
Figure 1
.
2.2. Mineral Glass Optic Microscopy in Polarized Light with Crossed Nicols
The polymer powder was stretched out on the glass blade and investigated using Optical mineralogic microscope with cross polarized light, Laboval 2 (Carl Zeiss Jena, Oberkochen, Germany), with an 8-megapixel Samsung digital camera (Samsung, Seoul, Korea).
2.3. Mechanical Property Evaluation
The samples for the mechanical evaluation of compressive strength (CS), diametral tensile strength (DTS) and flexural strength (FS) were prepared according to ISO 4049/2000 and international norms "American Dental Association's Specification" No. 27 [
21
]. Silicone molds were used for preparation, to minimize the formation of cracks and flaws within the material. Ten samples of predetermined shapes and sizes were prepared for each test group, in accordance withthe designated testing method: 6 mm × 3 mm for DTS, 4 mm × 8 mm for CS and 2 mm × 2 mm × 25 mm for FS. After 24 h, samples were evaluated using a Lloyd Instruments-LR5k (LF Plus, LLOYD, Instrument, Ametek Inc., West Sussex, UK) mechanical testing machine equipped with Nexygen Software (version 3.0, Lloyd Instruments Ltd. Steyning Way, Bognor Regis, West Sussex, UK). The statistical significance of the values of the 10 samples for each of the three materials was tested using a one-way ANOVA (Microsoft Office, Excel, Python 3.5 and Matplotlib, San Diego, CA, USA).
2.4. Water Absorption
For the determination of water absorption and the absorption of artificial saliva, a silicone mold was used to obtain disc shaped specimens of 15 ± 1 mm diameter and a thickness of 1 mm. The discs were removed from the mold and dried in the desiccator in the presence of calcium chloride at 37°C for 24 h to obtain a constant weight (m
0
). They were divided into two groups: the samples from the first group were immersed in distilled water, while the samples from the second group were maintained inartificial saliva and placed in an incubator at a constant temperature of 37°C for 28 days. Every day, the samples were removed from the water and weighed after 10 min (m
1
) using an electronic analytical balance. The recorded weight changes were calculated using Equation (1) [
22
].
The statistical significance of the differences in weight for the 10 samples for each of the three materials was tested using a one-way ANOVA test (Microsoft Office, Excel).
2.5. Scanning Electron Microscopy
The scanning electron microscopy of the fillers and the samples (discs) was carried out using an FEI Inspect microscope (SEM-Inspect S, FEI Company, Hillsboro, OR, USA), S model, functional in high-vacuum and low-vacuum, tan accelerating voltage between 200V and 30kV. The microscope is equipped with CCD-IR infrared inspection camera and backscatter electron detector, with image processing up to 4096×3536 pixels. Typically, the images were collected with a magnification of 500 and 1000 times.
4. Discussion
The resistance of the material to the stresses caused by mastication can be predicted by evaluating its mechanical properties. To investigate the mechanical performance of graphene-based PMMA composites, compression measurements were performed and the stress (MPa) vs. strain (%) profiles were plotted. To get reliable data, ten samples were tested for each of the products and the mean stress at rupture (MPa), strain % and Young's modulus were calculated together with the corresponding standard deviations.
5. Conclusions
This study focused on the main mechanical properties, water absorption and morphology of PMMA samples loaded with 1% and respectively 2% Gr-Ag.
The practical implications of this study could be important for the clinical use of PMMA denture material; our results revealed a significantly enhanced mechanical behavior of the Gr-Ag enriched PMMA resin with respect to compression behavior, flexural profile and tensile strength. From the mechanical evaluation, we could conclude that 1% Gr-Ag content would be sufficient for the material to endure higher applied loads, to exhibit higher flexural strength and tensile characteristics compared to the unmodified PMMA. However, a content of 2% Gr-Ag showed lower ratios of absorbed water, which could reduce the risks of water mediated degradation effects.
Author Contributions
Conceptualization, M.M.; Formal analysis, V.N.; Investigation, C.S., I.B. and R.S.C.; Methodology, M.B. and M.C.; Writing—Original Draft, C.B.; Writing—Review & Editing, V.N.
Funding
This research received no external funding.
Conflicts of Interest
The authors declare no conflict of interest.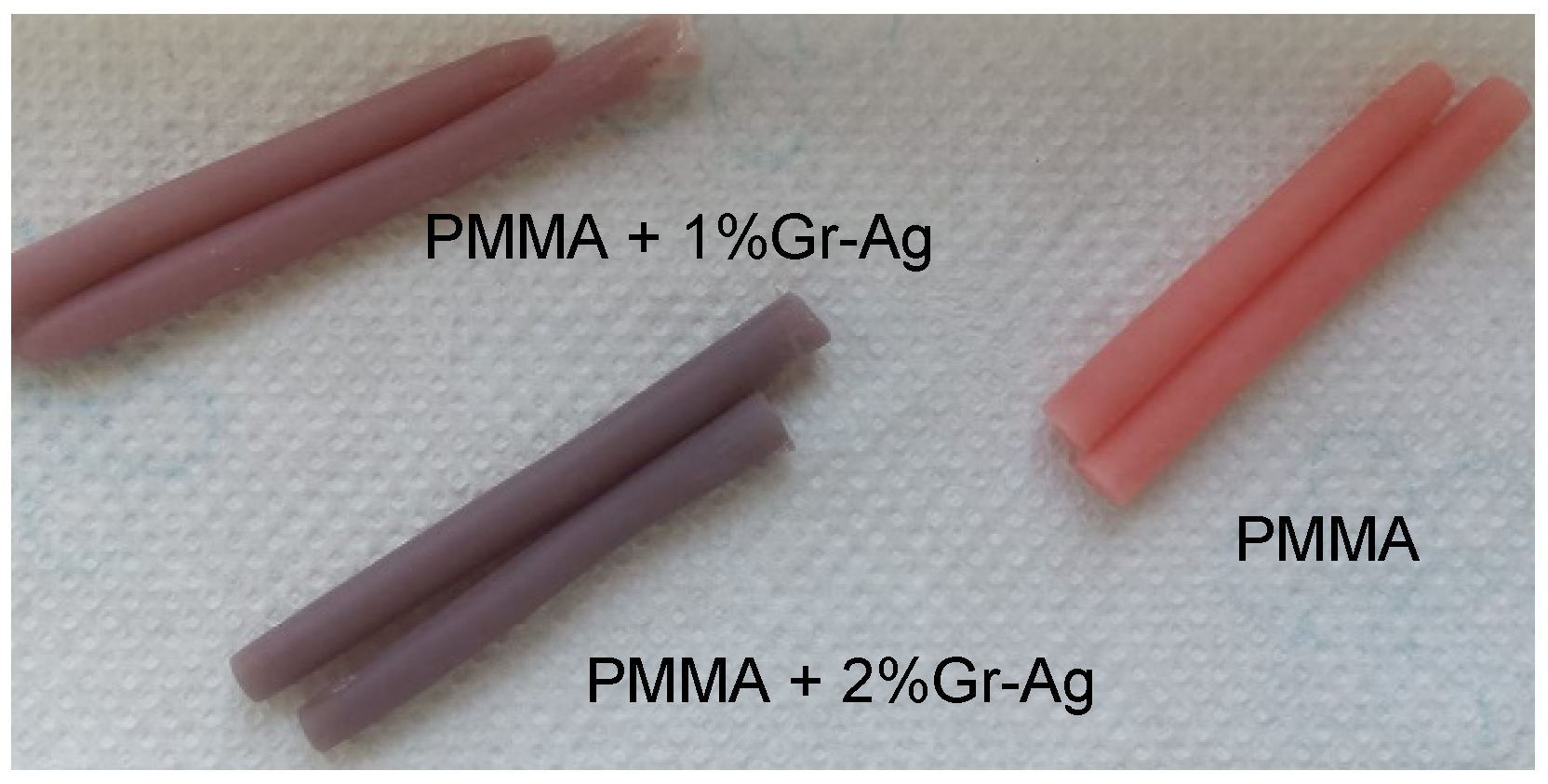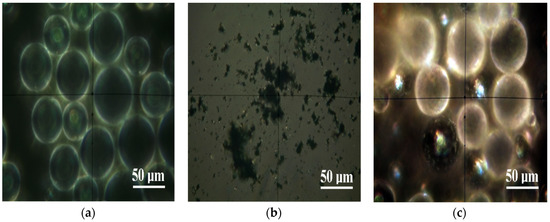 Figure 2. The microscopy in polarized light of the PMMA (a), Gr-Ag (b), and PMMA+1%Gr-Ag (c) powders, which are part of the composition of the materials investigated.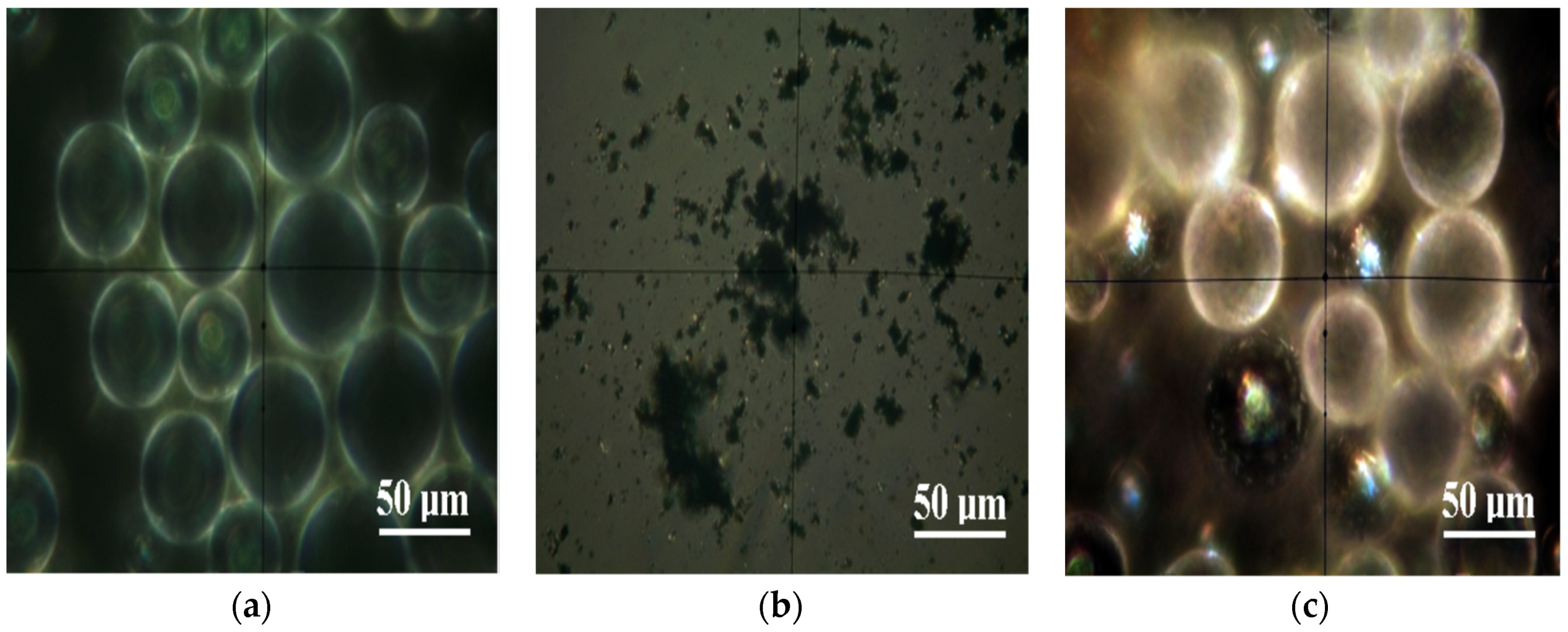 Figure 3. Surface images of fillers (a) PMMA, (b) Gr-Ag and (c) PMMA + 1% Gr-Ag captured with 2000× magnitude.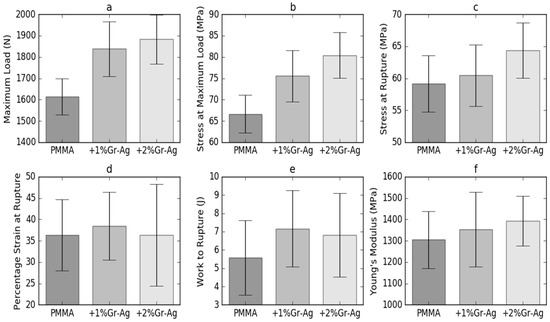 Figure 4. Compressive strength evaluation parameters and standard deviation bars. (a) Maximum load, (b) stress at maximum load, (c) stress at rupture, (d) strain at rupture, (e) work of rupture, (f) Young's modulus.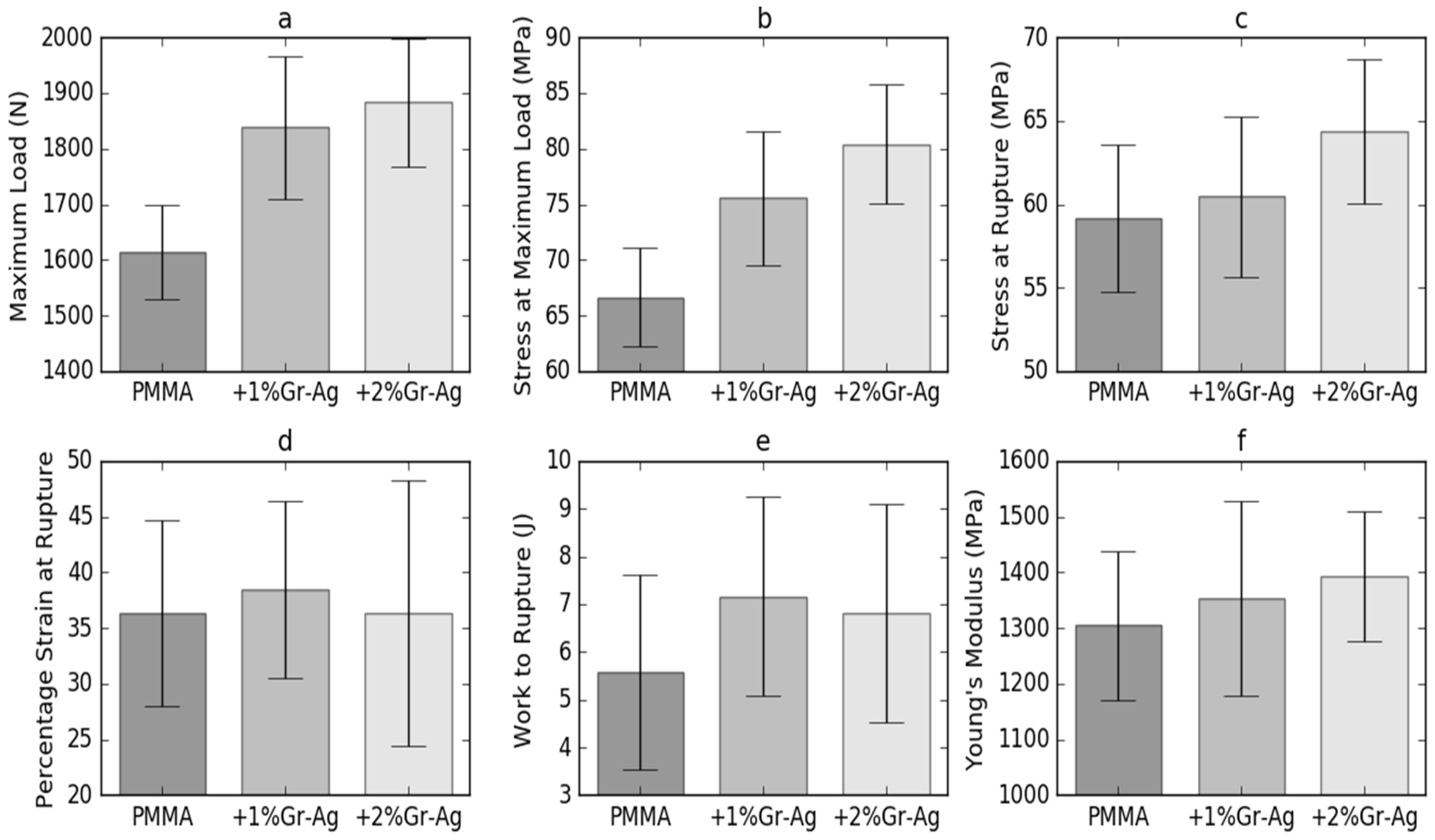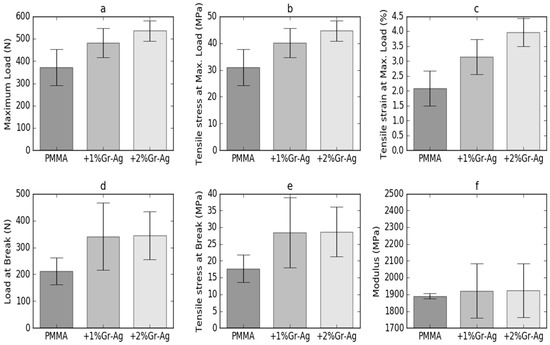 Figure 5. Tensile strength evaluation parameters and standard deviation bars. (a) Maximum load, (b) tensile stress at maximum load, (c) tensile strain at maximum load, (d) load at break, (e) tensile stress at break, (f) modulus.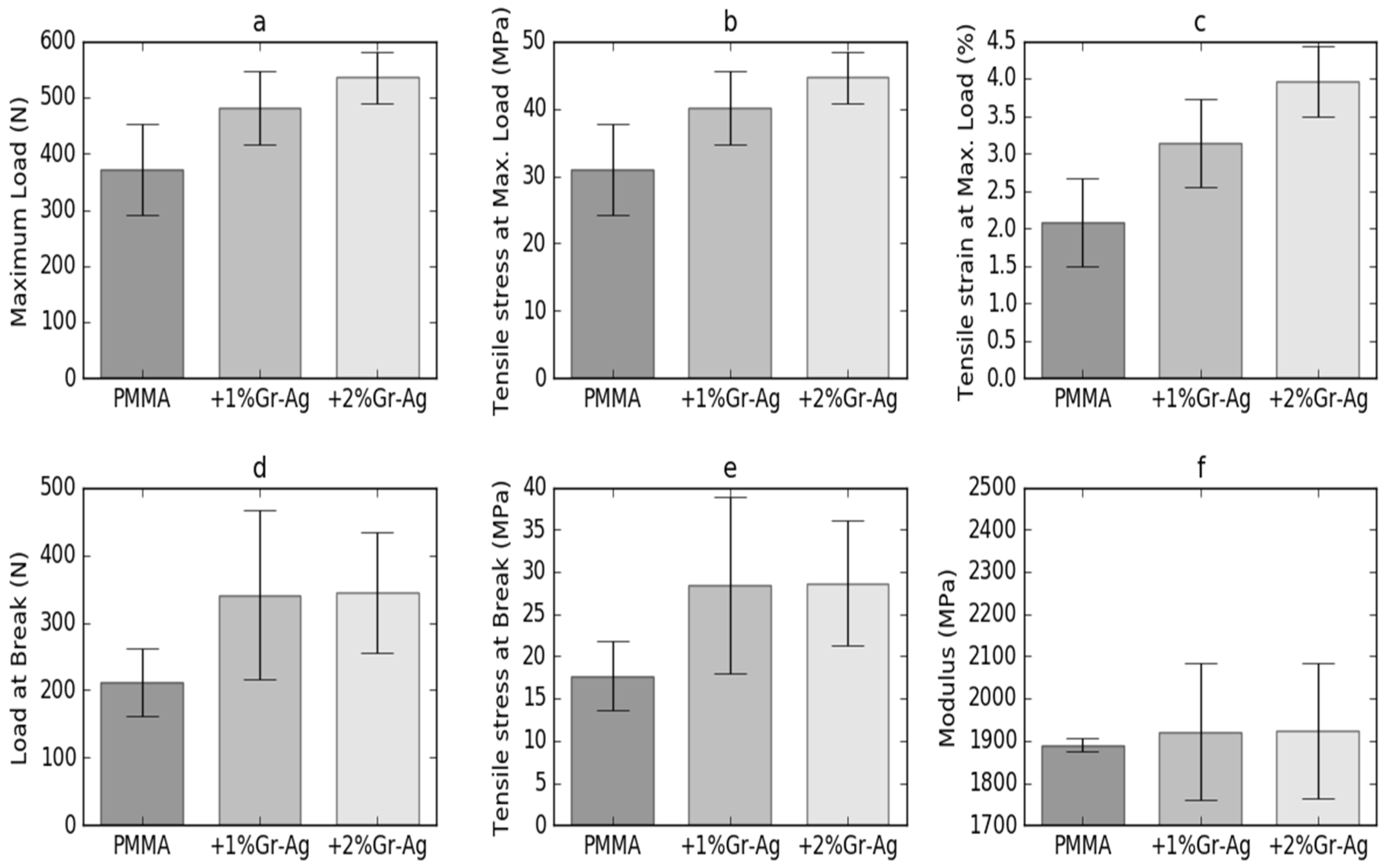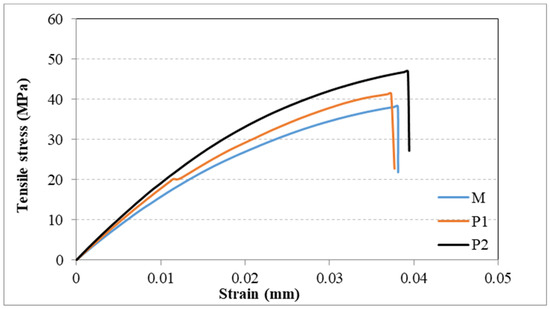 Figure 6. The experimental tensile stress vs. strain curves for samples M, PMMA sample; P1, PMMA + 1%Gr-Ag; P2, PMMA + 2%Gr-Ag.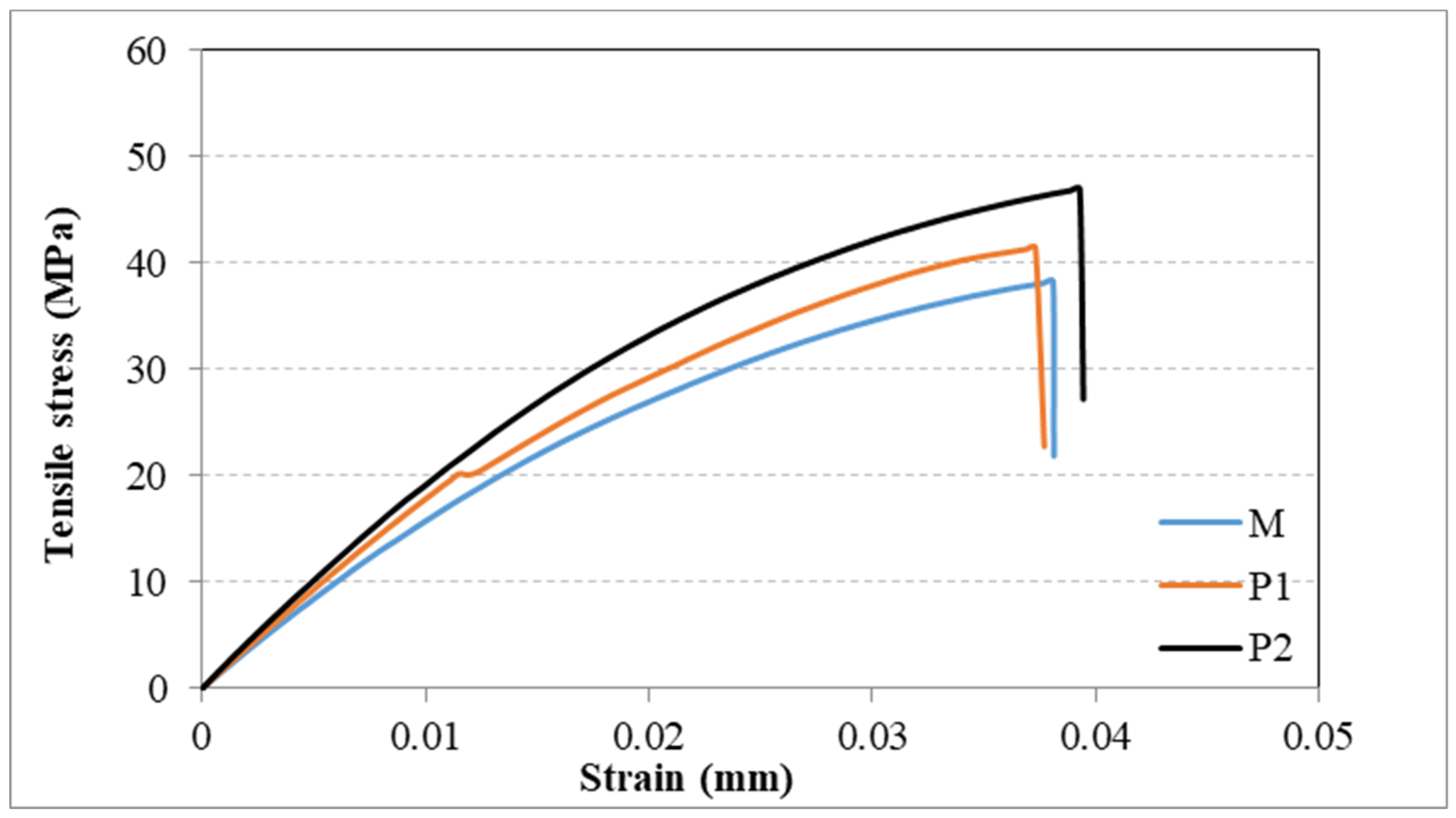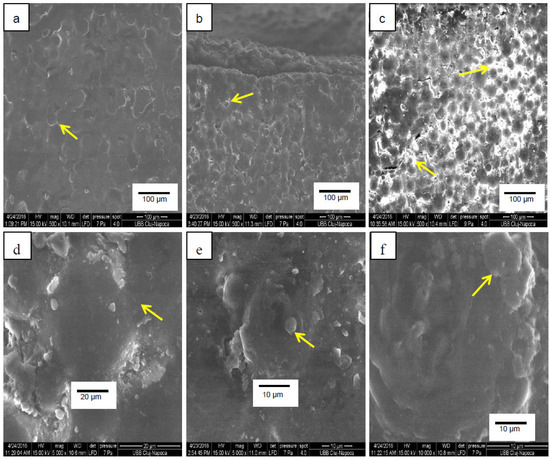 Figure 7. Surface images of samples (a) M (PMMA), (b) P1 (PMMA + 1% Gr-Ag) and (c) P2 (PMMA + 2% Gr-Ag) captured with 500× magnitude and surface images of samples (d) M (PMMA), (e) P1 (PMMA + 1% Gr-Ag) and (f) P2 (PMMA + 2% Gr-Ag) captured with 5000× magnitude.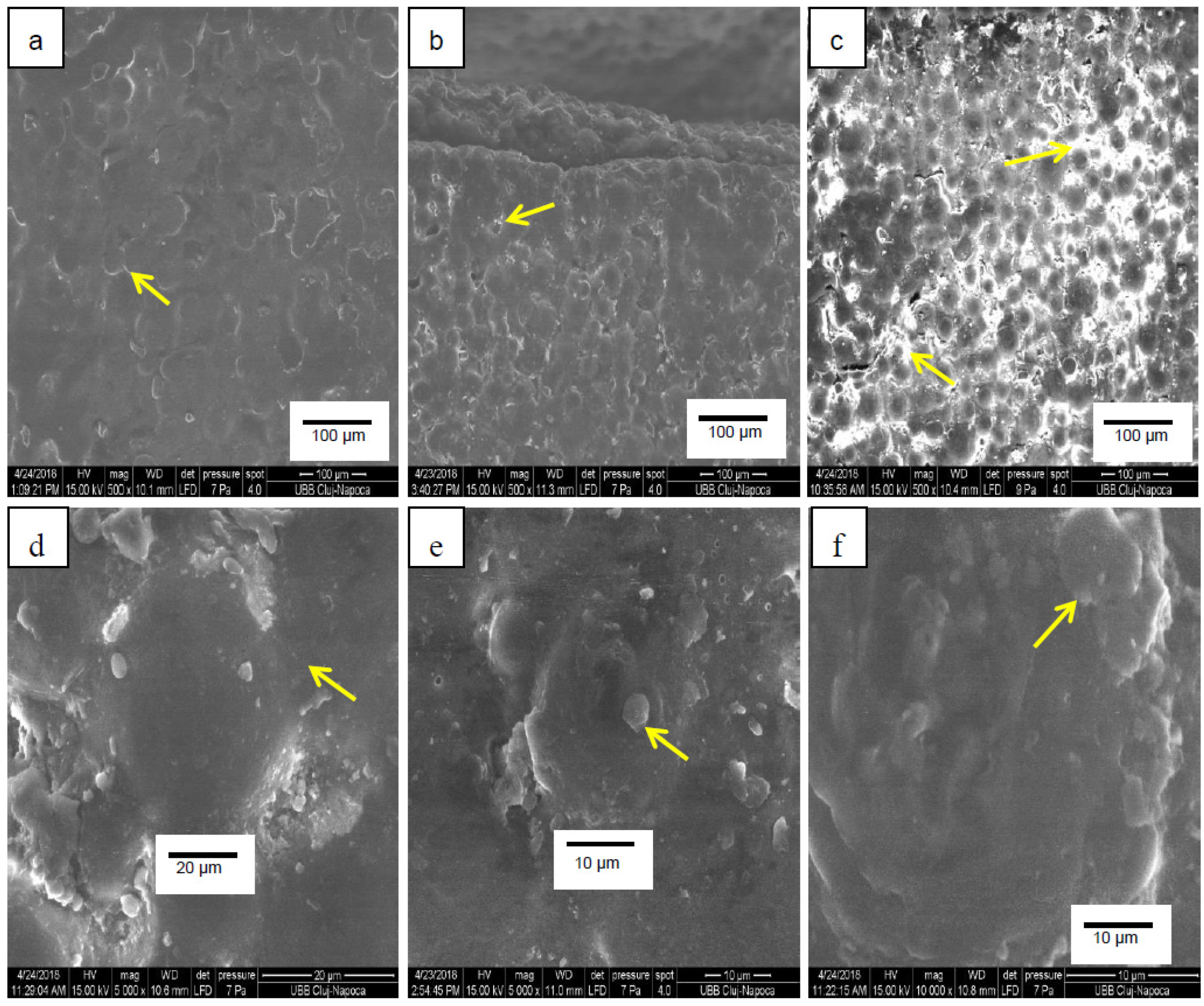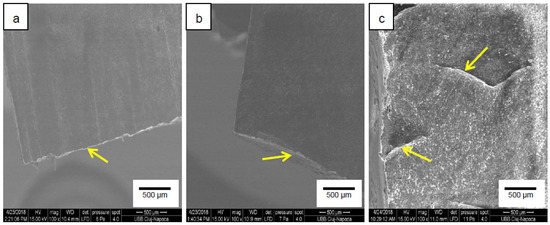 Figure 8. Fracture surface images of samples (a) M (PMMA), (b) P1 (PMMA + 1% Gr-Ag), and (c) P2 (PMMA + 2% Gr-Ag) captured with 100× magnitude.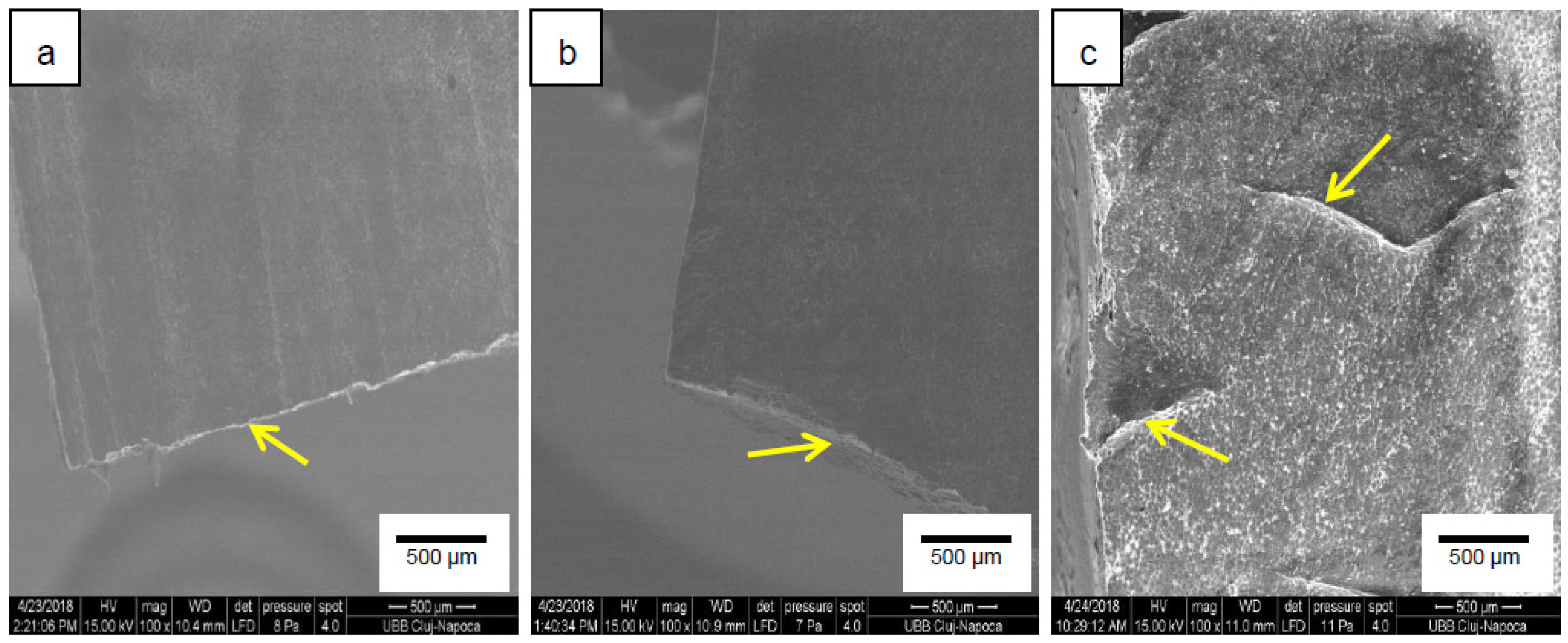 | Sample | Maximum Load (N) | Modulus of Rupture (MPa) |
| --- | --- | --- |
| M | 18.1 ± 4.2 a | 13.4 ± 3.1 a |
| P1 | 53.8 ± 19.2 b | 35.00 ± 8.3 b |
| P2 | 81.3 ± 18.3 c | 36.89 ± 6.7 b |
M, PMMA sample; P1, PMMA + 1%Gr-Ag; P2, PMMA + 2%Gr-Ag. Different superscript letters indicate statistically significant variation (

p

< 0.05) between the samples.
Sample
Saliva Exposure Time
Distilled Water Exposure Time
7 Days (%)
28 Days (%)
7 Days (%)
28 Days (%)
M
1.26 ± 0.13 a
1.44 ± 0.07 a
1.16 ± 0.19 a
1.67 ± 0.64 a
P1
0.78 ± 0.14 b
1.21 ± 0.10 b
1.25 ± 0.21 b
1.65 ± 0.03 b
P2
0.44 ± 0.10 c
1.18 ± 0.34 b
0.65 ± 0.15 c
1.24 ± 0.15 b
M(PMMA) sample; P1 (PMMA + 1%Gr-Ag); P2(PMMA + 2%Gr-Ag). Different superscript letters indicate statistically significant variation (

p

< 0.05) between the samples.

© 2019 by the authors. Licensee MDPI, Basel, Switzerland. This article is an open access article distributed under the terms and conditions of the Creative Commons Attribution (CC BY) license (http://creativecommons.org/licenses/by/4.0/).