Open Access This article is
freely available
re-usable
Article
Field Test of Self-Cleaning Zr-Modified-TiO2-SiO2 Films on Glass with a Demonstration of Their Anti-Fogging Effect
1
Faculty of Chemistry and Chemical Technology, University of Ljubljana, Večna pot 113, SI-1000 Ljubljana, Slovenia
2
Department of Inorganic Chemistry and Technology, National Institute of Chemistry, Hajdrihova 19, SI-1000 Ljubljana, Slovenia
3
University of Nova Gorica, Vipavska 13, SI-5000 Nova Gorica, Slovenia
4
Faculty of Civil and Geodetic Engineering, University of Ljubljana, Jamova 2, 1000 Ljubljana, Slovenia
5
M-Sora d.d., Industrijska ul. 13, SI-4226 Žiri, Slovenia
*
Author to whom correspondence should be addressed.
Received: 9 June 2019 / Accepted: 5 July 2019 / Published: 8 July 2019
Abstract
:
The number of commercial products claiming self-cleaning properties is rising and testing of long-term activity and durability of such coatings needs to be addressed more. The time-dependent changes of different characteristics like haze, transparency, and color are essential for transparent glazing materials. Herein, we aimed to examine whether the laboratory results obtained on the Zr-modified-titania-silica (TiZr) self-cleaning materials would translate to larger-scale outdoor-exposed testing. TiZr thin films were deposited via spraying onto float glass window surfaces and exposed into three different environments for 20 months. For comparison, a commercially available active SGG BIOCLEANTM glass and standard float glass were simultaneously exposed in the same conditions. It was shown that the self-cleaning property of either a commercial product or TiZr-coated float glass was not considerably effective in real field test conditions, although the previous laboratory tests showed pronounced photocatalytic activity of TiZr thin films. The inclination angle; however, was shown to have a considerable effect on the self-cleaning ability of samples, as did the rain patterns during the testing period. On the other hand, the anti-fogging effect of our TiZr material was very well expressed in controlled laboratory conditions (measuring droplet formation time) as well as in the real outdoor environment.
Keywords:
self-cleaning; anti-fogging; TiO
2
-SiO
2
; field test, glazing
Supplementary Materials
The following are available online at
https://www.mdpi.com/1996-1944/12/13/2196/s1
, Figure S1: Field exposure setting-up (a), locations of the three set-ups (b) and images of the set-ups on different locations (c–e). Pictures were taken in January 2017; Figure S2: Measurements of light transmittance by means of lux meter; Figure S3: Initial measurements in the CIE L*a*b* system. The results of whiteboard were taken as a background for comparison of the other three samples throughout the exposure period; Figure S4: Position and concentration of the Saharan sand across Europe and Northern Africa in April 2018. Source: Environmental Agency of The Republic of Slovenia,
https://twitter.com/meteoSI/status/984025061580517377?ref_src=twsrc%5Etfw
; Figure S5: Scanning electron microscope (SEM) micrographs of surfaces after 1.5 years of exposure. The samples are from 45° inclination on the location of Žiri (ZI); Figure S6: SEM micrographs of the cross-cut BioClean glass with the profiles of elements across the cross-cut.
Author Contributions
Conceptualization, A.K.S., R.K., B.S., A.U. and U.L.S.; data curation, M.M. and A.K.S.; formal analysis, A.K.S. and R.K.; funding acquisition, B.S., A.U. and U.L.S.; investigation, A.S., N.V., M.M. and J.S.; methodology, A.S., O.P., A.K.S. and A.U.; project administration, A.U. and U.L.S.; supervision, U.L.S.; validation, U.L.S.; Visualization, A.S.; writing—original draft, A.S.; writing—review and editing, A.S., O.P., A.K.S., R.K. and U.L.S.
Funding
This research was funded by the Slovenian Research Agency through applied research project L2-7630 (thermo- and photo-active coatings for windows) and research program P1-0134 (chemistry for sustainable development).
Acknowledgments
Lev Matoh is acknowledged for SEM measurements, while Helena Spreizer for spectroscopic measurements. Authors appreciate valuable advices and suggestions by emeritus Boris Orel.
Conflicts of Interest
The authors declare no conflicts of interest

Figure 1. Atomic force microscopy (AFM) (a,b) and scanning electron microscopy (SEM) (c,d) images of the TiZr coating obtained with the dip-coating (a,c) and spray-coating method (b,d).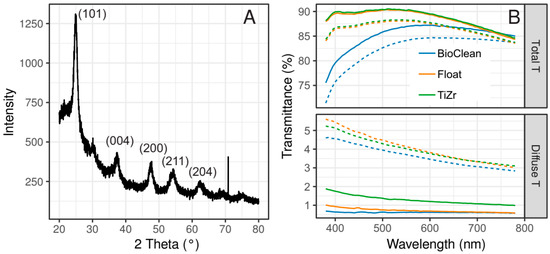 Figure 2. X-ray diffraction (XRD) pattern of dried TiZr sol (A) and UV-vis total (Total T) and diffuse transmittance (Diffuse T) of the three tested surfaces (B). The solid (—) and dashed (---) lines in (B) represent fresh and used (20 months of exposure) 90° samples averaged across all three locations, respectively.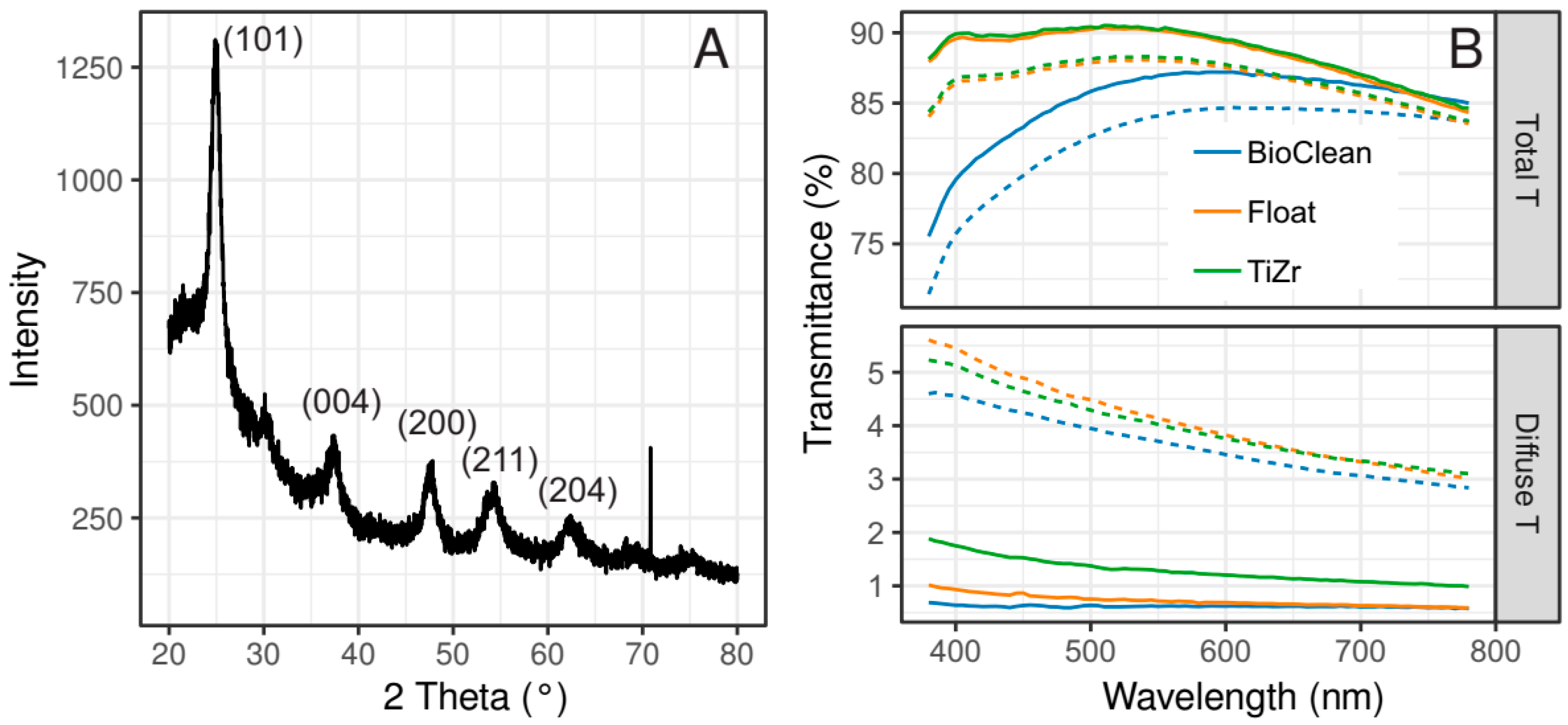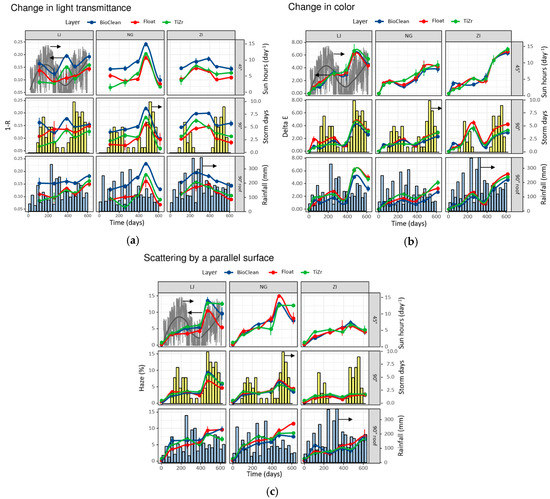 Figure 3. Results of field testing of the surfaces; change in light transmittance is expressed as change in transmittance (1-R) according to lux meter (a), color changes (ΔE*) (b), and changes in haze (c). The blue and yellow columns represent the average monthly rainfall and the number of days with storms in one month on the three locations, respectively, and are valid for all panels. The gray lines in the top-left panel represent the number of hours of sun per day and are valid for this location only (Ljubljana). Results are faceted by areas (vertical facets) and angles of exposure (horizontal facets).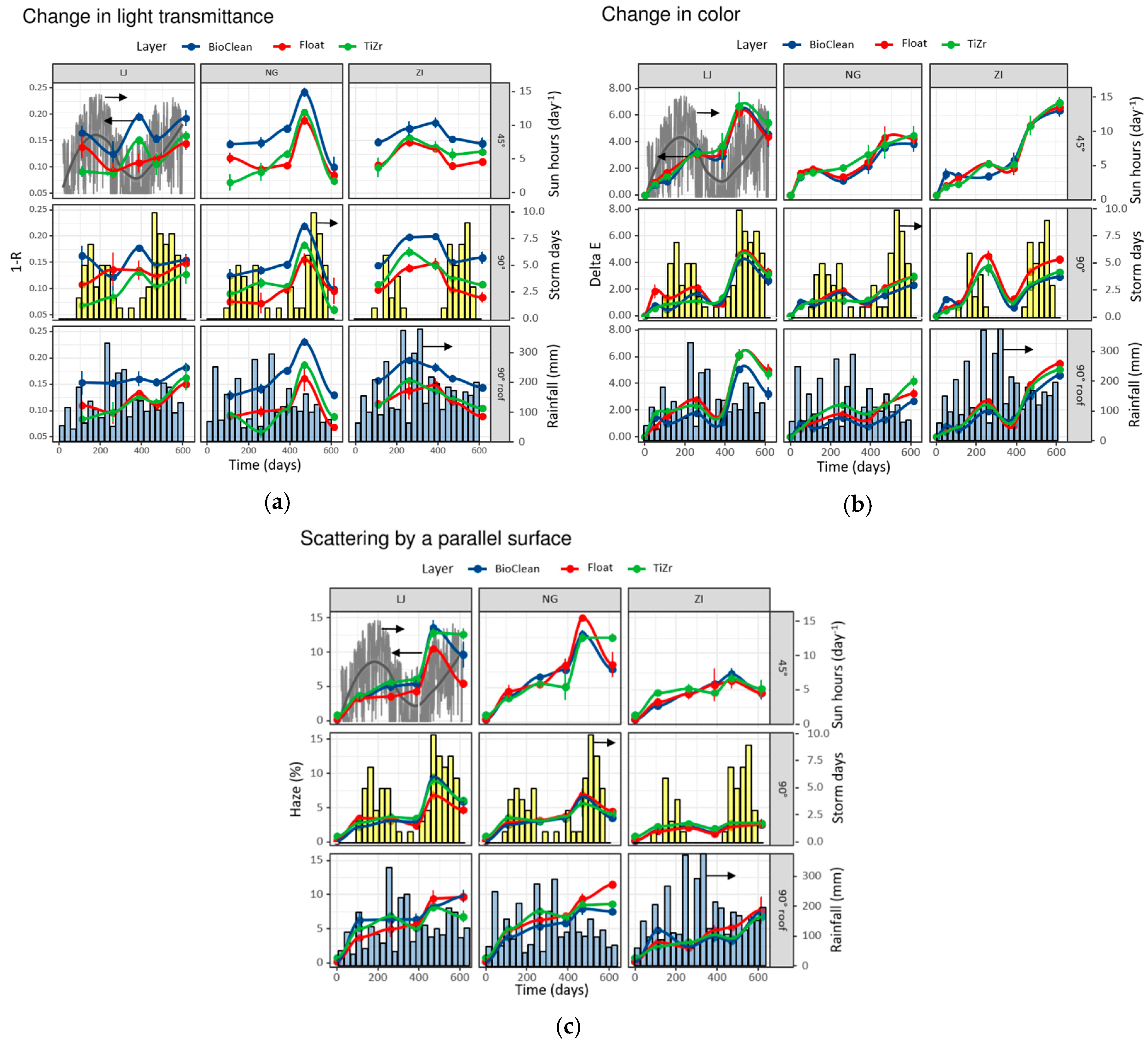 Figure 4. The averaged results from the three locations of field testing of the surfaces; change in light transmittance expressed as 1-R according to lux meter (a), changes in ΔE* values; (b) and changes in haze (c). The pale blue bars represent the average monthly rainfall in mm across all locations. The dashed lines represent the maximum value as measured in the dataset, and are shown to guide the reader's eye, and the gray-filled arrow represents the difference from the maximum values (measured at 45° inclination).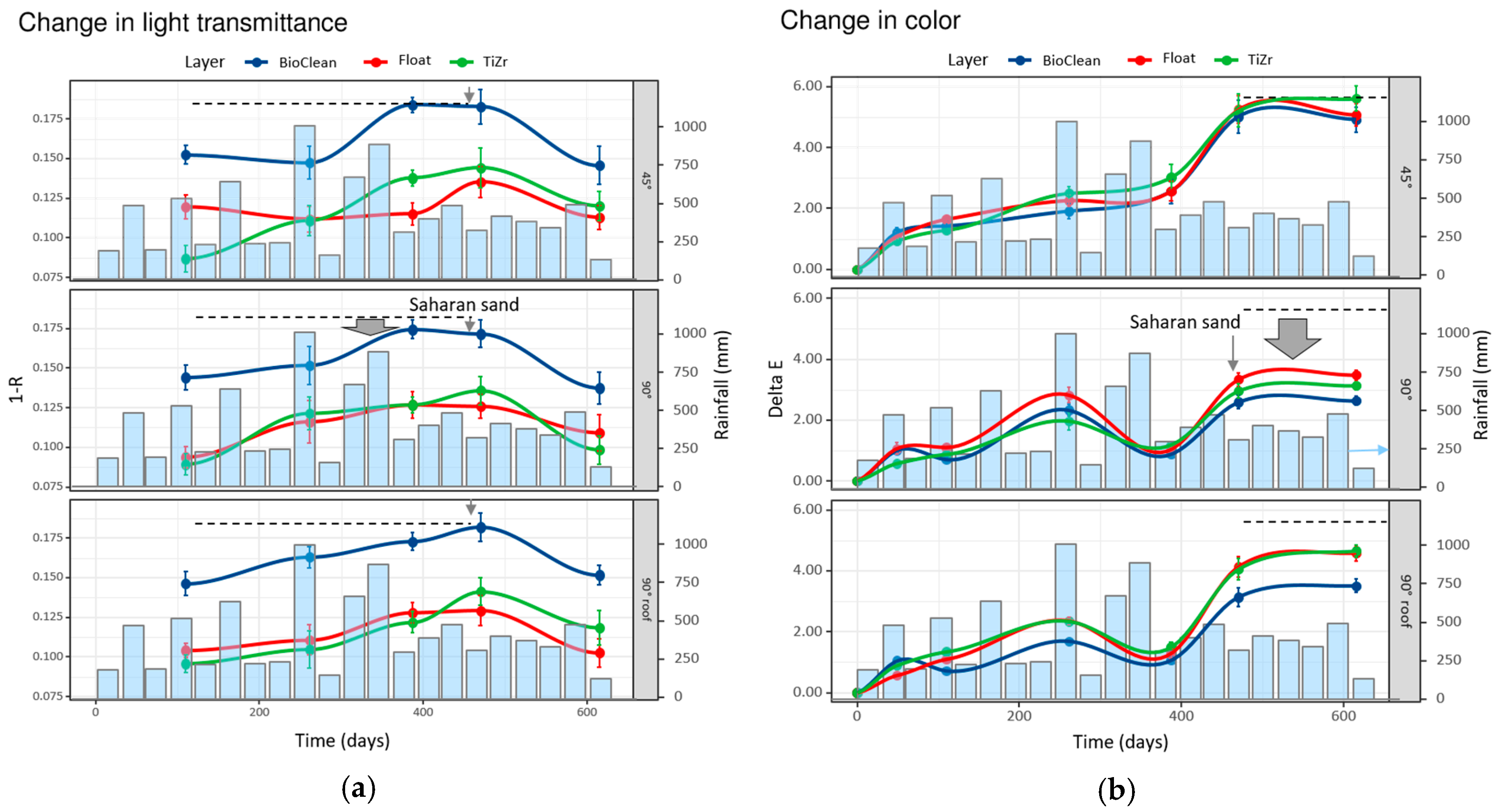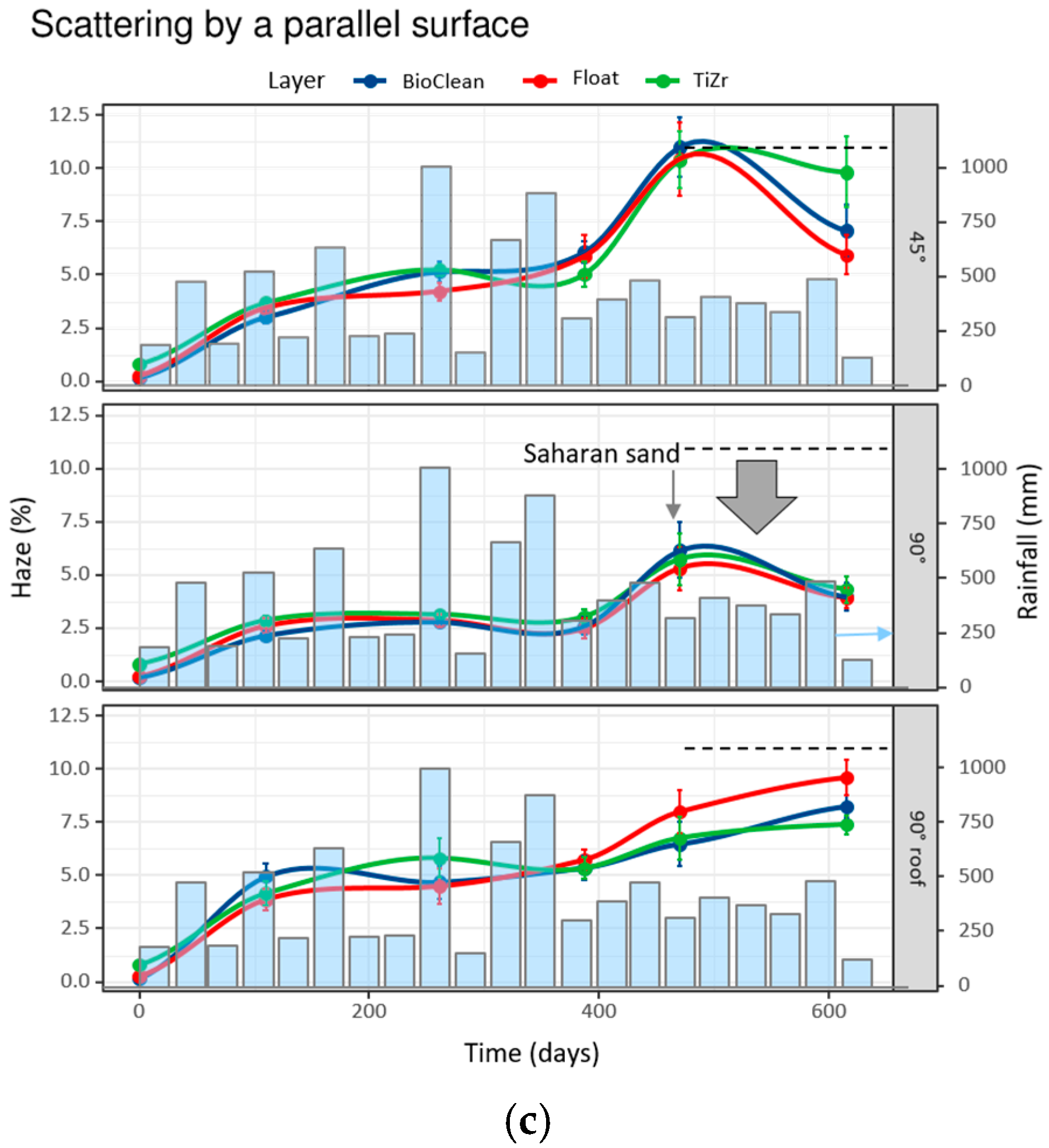 Figure 5. Dependence of time of formation of water droplets (condensation) on the relative humidity across samples (a), dependence on the orientation of the sample (b) and water contact angles of the pristine samples (c). Solid lines in (a) represent the linear correlation fitting to data.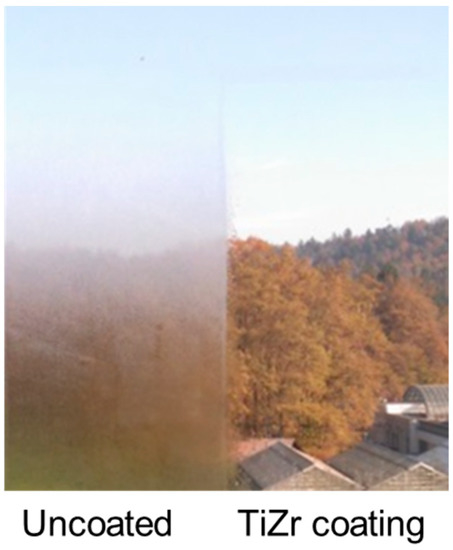 Figure 6. The anti-fogging effect of the TiZr coating on the office window. The picture was taken on 20 October 2017 after one month of exposure time.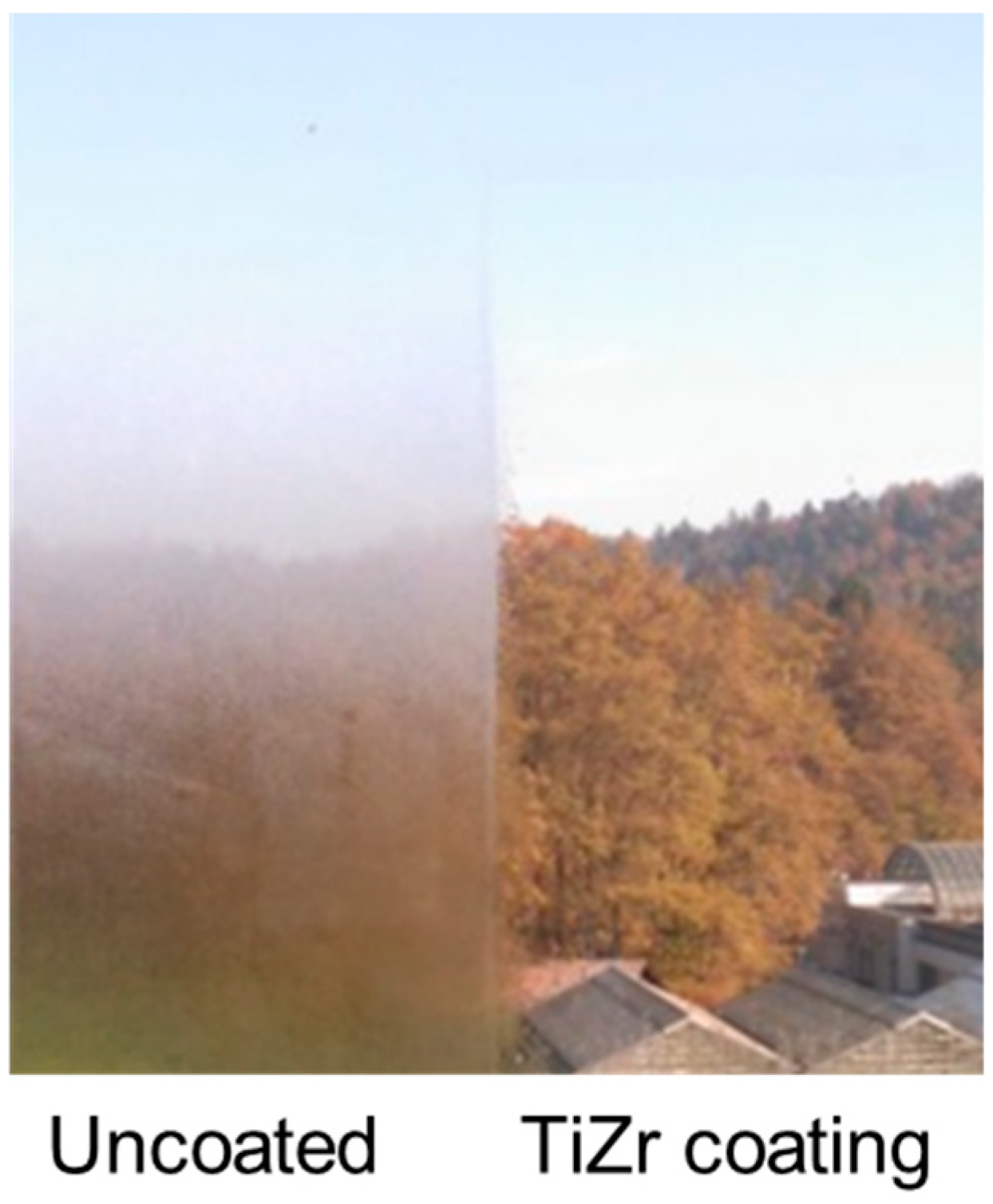 © 2019 by the authors. Licensee MDPI, Basel, Switzerland. This article is an open access article distributed under the terms and conditions of the Creative Commons Attribution (CC BY) license (http://creativecommons.org/licenses/by/4.0/).