Metal Nanoparticles Released from Dental Implant Surfaces: Potential Contribution to Chronic Inflammation and Peri-Implant Bone Loss
1
Department of Neurosciences, University of Padova, 35133 Padova, Italy
2
Maria Cecilia Hospital, GVM Care & Research, 48033 Cotignola (RA), Italy
3
Department of Management and Engineering, University of Padova, 36144 Vicenza, Italy
4
Schwartz-Arad Day-Care Surgical Center, Maxillo-Facial Surgery, Advanced Implantology, Periodontology & Endodontology, 5219100 Ramat Hasharon, Israel
5
Deptartment of Otolaryngology, Head and Neck and Maxillofacial Surgery, Tel-Aviv Sourasky Medical Center, Sackler Faculty of Medicine, Tel-Aviv University, 5219100 Ramat Aviv, Israel
6
Oral Surgery and Implantology, Valencia University Medical and Dental School, 46004 Valencia, Spain
7
Department of Animal Medicine, Health and Production, University of Padova, 35133 Padova, Italy
8
Stem Cells Unit, Marelli Health, Tecnologica Research Institute, Stem cell Unit, 88900 Crotone, Italy
9
Department of Medical, Oral and Biotechnological Sciences, University of Chieti-Pescara, 66145 Chieti, Italy
10
Department of Biomedical Sciences, University of Padova, 35100 Padova, Italy
*
Author to whom correspondence should be addressed.
†
These authors contributed equally to this work.
Received: 29 May 2019 / Revised: 18 June 2019 / Accepted: 20 June 2019 / Published: 25 June 2019
Abstract
Peri-implantitis is an inflammatory disease affecting tissues surrounding dental implants. Although it represents a common complication of dental implant treatments, the underlying mechanisms have not yet been fully described. The aim of this study is to identify the role of titanium nanoparticles released form the implants on the chronic inflammation and bone lysis in the surrounding tissue. We analyzed the in vitro effect of titanium (Ti) particle exposure on mesenchymal stem cells (MSCs) and fibroblasts (FU), evaluating cell proliferation by MTT test and the generation of reactive oxygen species (ROS). Subsequently, in vivo analysis of peri-implant Ti particle distribution, histological, and molecular analyses were performed. Ti particles led to a time-dependent decrease in cell viability and increase in ROS production in both MSCs and FU. Tissue analyses revealed presence of oxidative stress, high extracellular and intracellular Ti levels and imbalanced bone turnover. High expression of ZFP467 and the presence of adipose-like tissue suggested dysregulation of the MSC population; alterations in vessel morphology were identified. The results suggest that Ti particles may induce the production of high ROS levels, recruiting abnormal quantity of neutrophils able to produce high level of metalloproteinase. This induces the degradation of collagen fibers. These events may influence MSC commitment, with an imbalance of bone regeneration.
View Full-Text
►

▼

Figures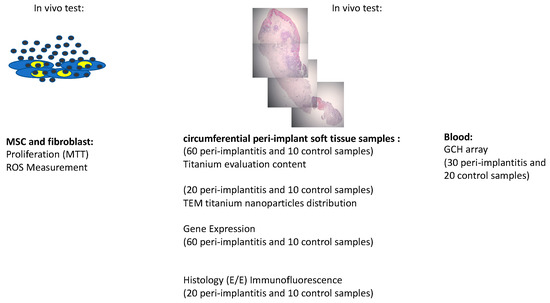 Figure 1
This is an open access article distributed under the
Creative Commons Attribution License
which permits unrestricted use, distribution, and reproduction in any medium, provided the original work is properly cited (CC BY 4.0).

Share & Cite This Article
MDPI and ACS Style
Bressan, E.; Ferroni, L.; Gardin, C.; Bellin, G.; Sbricoli, L.; Sivolella, S.; Brunello, G.; Schwartz-Arad, D.; Mijiritsky, E.; Penarrocha, M.; Penarrocha, D.; Taccioli, C.; Tatullo, M.; Piattelli, A.; Zavan, B. Metal Nanoparticles Released from Dental Implant Surfaces: Potential Contribution to Chronic Inflammation and Peri-Implant Bone Loss. Materials 2019, 12, 2036.
Note that from the first issue of 2016, MDPI journals use article numbers instead of page numbers. See further details here.
Related Articles
Comments
[Return to top]