Open Access This article is
freely available
re-usable
Article
Growth of U-Shaped Graphene Domains on Copper Foil by Chemical Vapor Deposition
1
Key Laboratory of Poyang Lake Environment and Resource Utilization, Nanchang University, Ministry of Education, School of Resources Environmental & Chemical Engineering, Nanchang University, Nanchang 330031, China
2
Institute for Advanced Study, Nanchang University, Nanchang 330031, China
3
School for Engineering of Matter, Transport and Energy, Arizona State University, Tempe, AZ 85287, USA
*
Authors to whom correspondence should be addressed.
Received: 14 May 2019 / Accepted: 10 June 2019 / Published: 12 June 2019
Abstract
:
U-shaped graphene domains have been prepared on a copper substrate by chemical vapor deposition (CVD), which can be precisely tuned for the shape of graphene domains by optimizing the growth parameters. The U-shaped graphene is characterized by using scanning electron microscopy (SEM), atomic force microscopy (AFM), transmission electron microscopy (TEM), and Raman. These show that the U-shaped graphene has a smooth edge, which is beneficial to the seamless stitching of adjacent graphene domains. We also studied the morphology evolution of graphene by varying the flow rate of hydrogen. These findings are more conducive to the study of morphology evolution, nucleation, and growth of graphene domains on the copper substrate.
Keywords:
graphene; U-shaped; CVD
1. Introduction
Graphene, an ideal 2D versatile carbon material with a combination of the honeycomb-like arrangement, has drawn extensive attention in the research field, due to its good properties, such as high carrier mobility [
1
], mechanical tensile strength [
2
], and thermal conductivity [
3
]. Graphene has been prepared in several different ways since Geim et al. first obtained a single-layer polycrystalline graphene by the mechanical stripping of highly oriented pyrolytic graphite [
4
], such as the exfoliation and chemical reduction of graphene oxide [
5
,
6
,
7
], epitaxial growth of SiC [
8
], and by depositing on metal using chemical vapor deposition (CVD) [
9
,
10
]. In the method above, graphene growth on metal by CVD is regarded as the most promising and cost-effective way to synthesize graphene for experimental research and industrial development, owing to its convenience, reproducibility, and high controllability. Among the metal substrate used for the synthesis of graphene by CVD, nickel (Ni) [
11
] and copper (Cu) [
9
] are the most used. In the meantime, the fabrication of uniform and large-area graphene on copper foil is the most promising synthesis method because of the solubility of the carbon atom in a Cu substrate when compared to a Ni substrate [
9
,
12
].
Nowadays, on the one hand, using the CVD method for preparing large-area graphene on a copper foil surface is a synthetic way with great potential for industrial development, but the growth of graphene is accompanied by crystal imperfections and boundaries [
13
,
14
]. This has a great influence on its properties and provides an obstacle to the formation of a high-quality single-layer graphene, and this has brought great difficulties to its research and application. Therefore, how to expand and seamlessly merge graphene domains into a large-sized defect-free graphene sheet has become an important research topic. On the other hand, several odd shapes of graphene can be prepared on a copper foil by CVD and by regulating growth parameters, including hexagons [
15
,
16
,
17
,
18
,
19
,
20
], four-lobed [
21
,
22
], triangular [
23
,
24
], rectangular [
25
,
26
,
27
,
28
], pentagonal [
29
], and 12-pointed [
30
], which contributes to an understanding of the nucleation and expansion mechanisms of graphene grains to some extent. In addition, how to grow high-quality single-crystal graphene by optimizing experiment conditions is still the focus of both the academic field and industrial application. Thus, it can reduce surface defects by either chemical or physical processes, or by prolonging the annealing time to pretreat the metal surface, which is beneficial to the growth of the graphene on the metal surface. Van et al. [
31
] reported that the surface of a copper foil was pretreated by chemical-mechanical polishing in order to reduce the roughness and defects of the Cu foil, which was later used as a substrate for the growth of a single-crystal graphene by CVD. During that process, they obtained a large-area graphene film by the seamless stitching of the graphene grains to the regular hexagonal graphene domains. Wang et al. [
27
] found that the decrease of the nucleation density, the reduction of defects, and the contamination on the Cu surface after a prolonged annealing time in a hydrogen environment, obtained a high-quality single-layer rectangular graphene and continuous graphene films on the substrate. Geng et al. [
29
] investigated whether liquid Cu could eliminate the effects of solid copper grain boundaries, and obtained uniform, single-domain, high-quality hexagonal graphene flakes by CVD. Their works are advantageous for studying the nucleation growth of graphene and forming a continuous graphene film. These studies have also demonstrated the great potential in graphene morphology evolution and the formation of a high-quality large-sized graphene film. Therefore, studying the morphology evolution of graphene is still very significant in order to understand the nucleation growth and expansion mechanism of graphene.
In this work, we report for the first time the growth of large-sized "U" shaped graphene domains on a solid-Cu substrate by using ambient pressure CVD. These U-shaped graphene domains also run parallel to each other as well as along the gas flow direction. Evidently, the U-shaped graphene has a smooth edge, which is of importance to seamlessly stitching of the adjacent graphene domains. Moreover, the U-shaped graphene size could change when the methane flow rate was adjusted, and the morphology of the graphene domain could be different when the hydrogen flow rate was adjusted.
2. Experimental Section
2.1. Synthesis of Graphene Domains by CVD
An atmospheric pressure CVD system was used with a quartz tube which was 6.5 feet in length and has an inner diameter of 2 in. as illustrated in
Figure 1
a. Cu foil with a thickness of 25 μm (Alfa Aesar 13382, 99.8% pure, Alfa Aesar, Haverhill, MA, USA) was used as a growth substrate, which was loaded into a chamber after its surface was pretreated. First, Cu foil was soaked in dilute nitric acid for several seconds after it was immersed in acetic acid and deionized water for 3 min, respectively. The Cu foil was then dried with N
2
and the clean Cu foil was placed into the quartz tube. The Cu foil was heated to 900 °C under a flow rate of 100 standard cubic centimeters per minute (sccm) for Ar, and 75 sccm for H
2
. After being annealed for 20 min at 1020 °C, CH
4
with a flow rate of 20 sccm was introduced to the chamber for 90 s, then the flow of CH
4
and H
2
are turned off while maintaining a flow rate of 100 sccm for Ar, and the reactor is quickly moved to the other side to bring the temperature of the reaction zone down to room temperature. The whole process is illustrated in
Figure 1
b.
2.2. Transfer of Graphene
The graphene-covered Cu substrate surface was spin-coated with a polymethylmethacrylate (PMMA). After 2 h, the Cu foil was etched by using a 0.5 M ammonium persulfate solution. In the meantime. The PMMA/graphene was transferred to deionized water for the removal of chemical residues. Then, PMMA/graphene was pasted on to a target substrate and then immersed into acetone to remove the PMMA layer. Finally, the substrate was placed in a vacuum drying oven and then dried by heating.
2.3. Graphene Characterization
Scanning electron microscopy (SEM) (FEI Quanta200F, Waltham, MA, USA), atomic force microscopy (AFM) (Agilent 5500, Santa Clara, CA, USA), Raman spectroscopy (Horiba HR Evolution, Irvine, CA, USA) with a 100× lens, and transmission electron microscopy (TEM, JEOL 2010F, Peabody, MA, USA) were used to characterize the graphene film.
3. Results and Discussion
4. Conclusions
In summary, we have controlled the growth of U-shape graphene domains on a copper foil by using CVD at atmospheric pressure. The change in methane flow rate has a great influence on the nucleation density and the size of the U-shaped graphene domain. Besides, different domain morphologies of graphene have been formed, such as semi-circle-shaped graphene and heart-shaped graphene, through varying the flow rate of hydrogen, which indicates the important role of hydrogen in the morphology evolution of graphene domain. This study may provide a new way to fabricate the novel morphology of graphene domains and may contribute to an understanding the growth mechanism of graphene.
Author Contributions
Conceptualization and methodology, M.P.; formal analysis, M.P., C.W., H.F.L., N.X., P.W., X.D.W., Z.Z., S.D.; writing—original draft preparation, M.P.; writing—review and editing, S.D. and G.-P.D.; funding acquisition, G.-P.D.
Funding
G.-P.D acknowledges the National Natural Science Foundation of China (Grants 51762032 and 51462022) and the Natural Science Foundation Major Project of Jiangxi Province of China (Grant 20152ACB20012) for the financial support of this research.
Acknowledgments
The assistance of Zhi-Qun Tian (HRTEM measurements) at Guangxi University is also greatly appreciated.
Conflicts of Interest
The authors declare no conflict of interest.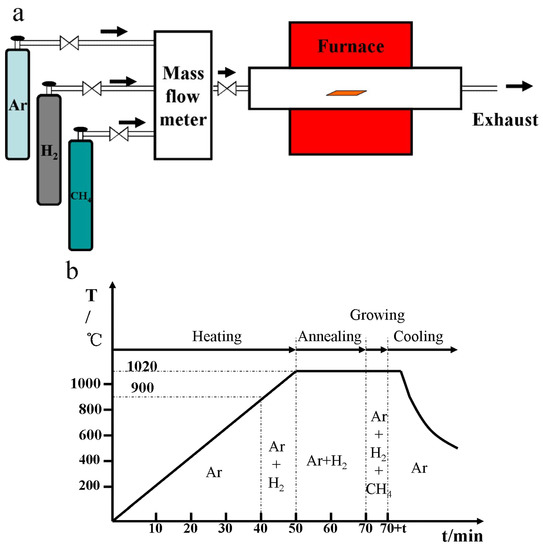 Figure 1. (a) Schematic illustration of the chemical vapor deposition (CVD) synthesis of graphene. (b) The process of graphene growth by CVD (t = 90 s).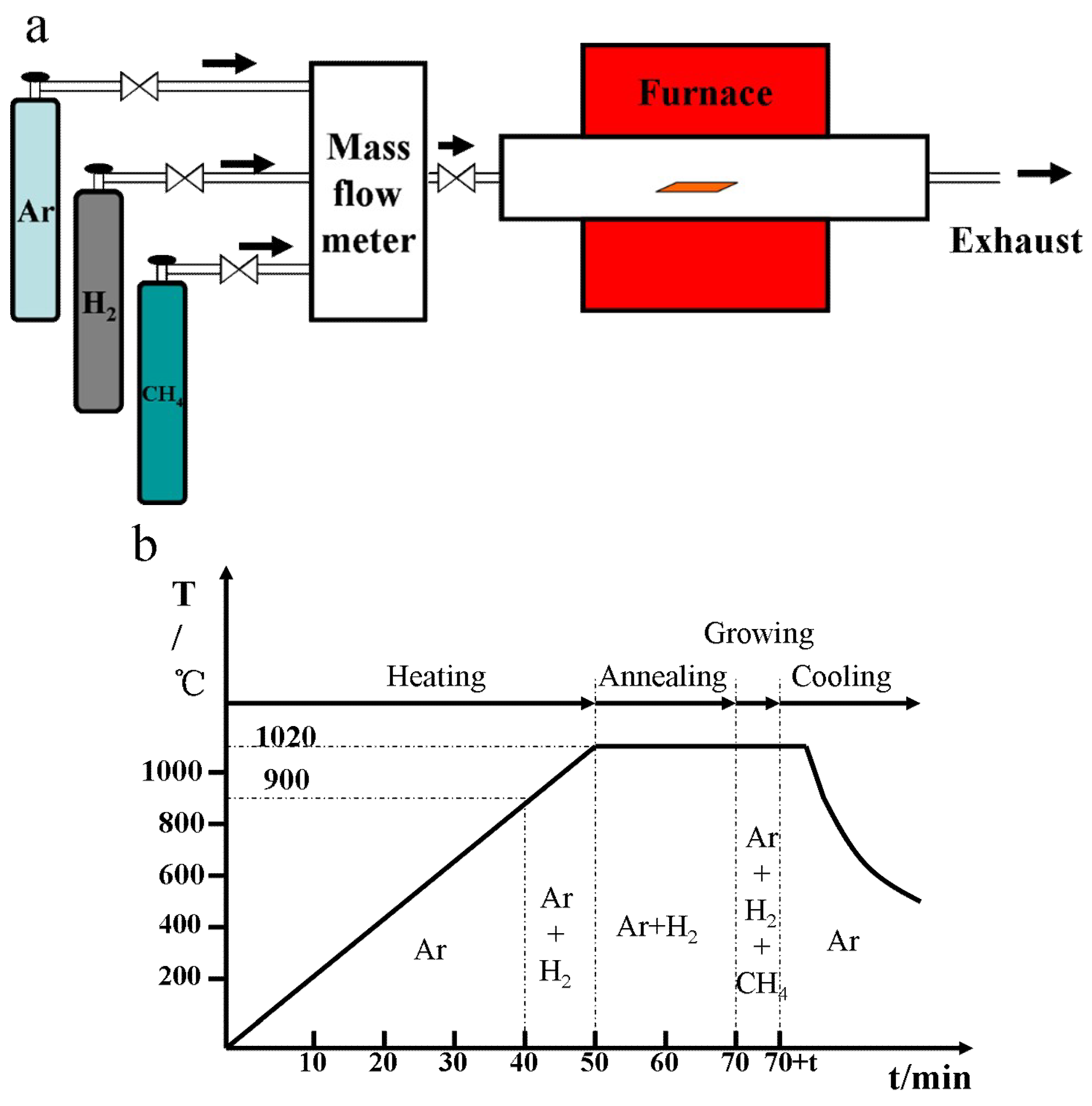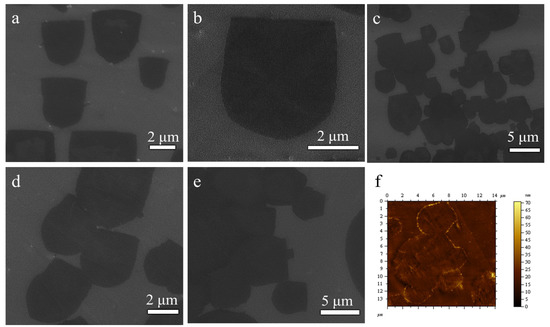 Figure 2. (a) SEM image of the U-shaped graphene domains on the copper foil. (b) The magnified SEM image of an individual U-shape graphene. (c,d) SEM images of the coalescence of the different graphene domains. (e) A SEM image of the continuous graphene film. (f) The atomic force microscopy (AFM) image of the merging graphene domains.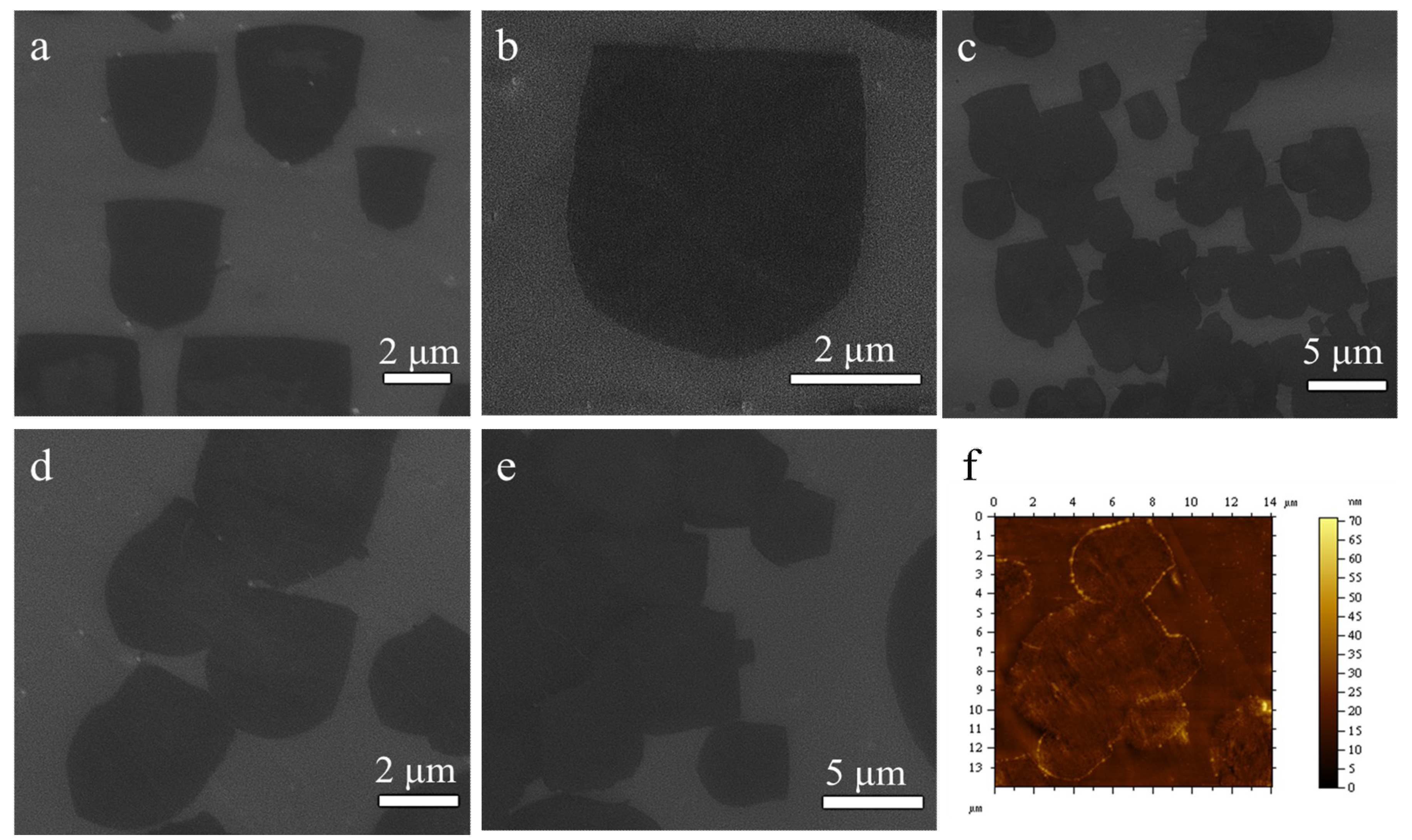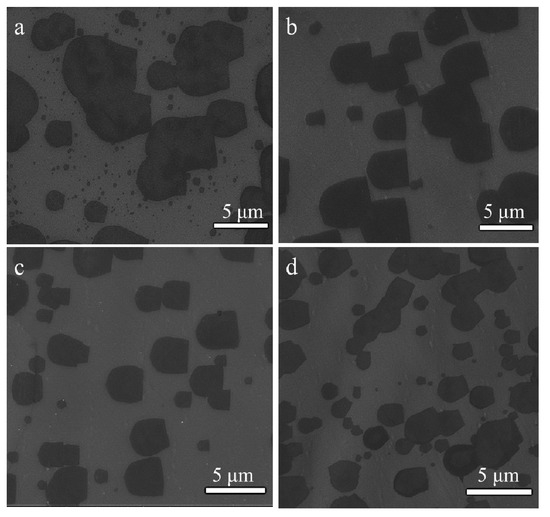 Figure 3. (a–d) SEM images of the growth of U-shaped graphene under different methane flow rates (20, 25, 30 and 35 sccm, respectively).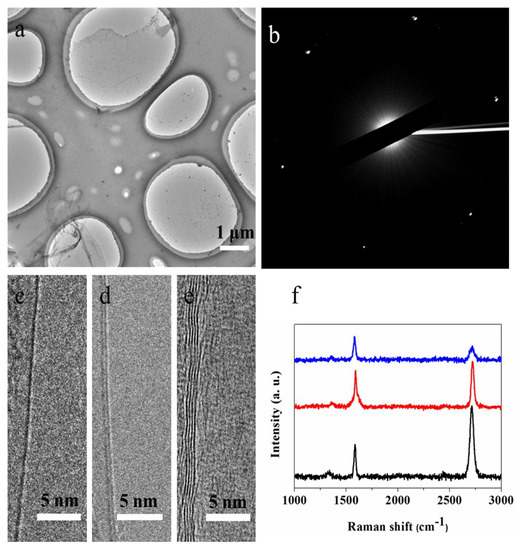 Figure 4. (a) TEM image of the graphene domain on the TEM grid. (b) Selected-area electron diffraction (SAED) pattern showing a single-crystalline nature of the U-shaped graphene domain. (c–e) TEM images of the layer number of graphene. (f) Ramen spectra of graphene domain on copper foil, showing monolayer and few-layer graphene on copper foil.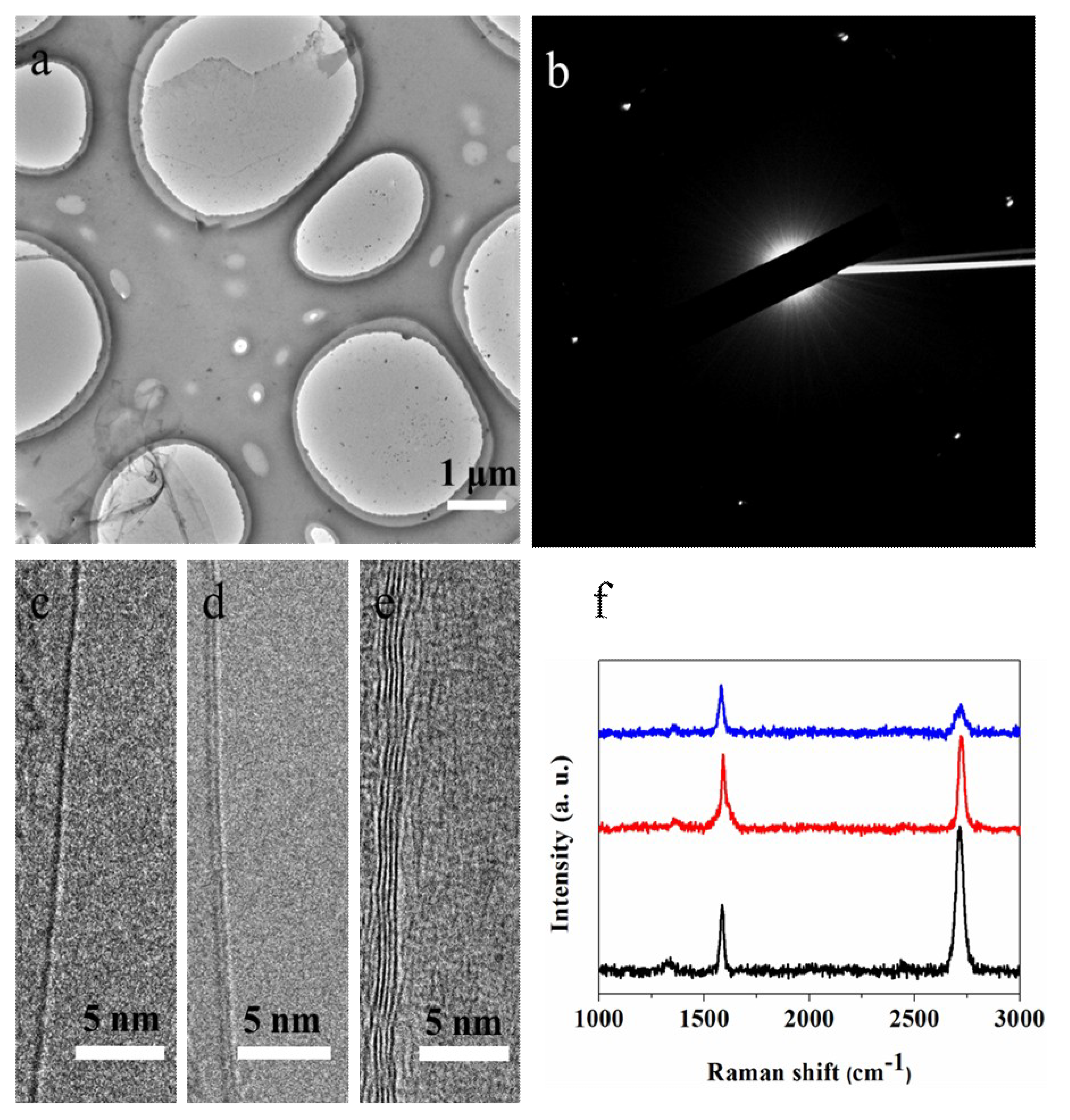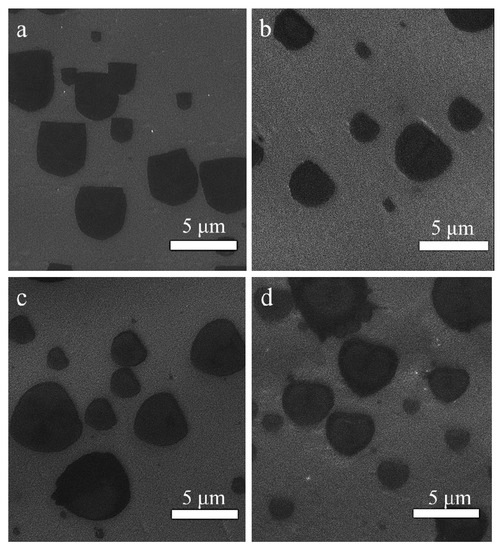 Figure 5. (a–d) SEM images depicting the evolution of the graphene domain growth on the copper foil at different hydrogen flow rates by atmospheric pressure CVD (75, 65, 60, and 55 sccm, respectively).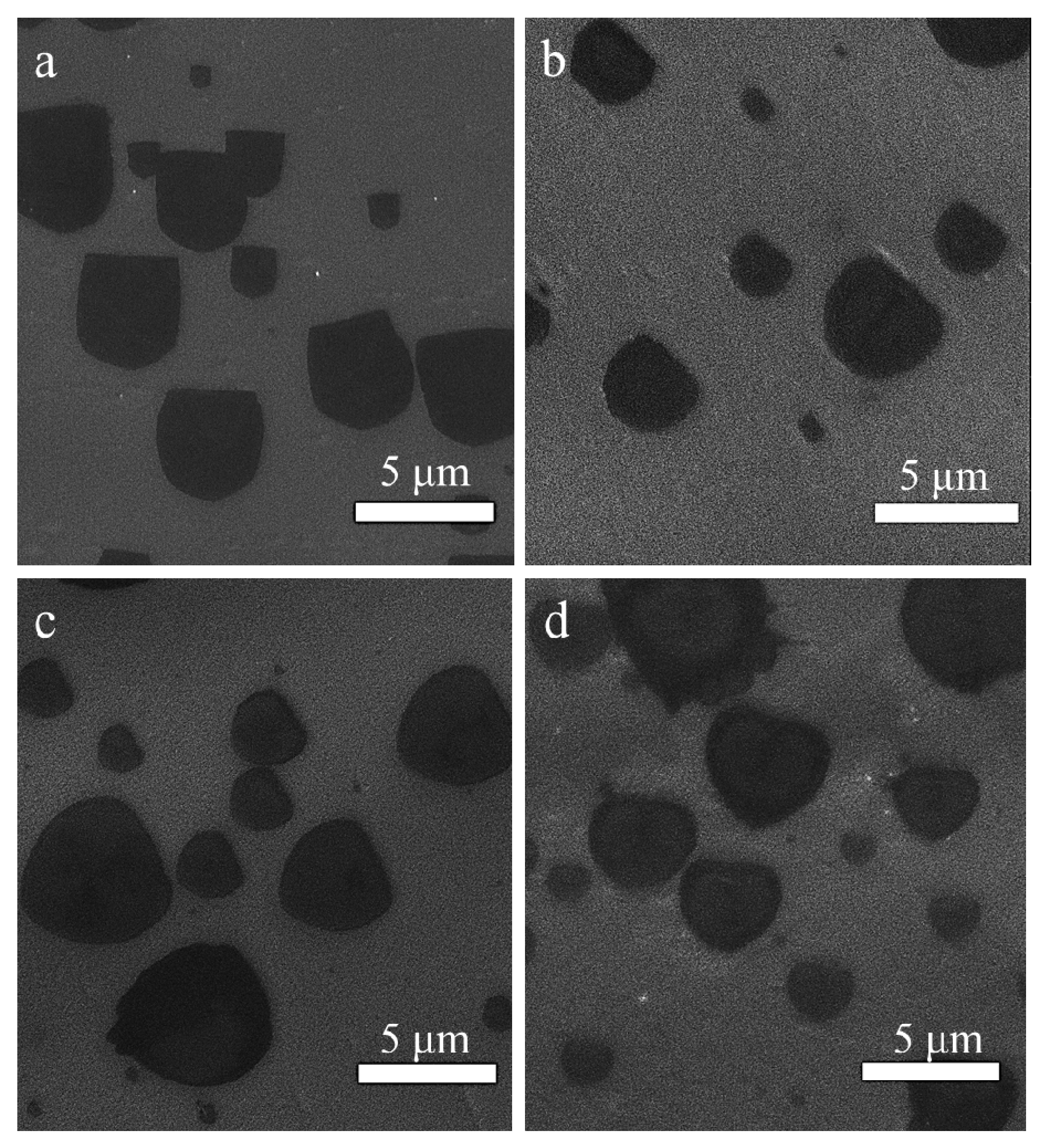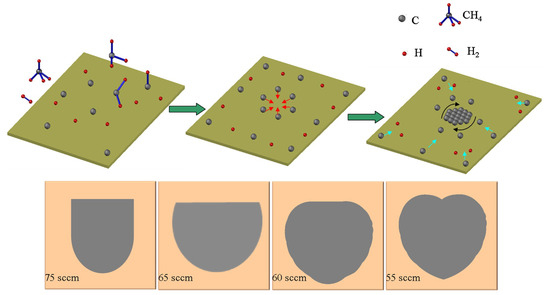 Figure 6. Schematic illustration shows the morphology of the graphene domains on copper foil in different hydrogen flow rates during CVD.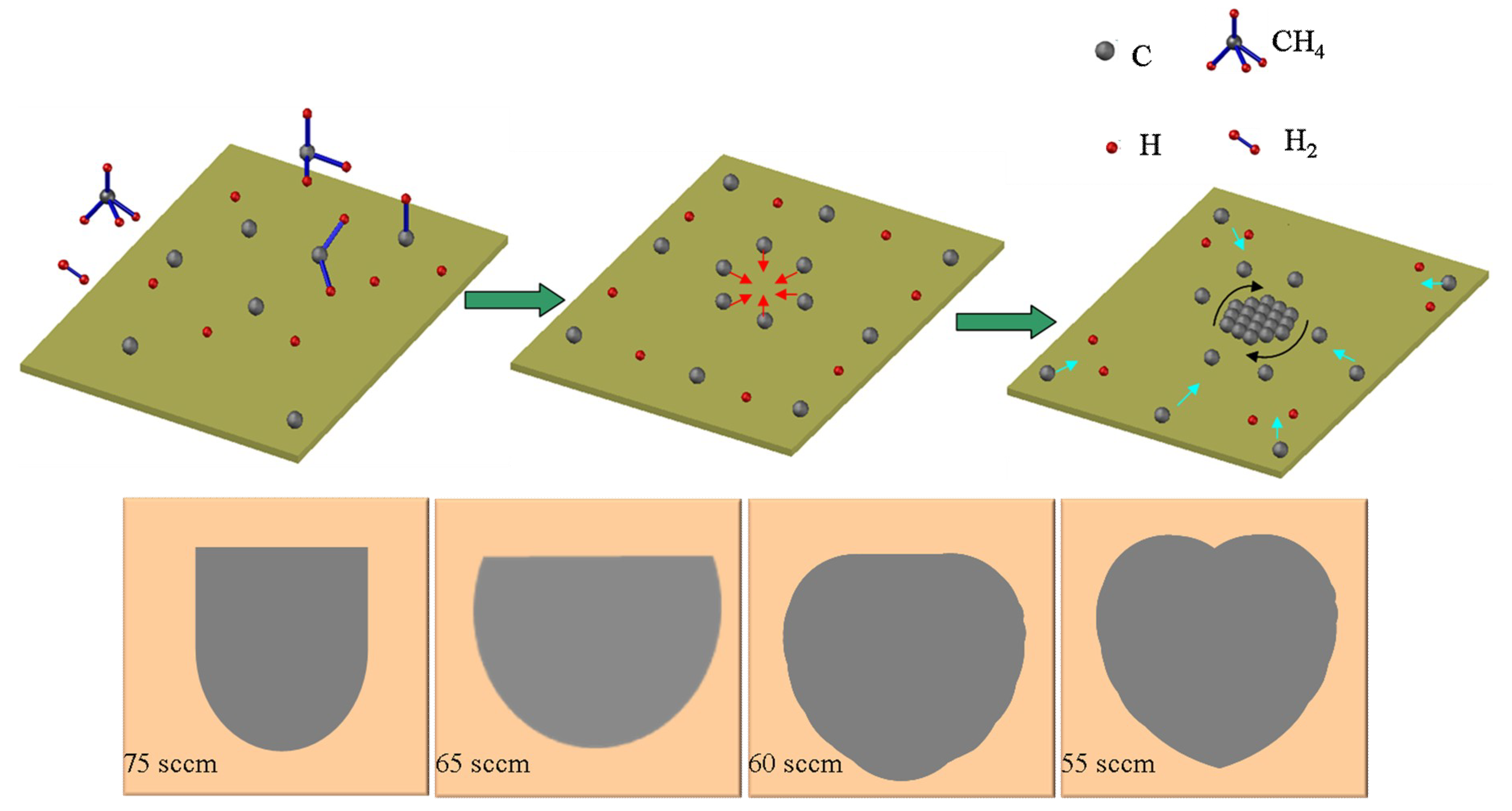 © 2019 by the authors. Licensee MDPI, Basel, Switzerland. This article is an open access article distributed under the terms and conditions of the Creative Commons Attribution (CC BY) license (http://creativecommons.org/licenses/by/4.0/).