Comparative Analysis of the Chemical Composition and Microstructure Conformation Between Different Dental Implant Bone Drills
1
Department of Neurosciences, Reproductive and Odontostomatological Sciences, University of Naples "Federico II", Via Pansini 5, 80131 Naples, Italy
2
Department of Biology and Biotechnology "Lazzaro Spallanzani", University of Pavia Via Ferrata 9, 27100 Pavia, Italy
3
Department of Chemical, Materials and Industrial Production Engineering, University of Naples "Federico II", Piazzale Tecchio 80, 80125 Naples, Italy
4
Department of Prosthodontics and Dental Materials, School of Dental Medicine, University of Siena, 53100 Siena, Italy
5
Department of Odontology and Surgery, University of Campania "L. Vanvitelli", Via S. Andrea delle Dame 6, 80138 Naples, Italy
6
Department of Advanced Biomedical Sciences, University of Naples "Federico II", Via Pansini 5, 80131 Naples, Italy
7
Institute of Dentistry, I. M. Sechenov First Moscow State Medical University, Moscow 119146, Russia
*
Author to whom correspondence should be addressed.
Received: 24 April 2019 / Revised: 1 June 2019 / Accepted: 5 June 2019 / Published: 9 June 2019
Abstract
Background: Hardness is considered an important parameter for evaluating the clinical performance of dental implant bone drills. It is connected to the chemical composition, microstructure conformation and manufacture of the surgical drills. Methods: Microstructure of five dental implant drills using scanning electronic microscopy (SEM) integrated with energy dispersive X-ray spectrometry. Vickers microhardness was measured using a CV 2000 microhardness tester with an indentation force of 500 g. Results: Composition of the implant drills was typical of martensitic stainless steel (MSS). The drills contained 13%–17% of Cr; Mo, Si and Mn were present as minor ligands. The examined bone drills showed different external surface conformation and hardness in relation to the different industrial production processes. A rougher external surface and a higher hardness value are characteristics of the surgical bone drills produced by hot forming; the implant drills produced by machining showed mailing lines on their external surface and a lower hardness. Conclusions: Different compositions and treatments were used by the manufacturers to improve the hardness of the external layer of the dental implant drills making them prone to a diverse heat generation during the implant site preparation.
View Full-Text
►

▼

Figures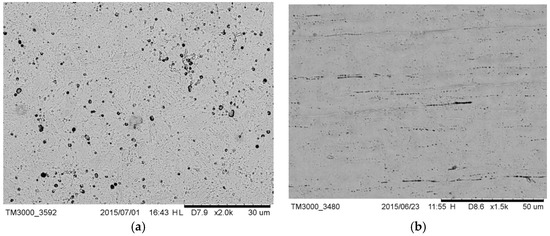 Figure 1
This is an open access article distributed under the
Creative Commons Attribution License
which permits unrestricted use, distribution, and reproduction in any medium, provided the original work is properly cited (CC BY 4.0).

Share & Cite This Article
MDPI and ACS Style
Marenzi, G.; Sammartino, J.C.; Scherillo, F.; Rengo, C.; De Rosa, A.; Graziano, V.; Spagnuolo, G. Comparative Analysis of the Chemical Composition and Microstructure Conformation Between Different Dental Implant Bone Drills. Materials 2019, 12, 1866.
Note that from the first issue of 2016, MDPI journals use article numbers instead of page numbers. See further details here.
Related Articles
Comments
[Return to top]