The Fate of Osteoblast-Like MG-63 Cells on Pre-Infected Bactericidal Nanostructured Titanium Surfaces
1
School of Science, Faculty of Science, Engineering and Technology, Swinburne University of Technology, Hawthorn, VIC 3122, Australia
2
School of Science, College of Science, Engineering and Health, RMIT University, Melbourne, VIC 3000, Australia
3
Center for Micro-Photonics, Faculty of Science, Engineering and Technology, Swinburne University of Technology, Hawthorn, VIC 3122, Australia
4
CSIRO Manufacturing, Clayton, VIC 3168, Australia
5
Institute for Future Environments, Queensland University of Technology, GPO Box 2434, Brisbane, QLD 4001, Australia
*
Author to whom correspondence should be addressed.
Received: 17 April 2019 / Revised: 6 May 2019 / Accepted: 8 May 2019 / Published: 14 May 2019
Abstract
Biomaterials that have been newly implanted inside the body are the substratum targets for a "race for the surface", in which bacterial cells compete against eukaryotic cells for the opportunity to colonize the surface. A victory by the former often results in biomaterial-associated infections, which can be a serious threat to patient health and can undermine the function and performance of the implant. Moreover, bacteria can often have a 'head start' if implant contamination has taken place either prior to or during the surgery. Current prevention and treatment strategies often rely on systemic antibiotic therapies, which are becoming increasingly ineffective due to a growing prevalence of antibiotic-resistant bacteria. Nanostructured surfaces that kill bacteria by physically rupturing bacterial cells upon contact have recently emerged as a promising solution for the mitigation of bacterial colonization of implants. Furthermore, these nanoscale features have been shown to enhance the adhesion and proliferation of eukaryotic cells, which is a key to, for example, the successful osseointegration of load-bearing titanium implants. The bactericidal activity and biocompatibility of such nanostructured surfaces are often, however, examined separately, and it is not clear to what extent bacterial cell-surface interactions would affect the subsequent outcomes of host-cell attachment and osseointegration processes. In this study, we investigated the ability of bactericidal nanostructured titanium surfaces to support the attachment and growth of osteoblast-like MG-63 human osteosarcoma cells, despite them having been pre-infected with pathogenic bacteria. MG-63 is a commonly used osteoblastic model to study bone cell viability, adhesion, and proliferation on the surfaces of load-bearing biomaterials, such as titanium. The nanostructured titanium surfaces used here were observed to kill the pathogenic bacteria, whilst simultaneously enhancing the growth of MG-63 cells in vitro when compared to that occurring on sterile, flat titanium surfaces. These results provide further evidence in support of nanostructured bactericidal surfaces being used as a strategy to help eukaryotic cells win the "race for the surface" against bacterial cells on implant materials.
View Full-Text
►

▼

Figures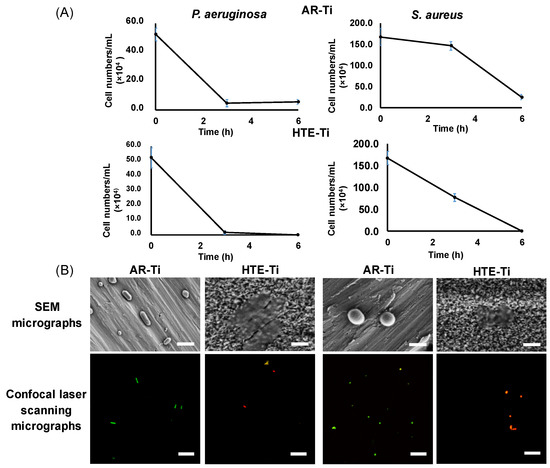 Figure 1
This is an open access article distributed under the
Creative Commons Attribution License
which permits unrestricted use, distribution, and reproduction in any medium, provided the original work is properly cited (CC BY 4.0).

Share & Cite This Article
MDPI and ACS Style
Wandiyanto, J.V.; Truong, V.K.; Al Kobaisi, M.; Juodkazis, S.; Thissen, H.; Bazaka, O.; Bazaka, K.; Crawford, R.J.; Ivanova, E.P. The Fate of Osteoblast-Like MG-63 Cells on Pre-Infected Bactericidal Nanostructured Titanium Surfaces. Materials 2019, 12, 1575.
Note that from the first issue of 2016, MDPI journals use article numbers instead of page numbers. See further details here.
Related Articles
Comments
[Return to top]