Simulation of the Impact of Ionized Impurity Scattering on the Total Mobility in Si Nanowire Transistors
1
Engineered Nanosystems Group, Department of Neuroscience and Biomedical Engineering, School of Science, Aalto University, P.O. Box 12200, FI-00076 Aalto, Finland
2
Device Modelling Group, School of Engineering, University of Glasgow, Glasgow G12 8LT, Scotland, UK
3
Institute for Microelectronics, TU Wien, Gusshausstrasse 27-29/E360, 1040 Wien, Austria
*
Author to whom correspondence should be addressed.
Received: 6 December 2018 / Revised: 25 December 2018 / Accepted: 28 December 2018 / Published: 2 January 2019
Abstract
Nanowire transistors (NWTs) are being considered as possible candidates for replacing FinFETs, especially for CMOS scaling beyond the 5-nm node, due to their better electrostatic integrity. Hence, there is an urgent need to develop reliable simulation methods to provide deeper insight into NWTs' physics and operation, and unlock the devices' technological potential. One simulation approach that delivers reliable mobility values at low-field near-equilibrium conditions is the combination of the quantum confinement effects with the semi-classical Boltzmann transport equation, solved within the relaxation time approximation adopting the Kubo–Greenwood (KG) formalism, as implemented in this work. We consider the most relevant scattering mechanisms governing intraband and multi-subband transitions in NWTs, including phonon, surface roughness and ionized impurity scattering, whose rates have been calculated directly from the Fermi's Golden rule. In this paper, we couple multi-slice Poisson–Schrödinger solutions to the KG method to analyze the impact of various scattering mechanisms on the mobility of small diameter nanowire transistors. As demonstrated here, phonon and surface roughness scattering are strong mobility-limiting mechanisms in NWTs. However, scattering from ionized impurities has proved to be another important mobility-limiting mechanism, being mandatory for inclusion when simulating realistic and doped nanostructures, due to the short range Coulomb interaction with the carriers. We also illustrate the impact of the nanowire geometry, highlighting the advantage of using circular over square cross section shapes.
View Full-Text
►

▼

Figures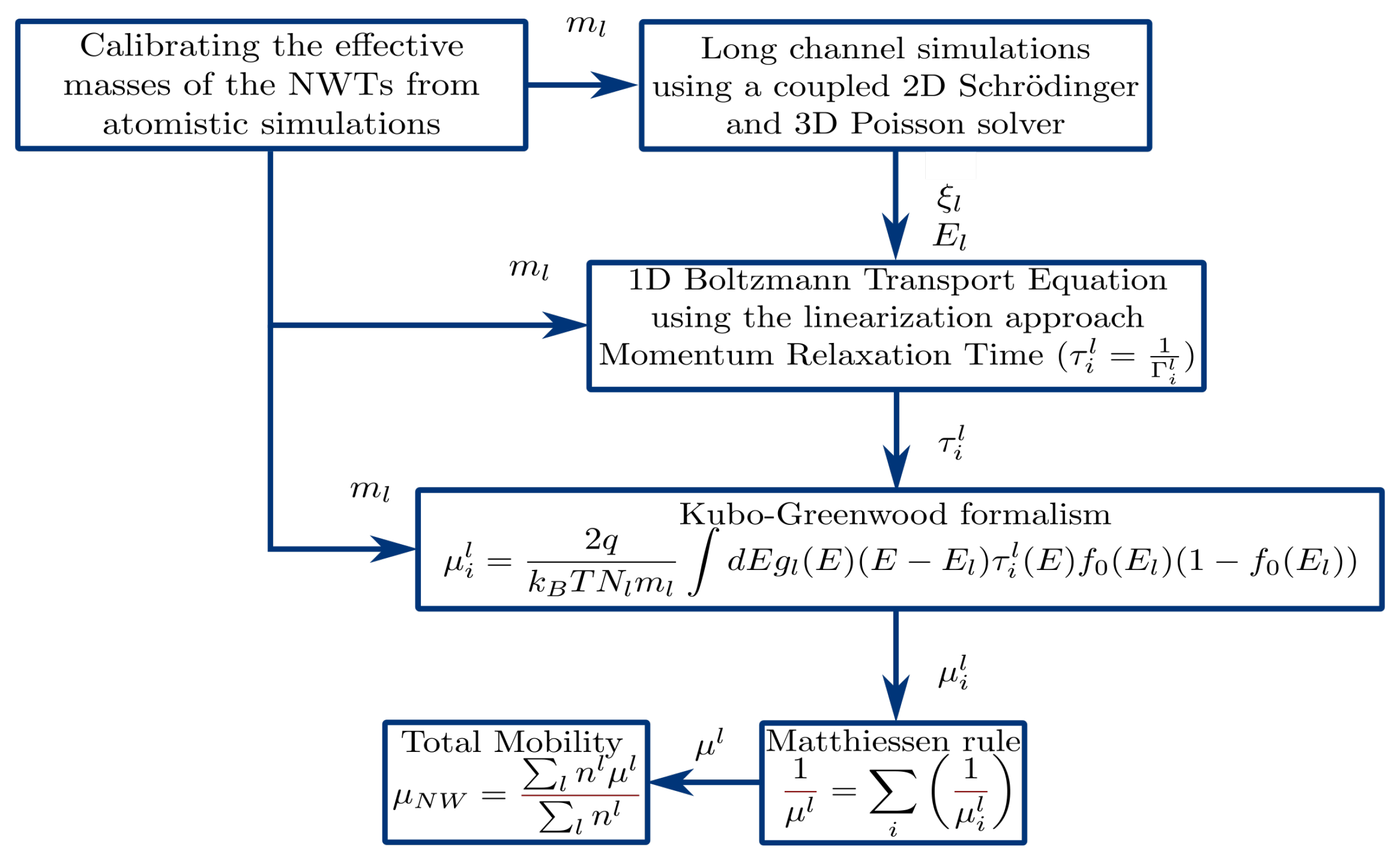 Figure 1
This is an open access article distributed under the
Creative Commons Attribution License
which permits unrestricted use, distribution, and reproduction in any medium, provided the original work is properly cited (CC BY 4.0).

Share & Cite This Article
MDPI and ACS Style
Sadi, T.; Medina-Bailon, C.; Nedjalkov, M.; Lee, J.; Badami, O.; Berrada, S.; Carrillo-Nunez, H.; Georgiev, V.; Selberherr, S.; Asenov, A. Simulation of the Impact of Ionized Impurity Scattering on the Total Mobility in Si Nanowire Transistors. Materials 2019, 12, 124.
Note that from the first issue of 2016, MDPI journals use article numbers instead of page numbers. See further details here.
Related Articles
Comments
[Return to top]