Towards Developing Bioresponsive, Self-Assembled Peptide Materials: Dynamic Morphology and Fractal Nature of Nanostructured Matrices
Department of Chemical and Materials Engineering, University of Alberta, 11487 89 ave, Edmonton, AB T6G 2M7, Canada
*
Authors to whom correspondence should be addressed.
Received: 23 July 2018 / Revised: 14 August 2018 / Accepted: 22 August 2018 / Published: 27 August 2018
Abstract
(Arginine-alanine-aspartic acid-alanine)
4
((RADA)
4
) nanoscaffolds are excellent candidates for use as peptide delivery vehicles: they are relatively easy to synthesize with custom bio-functionality, and assemble in situ to allow a focal point of release. This enables (RADA)
4
to be utilized in multiple release strategies by embedding a variety of bioactive molecules in an all-in-one "construct". One novel strategy focuses on the local, on-demand release of peptides triggered via proteolysis of tethered peptide sequences. However, the spatial-temporal morphology of self-assembling nanoscaffolds may greatly influence the ability of enzymes to both diffuse into as well as actively cleave substrates. Fine structure and its impact on the overall effect on peptide release is poorly understood. In addition, fractal networks observed in nanoscaffolds are linked to the fractal nature of diffusion in these systems. Therefore, matrix morphology and fractal dimension of virgin (RADA)
4
and mixtures of (RADA)
4
and matrix metalloproteinase 2 (MMP-2) cleavable substrate modified (RADA)
4
were characterized over time. Sites of high (glycine-proline-glutamine-glycine+isoleucine-alanine-serine-glutamine (GPQG+IASQ), CP1) and low (glycine-proline-glutamine-glycine+proline-alanine-glycine-glutamine (GPQG+PAGQ), CP2) cleavage activity were chosen. Fine structure was visualized using transmission electron microscopy. After 2 h of incubation, nanofiber networks showed an established fractal nature; however, nanofibers continued to bundle in all cases as incubation times increased. It was observed that despite extensive nanofiber bundling after 24 h of incubation time, the CP1 and CP2 nanoscaffolds were susceptible to MMP-2 cleavage. The properties of these engineered nanoscaffolds characterized herein illustrate that they are an excellent candidate as an enzymatically initiated peptide delivery platform.
View Full-Text
►

▼

Figures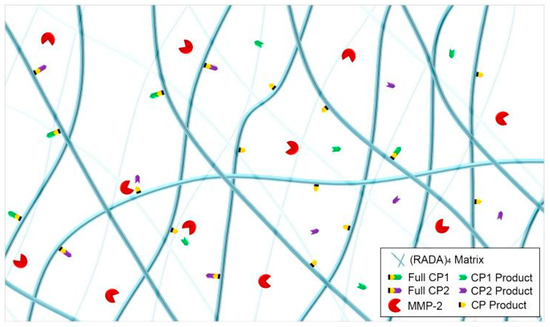 Figure 1
This is an open access article distributed under the
Creative Commons Attribution License
which permits unrestricted use, distribution, and reproduction in any medium, provided the original work is properly cited (CC BY 4.0).

Share & Cite This Article
MDPI and ACS Style
Koss, K.M.; Unsworth, L.D. Towards Developing Bioresponsive, Self-Assembled Peptide Materials: Dynamic Morphology and Fractal Nature of Nanostructured Matrices. Materials 2018, 11, 1539.
Note that from the first issue of 2016, MDPI journals use article numbers instead of page numbers. See further details here.
Related Articles
Comments
[Return to top]