Hydrophilic and Hydrophobic Mesoporous Silica Derived from Rice Husk Ash as a Potential Drug Carrier
1
Department of Materials Science and Engineering, Faculty of Engineering and Industrial Technology, Silpakorn University, Sanamchandra Palace Campus, Nakhon Pathom 73000, Thailand
2
Department of Material and Metallurgical Engineering, Faculty of Engineering, Rajamangala University of Technology Thanyaburi, Pathumthani 12110, Thailand
3
Department of Chemical Engineering, Faculty of Engineering, Kasetsart University, Bangkok 10900, Thailand
*
Author to whom correspondence should be addressed.
Received: 15 June 2018 / Revised: 2 July 2018 / Accepted: 2 July 2018 / Published: 5 July 2018
Abstract
This work describes the preparation of mesoporous silica by the green reaction of rice husk ash (RHA) with glycerol, followed by the modification and the potential use as a drug carrier. The reaction was carried out at 215 °C for 2 h. The solution was further hydrolyzed with deionized water and aged for various times (24, 48, 120, 360, 528 and 672 h) before calcinations at 500 °C for 24 h. Further treatment of prepared mesoporous silica was performed using trimethylmethoxysilane (TMMS) to obtain hydrophobic Mesoporous silica. For all synthesized silicas, silica contents were as high as 95 wt %, whereas organic residues were less than 3 wt %. RHA-glycerol showed the highest specific surface area with smallest pore diameter (205.70 m
2
/g, 7.46 nm) when aged for 48 h. The optimal hydrolysis-ageing period of 120 h resulted in 500.7 m
2
/g specific surface area, 0.655 cm
3
/g pore volume and 5.23 nm pore diameter. The surface modification of RHA-glycerol occurred through the reaction with TMMS as confirmed by FTIR (Fourier-transform infrared spectroscopy). Ibuprofen was selected as a model drug for the adsorption experiments. The adsorption under supercritical CO
2
was carried out at isothermal temperature of 40 °C and 100 bar; % ibuprofen loading of TMMS modified mesoporous silica (TMMS-g-MS) was 6 times less than that of mesoporous silica aged for 24 h (MS-24h) due to the hydrophobic nature of modified mesoporous silica, not surface and pore characteristics. The release kinetics of ibuprofen-loaded mesoporous silicas were also investigated in vitro. The release rate of ibuprofen-loaded MS-24h was much faster than that of ibuprofen-loaded TMMS-g-MS, but comparable to the crystalline ibuprofen. The slower release rate was attributed to the diffusion control and the stability of hydrophobic nature of modified silica. This would allow the design of a controlled release drug delivery system.
View Full-Text
►

▼

Figures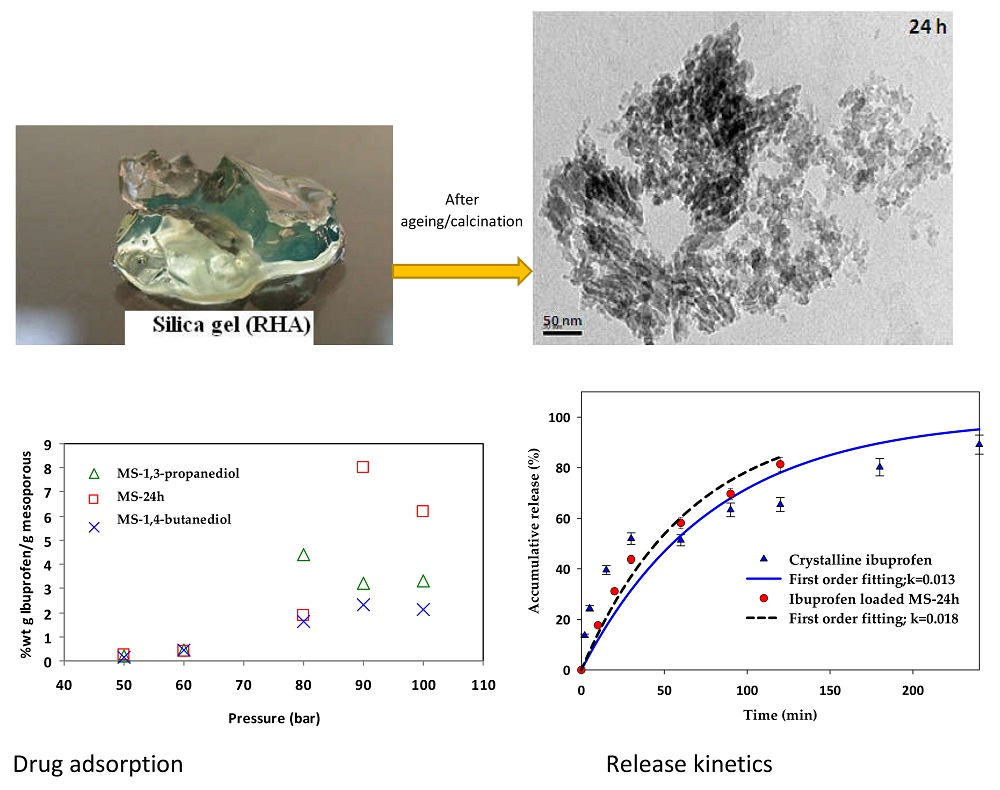 Graphical abstract
This is an open access article distributed under the
Creative Commons Attribution License
which permits unrestricted use, distribution, and reproduction in any medium, provided the original work is properly cited (CC BY 4.0).

Share & Cite This Article
MDPI and ACS Style
Suttiruengwong, S.; Pivsa-Art, S.; Chareonpanich, M. Hydrophilic and Hydrophobic Mesoporous Silica Derived from Rice Husk Ash as a Potential Drug Carrier. Materials 2018, 11, 1142.
Note that from the first issue of 2016, MDPI journals use article numbers instead of page numbers. See further details here.
Related Articles
Comments
[Return to top]