Scanning Kelvin Probe Microscopy: Challenges and Perspectives towards Increased Application on Biomaterials and Biological Samples
1
Materials Characterization Facility, Istituto Italiano di Tecnologia, via Morego 30, 16163 Genova, Italy
2
Department of Nanoscopy & NIC, Istituto Italiano di Tecnologia, via Morego 30, 16163 Genova, Italy
*
Author to whom correspondence should be addressed.
Received: 11 May 2018 / Revised: 30 May 2018 / Accepted: 1 June 2018 / Published: 5 June 2018
We report and comment on the possible increase of application of scanning Kelvin probe microscopy (SKPM) for biomaterials, biological substrates, and biological samples. First, the fundamental concepts and the practical limitations of SKPM are presented, pointing out the difficulties in proper probe calibration. Then, the most relevant literature on the use of SKPM on biological substrates and samples is briefly reviewed. We report first about biocompatible surfaces used as substrates for subsequent biological applications, such as cultures of living cells. Then, we briefly review the SKPM measurements made on proteins, DNA, and similar biomolecular systems. Finally, some considerations about the perspectives for the use of SKPM in the field of life sciences are made. This work does not pretend to provide a comprehensive view of this emerging scenario, yet we believe that it is time to put these types of application of SKPM under focus, and to face the related challenges, such as measuring in liquid and quantitative comparison with other techniques for the electrical potential readout.
Author Contributions
Conceptualization, M.S. and S.D.; Writing-Original Draft Preparation, M.S.; Writing-Review & Editing, S.D.
Funding
This research received no external funding.
Conflicts of Interest
The authors declare no conflict of interest.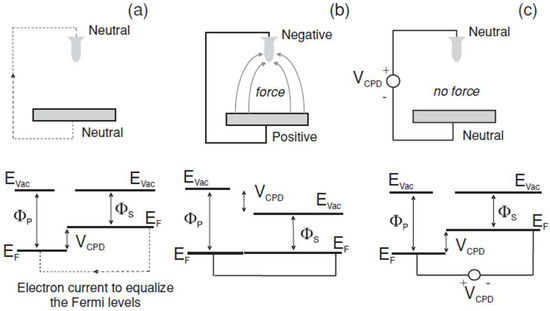 Figure 1.
Operating principle of the Kelvin probe. In this picture probe (sample) is on top (bottom) in the sketches and on left (right) in the energy diagrams, respectively. Reproduced from Ref. [
2
] with permission; Copyright Springer 2007. (
a
) Before and (
b
) after making the electrical connection; (
c
) after proper bias.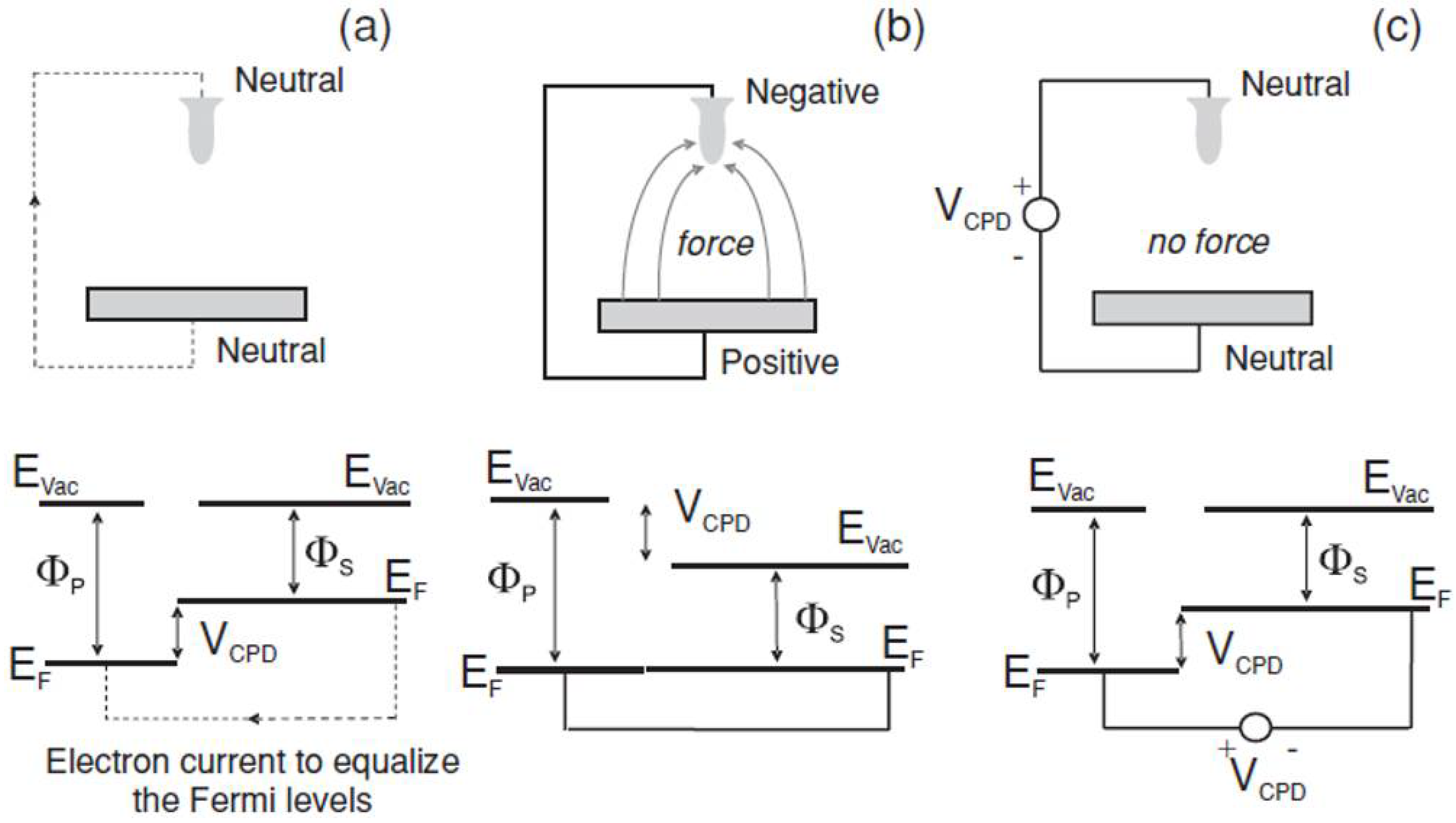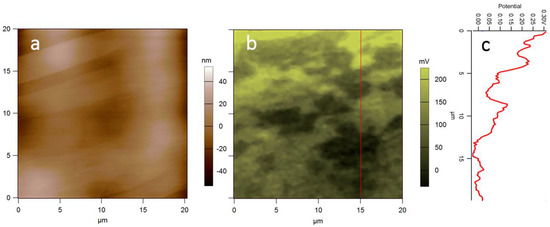 Figure 2. (a) Topography and (b) surface potential of HOPG, showing both local atomic terraces with different contrast (usually negative, ~30 mV here) and with drifting level during the scan (frame time ~20 min, overall drift ~200 mV). (c) Profile of (b) at the red vertical line (unpublished data).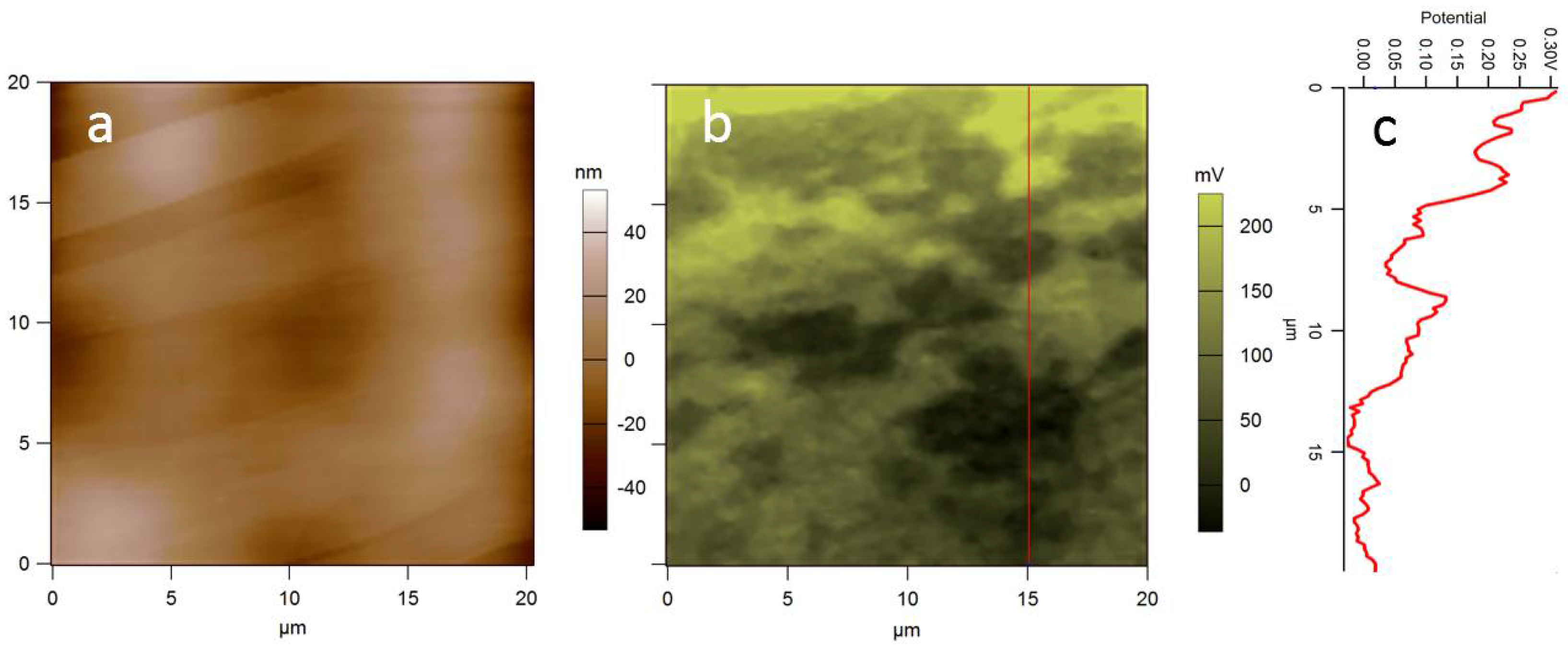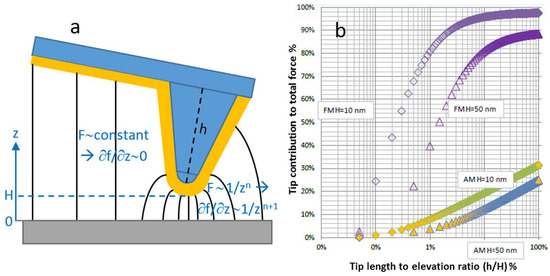 Figure 3.
(
a
) Two effects decrease resolution in SKPM vs. AFM: the metal coating (orange) increases the tip apex diameter, and the capacitive coupling between sample and probe (black field lines) extends to both the tip cone and cantilever [
21
,
22
,
23
]. (
b
) In FM-SKPM, the contribution to force by the tip cone is lower than in AM-SKPM (calculations for a SCM-PIT probe, reproduced from Ref. [
24
] with permission from Bruker Company).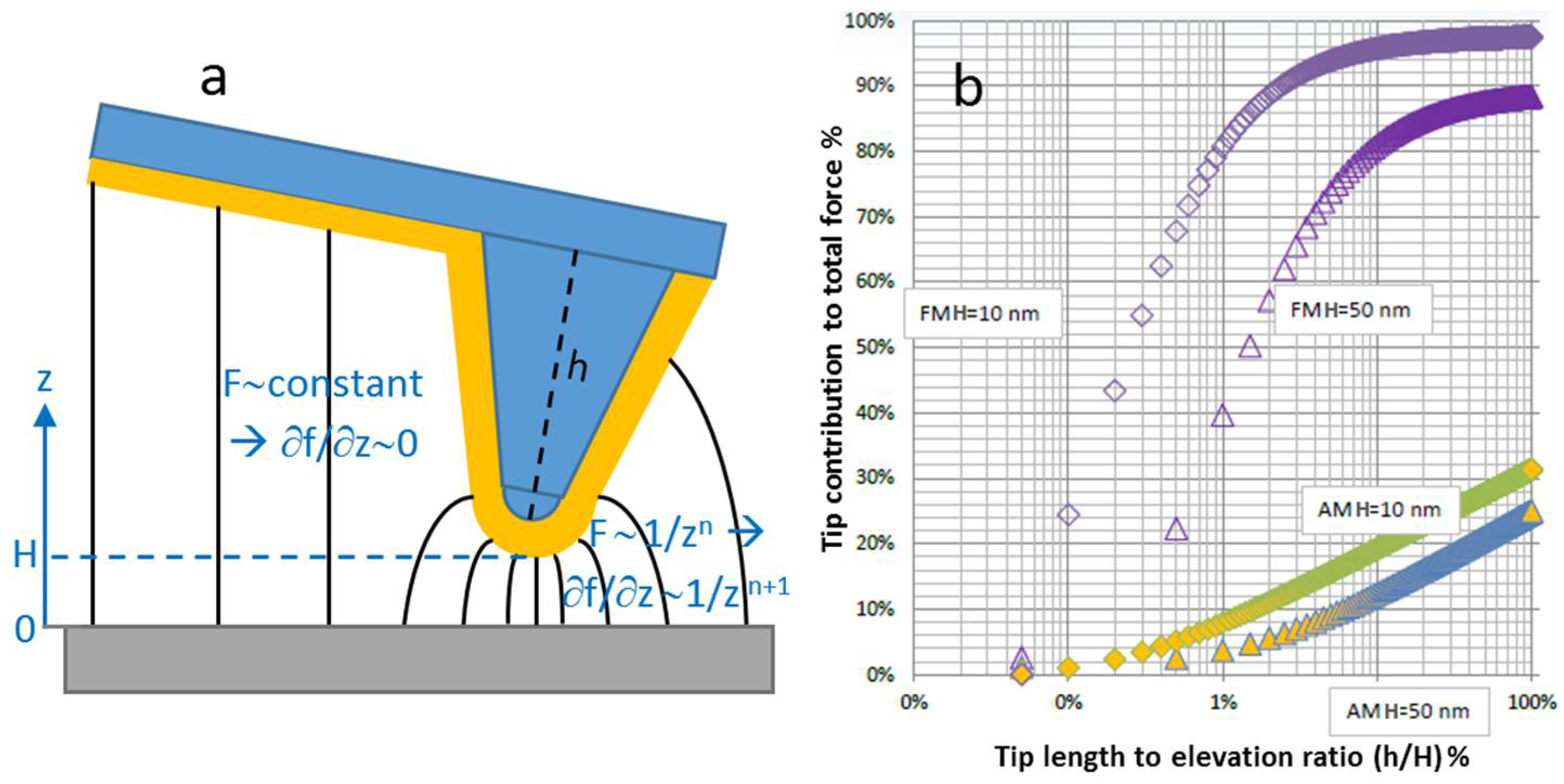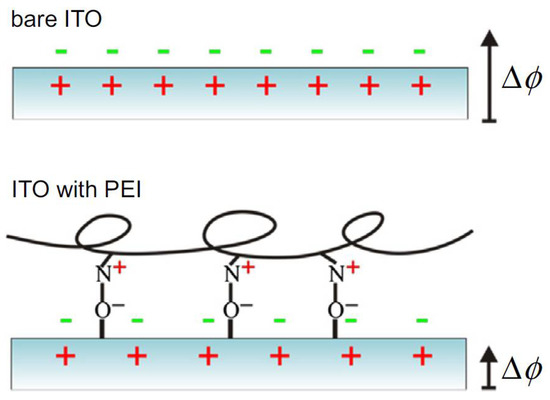 Figure 4.
Example of surface charge modification by means of adsorbed molecular layer. In this case, the original charge distribution and existing surface polarization at ITO (top) is modified by the presence of adsorbed PEI. (Reprinted from Ref. [
33
] with permission; Copyright Elsevier 2015).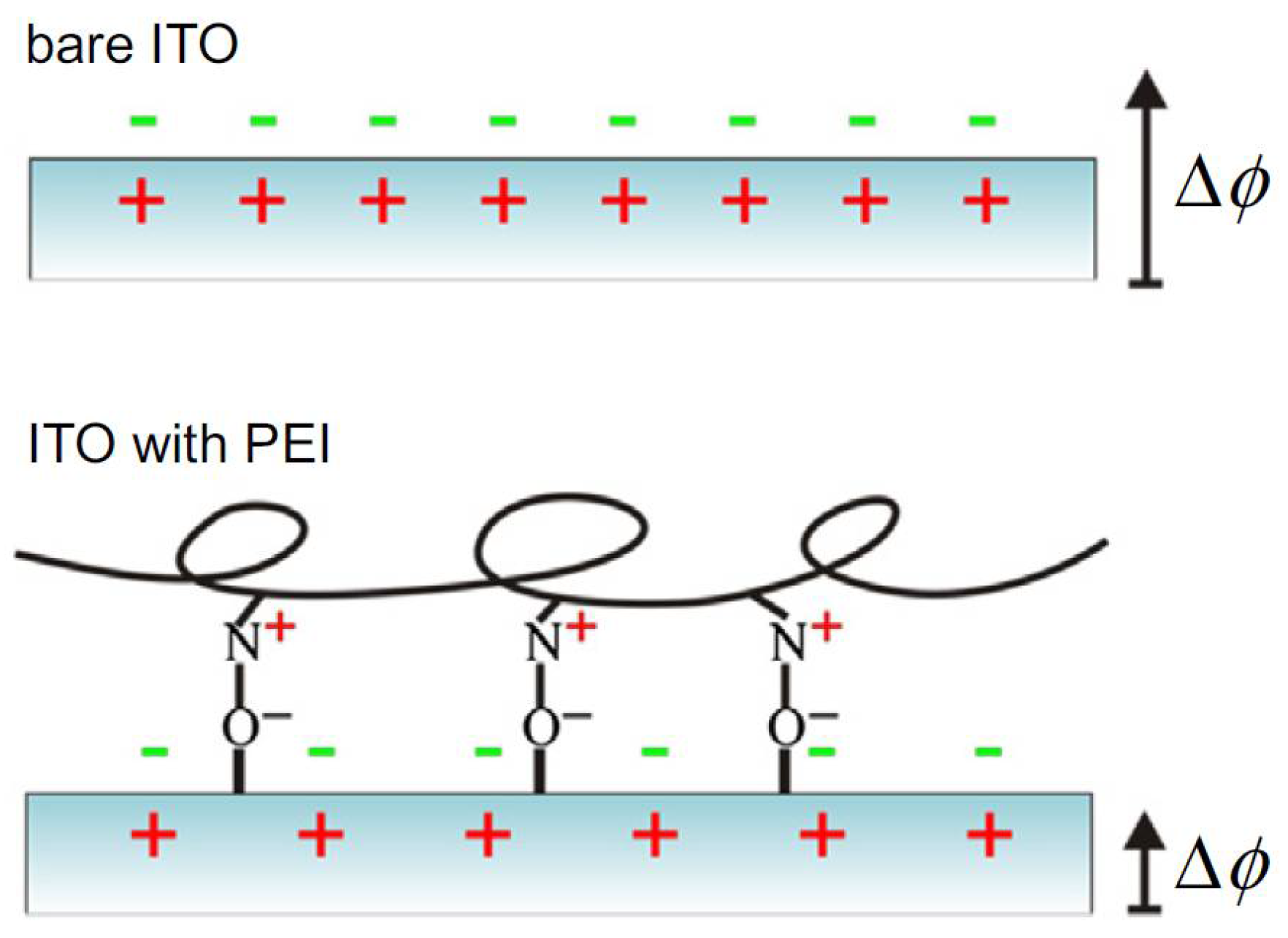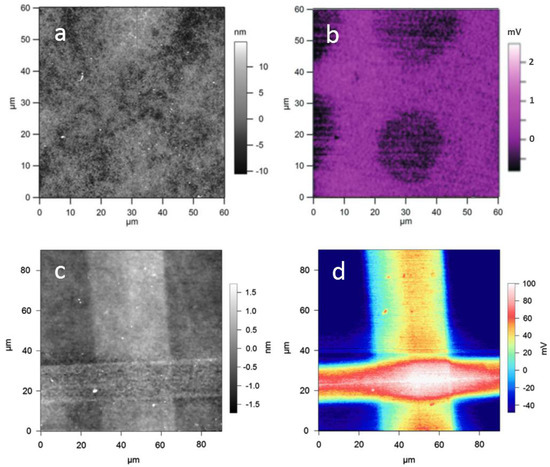 Figure 5.
Biomolecular ink spotted onto a substrate by nanoarrayer: (
a
) topography and (
b
) EFM in-phase signal of PDL spots. Reproduced from Ref. [
38
] with permission; Copyright RSC 2013; (
c
) topography and (
d
) surface potential of a cross-pattern made by two stripes of different molecular ink: PDL (vertical) and PEI (horizontal). Reproduced from Ref. [
39
] with permission; Copyright Elsevier 2013.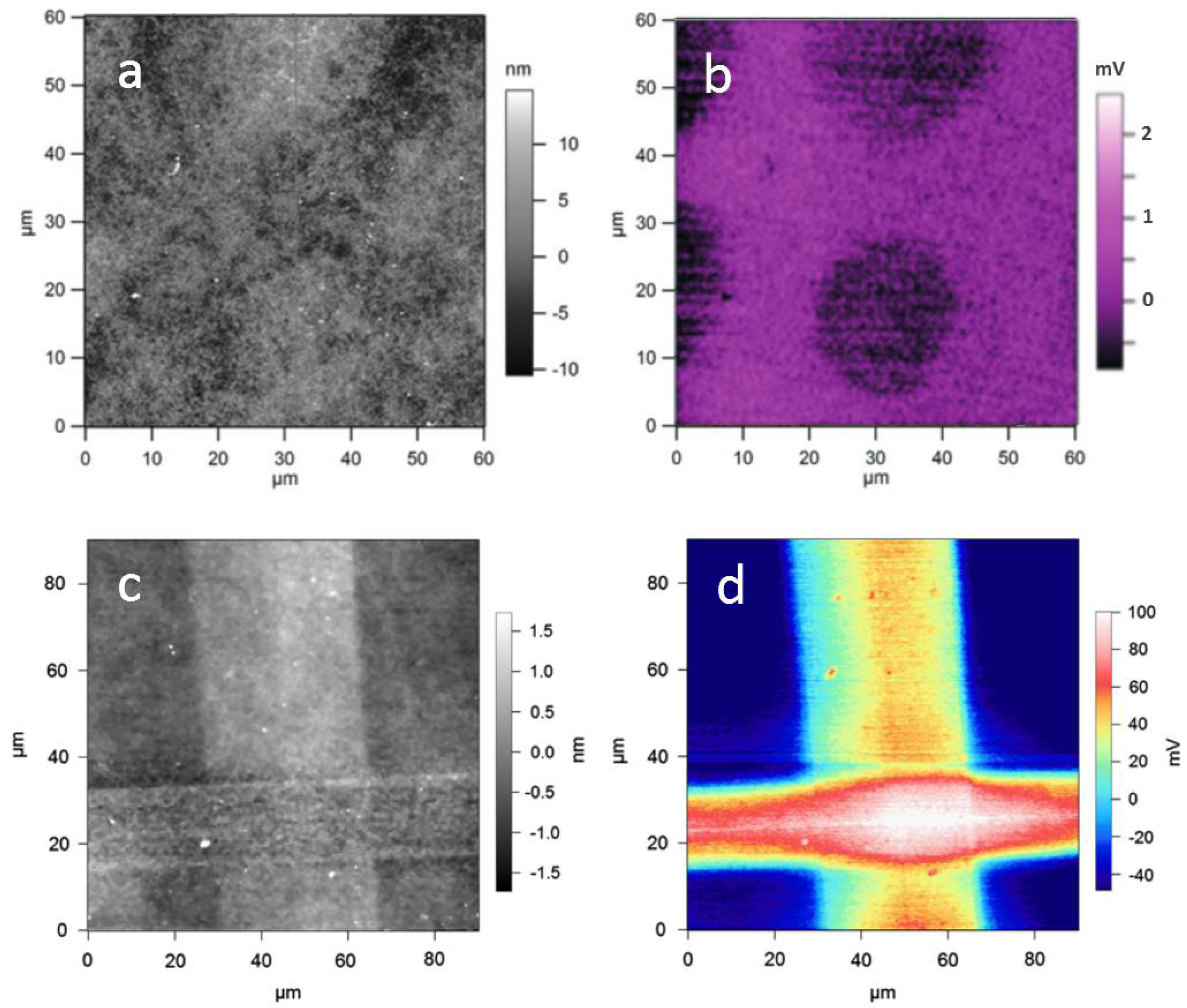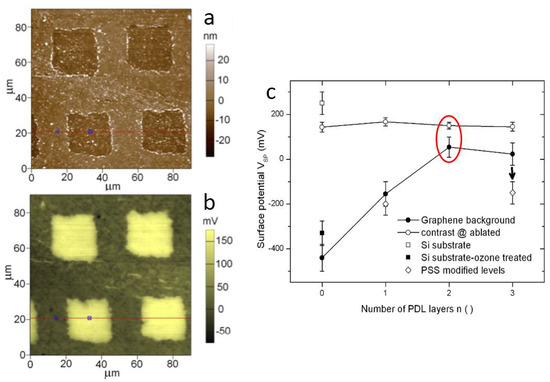 Figure 6.
(
a
) Topography and (
b
) surface potential of an array of squares ablated on SLG on glass and coated with PDL (case of two PDL layers). (
c
) Sequence of surface potential values (and contrast of ablated squares versus background) for different numbers of PDL layers, from 0 to 3. The results of adding PSS are also plotted (rearranged from unpublished work [
46
]).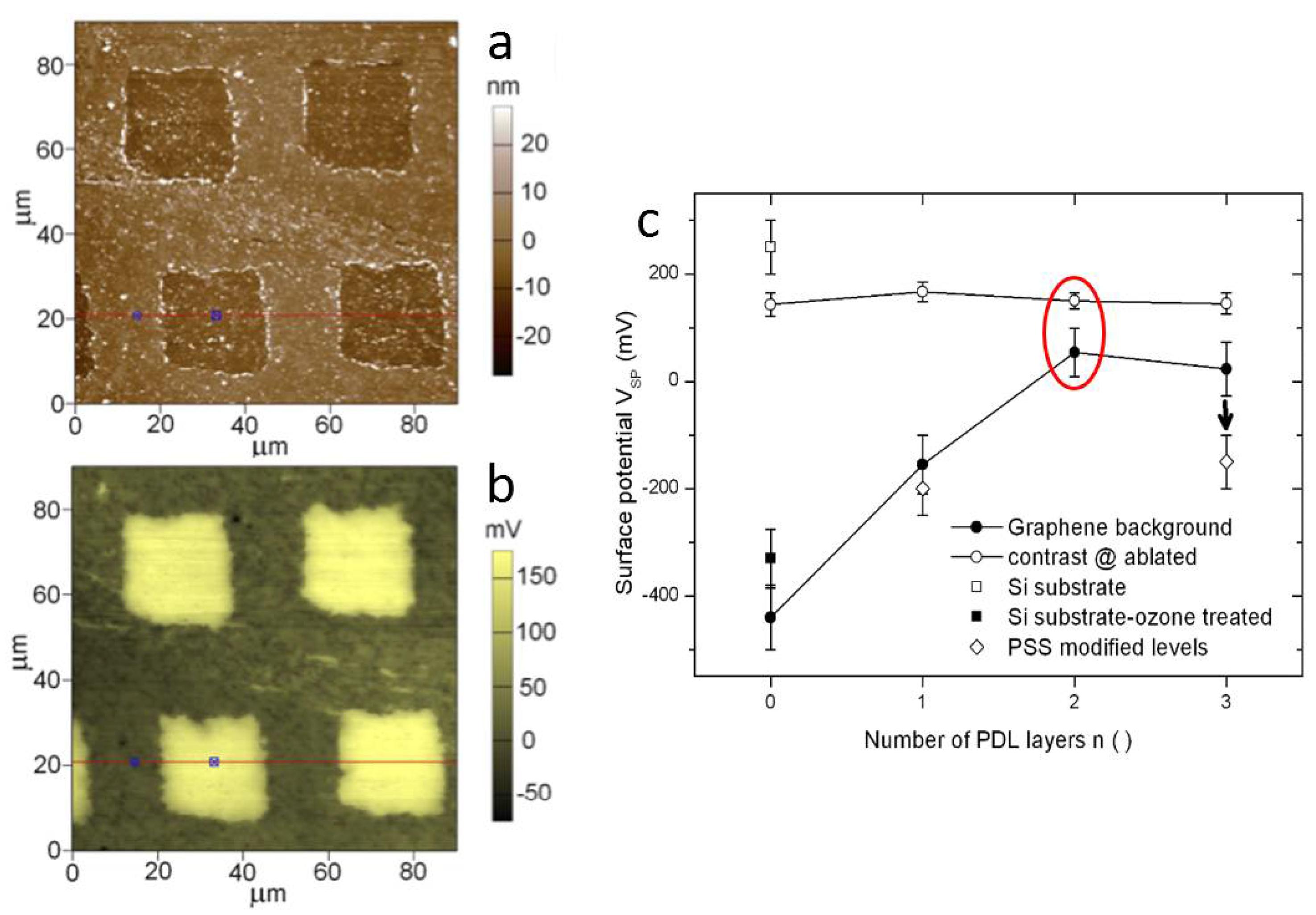 Figure 7.
(
a
) Topography and (
b
) SP of APA (acquired in AM-SKPM at
H
= 50 nm); (
c
) distribution of values in (
b
). Cross-talk between height and potential was excluded after observation of flat oscillation amplitude during the nap pass. Significant SP modulation appears, associated with the nanoporous structure (unpublished data).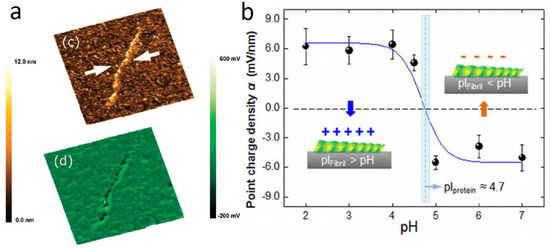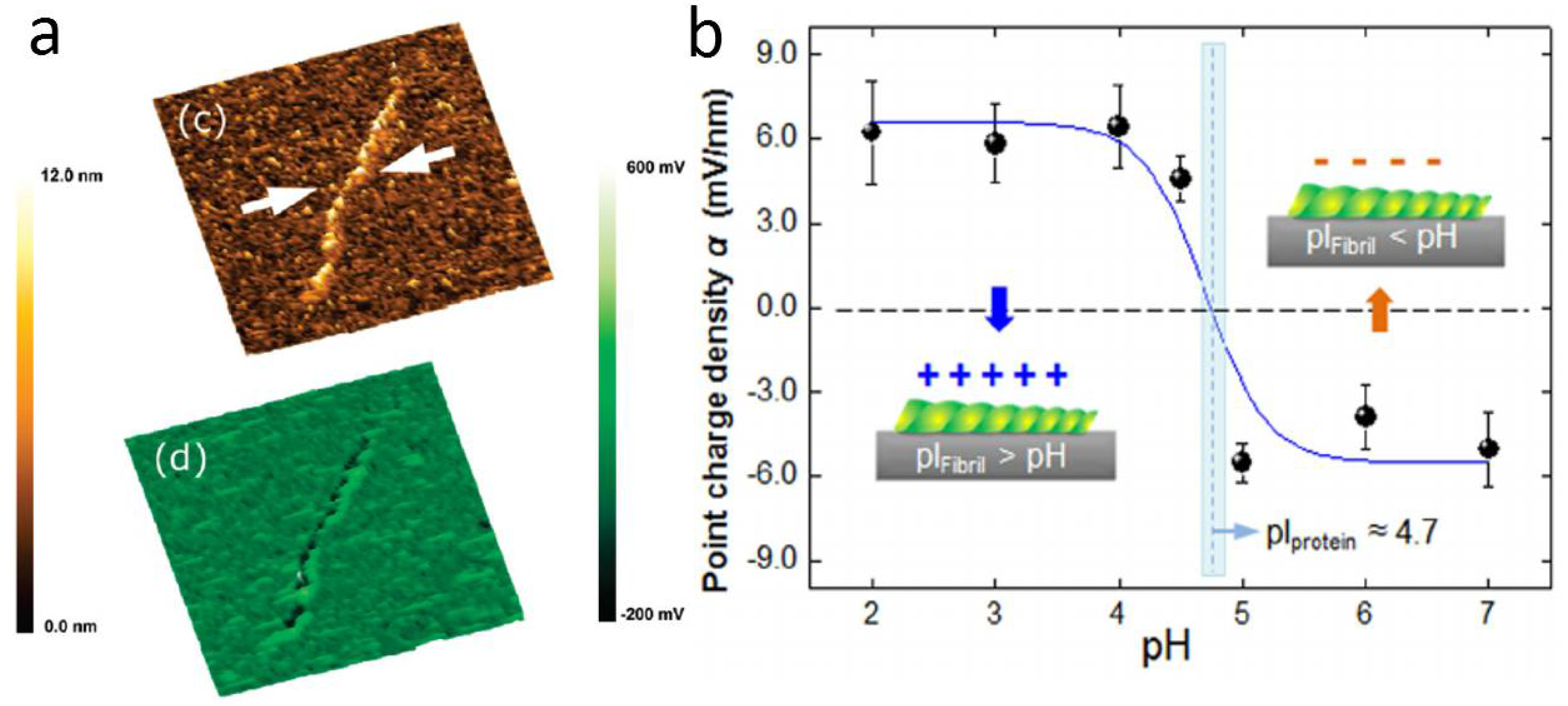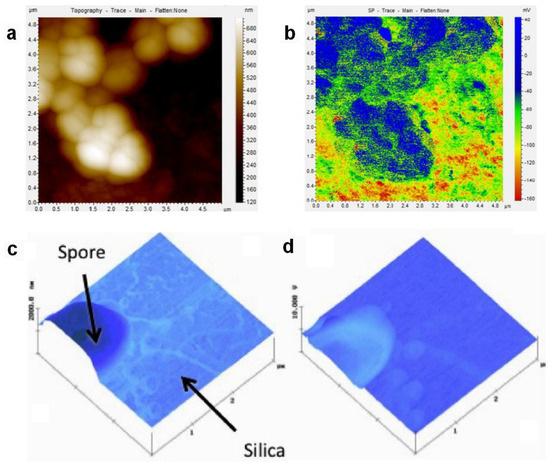 Figure 9.
(
a
) Topography and (
b
) SP image of MRSA bacterial cells dried on Poly-L-lysine coated gold (scan size: 4.5 µm). Similar images were obtained on stainless steel, (reprinted from Ref. [
77
]). (
c
) Topography and (
d
) SP image of dried Bt spore cells on silica (scan size 3 µm, reproduced from Ref. [
78
]) with permission; Copyright Elsevier 2012).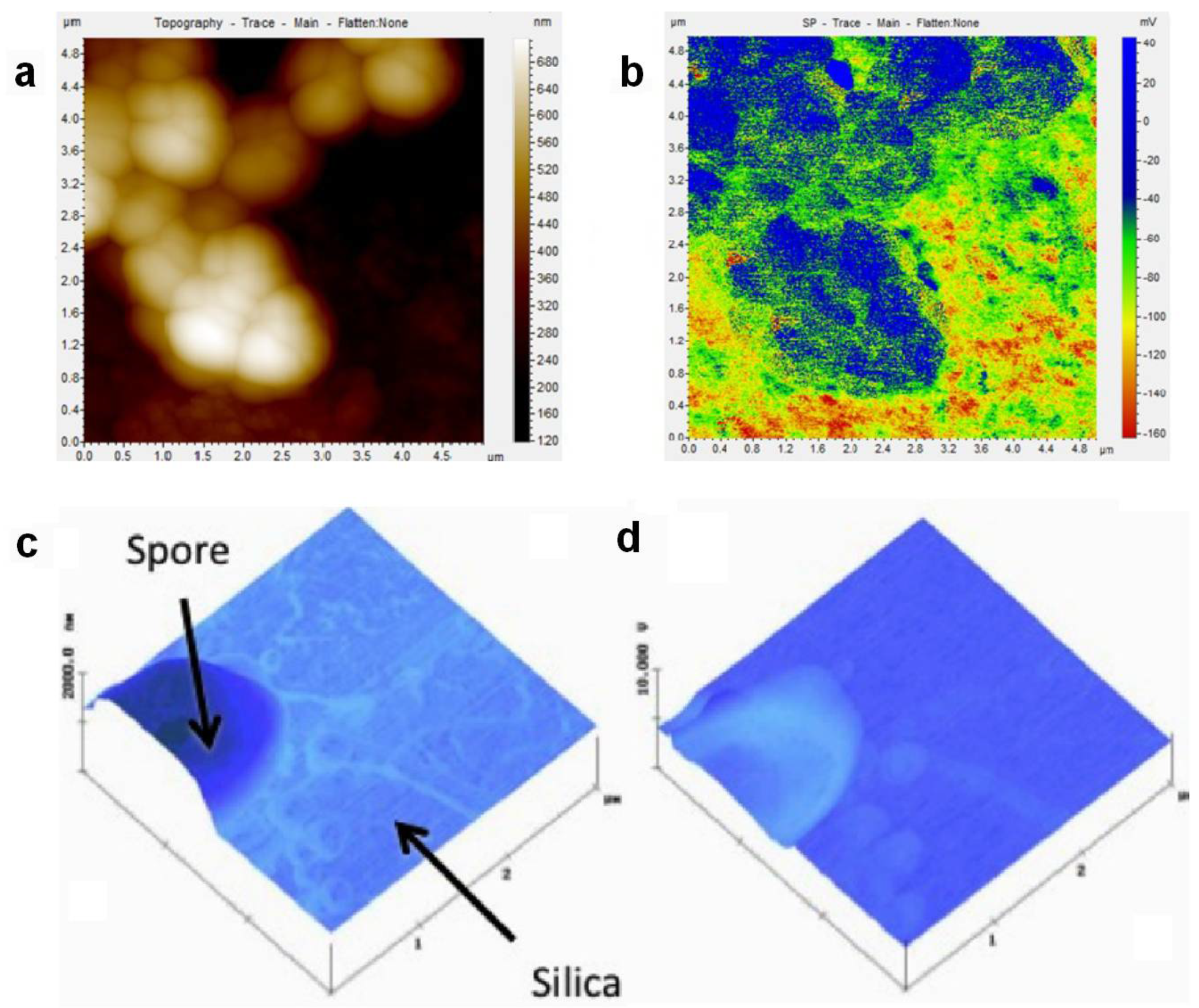 © 2018 by the authors. Licensee MDPI, Basel, Switzerland. This article is an open access article distributed under the terms and conditions of the Creative Commons Attribution (CC BY) license (http://creativecommons.org/licenses/by/4.0/).