Open Access This article is
freely available
re-usable
Article
Crystal Structure and Thermoelectric Properties of Lightly Substituted Higher Manganese Silicides
Department of Applied Physics, Graduate School of Engineering, Tohoku University, 6-6-05 Aoba, Aramaki, Aoba-ku, Sendai 980-8579, Japan
*
Author to whom correspondence should be addressed.
Received: 27 April 2018 / Accepted: 29 May 2018 / Published: 30 May 2018
Abstract
:
The dissipation of MnSi layered precipitates during solidification is critical for further enhancement of the thermoelectric properties of the higher manganese silicides. We have investigated the effects of partial substitution of V in Mn sites and of Ge in Si sites on the crystal structures and thermoelectric properties of these silicides in detail. As previously reported, a small amount of V-substitution is quite effective in completely dissipating the MnSi striations; in contrast, a small proportion of these MnSi striations always remains present in the Ge-substitution case, even in the vicinity of the Ge solubility limits. For completely MnSi-dissipated samples, domain separation of the regular and highly strained arrangements of the Si atoms is realized. This domain separation suppresses the deterioration of the carrier mobility of the partially V-substituted samples and maintains even higher electrical conductivity to yield a high thermoelectric power factor of ∼2.3 mW/Km at higher temperatures.
Keywords:
higher manganese silicide; solid solution; incommensurate composite crystal; MnSi striation; thermoelectric properties; crystal structure; domain separation
1. Introduction
Higher manganese silicides (HMSs) have been known to be potential thermoelectric (TE) materials since the 1960s [
1
,
2
,
3
]. While the dimensionless figure of merit, , which is the product of the figure of merit
z
multiplied by temperature
T
, is less than unity for these materials, HMSs have recently attracted renewed interest because they consist of naturally abundant elements that are less toxic than other TE materials and are thermally stable in the atmosphere. Several approaches have been used to enhance the TE performances of HMSs, including partial substitution of the Mn and/or Si sites [
4
,
5
,
6
,
7
,
8
,
9
], use of unconventional preparation methods [
10
,
11
] and modification of their micro/nanostructures [
12
,
13
,
14
]. As a result of these efforts, samples with 1 have been successfully prepared using supersaturated 16% Re-substituted solid solutions for the Mn sites [
11
]; such samples would be impossible to obtain under equilibrium conditions.
In addition to the improvement of the values, another critical problem exists for use of these materials in practical applications: the formation of MnSi striations with sub-micron-order thicknesses upon cooling from the liquid state [
15
,
16
]. These MnSi striations always form perpendicular to the
c
-axis of the HMSs and these striations can cause serious damage at the HMS/MnSi interfaces during heating cycles. Furthermore, the existence of inhomogeneous boundaries would cause the electric conduction of the materials to deteriorate and should thus be avoided. Aoyama et al. [
4
] reported that a small amount of Ge substitution at the Si sites (∼0.5 at %) is effective in thinning and eventually dissipating the MnSi striations. Zhou et al. [
5
] also reported that Ge substitution was an effective approach to reduce the number of MnSi striations but that it was not possible to dissipate the striations completely, even at the vicinity of the Ge solubility limit.
Partial substitution of the Mn sites is also effective for dissipation of the MnSi striations. Miyazaki et al. [
17
] discovered that ∼2 at % substitution of V for Mn caused complete dissipation of the MnSi striations and considerable improvement in the electrical conductivity was also observed because of the synergistic effects of the disappearance of the scattering media and the increased numbers of hole carriers. They also observed that some of the X-ray diffraction (XRD) peaks of the materials split into doublets and shoulders around the composition at which the MnSi striations disappeared. These experimental facts correlate with each other and are crucial to further understanding of the physico-chemical and metallurgical aspects of HMS-based TE materials. To interrogate the crystal structure in detail, use of the superspace approach is necessary because HMSs have incommensurate composite structures that consist of two tetragonal subsystems for [Mn] and [Si], which have identical
a
and
b
axes but different
c
axes denoted by and . Using the
c
-axis length ratio = /, the structural formula for HMSs can be represented by MnSi. In this study, we investigate the compositional changes in the crystal structure, dissipation of the MnSi striations, and the TE properties of the V- and Ge-substituted solid solutions.
2. Materials and Methods
Samples were prepared in an arc-melting furnace (GMAC-1100, GES ) under an Ar atmosphere using a tungsten-rod electrode and a water-cooled copper hearth. Appropriate amounts of Mn (99.99%), V (99.9%), Si (99.999%) and Ge (99.99%) reagents, based on the nominal compositions of (MnV)Si or Mn(SiGe), were melted four times and were turned over between runs to obtain full homogeneity. The button samples that were obtained were then crushed into small pieces and sealed in evacuated quartz tubes. Each tube was heated to 1473 K and this temperature was maintained for 8 h before being cooled down to 1373 K for another 100 h. The resulting samples were then furnace-cooled to room temperature. All ingots obtained consisted of highly-oriented nearly single crystals with relative densities of more than 93%. Each ingot was initially cut perpendicular to its growth direction into several pieces. The pieces that were cut from the center of each ingot were then cut further into the appropriate shapes required for the TE measurements, which are described below. XRD measurements were performed using Cu K radiation (D8 Advance, Bruker AXS, Karlsruhe, Germany). Le Bail pattern fitting based on the (3+1)-dimensional superspace group
I
4/(00)00 [
18
] for the XRD patterns obtained was then performed using the Jana 2006 software [
19
].
The microstructures and elemental distributions were investigated using a scanning electron microscope (SEM; SU-8100, Hitachi, Tokyo, Japan) equipped for energy-dispersive spectroscopy (EDS). The sample orientation was evaluated based on electron backscatter diffraction (EBSD) patterns acquired using a field emission SEM (JSM-7100F, JEOL, Tokyo, Japan).
The Seebeck coefficient and the electrical conductivity were measured simultaneously in a He atmosphere over the range from room temperature to 1000 K using an automated thermoelectric tester (ZEM-3, ADVANCE RIKO, Kanagawa, Japan). The thermal conductivity was measured in a vacuum using a standard laser flash thermal constants analyzer (TC-7000H, ADVANCE RIKO, Kanagawa, Japan). The carrier concentration and mobility were evaluated using a Quantum Design physical property measurement system (PPMS, San Diego, CA, USA) operating at 293 K. All TE properties were measured along the same direction for all melt-grown ingots, but this does not mean that the measured direction is exactly parallel to a specific crystallographic direction in the samples, as will be described later in the paper.
3. Results and Discussion
4. Conclusions
We have performed partial substitutions of V for the Mn sites or Ge for the Si sites of HMSs to investigate their crystal structures and TE properties. Both substitutions are confirmed to be effective approaches to suppress the formation of the MnSi striations. However, the dissipation effect is much stronger in the case of the V-substitutions, which eliminate the MnSi striations completely. We have also proposed a possible scenario to help us to understand the formation (dissipation) of the MnSi striations, which will lead to the production of superb HMS-based TE materials.
Author Contributions
Y.M. and K.H. designed the experiments. H.H. and H.N. performed the experiments and analyzed the data. Y.M. wrote the manuscript.
Acknowledgments
The authors thank Y. Oide and M. Yamashita for their technical assistance. We thank David MacDonald, from Edanz Group (
www.edanzediting.com/ac
) for editing a draft of this manuscript.
Conflicts of Interest
The authors declare no conflict of interest .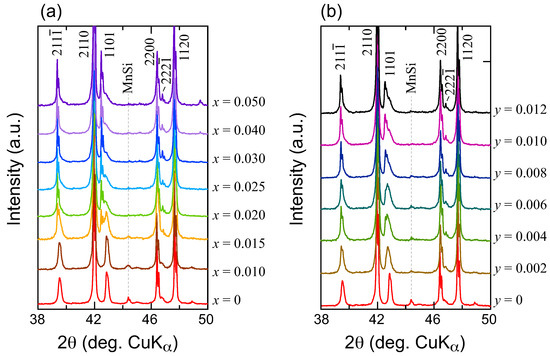 Figure 1. Enlarged powder X-ray diffraction (XRD) patterns of melt-grown samples with nominal compositions of (a) (MnV)Si and (b) Mn(SiGe).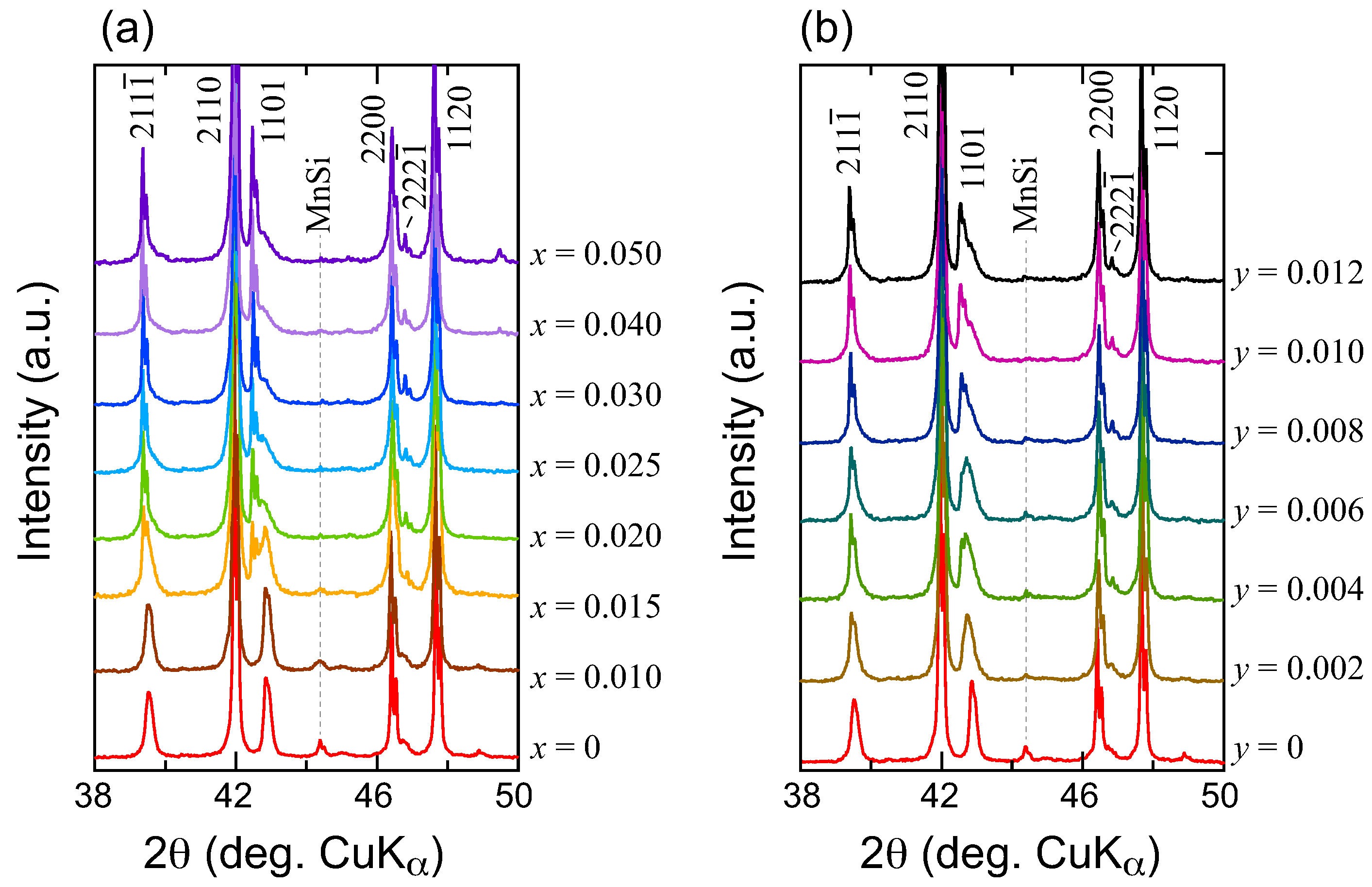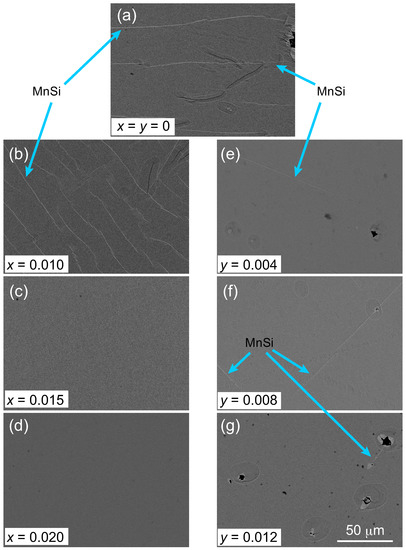 Figure 2. Scanning electron microscope (SEM) images of (a) substitution-free MnSi, (b–d) V-substituted (MnV)Si, and (e–g) Ge-substituted Mn(SiGe) samples.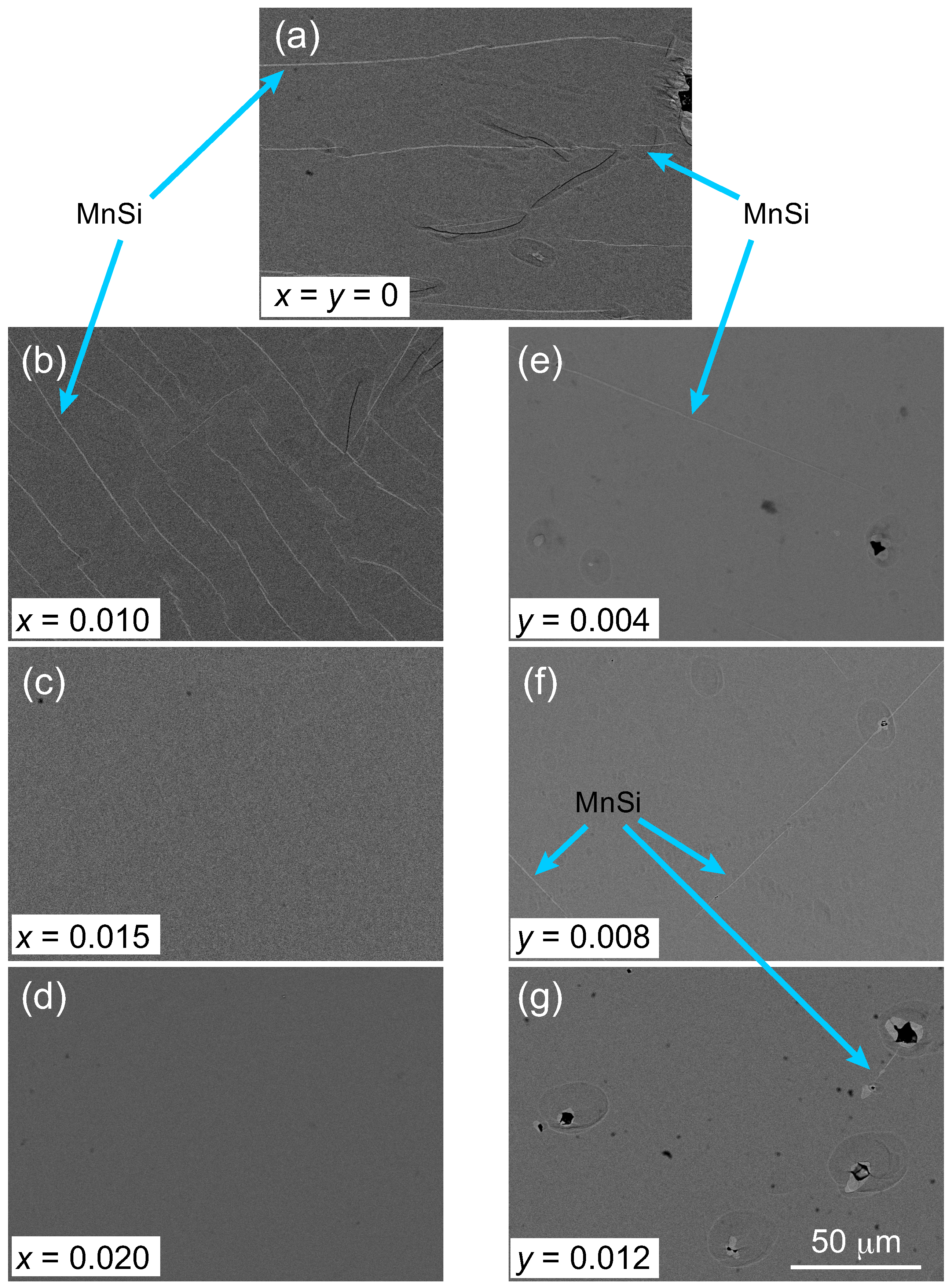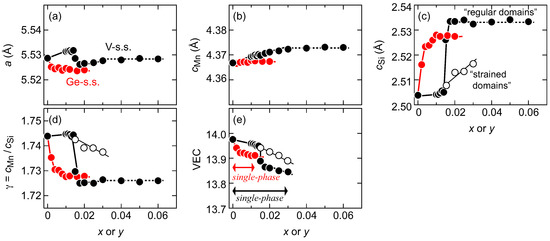 Figure 3.
Effects of V-content (
x
) or Ge-content (
y
) on the lattice parameters of (
a
)
a
, (
b
) , (
c
) and (
d
) for either the (MnV)Si solid solution (V-s.s.) or Mn(SiGe) solid solution (Ge-s.s.). The estimated valence electron counts per number of transition metals (VEC) in the single-phase samples are plotted versus
x
or
y
, as shown in (
e
). Black and red closed circles in each panel represent the refined data using peaks belonging to regular domains of V-s.s. and Ge-s.s., respectively, while open circles are those estimated from strained domains in the V-s.s.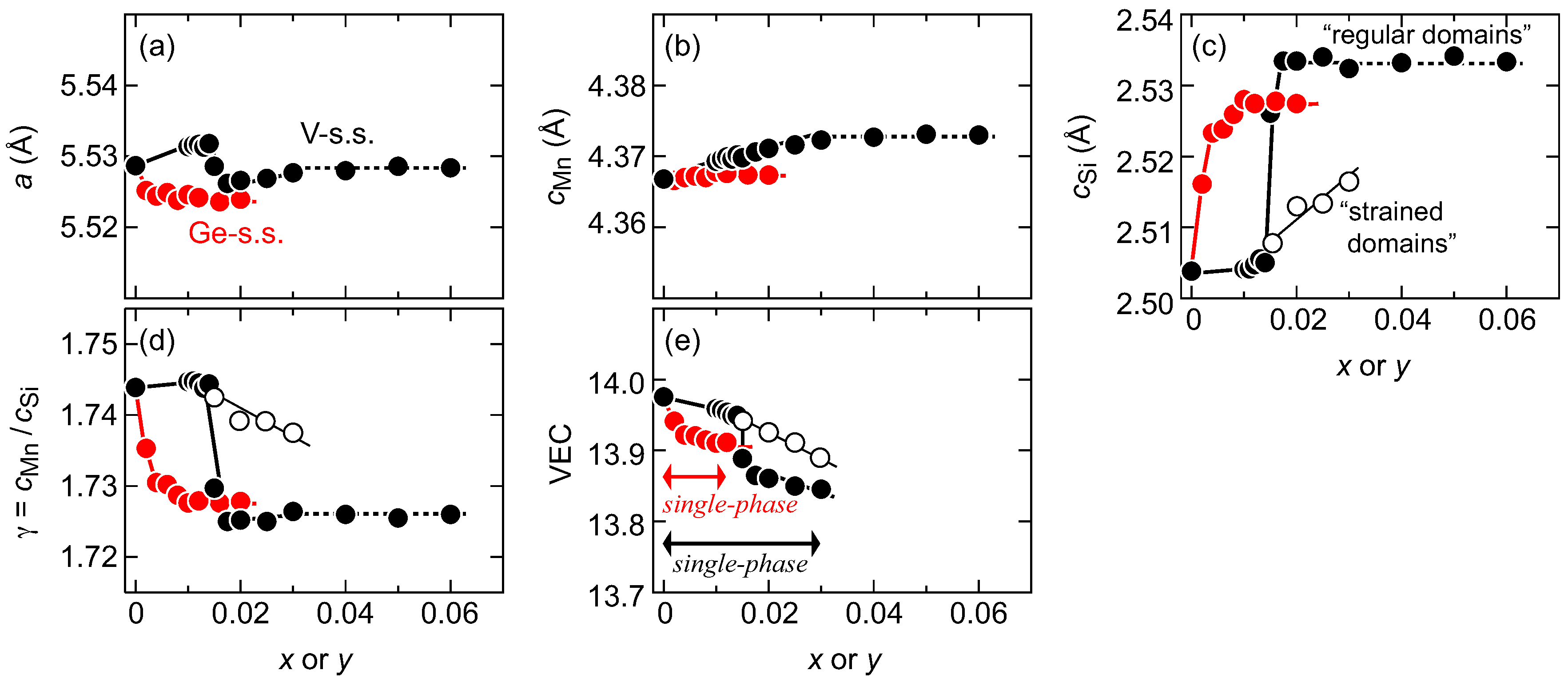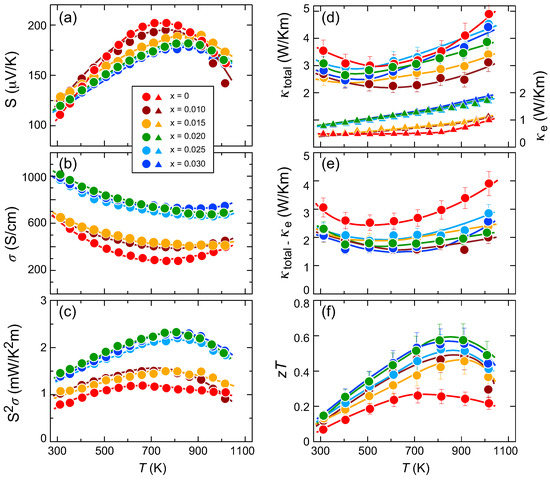 Figure 4.
Temperature dependences of (
a
) Seebeck coefficient
S
, (
b
) electrical conductivity , (
c
) power factor , (
d
) total thermal conductivity and its carrier contribution , (
e
) - and (
f
) the dimensionless figure of merit of partially V-substituted samples with a nominal composition of (MnV)Si.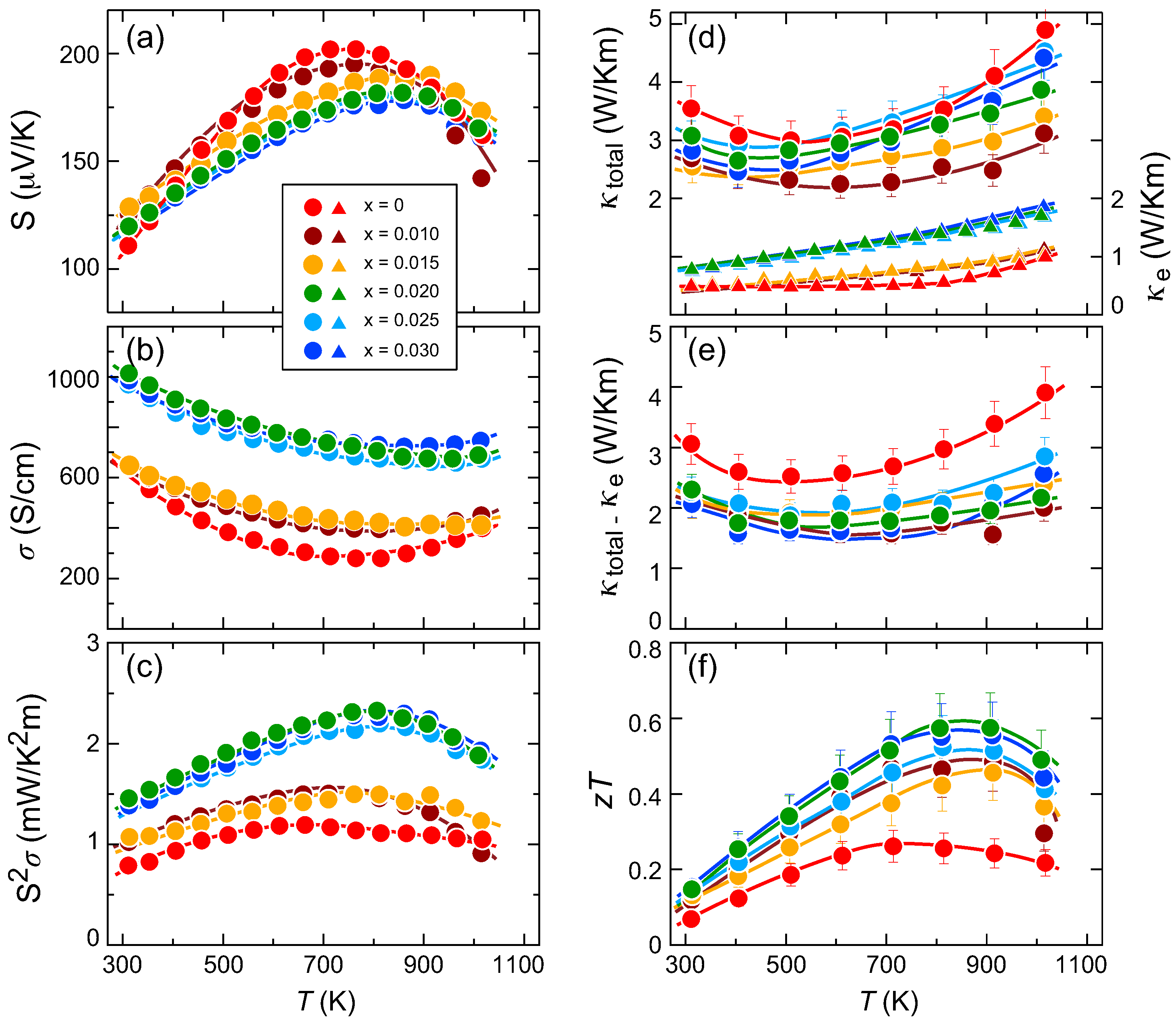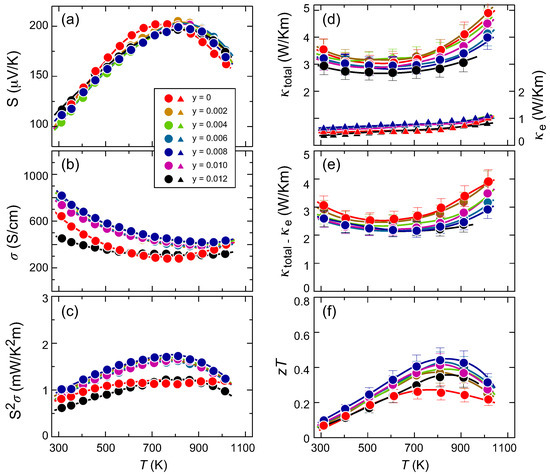 Figure 5.
Temperature dependences of (
a
) the Seebeck coefficient
S
, (
b
) electrical conductivity , (
c
) power factor , (
d
) total thermal conductivity and its carrier contribution , (
e
) - and (
f
) the dimensionless figure of merit of the partially Ge-substituted samples with a nominal composition of Mn(SiGe).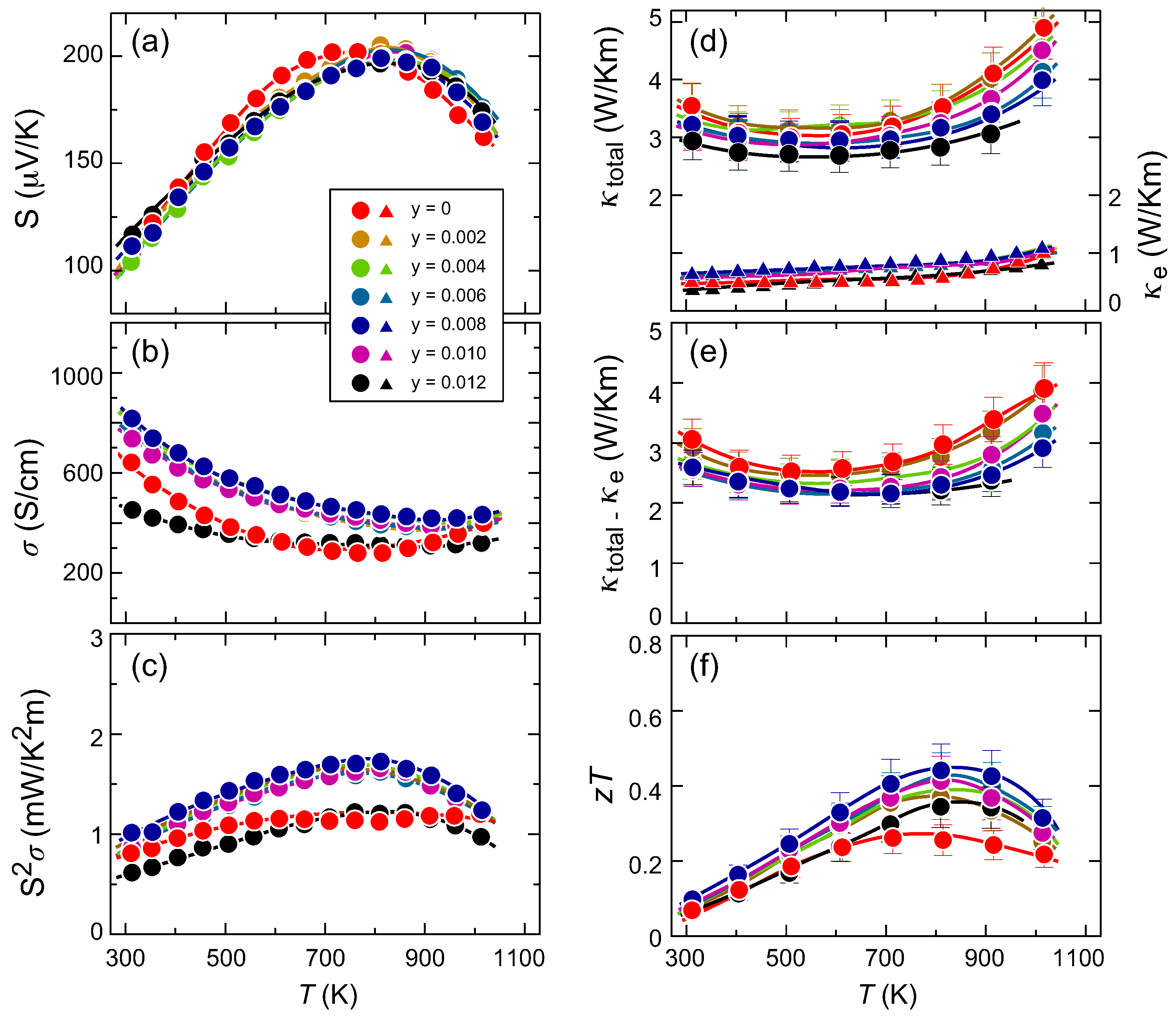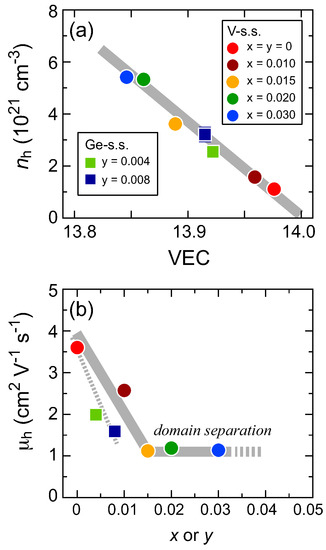 Figure 6.
(
a
) Hole carrier concentration at 293 K plotted versus the VEC of the presented (MnV)Si solid solution (V-s.s.) and Mn(SiGe) solid solution (Ge-s.s.). (
b
) Hole mobility at 293 K plotted versus
x
or
y
for the same samples.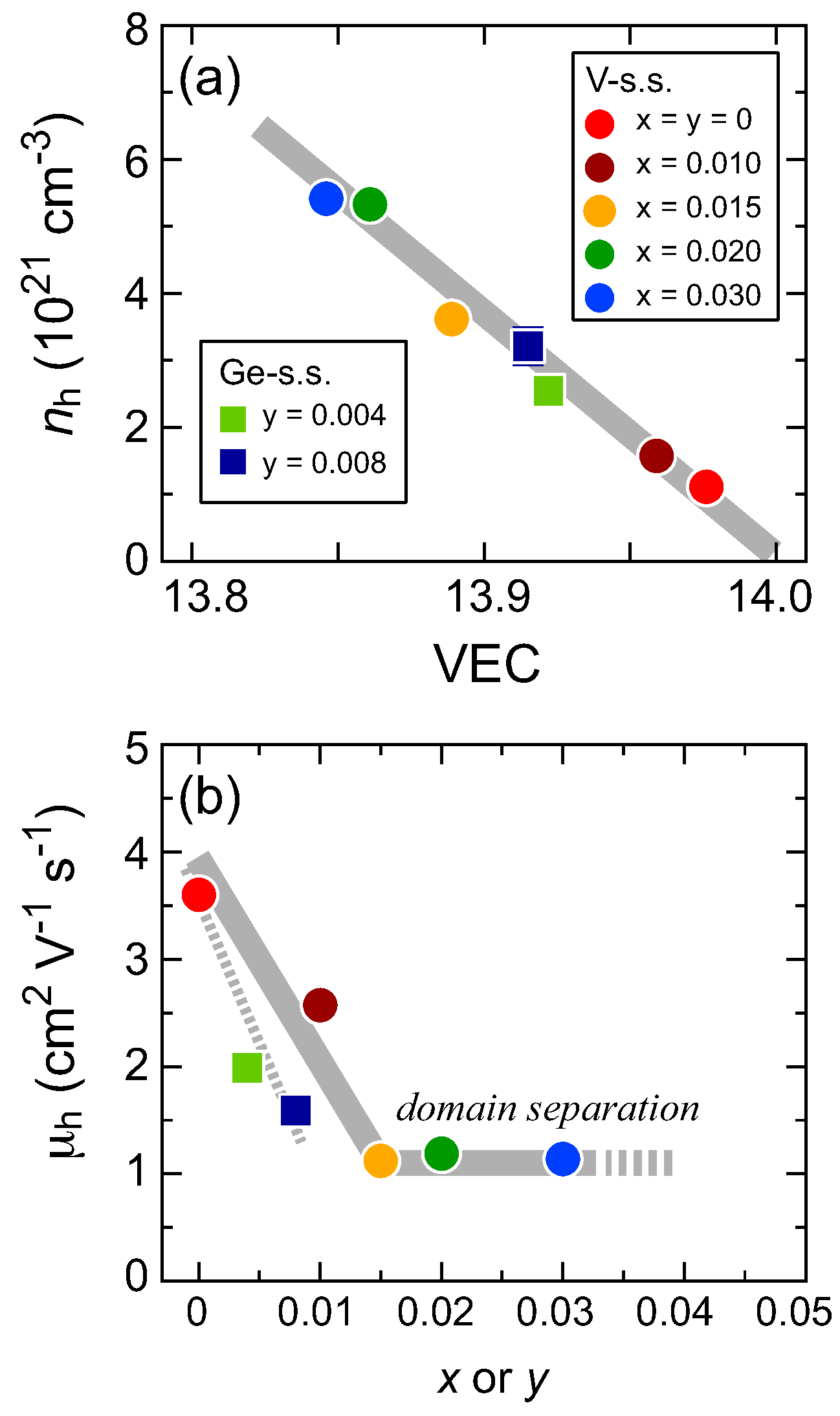 © 2018 by the authors. Licensee MDPI, Basel, Switzerland. This article is an open access article distributed under the terms and conditions of the Creative Commons Attribution (CC BY) license (http://creativecommons.org/licenses/by/4.0/).