Open Access This article is
freely available
re-usable
Article
Impact of Interstitial Ni on the Thermoelectric Properties of the Half-Heusler TiNiSn
1
Institute of Chemical Sciences and Centre for Advanced Energy Storage and Recovery, School of Engineering and Physical Sciences, Heriot-Watt University, Edinburgh EH14 4AS, UK
2
Institute of Petroleum Engineering, Heriot-Watt University, Edinburgh EH14 4AS, UK
3
ISIS Facility, Rutherford Appleton Laboratory, Harwell Campus, Didcot OX11 0QX, UK
4
Diamond Light Source, Harwell Campus, Didcot OX11 0DE, UK
5
SemiMetrics Ltd., Kings Langley WD4 9WB, UK
6
Department of Physics and Engineering, Northumbria University, Newcastle NE1 8ST, UK
*
Author to whom correspondence should be addressed.
Received: 13 March 2018 / Accepted: 28 March 2018 / Published: 30 March 2018
Abstract
:
TiNiSn is an intensively studied half-Heusler alloy that shows great potential for waste heat recovery. Here, we report on the structures and thermoelectric properties of a series of metal-rich TiNi1+ySn compositions prepared via solid-state reactions and hot pressing. A general relation between the amount of interstitial Ni and lattice parameter is determined from neutron powder diffraction. High-resolution synchrotron X-ray powder diffraction reveals the occurrence of strain broadening upon hot pressing, which is attributed to the metastable arrangement of interstitial Ni. Hall measurements confirm that interstitial Ni causes weak n-type doping and a reduction in carrier mobility, which limits the power factor to 2.5–3 mW m−1 K−2 for these samples. The thermal conductivity was modelled within the Callaway approximation and is quantitively linked to the amount of interstitial Ni, resulting in a predicted value of 12.7 W m−1 K−1 at 323 K for stoichiometric TiNiSn. Interstitial Ni leads to a reduction of the thermal band gap and moves the peak ZT = 0.4 to lower temperatures, thus offering the possibility to engineer a broad ZT plateau. This work adds further insight into the impact of small amounts of interstitial Ni on the thermal and electrical transport of TiNiSn.
Keywords:
half-Heusler; TiNiSn; thermal conductivity; thermoelectric materials
Acknowledgments
The EPSRC is acknowledged for funding the research into half-Heuslers under grant EP/N01717X/1. S.A.B. acknowledges the EPSRC for a studentship. The STFC is acknowledged for provision of beamtime on the Polaris (award RB1520223) and I11 (award EE14032) instruments at the ISIS Neutron and Muon Source and Diamond Light Source, respectively.
Author Contributions
S.A.B. and J.-W.G.B. conceived and designed the experiments; S.A.B. synthesised the samples and performed the structural and thermoelectric characterisation; J.B. collected the SEM data; E.D. and I.F. collected the Hall data; R.I.S. and A.R.B. assisted with data collection at the ISIS neutron and muon source and the Diamond Light Source, respectively; S.A.B. and J.-W.G.B. analysed the data; J.-W.G.B. wrote the paper with help of S.A.B.
Conflicts of Interest
The authors declare no conflict of interest. The sponsors had no role in the design of the study; in the collection, analyses, or interpretation of data; in the writing of the manuscript, and in the decision to publish the results.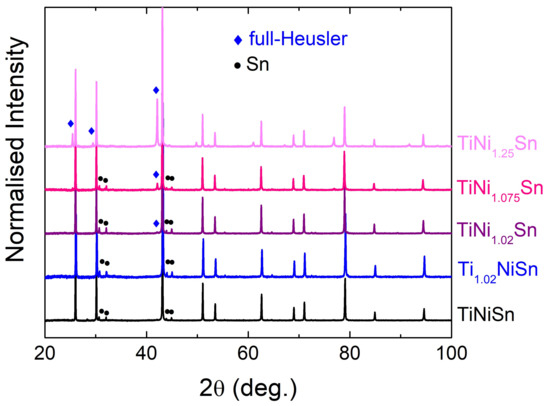 Figure 1. Laboratory X-ray (Cu Kα1) powder diffraction patterns for the TiNi1+ySn series and Ti1.02NiSn. Data are normalised and offset along the intensity axis and plotted against 2θ angle.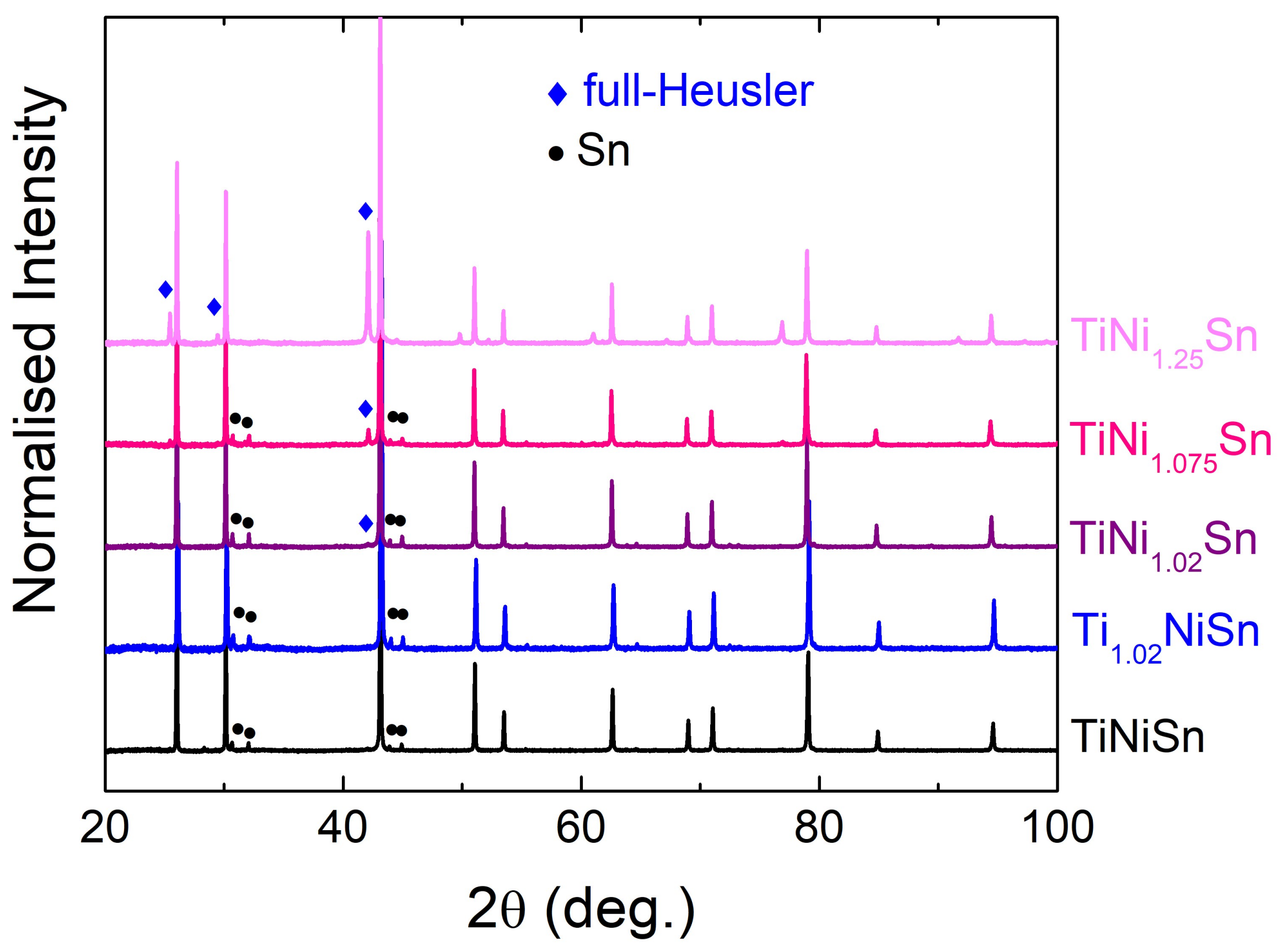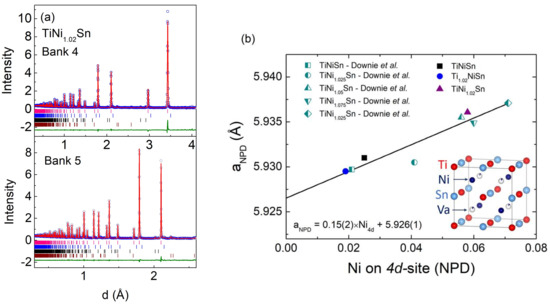 Figure 2.
(
a
) Observed (blue circles), calculated (red line) and difference (green line) Rietveld neutron powder diffraction profiles for Ti
1.02
NiS. Bragg reflection markers correspond to (from top to bottom): half-Heusler; Sn and Ti. Banks 4 and 5 are the 90° and backscatter (2θ ~ 147°) detector banks on the Polaris instrument. (
b
) Interstitial Ni
4d
site occupancy dependence of the half-Heusler lattice parameter using literature data [
23
,
30
] and the samples discussed here. The solid line is a linear fit.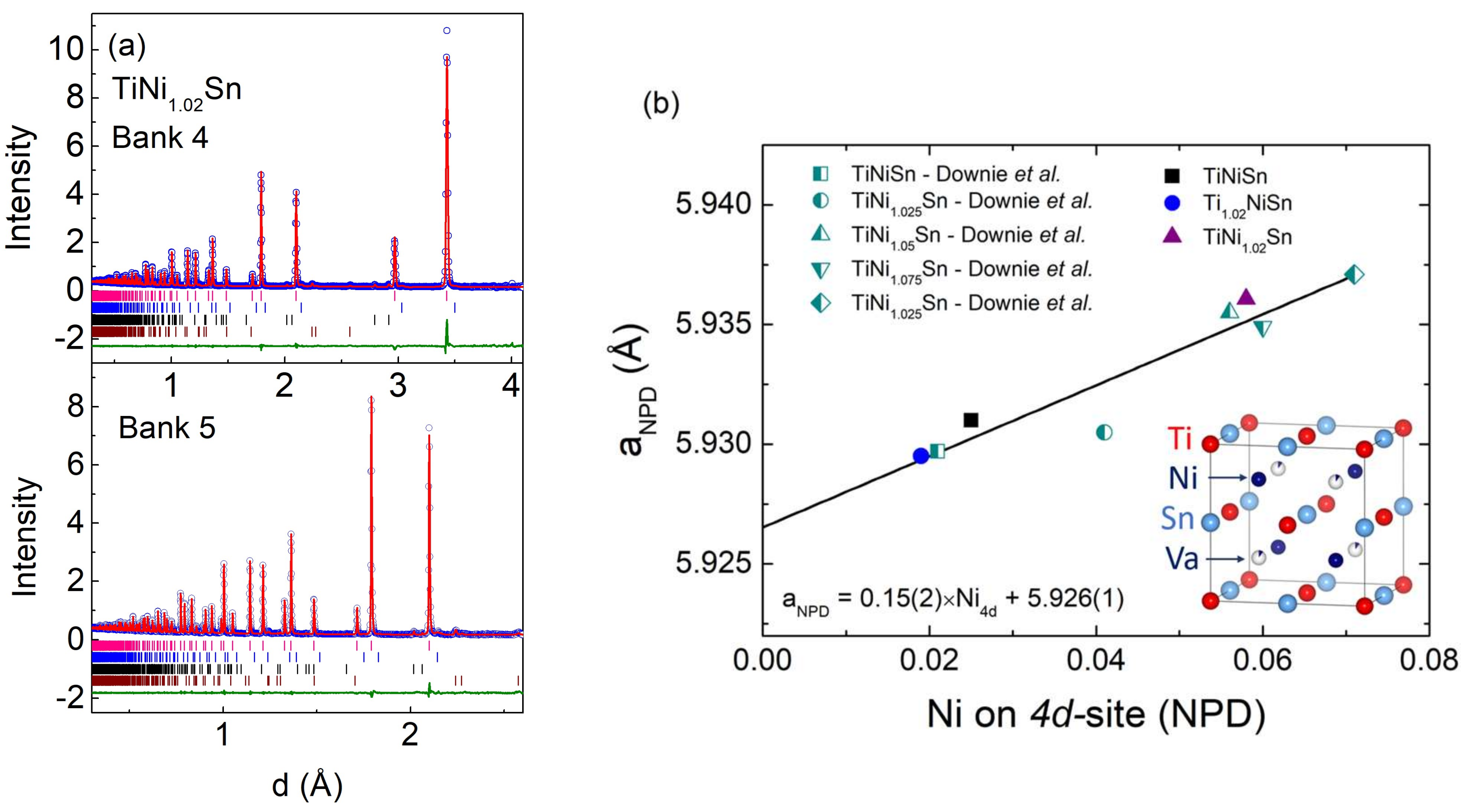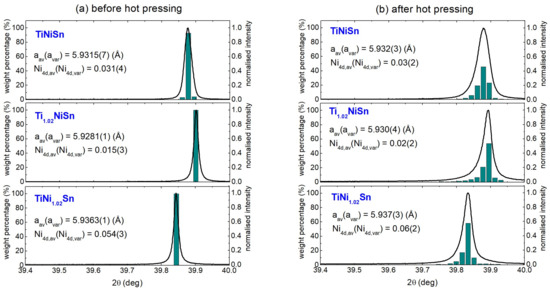 Figure 3. Close-up of the (422) reflection in synchrotron X-ray powder diffraction for the TiNiSn, Ti1.02NiSn, and TiNi1.02Sn samples (a) before and (b) after hot pressing. The green histograms indicate the HH phases used to fit the peak shape. The average lattice parameter (aav), peak broadening (avar), average Ni4d occupancy (Ni4d,av), and variance of the Ni4d occupancy (Ni4d,var) are shown as aav(avar) and Ni4d,av(Ni4d,var) in the panels. Peak intensities have been normalised and data are plotted against 2θ angle.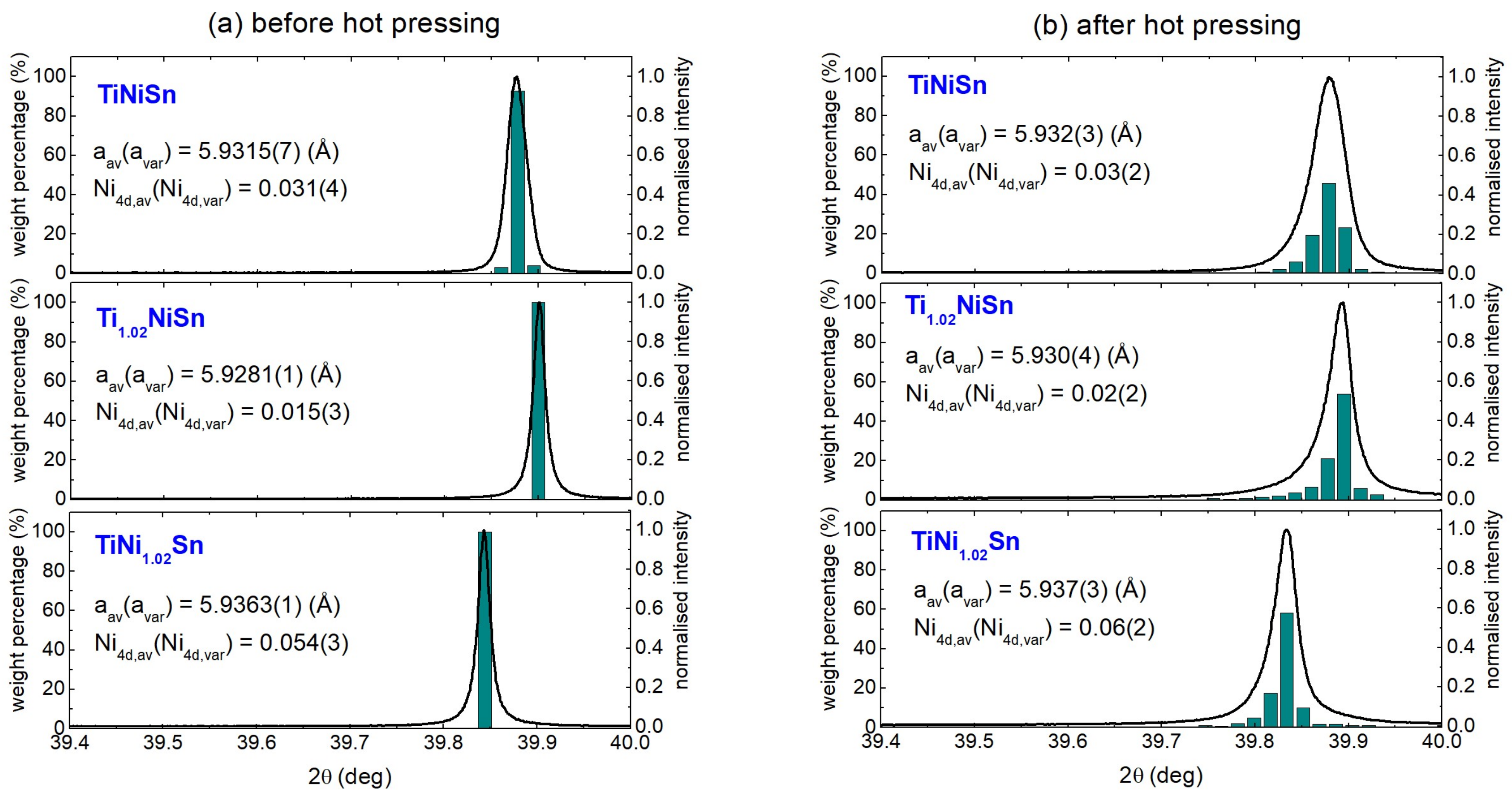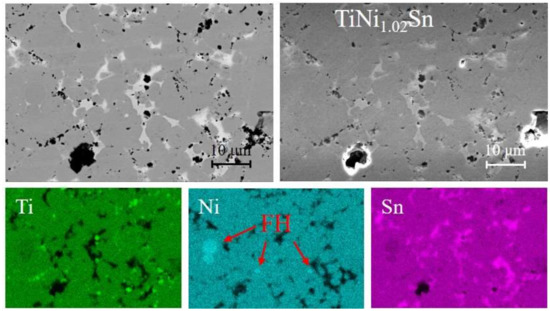 Figure 4. Backscattered electron (BSE, left) and secondary electron (SE, right) SEM images and EDX maps (Ti, Ni, and Sn respectively) for TiNi1.02Sn. The elemental maps cover the same area as the BSE and SE images.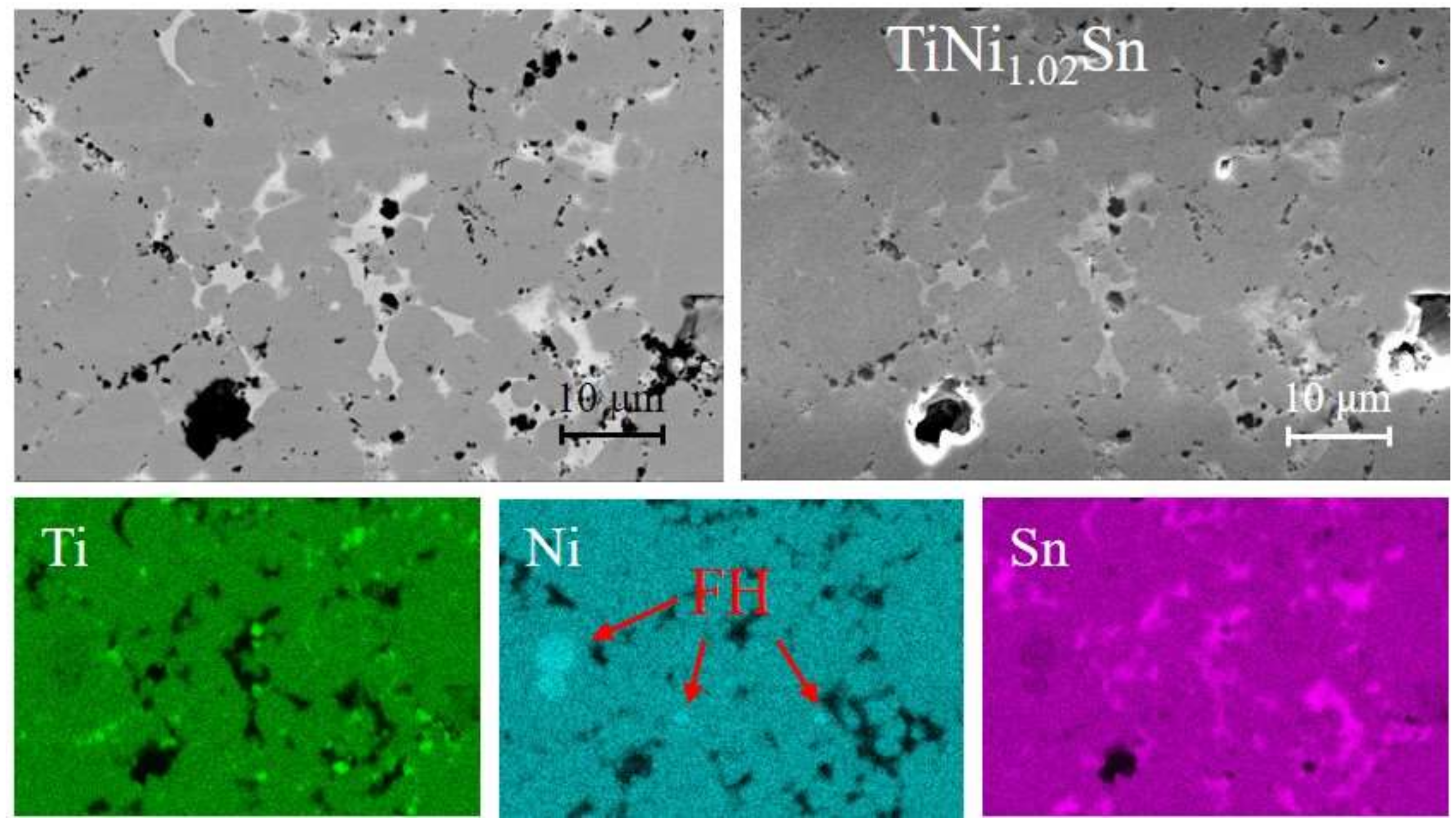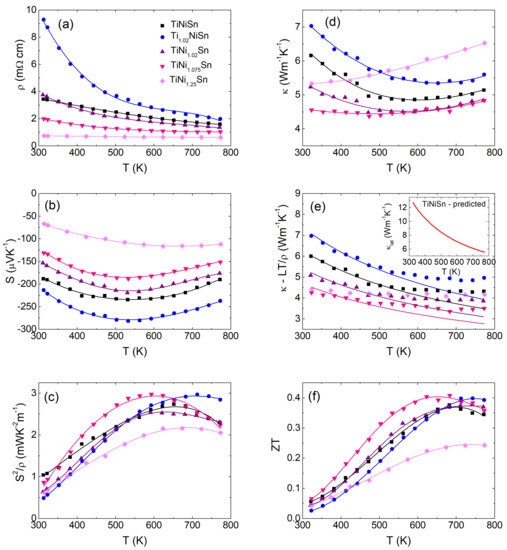 Figure 5. Temperature dependence of (a) the electrical resistivity (ρ), (b) the Seebeck coefficient (S), (c) the thermoelectric power factor (S2/ρ), (d) the total thermal conductivity (κ), (e) the lattice thermal conductivity (κ-LT/ρ) and (f) the figure of merit (ZT) for the TiNi1+ySn samples and Ti1.02NiSn. The solid lines in panel (e) are Debye–Callaway fits in the 323–523 K interval. The inset to panel (e) shows the predicted κlat for stoichiometric TiNiSn.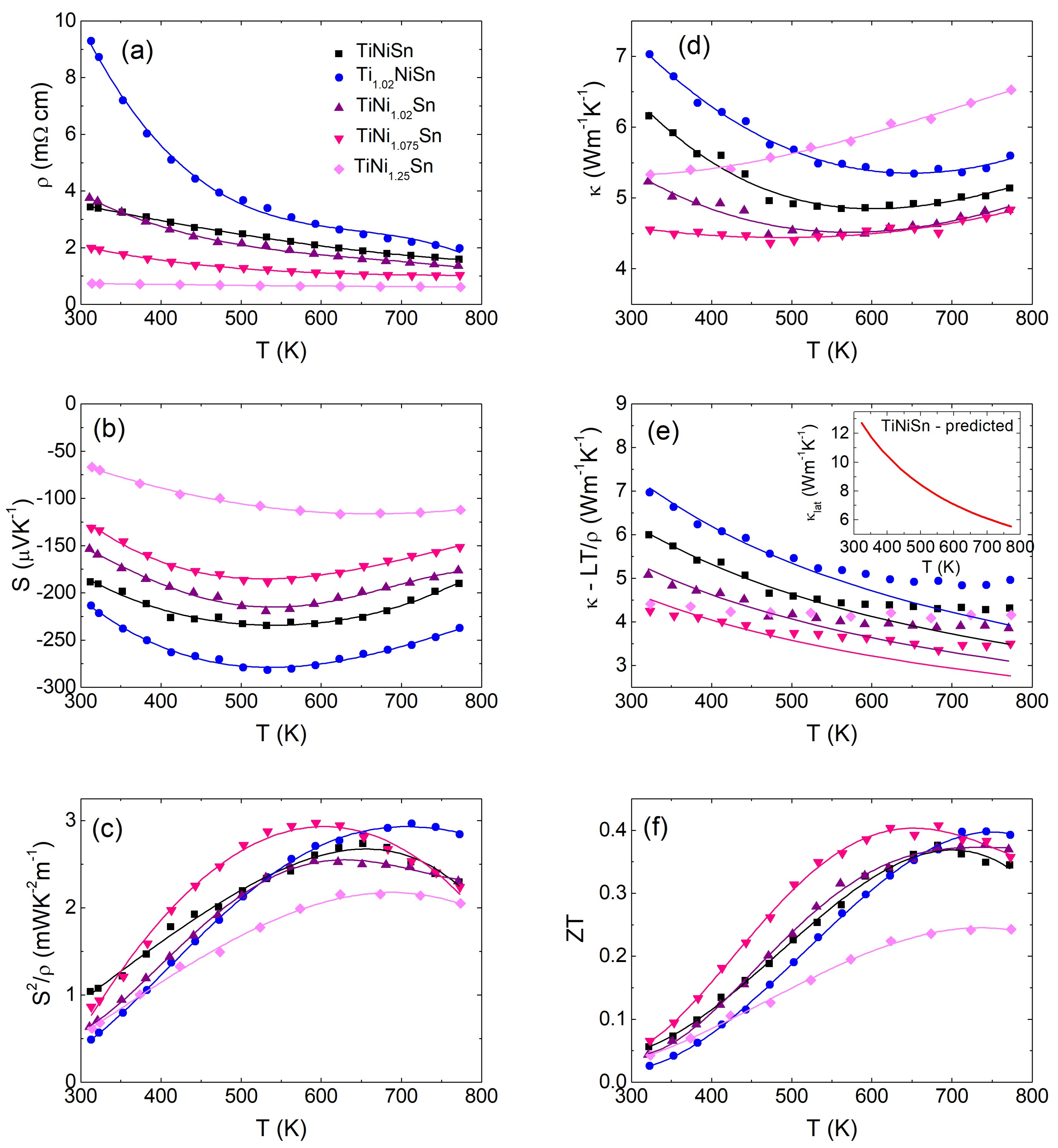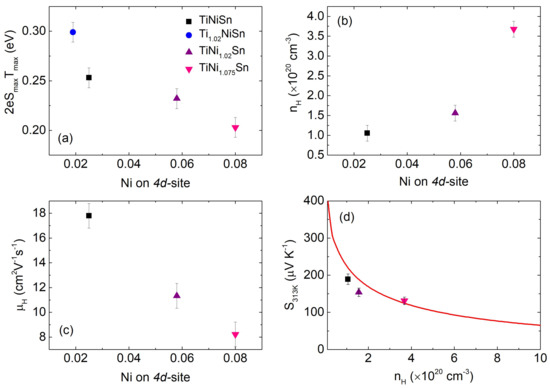 Figure 6. (a) Thermal band gap (Eg), (b) Hall carrier concentration (nH), and (c) Hall mobility (µH) versus Ni-4d site occupancy. (d) Pisarenko plot using a single Kane band with carrier effective mass m = 2.8 me.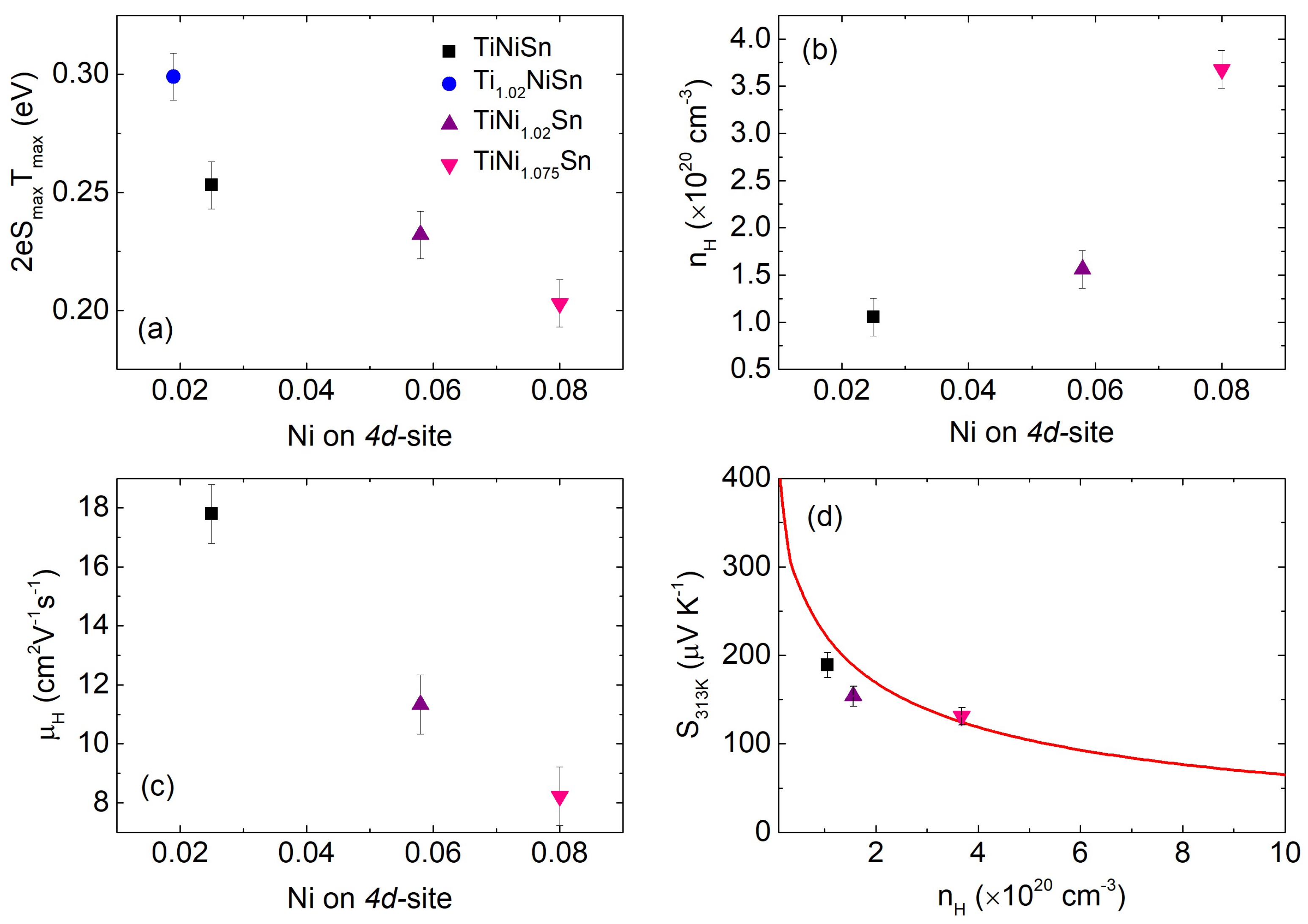 Table 1. Half- and full-Heusler lattice parameters (a), weight percentages of the phases present and percentage density for the TiNi1+ySn samples and Ti1.02NiSn.
Composition
Half-Heusler
Full-Heusler
Sn
Percentage Density
a (Å)
wt %
a (Å)
wt %
wt %
TiNiSn
5.9304(1)
97.7(1)
-
-
2.3(1)
88(2)
Ti1.02NiSn
5.9292(1)
95.9(1)
-
-
4.1(1)
94(2)
TiNi1.02Sn
5.9382(1)
93.8(1)
6.072(2)
2.1(3)
4.1(1)
95(2)
TiNi1.075Sn
5.9384(1)
92.8(1)
6.0745(3)
4.7(2)
2.5(1)
95(2)
TiNi1.25Sn
5.9391(1)
73.7(2)
6.0770(1)
26.3(2)
-
90(2)

Table 2.
Lattice parameters (a), site occupancies (occ), thermal displacement parameters (U
iso
/Å
2
), weight percentages Sn and Ti, and fit statistics for the Rietveld fits to Polaris neutron powder diffraction data for Ti
1.02
NiSn and TiNi
1.02
Sn. Bank 3–5 are the low (2θ ~ 52°), 90° (2θ ~ 93°) and backscattering (2θ ~ 147°) banks on the Polaris instrument. wRp and Rp are defined in the GSAS manual [
31
].
Ti1.02NiSn
TiNi1.02Sn
a (Å)
-
5.92951(4)
5.93607(3)
Ti (4a)
Occ
0.978(3)
0.977(2)
-
Uiso
0.00455(8)
0.00435(7)
Ni (4c)
Uiso
0.413(4)
0.00470(4)
Ni (4d)
Occ
0.019(1)
0.058(1)
-
Uiso
0.413(4)
0.00470(4)
Sn (4b)
Uiso
0.00387(6)
0.00415(5)
Wt% Sn
-
2.5(2)
3.4(2)
Wt% Ti
-
3.8(2)
4.0(2)
wRp (%)
Bank 3
2.9
2.5
-
Bank 4
2.2
1.9
-
Bank 5
2.0
1.9
Rp (%)
Bank 3
2.6
2.4
-
Bank 4
4.0
4.0
-
Bank 5
2.9
2.7

Table 3. Ni 4d-site occupancies, lattice thermal conductivity (κ323K-LT/ρ), experimental (Γ) and calculated (ΓM) mass disorder parameters for the TiNi1+ySn samples and Ti1.02NiSn.
Composition
Ni 4d-Site Occupancy
κ323K-LT/ρ
(W m−1 K−1)
Γ b
ΓM
TiNiSn
0.025(1)
6.0
0.06
0.06
Ti1.02NiSn
0.019(1)
7.0
0.04
0.04
TiNi1.02Sn
0.058(1)
5.1
0.09
0.13
TiNi1.075Sn
0.08(1) a
4.2
0.13
0.16
TiNi1.25Sn
0.09(1) a
4.4
-
-
a Estimated from lattice parameter; b BU = 2.1 × 10−18 s−1, L = 5 µm in the Callaway fits to κlat(T).

© 2018 by the authors. Licensee MDPI, Basel, Switzerland. This article is an open access article distributed under the terms and conditions of the Creative Commons Attribution (CC BY) license (http://creativecommons.org/licenses/by/4.0/).