The Effect of Poly (Glycerol Sebacate) Incorporation within Hybrid Chitin–Lignin Sol–Gel Nanofibrous Scaffolds
1
Center of Nanotechnology, King Abdul Aziz University, Jeddah 21589, Saudi Arabia
2
Department of Chemical and Materials Engineering, Faculty of Engineering, King Abdul Aziz University, Jeddah 21589, Saudi Arabia
3
Center of Excellence in Desalination Technology, King Abdul Aziz University, Jeddah 21589, Saudi Arabia
4
Department of Public Health and Infectious Diseases, "Sapienza" University of Rome, 00185 Rome, Italy
5
Department Mental/Physical Health and Preventive Medicine, Campania University, L.Vanvitelli, 80121 Naples, Italy
6
Nanoscience Centre MAVI, 04011 Aprilia, Italy
7
Chemical, Materials, Environmental Engineering Department, "Sapienza" University of Rome, 00185 Rome, Italy
8
Department of Chemical Engineering, Northeastern University, Boston, MA 02115, USA
9
Department of Mechanical & Materials Engineering, University of Nebraska, Lincoln, NE 68588, USA
10
Department of Bioengineering, Northeastern University, Boston, MA 02115, USA
11
Harvard John A. Paulson School of Engineering and Applied Sciences, Harvard University, Cambridge, MA 02138, USA
12
UMR CNRS 7338 Biomechanics and Bioengineering, University of Technology of Compiègne, Sorbonne University, 60200 Compiègne, France
*
Author to whom correspondence should be addressed.
Received: 13 February 2018 / Revised: 16 March 2018 / Accepted: 16 March 2018 / Published: 19 March 2018
Abstract
Chitin and lignin primarily accumulate as bio-waste resulting from byproducts of crustacean crusts and plant biomass. Recently, their use has been proposed for diverse and unique bioengineering applications, amongst others. However, their weak mechanical properties need to be improved in order to facilitate their industrial utilization. In this paper, we fabricated hybrid fibers composed of a chitin–lignin (CL)-based sol–gel mixture and elastomeric poly (glycerol sebacate) (PGS) using a standard electrospinning approach. Obtained results showed that PGS could be coherently blended with the sol–gel mixture to form a nanofibrous scaffold exhibiting remarkable mechanical performance and improved antibacterial and antifungal activity. The developed hybrid fibers showed promising potential in advanced biomedical applications such as wound care products. Ultimately, recycling these sustainable biopolymers and other bio-wastes alike could propel a "greener" economy.
View Full-Text
►

▼

Figures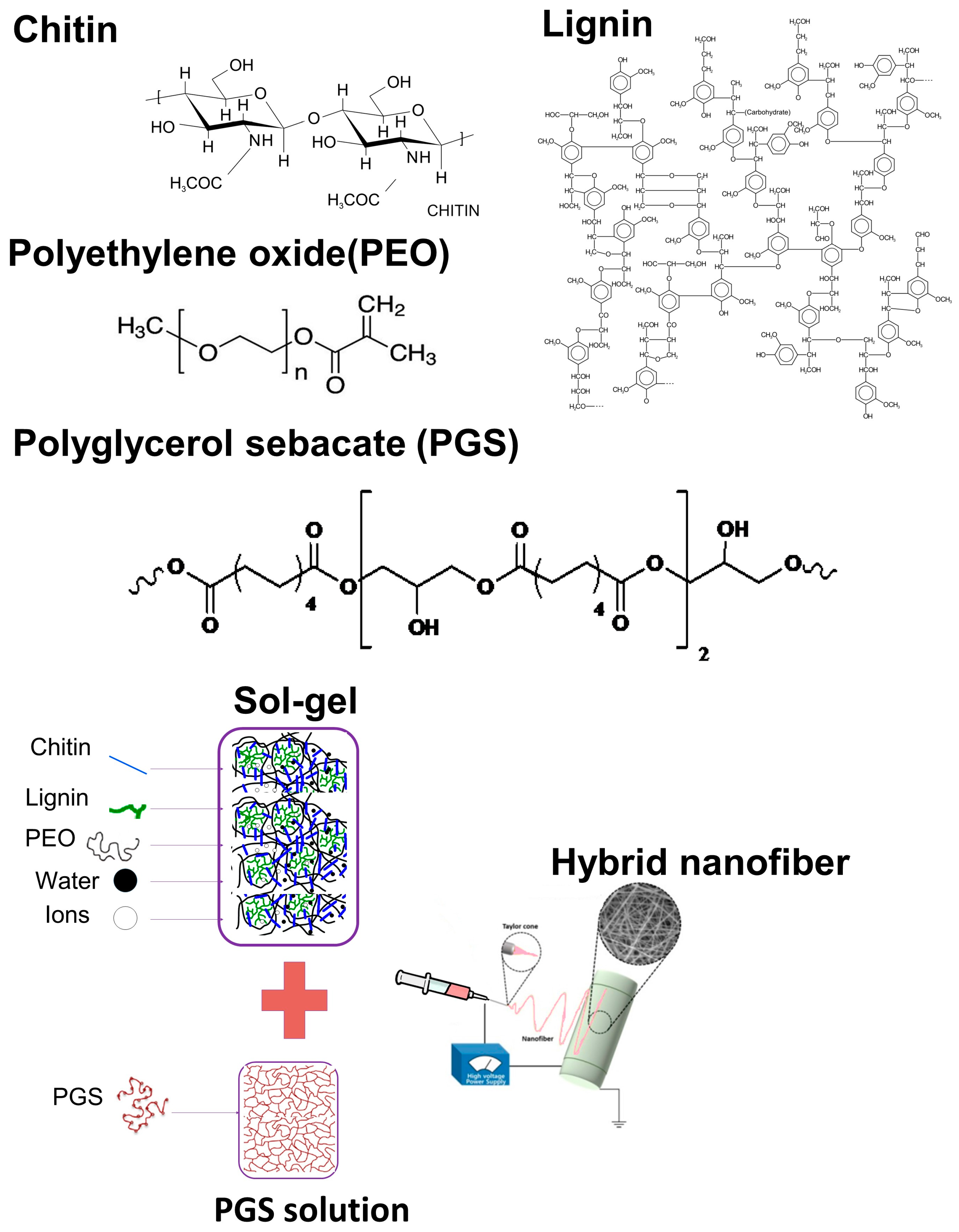 Figure 1
This is an open access article distributed under the
Creative Commons Attribution License
which permits unrestricted use, distribution, and reproduction in any medium, provided the original work is properly cited (CC BY 4.0).

Share & Cite This Article
MDPI and ACS Style
Abudula, T.; Gzara, L.; Simonetti, G.; Alshahrie, A.; Salah, N.; Morganti, P.; Chianese, A.; Fallahi, A.; Tamayol, A.; Bencherif, S.A.; Memic, A. The Effect of Poly (Glycerol Sebacate) Incorporation within Hybrid Chitin–Lignin Sol–Gel Nanofibrous Scaffolds. Materials 2018, 11, 451.
Note that from the first issue of 2016, MDPI journals use article numbers instead of page numbers. See further details here.
Related Articles
Comments
[Return to top]