Modification of the Ceramic Implant Surfaces from Zirconia by the Magnetron Sputtering of Different Calcium Phosphate Targets: A Comparative Study
1
Laboratory for Plasma Hybrid Systems, The Weinberg Research Center, School of Nuclear Science & Engineering, Tomsk Polytechnic University, 634050 Tomsk, Russia
2
Institution of molecular biology and genetics, Almazov National Medical Research Centre, 197341 Saint Petersburg, Russia
3
Laboratory of Lidar Methods, V.E. Zuev Institute of Atmospheric Optics SB RAS, 634055 Tomsk, Russia
4
Faculty of Physics, Department of Semiconductor Physics, Tomsk State University, 634050 Tomsk, Russia
5
Research School of Chemistry & Applied Biomedical Sciences, Tomsk Polytechnic University, 634050 Tomsk, Russia
6
Department of Morphology and General Pathology, Siberian State Medical University, 634050 Tomsk, Russia
7
Institute of Living Systems, Immanuel Kant Baltic Federal University, 236041 Kaliningrad, Russia
*
Author to whom correspondence should be addressed.
Received: 19 September 2018 / Revised: 6 October 2018 / Accepted: 8 October 2018 / Published: 11 October 2018
Abstract
In this study, thin calcium phosphate (Ca-P) coatings were deposited on zirconia substrates by radiofrequency (RF) magnetron sputtering using different calcium phosphate targets (calcium phosphate tribasic (CPT), hydroxyapatite (HA), calcium phosphate monobasic, calcium phosphate dibasic dehydrate (DCPD) and calcium pyrophosphate (CPP) powders). The sputtering of calcium phosphate monobasic and DCPD powders was carried out without an inert gas in the self-sustaining plasma mode. The physico-chemical, mechanical and biological properties of the coatings were investigated. Cell adhesion on the coatings was examined using mesenchymal stem cells (MSCs). The CPT coating exhibited the best cell adherence among all the samples, including the uncoated zirconia substrate. The cells were spread uniformly over the surfaces of all samples.
View Full-Text
►

▼

Figures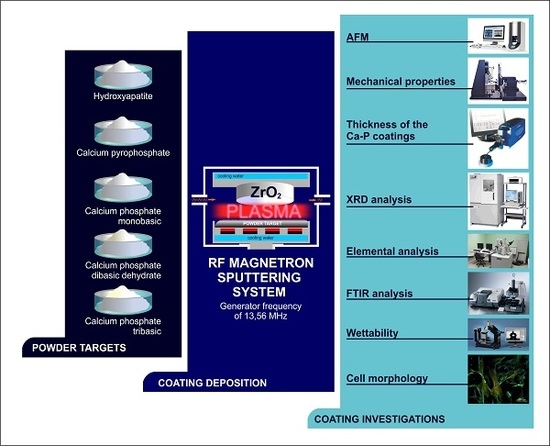 Graphical abstract
This is an open access article distributed under the
Creative Commons Attribution License
which permits unrestricted use, distribution, and reproduction in any medium, provided the original work is properly cited (CC BY 4.0).

Share & Cite This Article
MDPI and ACS Style
Kozelskaya, A.I.; Bolbasov, E.N.; Golovkin, A.S.; Mishanin, A.I.; Viknianshchuk, A.N.; Shesterikov, E.V.; Ashrafov, A.; Novikov, V.A.; Fedotkin, A.Y.; Khlusov, I.A.; Tverdokhlebov, S.I. Modification of the Ceramic Implant Surfaces from Zirconia by the Magnetron Sputtering of Different Calcium Phosphate Targets: A Comparative Study. Materials 2018, 11, 1949.
Note that from the first issue of 2016, MDPI journals use article numbers instead of page numbers. See further details here.
Related Articles
Comments
[Return to top]