Nanoporous Polymers Based on Liquid Crystals
1
Laboratory of Supramolecular Polymer Chemistry, Department of Chemical Engineering and Chemistry, Eindhoven University of Technology, P.O. Box 513, 5600 MB Eindhoven, The Netherlands
2
Institute for Complex Molecular Systems, Eindhoven University of Technology, P.O. Box 513, 5600 MB Eindhoven, The Netherlands
3
Laboratory of Stimuli-Responsive Functional Materials and Devices, Chemical Engineering and Chemistry, Eindhoven University of Technology, P.O. Box 513, 5600 MB Eindhoven, The Netherlands
4
Dutch Polymer Institute, P.O. Box 902, 5600 AZ Eindhoven, The Netherlands
*
Authors to whom correspondence should be addressed.
†
These authors contributed equally to this work.
Received: 8 December 2017 / Revised: 6 January 2018 / Accepted: 9 January 2018 / Published: 11 January 2018
In the present review, we discuss recent advances in the field of nanoporous networks based on polymerisable liquid crystals. The field has matured in the last decade, yielding polymers having 1D, 2D, and 3D channels with pore sizes on the nanometer scale. Next to the current progress, some of the future challenges are presented, with the integration of nanoporous membranes in functional devices considered as the biggest challenge.
1. Introduction
Another elegant and appealing bottom-up approach for fabricating nanoporous membranes is by using self-organising polymerisable liquid crystals (LCs). In the liquid crystal phase, molecules combine the mobility of isotropic liquids with a degree of order that may approach that of solids. LCs exhibit orientational order and can be organised in well-ordered morphologies over large areas, with features in the nm-range. Additionally, LCs have the ability to align in monodomains, and they can readily be polymerised to fixate their morphology. Upon selective removal of specific parts of such polymerised LCs, they can yield nanoporous films with mono-disperse pores distributed in an ordered fashion. In this manner, membranes with a high density of sub-1-nm pores can easily be produced. Hence, polymerisable LCs are excellent building blocks to prepare nanoporous polymers.
2. Nanoporous LC Networks
2.1. One-Dimensional Pores
The alignment of LC phases with high order, discotic LCs in particular, has proven to be challenging. However, with the wide range of alignment methods now being reported it is expected that it is a matter of time before these highly ordered materials will find applications.
2.2. Two-Dimensional Pores
Overall, the formation of 2D porous LC networks is well established. And in the last years, this methodology has advanced from a conceptual novelty to an applicable tool in the materials science.
2.3. Three-Dimensional Pores
Despite the high degree of order currently achievable using hexagonal columnar phases, the difficulty of obtaining large-scale alignment (>micrometre) has limited their applicability for a long time. However, in applications that do not require the film to be anisotropic, bicontinuous mesophases can be used as a basis, and the requirement for LC alignment is circumvented. Bicontinuous mesophases are easy to process and provide continuous channels across the membrane without the need for alignment. A number of different monomeric lyotropic liquid crystals have been used for the preparation of nanoporous polymer networks with a 3D geometry [
83
,
84
,
85
], and bicontinuous LC films have already successfully been applied as an active layer for a size discrimination filter, which uses the continuous small-diameter channels of the LC network [
86
].
Similar approaches also found function in breathable barrier materials protecting against chemical agents [
87
], and in water desalination [
88
]. Recently, Henmi et al. presented the development of a thin separating layer based on a bicontinuous polymer network with cubic morphology,
Figure 13
[
89
]. The material was constructed from a wedge-shaped amphiphilic monomer with a cationic triethylammonium head. A ~50-nm-thick coating of this material was applied on a microporous support membrane and polymerized to form a selective layer,
Figure 13
a. This membrane has selective ion-rejection properties; small bromine anions were rejected, while larger sulfate ions could pass through,
Figure 13
b. In later work, they showed that the material could be used as an active layer on a polysulfone support to reject 20-nm sized viruses from water with high efficiency [
90
].
3. Conclusions and Outlook
This review article highlights recent advances in the field of liquid-crystal-based nanoporous polymers and shows the potential of this type of material for applications. Liquid crystals have successfully been applied to produce nanostructured films, leading to 1D, 2D, and 3D porous polymers. Especially, progress has been made in terms of versatility of the polymerizable LC building blocks, and new methods of curing the different LC phases have been introduced. The LC networks provide a good trade-off between processability and the minimum pore-size that can be achieved. The examples presented in this review demonstrate that new types of nanoporous networks with tailored properties can readily be designed via simple rules. The research field has been brought to a stage where major breakthroughs can be expected. However, several critical challenges must be overcome before applying LC-based nanoporous materials in applications such as adsorbents, ion exchange membranes, filtration, scaffolds for catalytic reactions, conductivity, drug release, and flow batteries. The most notable challenges include control of alignment, pore size, and pore surface chemistry, and the integration of the polymers into functioning devices.
Pore sizes attainable with porous LC polymers have already reached the dimensions required for the nanofiltration of water, and are now even decreasing further towards the level of reversed osmosis membranes. Added benefits of using porous LCs are expected to be increased porosity and monodisperse pores sizes. However, a well-known issue in the fabrication of nanoporous polymers is collapse of the porous structure. The use of LC mixtures with a higher crosslinker content could lead to a more rigid porous material. Altering the shape and size of the LC molecules could also be used to tune the pore size. A totally different approach would be to use plastic crystals (PCs). The increased structural order combined with relatively high molecular mobility makes these crystals excellent building blocks for nanostructured polymer networks. The high degree of order exhibited by PCs will aid applications such as molecular sieving.
Membranes with negatively and positively charged pore walls have been realised, but pore-functionalization is just beginning to be explored. Chemical post-modification is a promising strategy to obtain a wide variety of functionalized pores, and will especially be useful for the selective binding of solutes. In addition to size selectivity and charge selectivity, the introduction of specific non-covalent binding sites in the pores would further increase the specificity with which analytes can be taken up by the porous material. Applications like ion-selective battery separators and membrane design will benefit from a lowering of the capillary pressure and the ability to switch ion-selectivity that pore functionalization may bring about.
Another emerging area of research is the development of responsive or gated nanoporous materials, which can ultimately lead to the active transport of solute. While the incorporation of light-responsive moieties such as azobenzenes has been a fruitful endeavour for inducing colour and shape changes in LC polymers, not much attention has been given to their incorporation in porous LC networks to introduce responsive features such as light-actuated pores [
91
].
Nanoporous materials based on liquid crystalline polymers have appealing properties that promise to lead to new materials with unprecedented performance. The biggest challenge—the integration of nanoporous LC polymers in devices—still remains. We firmly believe that with the recent advances in LC alignment, realising the true potential of these materials is only a matter of time.
Acknowledgments
This research forms part of the research program of the Dutch Polymer Institute (DPI), project 776. The research was further supported by the Ministry of Education, Culture and Science of The Netherlands (Gravity program 024.001.035) and partly financed by The Netherlands Organisation for Scientific Research (NWO), project number 729.002.003.
Author Contributions
Dirk Jan Mulder and Jody Lugger performed the literature review and drafted the manuscript. Rint Sijbesma and Albert Schenning supervised the work and revised the manuscript.
Conflicts of Interest
The authors declare no conflict of interest.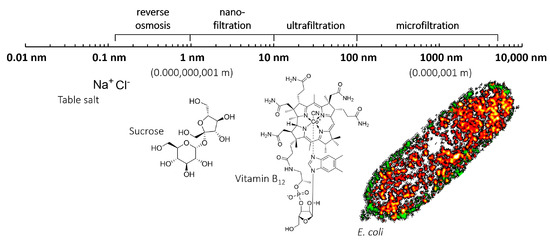 Figure 1.
Porosity range of different types of filtration. Reverse osmosis removes virtually all matter, while for some fresh water sources microfiltration is sufficient to produce drinking water by simply removing bacteria. Harmful small molecules and toxins need to be removed by for example ultra- or nanofiltration. For
E. coli
a single cell super-resolution fluorescence image is shown [
8
], licensed under a Creative Commons Attribution 3.0 Unported License.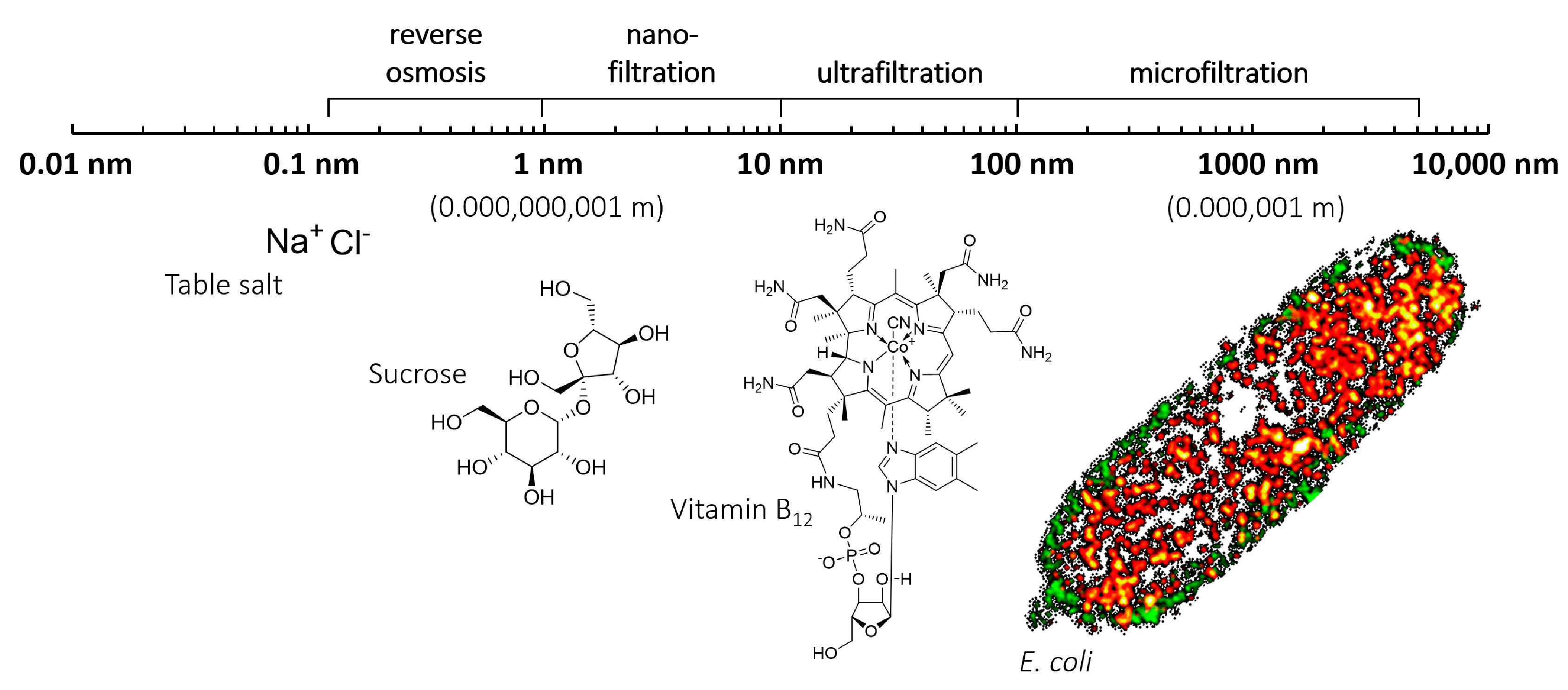 Figure 2. Nanoporous liquid crystal networks having various morphologies. Columnar and hexagonal yield 1D pores, lamellar or smectic mesophases yield 2D pores, and bicontinuous mesophases give a 3D pore geometry.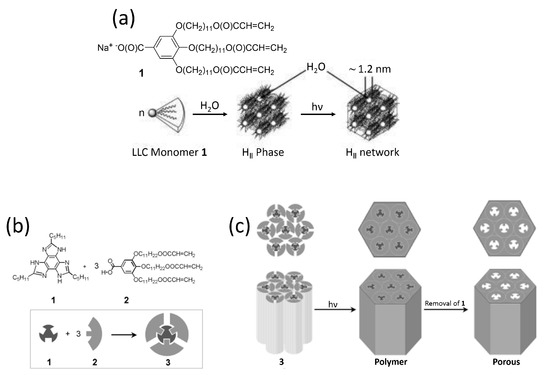 Figure 3.
The fabrication of nanoporous hexagonal liquid crystal networks. (
a
) Chemical structure of the lyotropic gallate moiety and stepwise formation of a porous LC network; (
b
) The chemical structures of the template and gallic acid derivative; (
c
) Procedure for the fabrication nanoporous columnar polymer, including the self-assembly, polymerisation, and removal of the template moiety. Figures were partly reproduced from [
23
,
49
], licensed by John Wiley and Sons, Inc. (Hoboken, NJ, USA).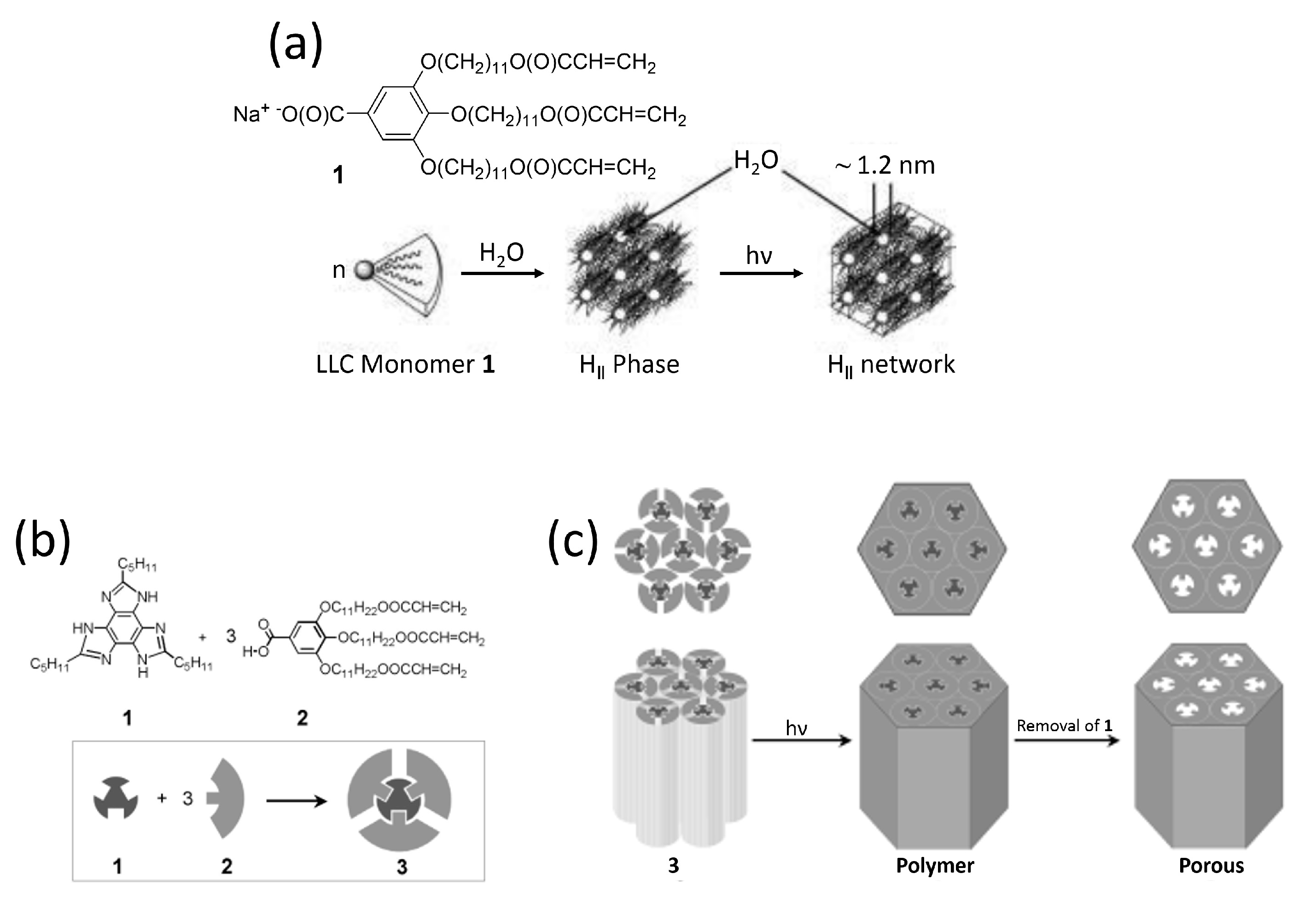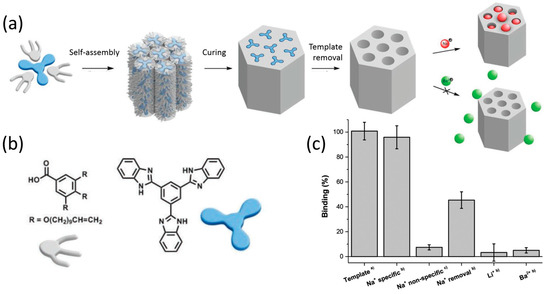 Figure 4.
Nanoporous polymers using a gallic acid derived monomer and tris-benzimidazole template. (
a
) Scheme illustrating monomer self-assembly, polymerisation, template removal, and selective ion uptake; (
b
) Monomer and template used for the self-assembly; (
c
) Size-selective adsorption of ions as measured by using a quartz crystal microbalance. Adapted from [
26
], under the terms of a Creative Commons Attribution Non-Commercial License CC BY-NC.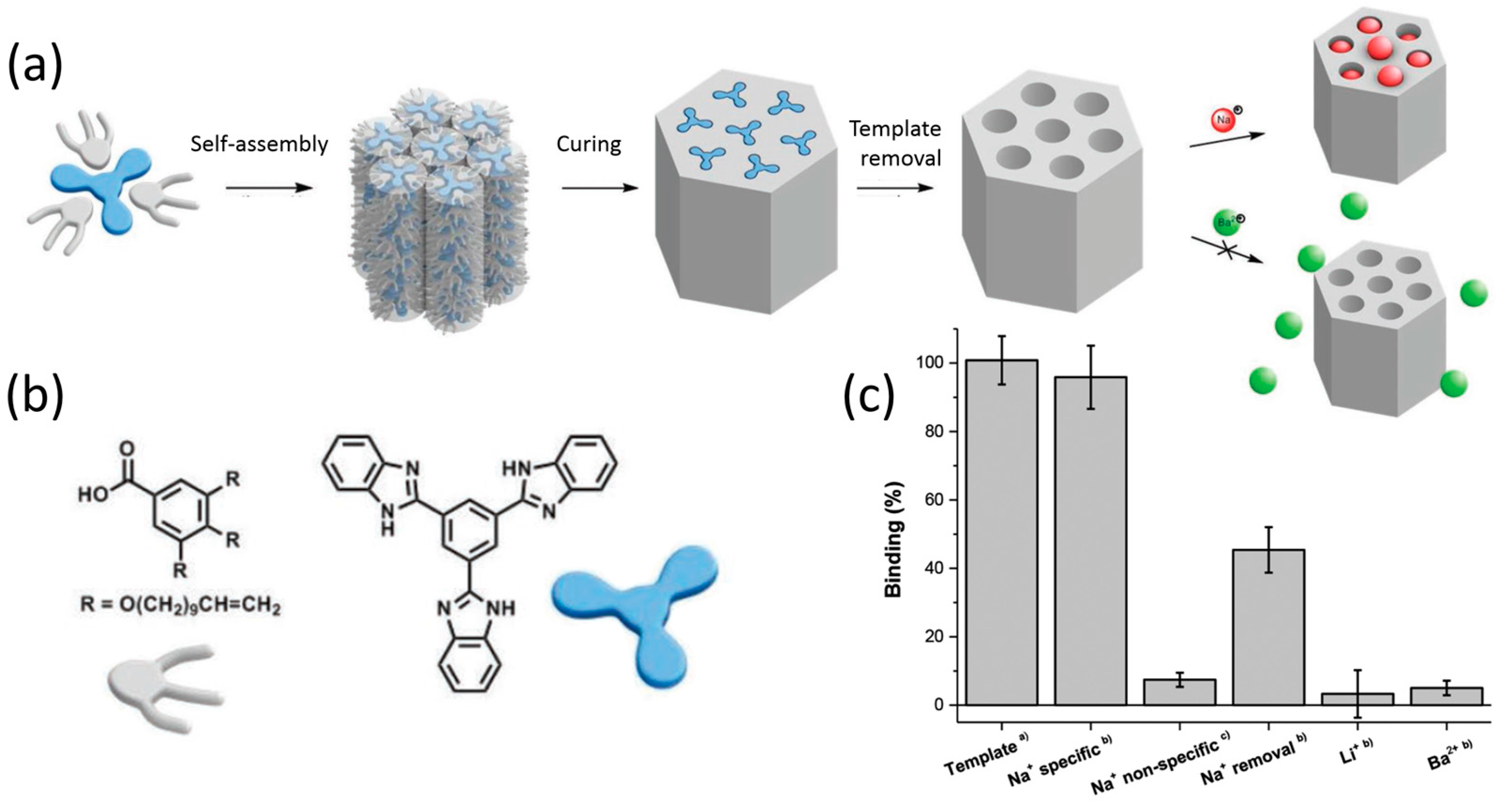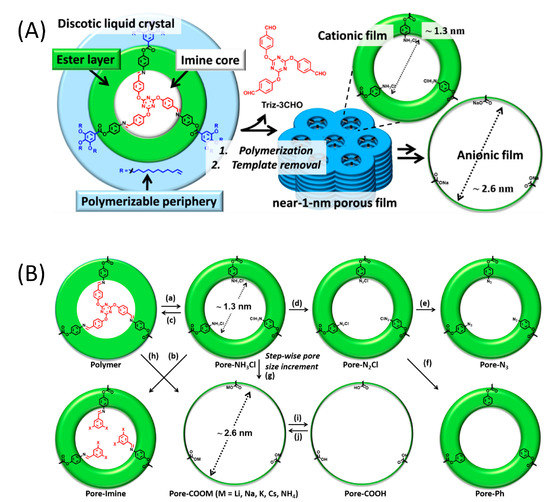 Figure 5.
Chemical pore modification of a columnar hexagonal liquid crystal polymer. (
A
) Stepwise fabrication of a nanoporous polymer with smaller cationic, or bigger anionic pores; (
B
) Scheme of pore chemistry, starting from non-porous polymer. (a) Hydrolysis of the imine linkages of the native polymer yielding the nanoporous polymer. (b) Reacting the amino groups in the pores with different aldehydes. (c) Reincorporating the template aldehyde yielding the original polymer. (d) Conversion of the ammonium groups in the pores to the corresponding diazonium salt. (e,f) Reacting the diazonium salt with NaN
3
and H
3
PO
2
to fabricate porous polymers with neutral azide (–N
3
) and phenyl (–Ph) groups at the pore surface. (g) Hydrolysis of the ester groups present in the inner core of the polymer to furnish a porous polymer containing bigger anionic pores. (h) Hydrolysis of the native polymer to directly form the porous polymer with big anionic pores. (i) Acidic treatment of the anionic pore interior to yield neutral –COOH groups in the pores. (j) Treatment of the pores lined with –COOH groups with hydroxide salts of Li
+
, Na
+
, K
+
, Cs
+
, and NH
4
+
yielding anionic pores with different counterions. Adapted from [
27
], under the terms of a Creative Commons Non-Commercial No Derivative Works (CC-BY-NC-ND) Attribution License.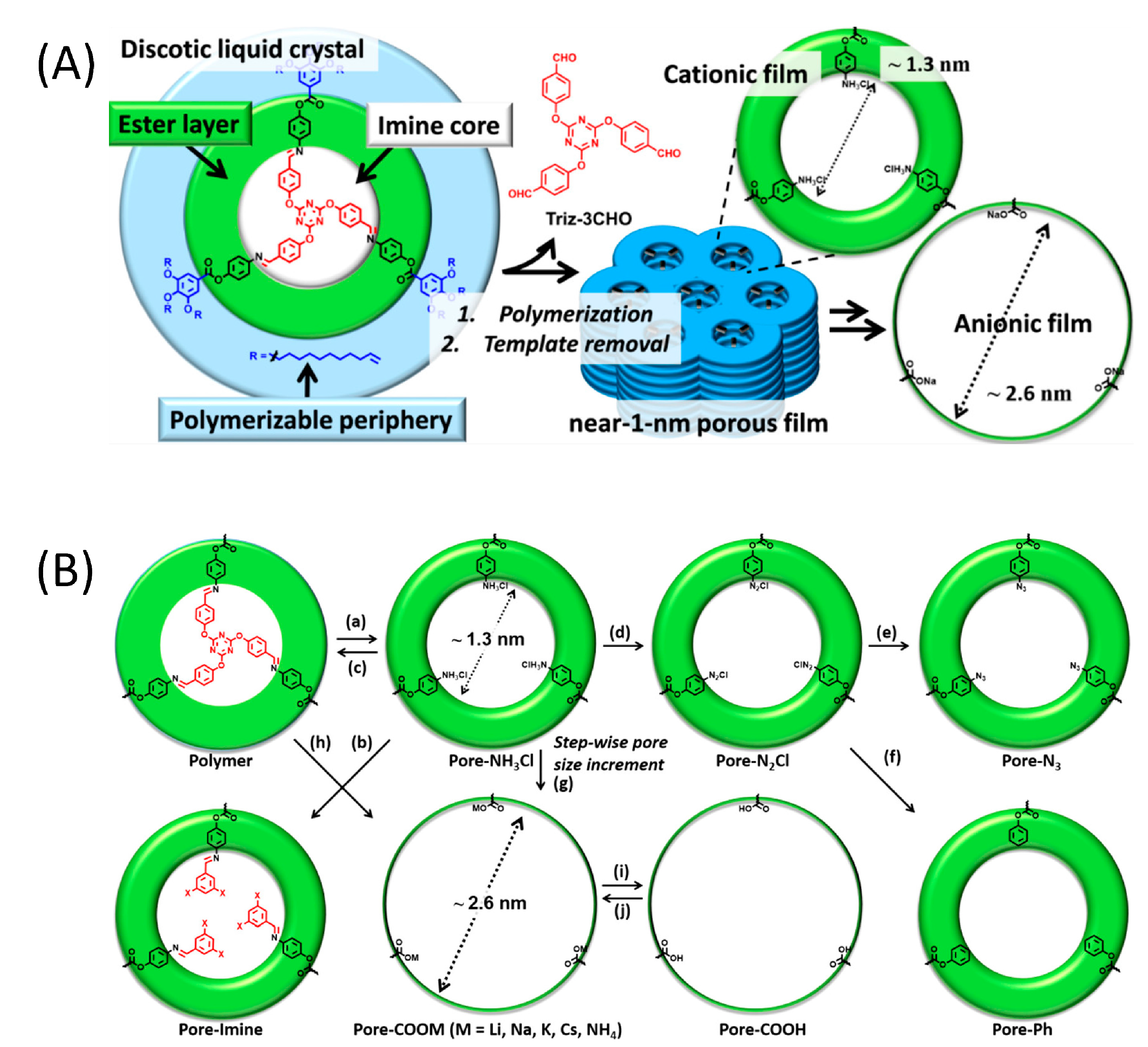 Figure 6.
The alignment of hexagonally ordered liquid crystals by coating with a sacrificial polymer. (
a
) Schematic of the steps taken to align a Col
hex
LC film on a solid substrate; (
b
,
c
) 2D grazing incidence X-ray diffractograms of LC film before (
b
) and after (
c
) the homeotropic annealing step. Reprinted (adapted) with permission from [
61
]. Copyright 2009 American Chemical Society.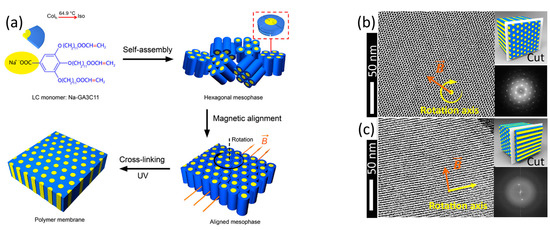 Figure 7.
The alignment of hexagonal ordered liquid crystals in a magnetic field. (
a
) Schematic representation of the alignment procedure; (
b
,
c
) Transmission electron microscopy images of the aligned material microtomed along (
b
) and perpendicular (
c
) to the columns. Adapted from [
43
], under ACS Author Choice License.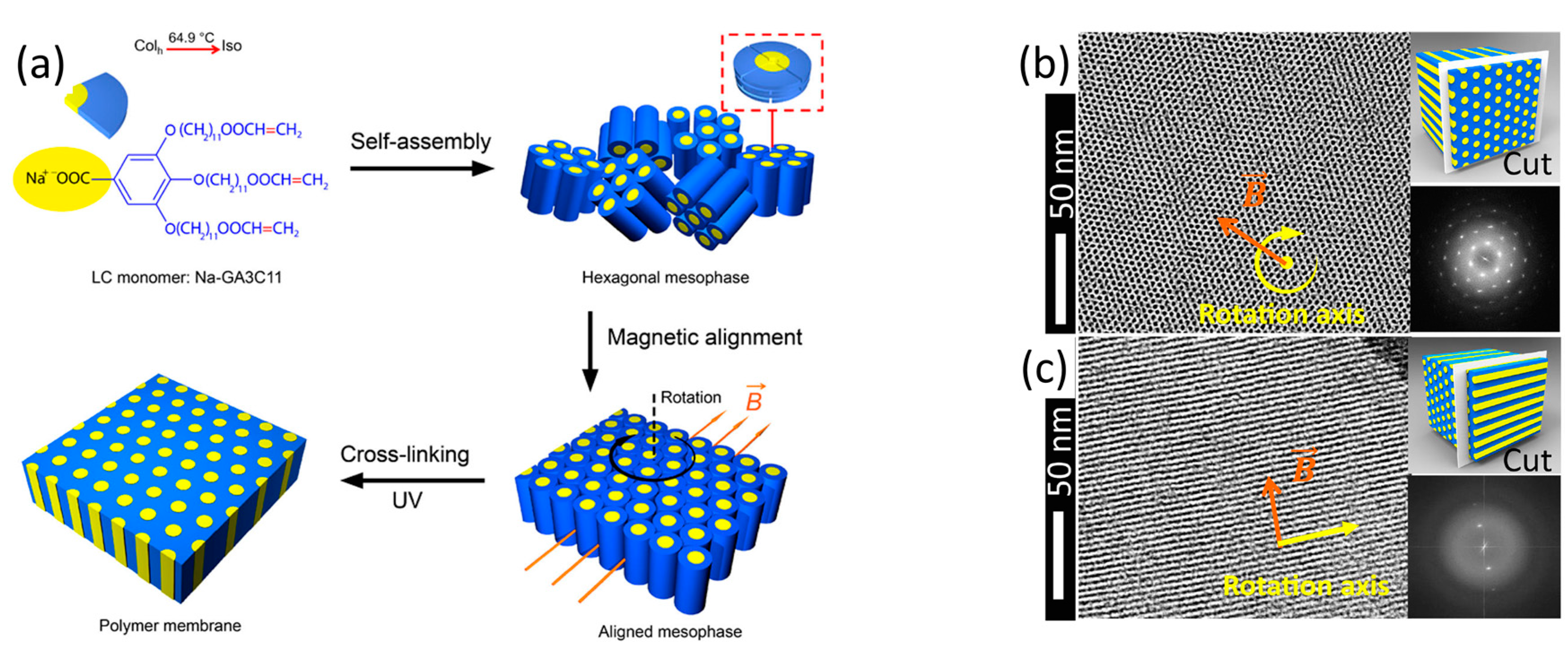 Figure 8.
Smectic LC based nanoporous membrane. (
a
) Structures of the used supramolecular monomers; (
b
) Fixation of LC morphology via a UV curing step followed by the formation of the nanopores by removal of the dipyridyl template, a tetra-methacrylate 'nanopillar' was used to provide structure and layer integrity. Reprinted (adapted) with permission from [
73
]. Copyright 2008 American Chemical Society.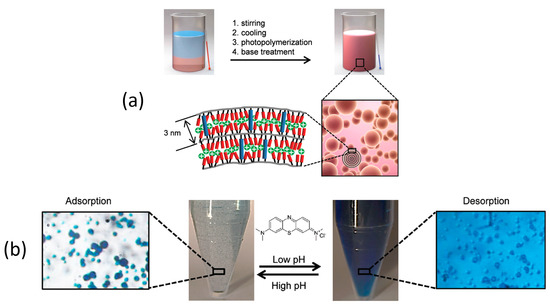 Figure 9.
Nanoporous particles as adsorbents. (
a
) Illustration of polymer particle preparation from a polymerisable smectic liquid crystal; (
b
) Adsorption/desorption of methylene blue by the nanoporous particles. Adapted from [
76
]. Copyright 2016 The Royal Society of Chemistry (RSC).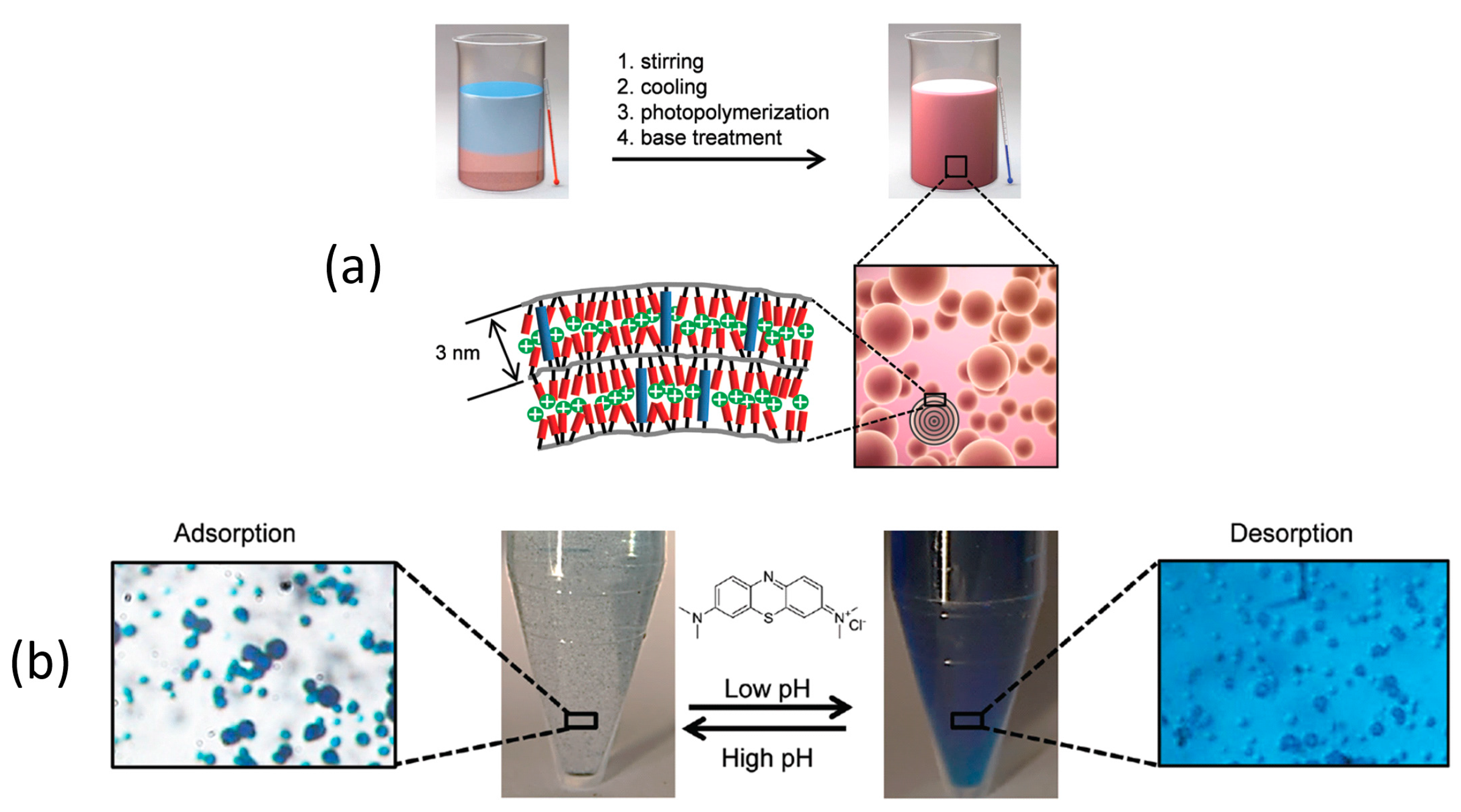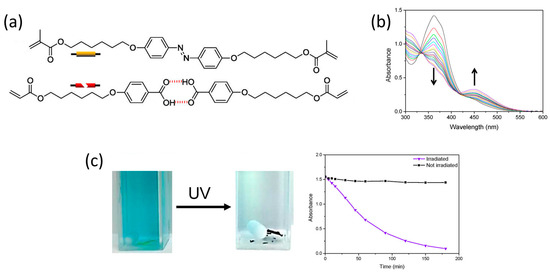 Figure 10.
A photo-actuated porous adsorbent. (
a
) The chemical structures of the monomers, a trans–cis isomerizable crosslinker was used; (
b
) Monitoring azobenzene isomerization with UV/Vis; (
c
) Cuvettes containing a methylene blue solution at pH 9.5 and the photoresponsive adsorbent before and after UV exposure. The graph shows the adsorption over time for both cuvettes. Reprinted (adapted) with permission from [
77
]. Copyright 2015 American Chemical Society.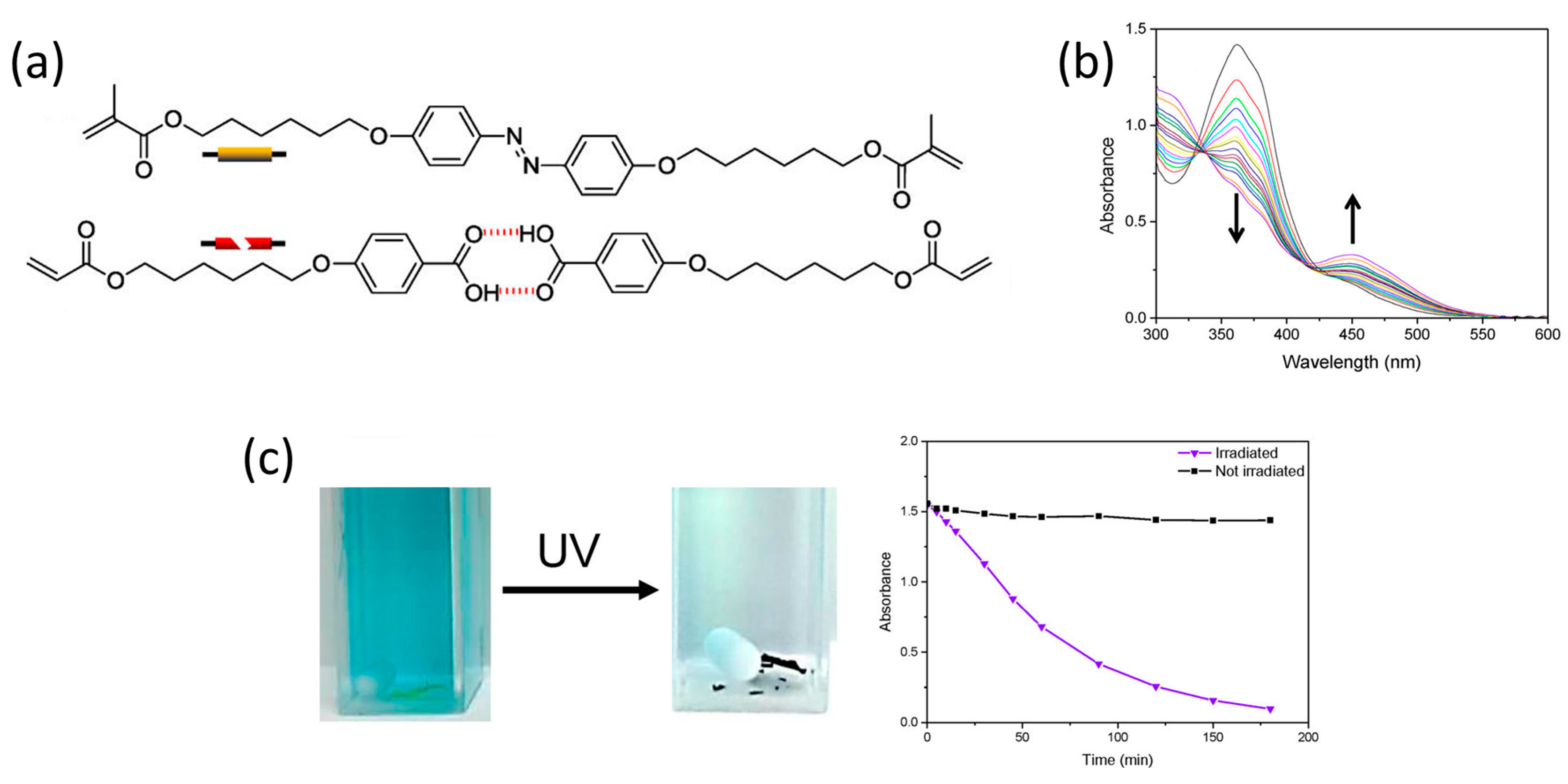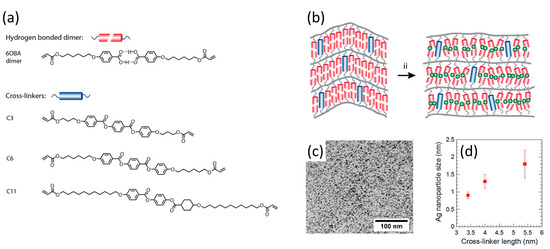 Figure 11.
Synthesis of Ag nanoparticles inside 2D lamellae of a smectic LC network. (
a
) The molecular structure of the pore interior; (
b
) Schematic of converting the pore interior to the metal salt; (
c
) TEM image of particle distribution in the LC scaffold; (
d
) Mean particle size as a function of cross-linker length. Adapted from [
80
], under the terms of a Creative Commons Attribution-NonCommercial 4.0 International (CC BY-NC 4.0) License.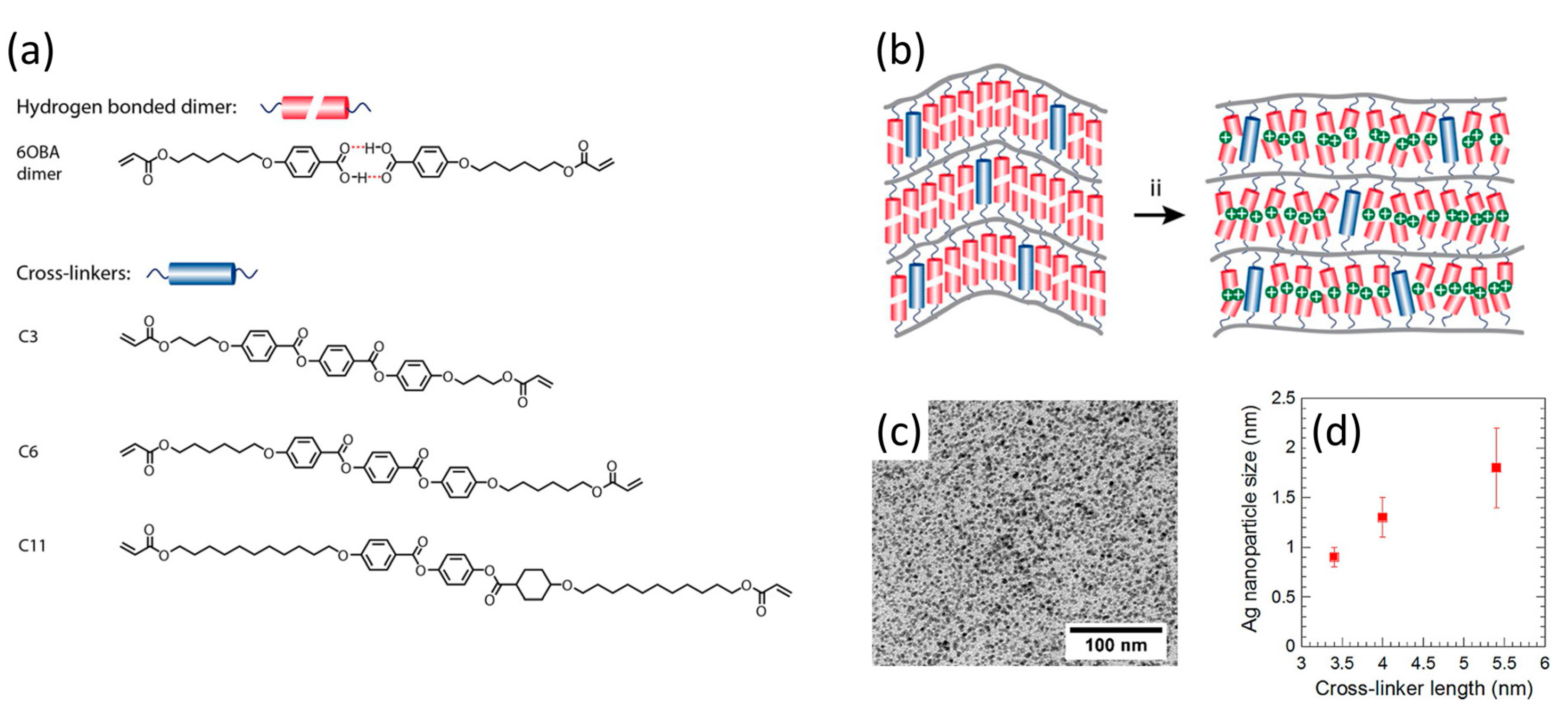 Figure 12.
Synthesis of an elastomer loaded with Li-ions from a smectic LC network. (
A
) The used LC monomers and Li-salt, and an illustration of the conductive LC elastomer; (
B
) XRD pattern of elastomer without Li (a) and with Li incorporated (b) including a schematic of the interdigitated SmA layers (c); (
C
) Measurements of
7
Li diffusion coefficients parallel and perpendicular to the director of the Li-elastomer at 308 K, and in the isotropic phase at 338 K. Adapted from [
33
], licensed by John Wiley and Sons, Inc. (Hoboken, NJ, USA).

Figure 13.
A thin separating layer based on a bicontinuous cubic polymer network. (
a
) Chemical structure of the wedge-shaped liquid crystalline monomer; (
b
) Self-assembled bicontinuous cubic LC phase forming ionic nanochannels; (
c
) Polymer membrane containing the polymerized liquid crystal network as a separating layer; (
d
) Schematic representation of selective rejection of anions through the membrane. Adapted from [
89
], licensed by John Wiley and Sons, Inc. (Hoboken, NJ, USA).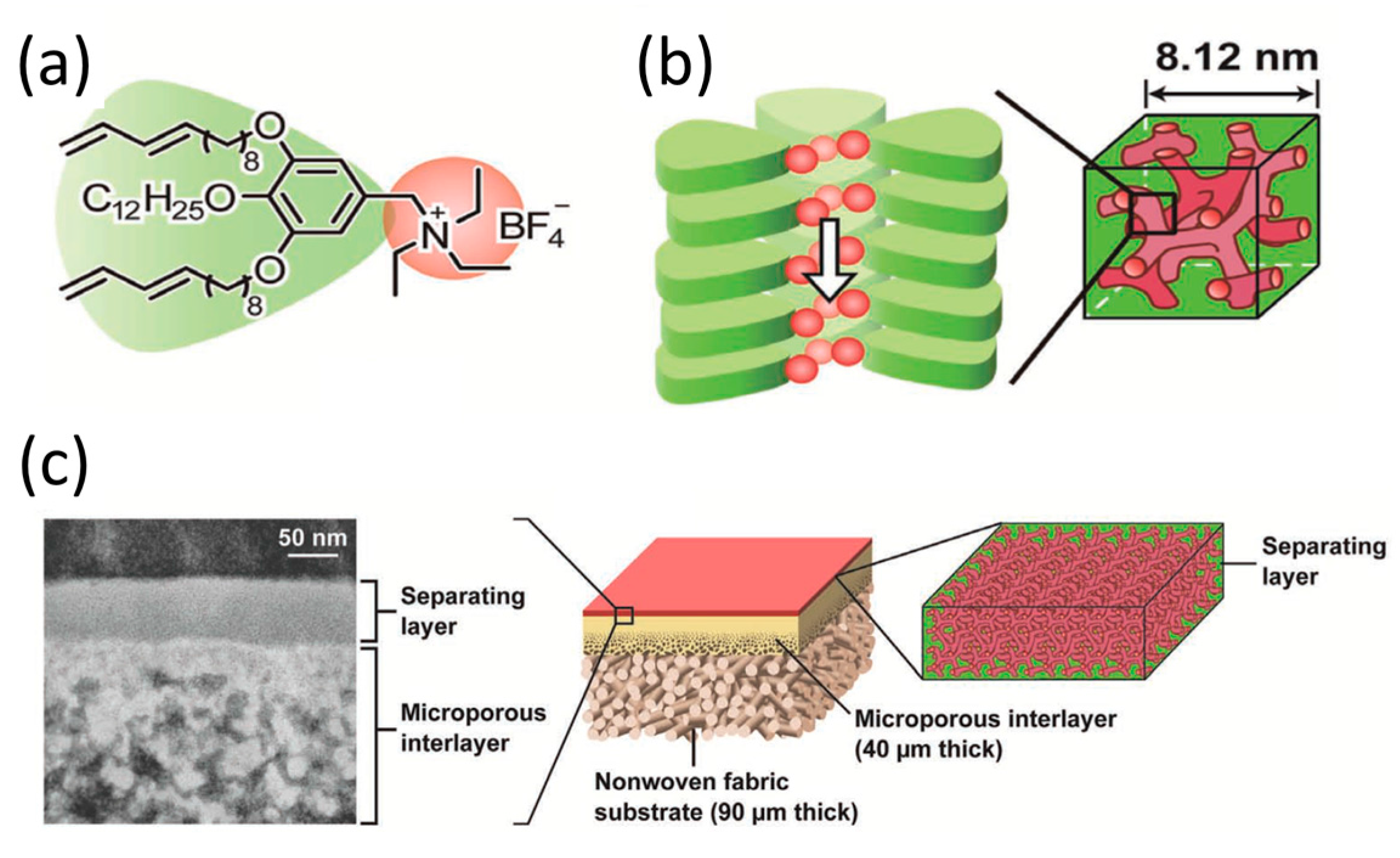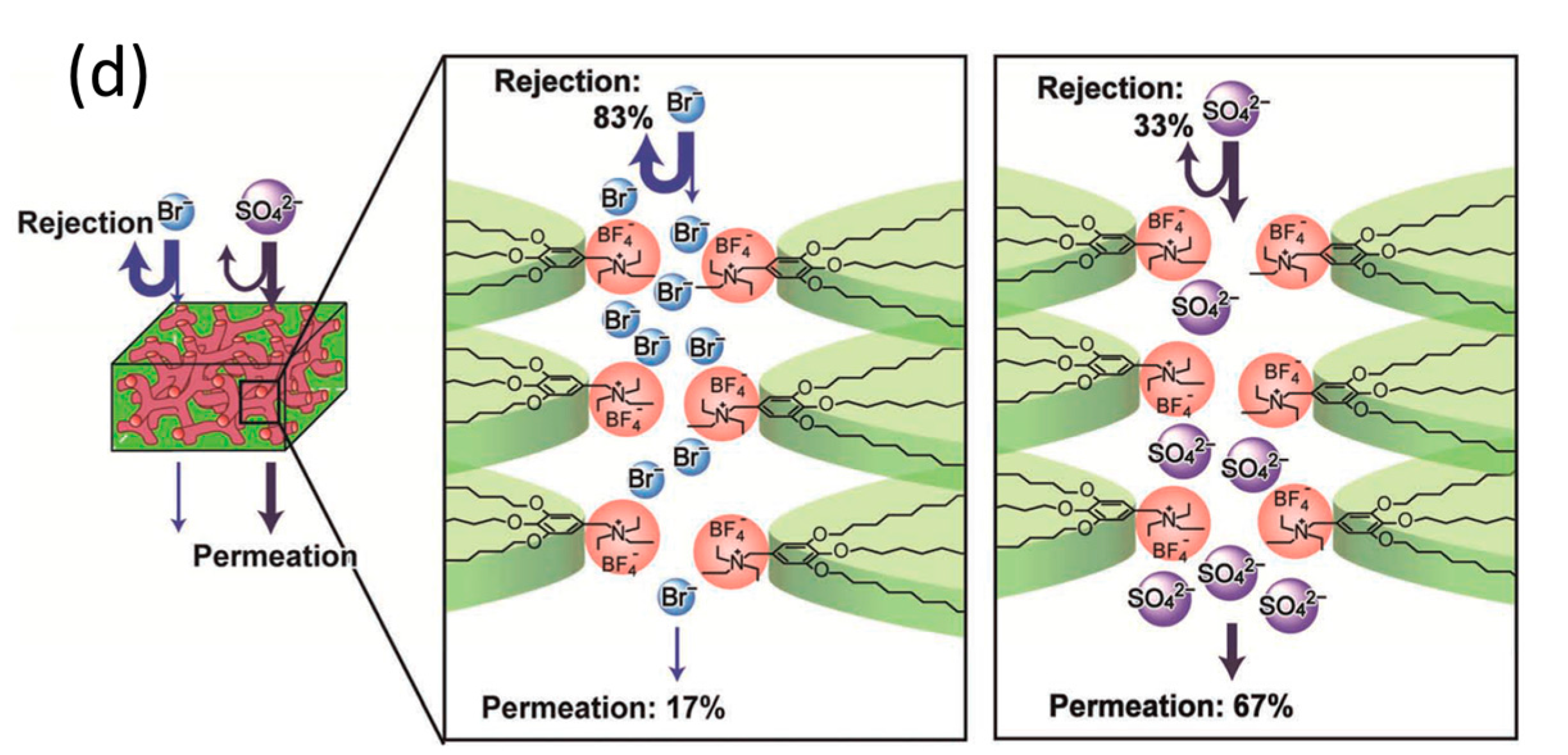 © 2018 by the authors. Licensee MDPI, Basel, Switzerland. This article is an open access article distributed under the terms and conditions of the Creative Commons Attribution (CC BY) license (http://creativecommons.org/licenses/by/4.0/).