Magnetic and Structural Properties of Barium Hexaferrite BaFe12O19 from Various Growth Techniques
1
Laboratory of Single Crystal Growth, South Ural State University, Chelyabinsk 454080, Russia
2
Institute of Geology and Mineralogy, Siberian Branch Russian Academy of Sciences, Novosibirsk 630090, Russia
3
SEC Nanotechnology, Moscow Institute of Physics and Technology (State University), Dolgoprudny, Moscow Region 141701, Russia
4
Physics Department, Chelyabinsk State Pedagogical University, Chelyabinsk 454080, Russia
5
Institute of Inorganic Chemistry, University of Stuttgart, Stuttgart 70569, Germany
6
Faculty of Physics, Moscow State University, Moscow 119991, Russia
7
Laboratory of Semiconductor and Dielectric Materials, Novosibirsk State University, Novosibirsk 630090, Russia
*
Author to whom correspondence should be addressed.
Academic Editor: Andrea Alù
Received: 26 April 2017 / Revised: 16 May 2017 / Accepted: 22 May 2017 / Published: 25 May 2017
Abstract
Barium hexaferrite powder samples with grains in the μm-range were obtained from solid-state sintering, and crystals with sizes up to 5 mm grown from PbO, Na
2
CO
3
, and BaB
2
O
4
fluxes, respectively. Carbonate and borate fluxes provide the largest and structurally best crystals at significantly lower growth temperatures of 1533 K compared to flux-free synthesis (1623 K). The maximum synthesis temperature can be further reduced by the application of PbO-containing fluxes (down to 1223 K upon use of 80 at % PbO), however, Pb-substituted crystals Ba
1–

x
Pb
x
Fe
12
O
19
with Pb contents in the range of 0.23(2) ≤
x
≤ 0.80(2) form, depending on growth temperature and flux PbO content. The degree of Pb-substitution has only a minor influence on unit cell and magnetic parameters, although the values for Curie temperature, saturation magnetization, as well as the coercivity of these samples are significantly reduced in comparison with those from samples obtained from the other fluxes. Due to the lowest level of impurities, the samples from carbonate flux show superior quality compared to materials obtained using other methods.
View Full-Text
►

▼

Figures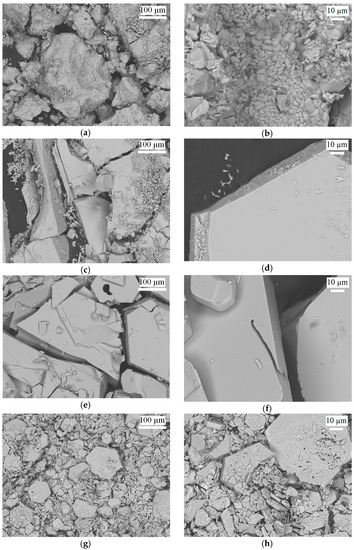 Figure 1
This is an open access article distributed under the
Creative Commons Attribution License
which permits unrestricted use, distribution, and reproduction in any medium, provided the original work is properly cited (CC BY 4.0).

Share & Cite This Article
MDPI and ACS Style
Vinnik, D.A.; Tarasova, A.Y.; Zherebtsov, D.A.; Gudkova, S.A.; Galimov, D.M.; Zhivulin, V.E.; Trofimov, E.A.; Nemrava, S.; Perov, N.S.; Isaenko, L.I.; Niewa, R. Magnetic and Structural Properties of Barium Hexaferrite BaFe12O19 from Various Growth Techniques. Materials 2017, 10, 578.
Note that from the first issue of 2016, MDPI journals use article numbers instead of page numbers. See further details here.
Related Articles
Comments
[Return to top]