Hard Chrome-Coated and Fullerene-Doped Metal Surfaces in Orthopedic Bearings
1
Laboratory of Biomechanics and Implant Research, Clinic for Orthopedics and Trauma Surgery, Heidelberg University Hospital, 69118 Heidelberg, Germany
2
Fraunhofer Institute for Manufacturing Engineering and Automation IPA, Department Electroplating, 70569 Stuttgart, Germany
3
Institute of Industrial Manufacturing and Management IFF, University of Stuttgart, 70569 Stuttgart, Germany
*
Author to whom correspondence should be addressed.
Received: 3 November 2017 / Revised: 5 December 2017 / Accepted: 19 December 2017 / Published: 20 December 2017
Abstract
Metal-on-metal bearings for total hip replacements have been introduced as an alternative to polyethylene in young and more active patients. These have, however, been shown to be prone to implant malpositioning and have been limited by some specific design features. In that context, coatings present an option to increase wear resistance by keeping the high fracture strength of the metal substrate. A custom-made electroplating setup was designed for the coating of CoCr substrates using (a) an industrial standard chromium electrolyte; (b) a custom-made hexavalent chromium (Cr
6+
) electrolyte with a reduced chromium trioxide (CrO
3
) content, both without solid additives and (c) with the addition of fullerene (C
60
) nanoparticles; and (d) a trivalent chromium (Cr
3+
) electrolyte with C
60
addition. All coatings showed an increase in microhardness compared with the metal substrate. Trivalent coatings were thinner (10 µm) than the hexavalent coatings (23–40 µm) and resulted in increased roughness and crack density. Wear was found to be reduced for the hexavalent chromium coatings by 70–84% compared with the CoCr–CoCr reference bearing while the trivalent chromium coating even increased wear by more than 300%. The addition of fullerenes to the electrolyte did not show any further tribological effect.
View Full-Text
►

▼

Figures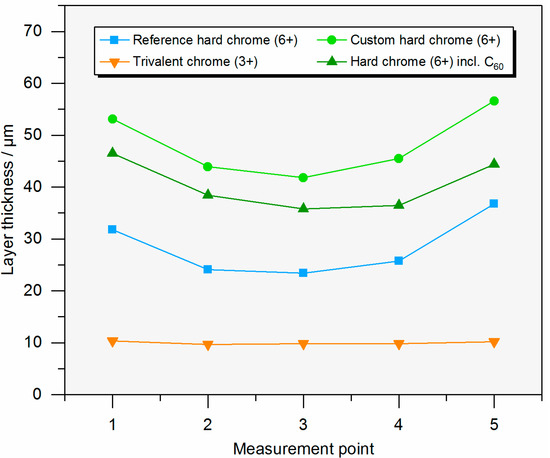 Figure 1
This is an open access article distributed under the
Creative Commons Attribution License
which permits unrestricted use, distribution, and reproduction in any medium, provided the original work is properly cited (CC BY 4.0).

Share & Cite This Article
MDPI and ACS Style
Sonntag, R.; Feige, K.; Dos Santos, C.B.; Kretzer, J.P. Hard Chrome-Coated and Fullerene-Doped Metal Surfaces in Orthopedic Bearings. Materials 2017, 10, 1449.
Note that from the first issue of 2016, MDPI journals use article numbers instead of page numbers. See further details here.
Related Articles
Comments
[Return to top]