Open Access This article is
freely available
re-usable
Article
A Micro-Pressure Sensing Method Based on the Micropatterned Electrodes Filled with the Microspheres
Science and Technology on Electronic Test & Measurement Laboratory, North University of China, Taiyuan 030051, Shanxi, China
*
Authors to whom correspondence should be addressed.
Received: 25 October 2017 / Accepted: 13 December 2017 / Published: 18 December 2017
Abstract
:
As the core component of the sense of touch, flexible pressure sensors are critical to synchronized interactions with the surrounding environment. Here, we introduce a new type of flexible capacitive pressure sensor based on a template of electrodes, with a one-dimensional pyramid micropatterned structure on a Polydimethylsiloxane (PDMS) substrate and a dielectric layer of polystyrene (PS) microspheres. The proposed sensor exhibits a stable and high sensing sensitivity of 0.741 kPa−1 to capacitance, good durability over 1000 cycles, and fast response time (<150 ms). Our flexible capacitive sensor responds not only to pressure but also to bending forces. Our device can be used to monitor the location and distribution of weight pressure. The proposed capacitive pressure sensor has itself been applied foreground in lots of aspects, such as electronic skins, wearable robotics, and biomedical devices.
Keywords:
pressure sensor; flexible sensor; micropatterned structure; PS microspheres
1. Introduction
Flexible pressure sensors have been well-documented, owing to their new and untraditional applications in robotic systems, electronic skin, touch interfaces, and wearable medical devices. Researchers have continued to focus on improving the sensing sensitivity and reliability of flexible pressure sensors for application in a pressure range of less than 50 kPa to mimic human skin and tactile receptors. Until now, many methods have been proposed to realize pressure sensitivity based on piezoelectric [
1
,
2
,
3
], piezoresistive [
4
,
5
], and piezocapacitive types [
6
,
7
] of sensors. Among them, the capacitive type has been most widely investigated, due to their advantages when compared to the other two types: a low power consumption, low sensitivity to humidity and temperature, and highly repeatable response [
8
,
9
].
Various transduction methods and structures for flexible capacitive pressure sensors have been presented in the literature in the past few years. Capacitive-type pressure sensors that are based on elastomeric dielectric materials have also been widely demonstrated [
10
,
11
,
12
]. When an external pressure is loaded on the sensor, the elastomeric dielectric layer exhibits different deformation, which leads to a variation in the capacitance. Nanomaterials, such as nanowires [
13
,
14
,
15
], carbon nanotubes [
4
,
16
], polymer nanofibers [
5
,
17
], metal nanoparticles [
18
], and graphene [
19
] have been used with elastomeric dielectric layers to develop novel flexible capacitive pressure sensors. In addition, researchers have used some metals (Au film, Ag film, Ag nanowire networks) or liquid metal as the top and bottom electrode materials of capacitive pressure sensor devices. These sensors exhibit mechanical stretchability, however, they are limited by their low pressure sensitivity. To improve the properties of capacitive-type sensors, researchers have proposed using microstructures [
20
,
21
] in the elastomeric dielectric layer. Modifying the devices in this manner has produced pressure sensors with high pressure sensitivity and good flexibility [
19
,
22
]. Kim et al. [
22
] reported a highly sensitive capacitive pressure sensor based on a polymer dielectric film with a nano-needle structure. However, the many associated drawbacks should be taken into account, such as manufacturing difficulty of sophisticated micro/nanostructures, demanding materials, expensive cost, challenging scalability, and poor adhesiveness between the substrate and metal layer.
Here, we report a novel flexible capacitive pressure sensor based on fabricating electrodes with a pyramid structure on a polydimethylsiloxane (PDMS) substrate through the microelectromechanical system (MEMS) process. The device was designed based on a template for electrodes with a micropatterned one-dimensional pyramid structure on a PDMS substrate and a dielectric layer of polystyrene (PS) microspheres. To intensify the adhesion between the PDMS substrate and metal materials, the PDMS surface was modified with O2 plasma, combined with a sodium dodecylian sulfate (SDS) solution. Observations showed that the sensor exhibited high sensitivity, fast response to bending, and great durability and repeatability. The sensor was able to effectively monitor the distribution and the position of the external loading. Our work provides a new method for wafer-level fabrication of flexible electronic devices based on MEMS technology.
2. Experimental Details
2.1. Fabrication of Flexible Micropatterned Electrodes on PDMS Substrates
Silver was used as the electrode material [
8
,
23
,
24
].
Figure 1
a shows the manufacturing process of the flexible Ag electrodes on the PDMS substrate. The microelectrode that is described in this paper was fabricated using the MEMS process [
25
]. This process consists of six steps, is relatively simple, and it has great potential for application to wafer-level volume production. First, a positive photoresist (S1805) was spun-coated on a 4-inch silica wafer at 3000 rad/min and soft-baked at 105 °C for 90 s. Second, the wafer was exposed to a dose of 135 mJ/cm
2
with a mask aligner (EVG-610, Eastern Venture Group Co., Ltd., Kanagawa, Japan). Post-exposure baking was performed at 115 °C for 120 s to form strong crosslinks. After the wafer had gradually cooled down, the structure was immersed in a positive developer (40 s). Third, a corrosion experiment was carried out involving two steps: etching SiO
2
using a buffered oxide etch and etching Si using 15 wt % TMAH + 17 vol % isopropyl alcohol (22 min). Fourth, a SiO
2
layer was removed with hydrofluoric acid. Then, a micropatterned structure looking like continuous one-dimensional pyramid on the Si mold was obtained, as shown in
Figure 1
(a6). Fifth, a PDMS mold was prepared by mixing the liquid PDMS elastomer (Sylgard 184, Dow Corning, Midland, MI, USA) and a curing agent at a 10:1 ratio by volume. The liquid mixture was poured onto the Si mold and was thermally cured at 75 °C for 2 h to obtain a micropatterned structure on the PDMS substrate. The cured PDMS was disposed (120 W, 20 s) by plasma (ION40) to reinforce surface adhesion, and then immersed in a Sodium Lauryl Sulphate (SDS, Shengtongxin Company, Tianjin, China) solution (0.5%, 15 s) to form –SO
3
−
groups on the surface of the PDMS substrate with the pyramid structure. This process can introduce a condensation reaction of hydrophilic functionalities, and lead to close contact between PDMS and Ag
+
[
21
,
26
,
27
]. Finally, micropatterned electrodes on the PDMS substrates were obtained through a magnetron sputtering operational (60 W, 8.0 × 10
−3
Torr) to coat the surface of the PDMS mold with an Ag layer. In contrast, we used the same fabrication method, as described above, to obtain nonpatterned stretchable electrodes, except that the PDMS prepolymer was coated onto a slippery substrate.
2.2. Design and Fabrication of Flexible Pressure Sensors
Figure 2
a shows the schematic design of the pressure sensor with the micropatterned electrodes based on the principle of the capacitive sensor. The device was composed of the bottom and top parallel-plate micropatterned electrodes on the PDMS substrate, and a dielectric layer of PS microspheres. The fabrication process contains the following steps: First, the top and bottom Ag electrodes were fabricated via sputtering of 400 nm thick Ag films. During this process, a metal mask was placed on the PDMS substrate with the pyramid structure to form two parallel electrodes with dimensions of 0.9 (length) × 0.9 (width) cm
2
. The metallic electrodes were deposited in a high vacuum system that was equipped with a DC magnetron sputtering source (QPrep400, Mantis, Toronto, UK) under the following conditions: DC power of 120 w; Ar flow rate of 30 sccm, chamber pressure of 7.5 × 10
−3
Torr, and sputtering time of 5 min. Then, the PS microspheres were spin-coated upon the prepared top and bottom Ag miropatterned electrodes to form the middle dielectric layer. Finally, the top and bottom electrodes with a pyramid structure of the sensor were aligned face to face and bonded through the PDMS self-assembling ability. The fabrication process of the non-patterned sensor was nearly the same, except that non-patterned PDMS substrates was used. To facilitate comparison, the pressure sensors were designed with uniform dimensions of 0.9 × 0.9 cm
2
, and the quantity of PS microspheres was consistent.
3. Results and Discussion
4. Conclusions
A novel flexible pressure sensor based on polystyrene microspheres and an electrode with a micropatterned pyramid structure on a PDMS substrate was successfully demonstrated. The electrodes with a one-dimensional pyramid structure were fabricated by using MEMS technology. The available sensor presented a high sensitivity of 0.741 kPa−1, good repeatability over 1000 cycles, and a fast responses time of <150 ms. The novel flexible sensor can accurately and flexibly monitor the distribution and position of the external pressure because of its excellent characteristic. Drawbacks, such as bending and deformation during the fabrication process resulting in sensor failure, were effectively solved by the proposed Ag electrodes with a pyramid structure. Our work provides a new method for wafer-level fabrication of flexible electronic devices based on MEMS technology. The flexible sensor can be utilized to monitor both pressure and bending forces, thus, it is especially suitable for future applications of electronic skin in smart robotic systems.
Acknowledgments
The authors highly acknowledge the helpful suggestions and significant guidance from the reviewers. This work was financially and partly supported by National Natural Science Foundation of China (Grant Nos. U1637212, 51475438 and 61401405), Natural Science Foundation of Shanxi Province (Grant No. 2014011021-4), Research Project Supported by Shanxi Scholarship Council of China (Grant No. 2014-055) and Fund for Shanxi '1331 Project' Key Subject Construction.
Author Contributions
H.G. and J.C. contributed equally to this work. J.T., J.C. and B.Z. performed the measurements, analyzed the data, and wrote the main manuscript text. H.G. and J.C. prepared the samples and performed the SEM and LSM measurements. B.Z. and J.D. analyzed the data, and contributed to the manuscript writing. All authors reviewed the manuscript.
Conflicts of Interest
The authors declare no conflict of interest.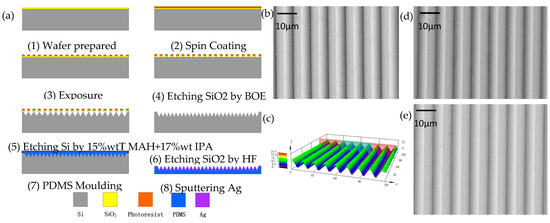 Figure 1. Fabrication process and morphology characterization of the micropatterned electrodes on the Polydimethylsiloxane (PDMS) substrates. (a) Fabrication process of the PDMS electrode with the Ag-embedded pyramid structure; (b) scanning electron microscopy (SEM) image of the electrode with a one-dimensional pyramid structure showing high uniformity; (c) Laser confocal image of the electrode pattern; (d,e) SEM image of the micropatterned electrodes on the PDMS substrates after replication from the same Si mold.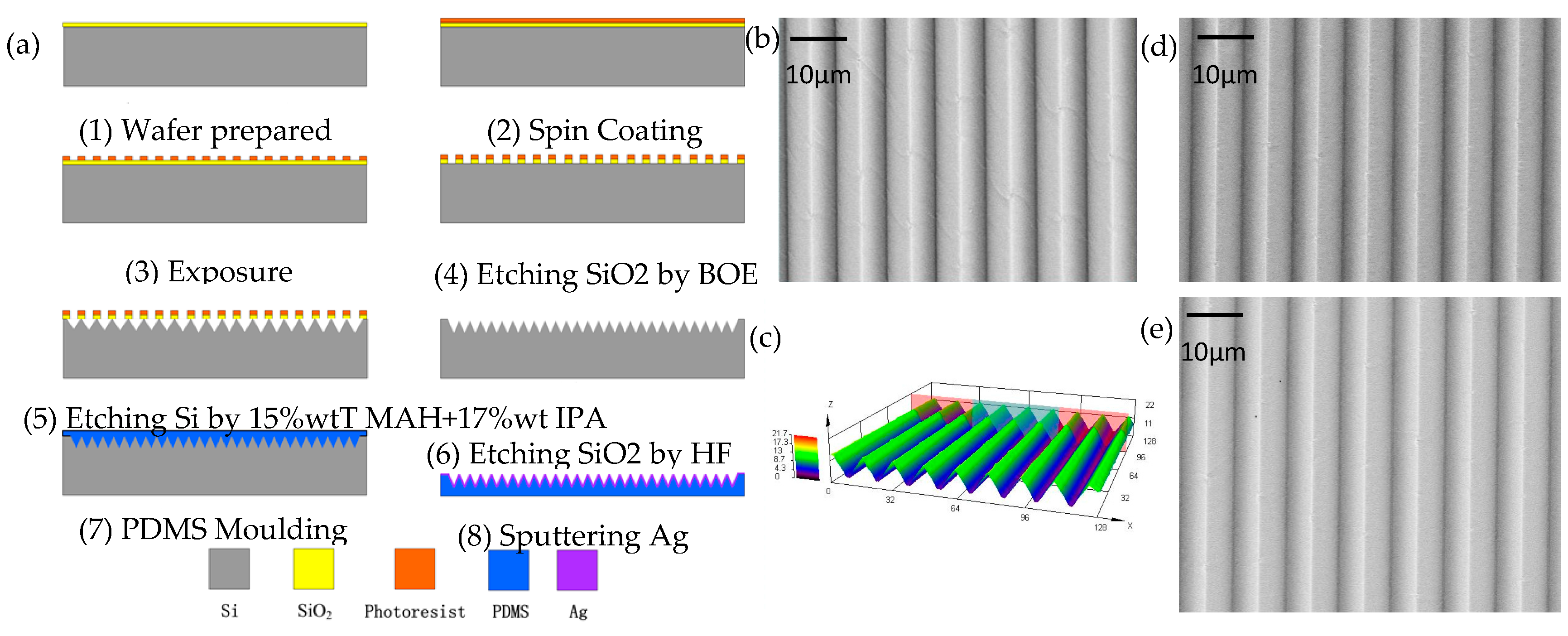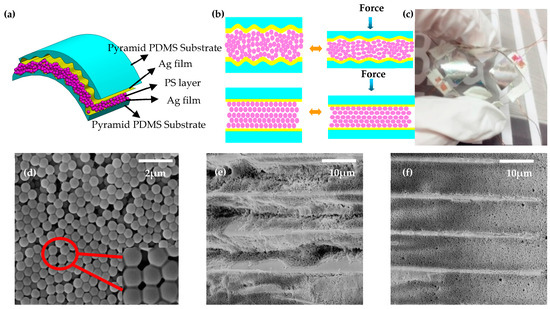 Figure 2. Schematic of the flexible capacitive pressure sensor and SEM images of polystyrene (PS) microspheres. (a) Schematic of the capacitive pressure sensor; (b) Deformation of the pressure sensors with and without one-dimensional pyramid structure PDMS electrodes; (c) Pressure sensor array with 2 × 2 sensing element; (d) SEM image of PS microspheres at low and high amplification; Morphology and displacement changes of the flexible sensor (e) before and (f) after compression caused by application of external pressure.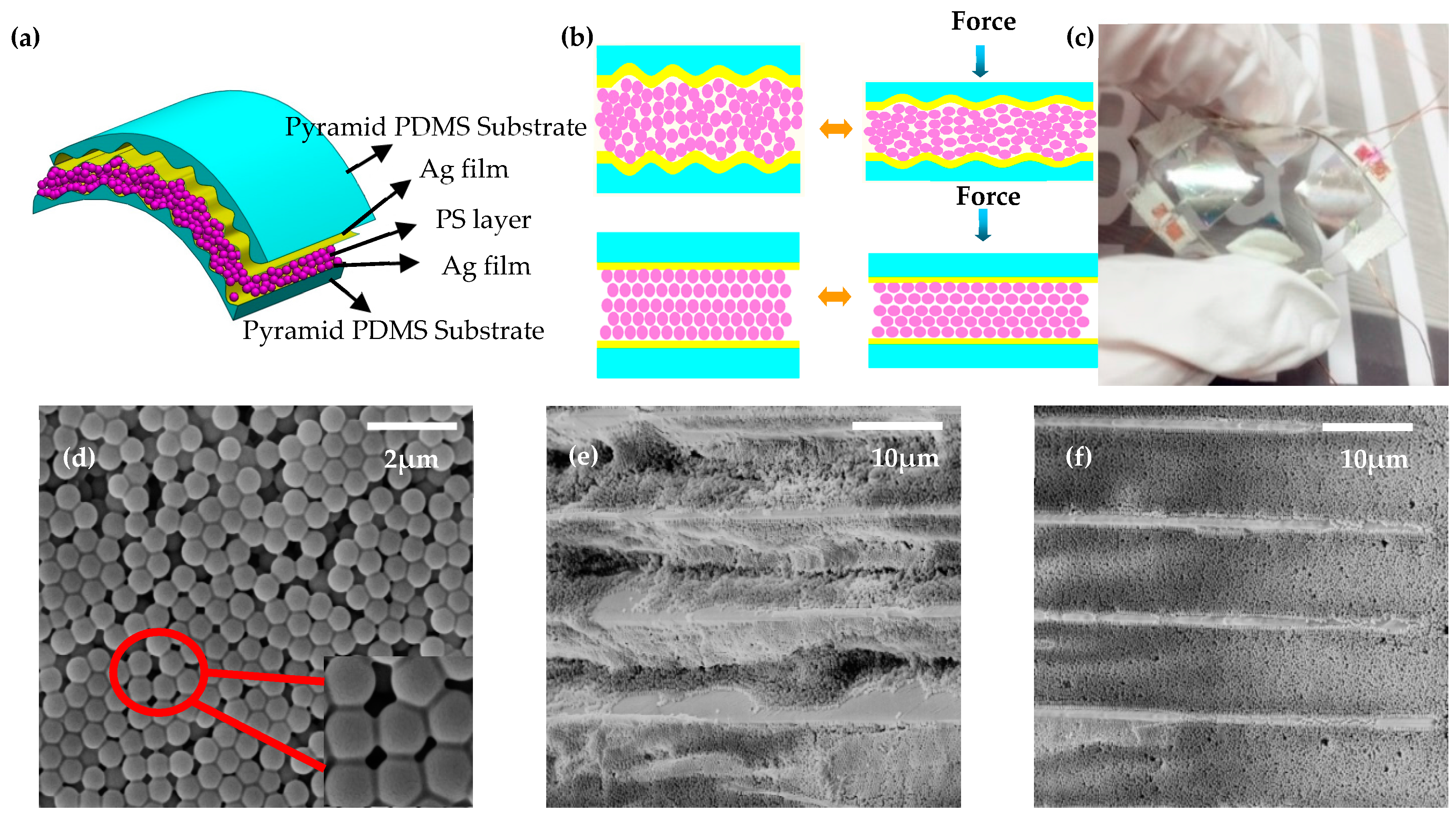 Figure 3. (a)Test system construction; (b) The effect of various PS thicknesses to the sensitivity of the sensors.

Figure 4. Pressure response capabilities of the capacitive pressure sensor. (a) Relative capacitance change-pressure curve of the microstructure capacitance sensor (red) and non-structure sensor (black); (b) Capacitance–time curve with loading and unloading of a red bean (corresponding pressure of 19 Pa); (c) Real-time monitoring for applied pressure of 0.2, 0.4 and 0.6 kPa; (d) Stability test of the sensor wirh loading/unloading pressure over 1000 cycles; (e) Bending force (about 120°) was loaded onto the flexible pressure sensor; (f) Fast response and relaxation time (<150 ms) of the pressure sensor; (g) Hysteresis of output capacitance signal for an input pressure of ~800 Pa with 1 Hz force frequency; and, (h) Capacitance response curve of the microstructured sensor versus time over 10 pressing/releasing cycles with a pressure of 20 kPa.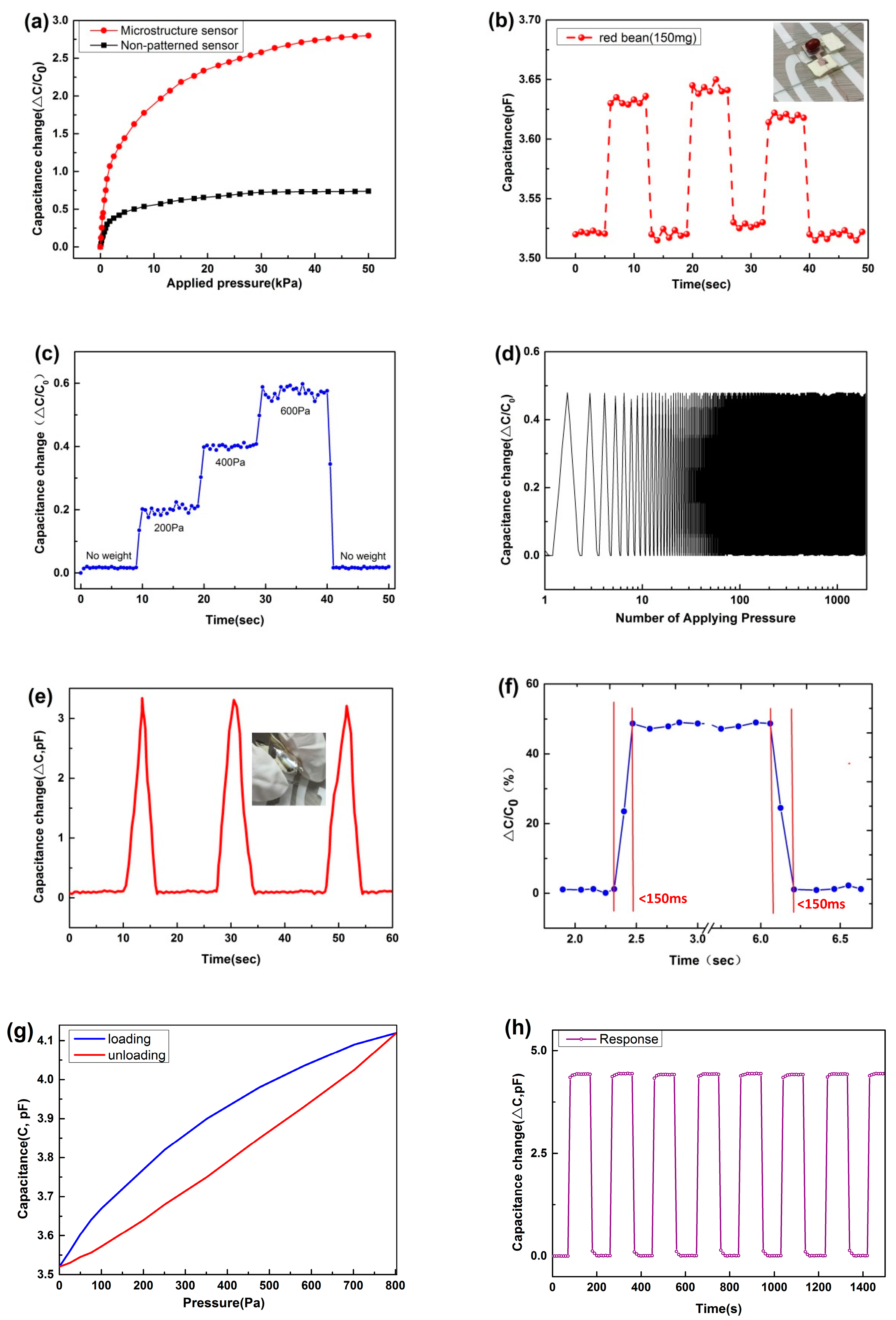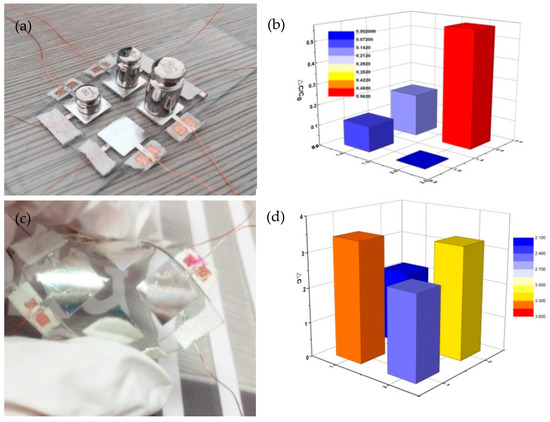 Figure 5. Property characterization of the pressure sensor array. (a) Picture of the 1, 2, and 5 g weights placed on the 2 × 2 sensor array; (b) Pressure-mapping capability of the sensor array; (c) Picture of a bending (about 120°) applied to the sensor array; and (d) Pressure-mapping capability of the sensor array.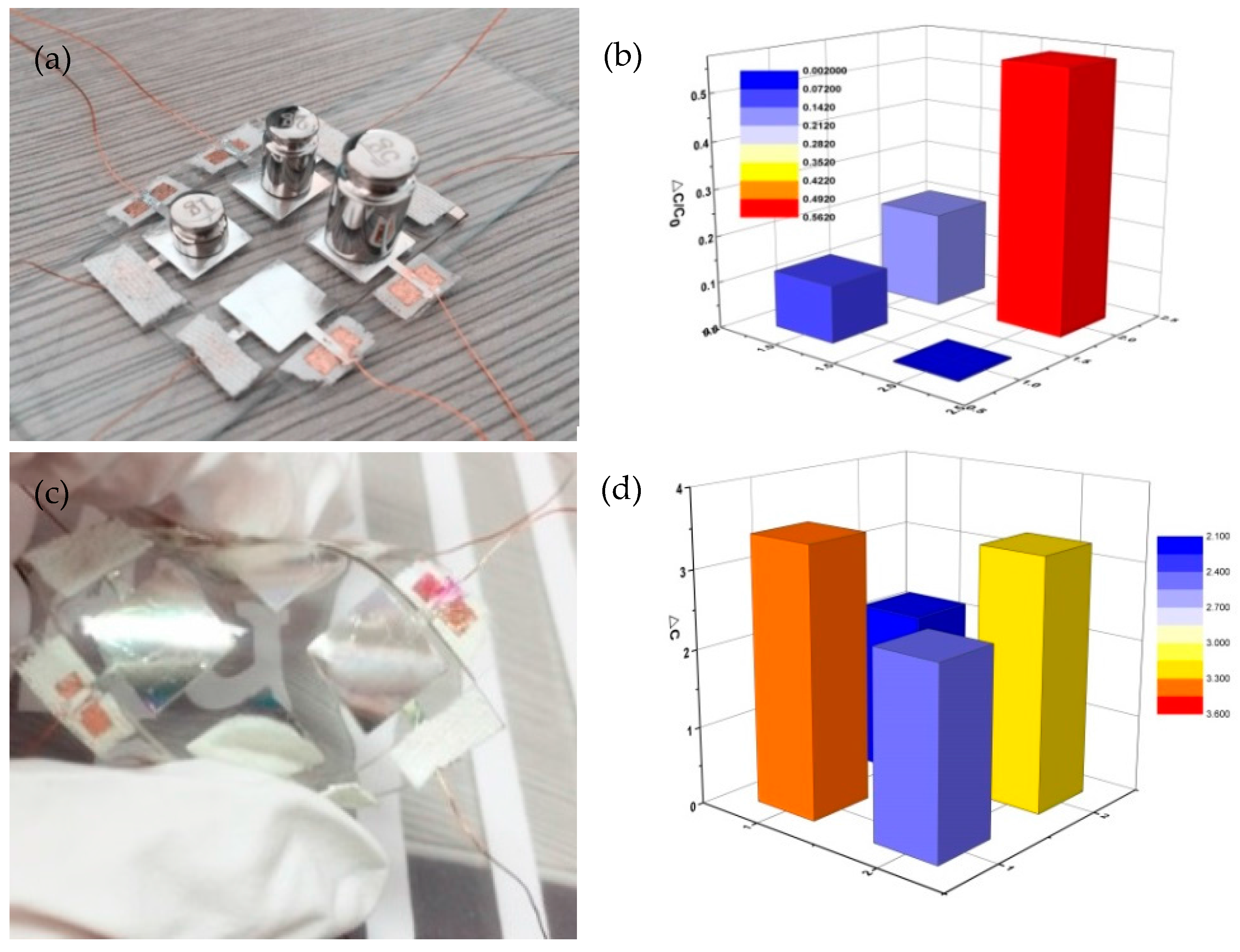 © 2017 by the authors. Licensee MDPI, Basel, Switzerland. This article is an open access article distributed under the terms and conditions of the Creative Commons Attribution (CC BY) license (http://creativecommons.org/licenses/by/4.0/).