Enhancement of Osteoblastic-Like Cell Activity by Glow Discharge Plasma Surface Modified Hydroxyapatite/β-Tricalcium Phosphate Bone Substitute
1
School of Dentistry, College of Oral Medicine, Taipei Medical University, Taipei 110, Taiwan
2
Department of Dentistry, Chang Gung Memorial Hospital, Taipei 105, Taiwan
3
Graduate Institute of Dental & Craniofacial Science, Chang Gung University, Taoyuan 333, Taiwan
4
School of Dentistry, College of Medicine, China Medical University, Taichung 404, Taiwan
5
Graduate Institute of Biomedical Materials & Tissue Engineering, College of Oral Medicine, Taipei Medical University, Taipei 110, Taiwan
6
Dental Department, Taipei Medical University Hospital, Taipei 110, Taiwan
7
Dental Department, Taipei Medical University, Shuang-Ho Hospital, Taipei 235, Taiwan
*
Authors to whom correspondence should be addressed.
Received: 5 October 2017 / Revised: 11 November 2017 / Accepted: 21 November 2017 / Published: 23 November 2017
Abstract
Glow discharge plasma (GDP) treatments of biomaterials, such as hydroxyapatite/β-tricalcium phosphate (HA/β-TCP) composites, produce surfaces with fewer contaminants and may facilitate cell attachment and enhance bone regeneration. Thus, in this study we used argon glow discharge plasma (Ar-GDP) treatments to modify HA/β-TCP particle surfaces and investigated the physical and chemical properties of the resulting particles (HA/β-TCP + Ar-GDP). The HA/β-TCP particles were treated with GDP for 15 min in argon gas at room temperature under the following conditions: power: 80 W; frequency: 13.56 MHz; pressure: 100 mTorr. Scanning electron microscope (SEM) observations showed similar rough surfaces of HA/β-TCP + Ar-GDP HA/β-TCP particles, and energy dispersive spectrometry analyses showed that HA/β-TCP surfaces had more contaminants than HA/β-TCP + Ar-GDP surfaces. Ca/P mole ratios in HA/β-TCP and HA/β-TCP + Ar-GDP were 1.34 and 1.58, respectively. Both biomaterials presented maximal intensities of X-ray diffraction patterns at 27° with 600 a.u. At 25° and 40°, HA/β-TCP + Ar-GDP and HA/β-TCP particles had peaks of 200 a.u., which are similar to XRD intensities of human bone. In subsequent comparisons, MG-63 cell viability and differentiation into osteoblast-like cells were assessed on HA/β-TCP and HA/β-TCP + Ar-GDP surfaces, and Ar-GDP treatments led to improved cell growth and alkaline phosphatase activities. The present data indicate that GDP surface treatment modified HA/β-TCP surfaces by eliminating contaminants, and the resulting graft material enhanced bone regeneration.
View Full-Text
►

▼

Figures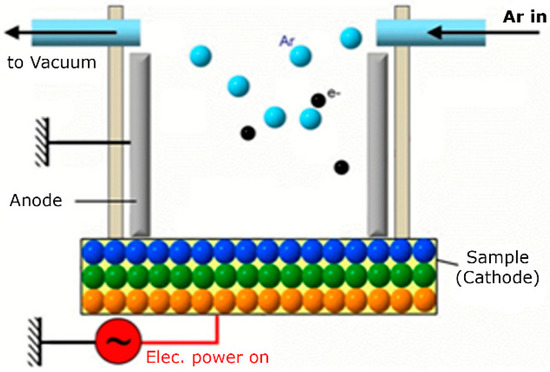 Figure 1
This is an open access article distributed under the
Creative Commons Attribution License
which permits unrestricted use, distribution, and reproduction in any medium, provided the original work is properly cited (CC BY 4.0).

Share & Cite This Article
MDPI and ACS Style
Salamanca, E.; Pan, Y.-H.; Tsai, A.I.; Lin, P.-Y.; Lin, C.-K.; Huang, H.-M.; Teng, N.-C.; Wang, P.D.; Chang, W.-J. Enhancement of Osteoblastic-Like Cell Activity by Glow Discharge Plasma Surface Modified Hydroxyapatite/β-Tricalcium Phosphate Bone Substitute. Materials 2017, 10, 1347.
Note that from the first issue of 2016, MDPI journals use article numbers instead of page numbers. See further details here.
Related Articles
Comments
[Return to top]