Temperature Dependence of the Resonant Magnetoelectric Effect in Layered Heterostructures
1
Research and Education Center "Magnetoelectric Materials and Devices", Moscow Technological University (MIREA), 119454 Moscow, Russia
2
East Bavarian Centre for Intelligent Materials (EBACIM), Ostbayerische Technische Hochschule (OTH) Regensburg, D-93053 Regensburg, Germany
*
Author to whom correspondence should be addressed.
Received: 7 September 2017 / Revised: 6 October 2017 / Accepted: 7 October 2017 / Published: 16 October 2017
Abstract
The dependence of the resonant direct magnetoelectric effect on temperature is studied experimentally in planar composite structures. Samples of rectangular shapes with dimensions of 5 mm × 20 mm employed ferromagnetic layers of either an amorphous (metallic glass) alloy or nickel with a thickness of 20–200 μm and piezoelectric layers of single crystalline langatate material or lead zirconate titanate piezoelectric ceramics with a thickness of 500 μm. The temperature of the samples was varied in a range between 120 and 390 K by blowing a gaseous nitrogen stream around them. It is shown that the effective characteristics of the magnetoelectric effect—such as the mechanical resonance frequency
f
r
, the quality factor
Q
and the magnitude of the magnetoelectric coefficient
α
E
at the resonance frequency—are contingent on temperature. The interrelations between the temperature changes of the characteristics of the magnetoelectric effect and the temperature variations of the following material parameters—Young's modulus
Y
, the acoustic quality factor of individual layers, the dielectric constant
ε
, the piezoelectric modulus
d
of the piezoelectric layer as well as the piezomagnetic coefficients
λ
(n)
of the ferromagnetic layer—are established. The effect of temperature on the characteristics of the nonlinear magnetoelectric effect is observed for the first time. The results can be useful for designing magnetoelectric heterostructures with specified temperature characteristics, in particular, for the development of thermally stabilized magnetoelectric devices.
View Full-Text
►

▼

Figures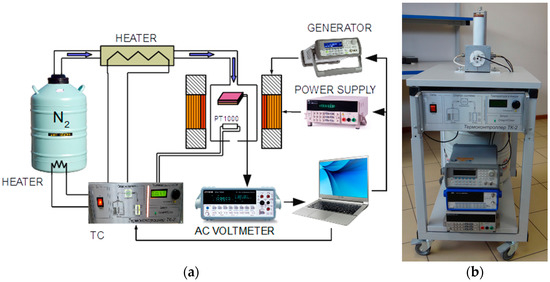 Figure 1
This is an open access article distributed under the
Creative Commons Attribution License
which permits unrestricted use, distribution, and reproduction in any medium, provided the original work is properly cited (CC BY 4.0).

Share & Cite This Article
MDPI and ACS Style
Burdin, D.A.; Ekonomov, N.A.; Chashin, D.V.; Fetisov, L.Y.; Fetisov, Y.K.; Shamonin, M. Temperature Dependence of the Resonant Magnetoelectric Effect in Layered Heterostructures. Materials 2017, 10, 1183.
Note that from the first issue of 2016, MDPI journals use article numbers instead of page numbers. See further details here.
Related Articles
Comments
[Return to top]