Open Access This article is
freely available
re-usable
Review
Overview of Electric Field Applications in Energy and Process Engineering
Lehrstuhl für Technische Thermodynamik (LTT) and Erlangen Graduate School in Advanced Optical Technologies (SAOT), Friedrich-Alexander-Universität Erlangen-Nürnberg (FAU), D-91058 Erlangen, Germany
Received: 4 April 2018 / Accepted: 25 May 2018 / Published: 27 May 2018
Abstract
:
Heat and mass transfer as well as chemical reactions in technical processes can be enhanced by using electric fields. This paper provides an overview of current fundamental and applied research as well as potential technical applications of electric fields in energy and process engineering. This includes electrosprays, technical combustors as well as electrochemical reforming and plasma gasification of waste or biomass. Other emerging fields are plasma technologies for treatment of water, surfaces and gases including flue gases. In particle or aerosol-laden flows, plasmas are used to promote particle nucleation and surface growth for controlled nanomaterial synthesis. Furthermore, non-invasive diagnostics based on electromagnetic fields and electric fluid properties are relevant techniques for online control and optimization of technical processes. Finally, an overview of laser-based techniques is provided for studying electro-hydrodynamic effects, temperature, and species concentrations in plasma and electric-field enhanced processes.
Keywords:
ionic wind; heat and mass transfer; plasma; combustion; gasification; pollutant emission; synthesis of nanomaterials; electrospray; water treatment; waste treatment; metrology
1. Introduction
Electric fields are employed in many engineering fields for improving aerodynamic behavior, heat and mass transfer as well as chemical reactions (e.g., in pyrolysis and gasification processes). In particular, plasmas are promising for material production (e.g., sintering, coating, nano-materials synthesis) and applications in environmental cleanup (e.g., water treatment, waste treatment, surface cleaning and disinfection). Application of electric fields in energy and process engineering can make an important contribution to the reduction of CO
2
-emissions and global warming. They may reduce consumption of energy carriers, by increasing efficiency and they are useful in reduction of pollutant emissions and environmental contaminants [
1
]. In the field of metrology, plasmas can especially be used for example for trace element analysis in plasma mass spectrometry (PMS) or laser-induced plasma spectroscopy (LIPS) for analysis of chemical composition of solids, liquids, or even gases. Although most applications are based on "plasma" (which is characterized by high power density), "
weak
"
electric fields
(characterized by low power density at which no additional ionization occurs) utilization in energy and process engineering are also discussed in this review.
Usually, plasmas can be characterized by a high power or energy density and by occurrence of "active species", which originate from collisions of electrons and neutral molecules and subsequent chemical reactions. Those plasma-generated active species are usually characterized by higher concentrations than those produced in conventional chemical reactors [
1
]. The active species include photons, neutral species, and charge carriers usually available from glow discharges and arc plasmas. However, they are not necessarily produced in dark discharges or corona). This means that, in "weak" electric fields (characterized by very low power densities), no additional charge carriers, radicals or photons are produced by ionization. In this case, only "existing" active species are utilized in an electric field (see below).
Plasmas and plasma sources are described in terms of characteristics that define their regime of operation, e.g., the plasma type, its power supply, its interaction with a workpiece and the operating pressure [
1
]. Furthermore, plasma sources and regimes can be differentiated according to their spatial scale (e.g., micro plasmas) or temporal scale (e.g., nano-second (ns) pulsed plasma), etc., which can be found elsewhere [
2
]. Depending on the above-mentioned characteristics, the plasmas show different concentrations of active species, electron number densities, electron kinetic temperatures, etc. which are usually proportional to the input plasma power density. The direct current (DC) electrical discharges can be sub-divided according to their position on the voltage-current curve (see
Figure 1
).
The three main regimes are "
dark discharge", "glow discharge"
and
"arc discharge"
. The dark discharge regime on the left-hand side of this diagram is characterized by low currents. At low currents, there is a "background ionization" region in which charge carriers exist in the fluid (that are for example produced by radiation, high temperature or chemical reaction). Without an external electric field, the fluid usually remains electrically neutral as charge carriers recombine. After application of electric fields, positive and negative ions as well as electrons are separated. They drift towards the cathode and anode as unipolar ion and electron clouds. Consequently, an electric current will flow between the electrodes proportional to the applied electric field strength. Beyond the saturation regime, additional charge carriers are produced by the stronger electric field (which is also known as "secondary ionization"). The "
corona discharge"
can be found in this regime, which usually is generated from a sharp point, from a fine wire or edge [
3
]. The electric field gradient ionizes the medium (usually air) at the tip and a small plasma jet occurs on the conductive tip. As the generated ionized air molecules have the same polarity as the charged tip, they are repelled and form an ion cloud. This ion cloud immediately expands due to the repulsion between the ions. This repulsion of ions also creates an "
electro-hydrodynamic effect
", which is also known as
electric or ionic
"
wind
". Due to the electrostatic forces, a flow is induced in the fluid showing flow velocities in the range of few meters per second. Thus, there is only a quite slow and less distinct modification of the flow properties expected [
4
]. However, depending on the flow properties, even these effects can alter the thermal or acoustic boundary conditions of the technical system. This is utilized e.g., in combustors (see below) or in certain applications of heat and mass transfer, e.g., for cooling purposes. A nice overview of recent trends of ionic wind cooling for electronic elements is given e.g., in Ref. [
5
]. One concept using the electro-hydrodynamic effect is the "ionic wind pump": air induction and rotation can be generated by an assembly of corona discharges that can induce a swirling ionic wind. With this concept, tangential velocities of up to 3.3 m/s are attained, which appear suitable for adding centrifugal flow in applications like electrostatic precipitators and electrical field-controlled burners [
6
].
With increasing current, the breakdown voltage is reached and the subsequent regime is classified as glow discharge. Corona or glow discharges are plasmas with lower power densities that range from below 10
−4
to tens of W/cm
3
[
1
]. DC glow discharges at these intermediate currents are mainly used for sputtering with very similar phenomenology like that of low frequency RF (radiofrequency) glow discharges. DC arcs are characterized by high currents. The plasma power density of DC electrical arcs can range from 100 W/cm
3
to above 10 kW/cm
3
[
1
]. Such high power density plasmas are also called
"thermal plasmas"
(see below). They are in or close to thermodynamic or thermal equilibrium. They are typically used for high-temperature material processing because of their capability of heating and melting or vaporization of bulk materials. Many industrial applications using thermal plasmas are based on arc, microwave, and inductively coupled plasma discharges. Besides inductive and microwave, capacitive discharges are also typical RF plasma sources [
3
]. An overview of different plasma generation methods and plasma sources are given e.g., in Refs. [
7
,
8
,
9
].
Based on the relative temperatures of the electrons, ions and neutral molecules, plasmas can be classified as "thermal plasma" (TP) or "
non-thermal plasma
" (NTP). For thermal plasmas, electrons and ions are at the same temperature, i.e., they are in thermal equilibrium with each other. The high heavy species temperatures are typically in the range of 10,000 to 25,000 K. TPs are characterized by high heat flux densities, high electron and reactive species densities. Furthermore, they show strong radiative emission. They are widely applied in industry, e.g., for arc welding, plasma spraying ("thermal sprays") and plasma cutting. Thermal sprays are used for designing and modification of surface properties or characteristics of components commonly used in applications of energy, materials extraction and (bio-) medicine [
10
]. Further plasma applications are waste treatment and gasification, electric arc furnaces (e.g., for steel production) [
9
], mineral processing, nanoparticle synthesis and particle spheroidization. Another special purpose of plasmas is trace element analysis using inductively-coupled plasma—optical emission spectroscopy (ICP–OES) and mass spectrometry (ICPMS) [
2
].
For NTP, the ions and neutrals temperatures are much lower (sometimes at room temperature) compared to the electron temperature. The difference of the electron energy compared to neutral energy is because of the slow energy transfer, which is explained by the small m
e
/m
i
mass ratio. The electron temperature is generally in the range of 10,000 K and 100,000 K (i.e., 2–3 orders of magnitude greater than the background gas) [
11
]. In NTP, the electric field transmits energy to the gas electrons, which again transfer it to the neutral species by collisions. By this selective transfer of electric energy to the electrons, free radicals are generated through collisions promoting the desired chemical reactions. These reactions can be obtained with a much lower energy than that is required in a TP [
11
]. NTP are created by conventional glow discharges, but also by silent, corona, short pulse, microwave or RF electrical discharges [
8
].
Low temperature plasma
(LTP) can be subdivided into two areas. One is the local thermal equilibrium plasma (which is also known as thermal plasma). The other one is the thermodynamic non-equilibrium plasma (also termed as cold, non-thermal plasma). In the LTP, the electrons can efficiently generate charged species, excited states, photons, and radicals. The electron energies are typically below 10 eV with small ionization degrees [
2
], usually between 2 and 5 eV. There is a wide range of applications of LTP-generation in gases, liquids and for surface treatment. LTPs deliver ion fluxes to surfaces with energies up to several hundred eV enabling surface modification by sputtering, etching, activation, and deposition. One prominent application of plasma–surface interactions for deposition and removal of materials with nanometer resolution is the fabrication of microprocessors [
12
]. Other plasma–surface interactions take place in particle or aerosol-laden dusty plasma leading to particle nucleation and surface growth, which is for example used for nanomaterial synthesis [
13
]. In this context, the plasma generation in liquids is also relevant for synthesis of nanomaterials ranging from noble metal nanoparticles to graphene nanosheets [
14
].
In the framework of this paper, four main topics of electric field applications will be addressed: the first part of the paper is about combustion applications as burners are widely used for heat generation in energy and process engineering. In this section, the production of nano-particles and the control of these formation processes are also described. Pollutant emissions such as soot, carbon monoxide (CO) or nitric oxides (NO, NO2) can be minimized directly in the combustor using electric fields. Furthermore, secondary measures of using NTP or LTP in the exhaust gas are discussed for pollutant reduction. These measures are described in the section "environmental applications", which also deals with plasma water treatment and treatment of solid materials including waste as well as pyrolysis and gasification of coal and biomass. Another section is about electrosprays that enable many potential applications in energy and process engineering including spray cooling, nano-particle generation and mass spectrometry for trace element analysis. This is also a topic of the final section of the paper. There, diagnostics applications of electric fields will be described including laser-induced plasma spectroscopy for analysis of composition of solid, liquid and gaseous material composition. Furthermore, some tomographic approaches based on electric fluid properties for analysis of flow behavior e.g., in multi-phase flows are discussed. Laser-based techniques for studying fundamental processes in plasmas and ionic wind applications are described in the final part including temperature, concentration, and flow field measurements.
2. Electric Field Assisted Combustion
2.2. Electric Fields for Controlling Pollutant Emissions of Flames
Furthermore, electric fields can have a significant effect on nanoparticle formation in flames. Especially, soot formation in IC engines and technical combustors is a challenge, which is discussed in the subsequent section. Besides the soot formation, especially the production of technical nanoparticles produced via flame synthesis is addressed, as it is an important topic in process engineering.
2.3. Electric Fields for Controlling Nanoparticle Characteristics
3. Environmental Applications
Ozone generation and electrostatic precipitation (ESP) are the most important industrial applications of atmospheric pressure non-thermal plasma (NTP) in environmental remediation [
1
,
9
]. However, still significant research efforts are necessary for improving the efficiency of these processes. ESP is the device of choice for controlling particle emissions of many industrial applications. Ozone (O
3
) is applied as a disinfectant and oxidant for water treatment, but it also plays a major role for plasma oxidation of NO [
57
] and particulate matter (PM) [
58
]. NTPs were utilized for treatment of volatile organic compounds (VOCs) as well as short- and long-chained hydrocarbons [
59
,
60
]. Thus, NTPs are promising for exhaust gas treatment for automotive and industrial applications. Furthermore, they are applied for conversion of carbon dioxide (CO
2
), methane (CH
4
) and syngas (consisting primarily of hydrogen (H
2
), carbon monoxide (CO), and some CO
2
) into hydrocarbons [
61
,
62
]. Thermal plasmas have also been used for plasma gasification, which is already applied in industry, e.g., for waste treatment [
63
]. Potential future technologies could include plasma sterilization and decontamination of surfaces and liquids including applications in food industry and for wastewater processing, whereas only the latter one is briefly discussed in this paper.
3.1. Plasma Utilization for Pollutant Removal in Flue Gas
Flue gas of technical burners, gas turbines, and IC engines contain a variety of pollutants due to incomplete combustion of hydrocarbons. This means that the ideal state of the thermodynamic equilibrium cannot be reached because of too short combustion times, the lack of mixture homogeneity and rapid variation in the temperature field. Especially, diesel engines are used widely for power generation in industry with nitric oxides being the main pollutant. The exhaust gas is far leaner than that of gasoline engines and contains far less unburned hydrocarbon and CO. Furthermore, also PM emissions are more problematic for diesel engines compared to conventional spark-ignition gasoline engines (mainly equipped with port-fuel injection systems for homogeneous mixture formation). However, Direct-Injection Spark-Ignition engines (DISI, sometimes also termed GDI, Gasoline Direct Injection) may show high PM emissions as well, especially during cold-start of the engine and other operating points with very late injection leading to local fuel-rich mixture and/or wall wetting [
64
,
65
]. Additionally, during combustion of solid fuels such as biomass, coal and waste further pollutants such as ash, SO
2
, dioxin, furans, and Hg
0
, etc. are emitted.
There are many primary measures to reduce formation of pollutants during combustion (such as Exhaust Gas Recirculation EGR, high pressure fuel injection and multiple injections in IC engines, lean combustion, etc.). Besides that, several secondary measures have been applied for NOx removal from flue gases. This includes Selective Catalytic reduction (SCR), active lean NOx catalysts, or lean NOx trap catalysts. For example, SCR is used to convert NOx into molecular nitrogen, and water, using a catalyst and ammonia (or "urea"). However, SCR catalysts need high temperatures of around 300 °C for activation. There are additional challenges, e.g., the possibility of ammonia leakage, catalyst poisoning, and the need for refilling of urea in automotive applications, etc.; furthermore, besides diesel engines, the simultaneous removal of multi-pollutants from coal-fired power plants was forced during the last years. Non-thermal plasma technologies for flue gas cleaning perform well on SO2, NOx, and Hg0 removal. Extensive studies have been carried out and some examples are provided in the subsequent section.
3.1.1. Removal of NOx and VOC
3.1.2. Electrostatic Precipitation (ESP)
3.2. Plasma Water Treatment
3.3. Plasma Processes for Treatment of Solid Materials
The plasma treatment processes provide advantageous characteristics such as high energy densities and high temperatures allowing e.g., rapid heating of reactors and melting of high temperature materials. Plasma treatment can be divided into three processes: process (a) is plasma pyrolysis (which is the thermal breakdown of chemical components without oxidation). Process (b) is plasma gasification; this is an incomplete oxidation of organic components of the solid material and generation of syngas. Process (c) is plasma densification and vitrification of solid materials.
Mainly high temperature plasmas are applied for conversion and gasification of biomass, waste, and coal. Plasma gasification is one of the cleanest ways for conversion of coal (as well as for biomass and waste) into hydrogen-rich gas or electricity [
89
,
90
]. A brief overview of fundamental research and applications will be provided below. Other material treatment processes using plasma technologies are the modification of materials or creation of new materials, including topographical changes or the creation of surface chemistries and coatings. These coatings are used, for example, for anticorrosion, thermal barriers, antiwear, etc. and are described elsewhere [
91
].
3.3.1. Plasma Pyrolysis and Gasification of Coal
Plasma steam-gasification of coal is mentioned to be the best solution for small to medium-scale and portable coal processing facilities [
90
]. There are many fundamental studies on pulverized coal gasification using high-temperature plasma (see e.g., [
89
,
90
,
91
,
92
,
93
]). Kalinenko et al. [
94
] studied plasma water–steam gasification in a small-scale reactor (0.15 m in diameter, power was between 50 and 100 kW) for three types of pulverized brown coals (max. particle diameter < 120 µm). An electric-arc reactor was used (electric power of up to 200 kW) consisting of two rod-electrodes and a ring-electrode producing a three-phase alternating current arc. In the arc zone, the ring electrode temperature reached 2400 K and the wall temperature at the outlet was 1800 K, while the relatively high outlet temperature of the gaseous products of gasification was 1600 K. The degree of gasification was between 90.5 and 95.0%, while the concentration of the synthesis gas reached up to 85.7%. The sulfur conversion into the gas phase amounted to up to 96.7%.
In Ref. [
92
], an atmospheric-pressure pure steam torch microwave plasma (4 kW, 2.45 GHz) has been applied in a compact coal gasification system. Fine low-grade brown coal powders (mean size of 70 µm, ash and moisture content was 38%) were injected into the torch and could be well gasified. It was also mentioned that high power torch plasma at 915 MHz was developed. This showed considerably increased plasma volume, which is applicable for a plasma power plant less than 1 MW. Thus, it may be suitable for rural areas or sparsely populated regions.
However, it is reported that one major challenge is the limited lifetime of currently existing plasma torches. For example, typical lifetimes do not exceed 100–150 h for 300–500 kW DC and AC devices [
90
]. For this reason, electrodeless hybrid plasma reformers are under development that can be utilized mainly for waste destruction and coal gasification [
90
]. In Ref. [
90
], the hybrid system consists of an inductive RF heater (up to 1 MW) and several of high-voltage DC plasma torches for initial media ionization. These RF plasma generators or inductively coupled plasma (ICP) torches are mainly applied for high-temperature treatment and plasma spray deposition of materials, chemical synthesis of nanoparticles and waste treatment, which will be addressed further in the subsequent section.
3.3.2. Plasma for Waste Treatment
3.3.3. Plasma Pyrolysis and Gasification of Biomass
Biomass pyrolysis and gasification using plasma is a relatively new technique and only few laboratory investigations using biomass feedstock have been reported in the literature [
104
,
105
,
106
]. In comparison to coal, biomass has a large H/C ratio, a higher volatile content and a low ash content which favors a better product yield from plasma pyrolysis [
104
]. A small laboratory-scale argon/hydrogen thermal plasma reactor was investigated in Ref. [
104
] for biomass pyrolysis of wood sawdust and rice husk. A DC arc discharge at a power of 40.5 kW was applied to generate an argon/hydrogen plasma jet. The biomass injector is located below the plasma for addition of biomass powders using argon as carrier. A maximum carbon conversion of 79% and a maximum oxygen conversion of 72% were reported, which are higher than literature data of coal conversion (see, e.g., [
93
]). The gas composition from the plasma pyrolysis of biomass is also very different compared to ordinary low-temperature pyrolysis. The plasma reactor showed higher CO and C
2
H
2
content but lower amounts of CH
4
and CO
2
, and there is no generation of heavy tar compounds. It is mentioned that the gaseous fuel produced by plasma pyrolysis of biomass may be suitable for syngas applications such as methanol synthesis or for ore reduction in the iron and steel industry. Usage in fuel cells is possible after cleaning and processing of the gas.
Besides many applications using thermal plasmas (see, e.g., [
99
,
104
,
107
]), there are only a few studies on non-thermal plasma application for biomass pyrolysis and gasification [
105
,
108
]. In Ref. [
105
], a non-thermal arc plasma was applied for gasification of crushed corn cob at a discharge power of 25.2 W. The gas yield could reach 79% of the biomass feed without drying when nitrogen was used as carrier gas. The carbon conversion rate was 82.9% and the CO selectivity was 39.9%. A ratio of H
2
/CO greater than 1.5 was obtained. It is found that usage of air as carrier gas is beneficial for higher gas yield and CO selectivity. Furthermore, the presence of moisture is advantageous for increased gas yield (especially for production of hydrogen). This also leads to high carbon conversion rate and H
2
/CO molar ratio.
However, the use of air as gasifying agent leads to a high amount of nitrogen in the product gas that significantly lowers the heating value. Diaz et al. [
108
] applied a DC electrical arc discharge (15–25 kW) to perform a steam plasma biomass gasification process with a high content of hydrogen in the product gas. Hydrogen fractions between 52 mol % and 77 mol % were achieved for different types of biomass studied (hard wood shavings, almond hulls, grape pomace, ground coffee, etc.). The conversion rates ranged between 45.8% and 66.1%. Recent work on plasma gasification of biomass can be found in Ref. [
106
] which is also part of this special issue.
5. Metrology
In this section, an overview is provided regarding the usage of plasma and electric fields for measuring process parameters in applications of energy and process engineering. Furthermore, laser based techniques are described, which provide detailed insights into plasma processes and electro-hydrodynamic effects. Some examples are given on (a) tomography techniques that are based on electric fluid properties, (b) diagnostics based on ionization, (c) diagnostics for studying electro-hydrodynamic effects and the plasma itself, and (d) plasma spectroscopy. For this reason, his section is subdivided in four parts.
5.1. Electrical Process Tomography
In the first part of this section, an overview of applications of "electrical process tomography" is given for studying multi-phase flows. Based on material-specific electrical properties such as capacitance, resistance, and induction, electrical measurements are utilized from a large number of positions around a pipe or vessel. Several electrodes are fixed to its wall to detect the varying spatial distribution of the material's permittivity and/or resistivity. An image reconstruction technique enables examination of flow and concentration profiles, phases, and chemicals applicable for many industrial processes. The sensor serves for monitoring process reactions, improvement of product quality and yields, and delivers data for online process control. These electrically based methods often have a limited spatial resolution; however, they are generally inexpensive, non-invasive, and require comparatively low energy. These techniques include electrical capacitance tomography (ECT), electrical impedance tomography (EIT) and electromagnetic tomography (EMT). In EMT, a magnetic field is used in high conductive fluids inducing a measurable current. Furthermore, electrical resistance tomography (ERT) is a special case of EIT for applications in which the real component of electrical impedance is the dominant property of the studied materials. ECT is used for fluid processes for sensing the permittivity distribution of dispersed non-conductive materials while EIT is only applicable for a conductive continuous phase. In the latter case, multiple electrodes are arranged around pipe, which are in contact with the fluid. An AC electric field is applied to a part of these electrodes, whereas the potential is measured from the remaining electrodes. This technique is used to reconstruct the impedance distribution inside the vessel.
The ECT sensing electrodes can be installed around the vessel walls without necessity of drilling into the vessel wall. ECT has previously been used for manifold process applications, e.g., in a fluidized bed drying process for moisture measurement [
122
], to assess segregation in fluidized bed [
123
] and to monitor mixing and granulation [
124
]. Furthermore, this technique is used for studying powder blending of two powders of differing electrical permittivity [
125
].
EIT is applied for monitoring moisture in porous media (like cement-based materials) [
126
], for air-core vortex detection, miscible fluid mixing and gas-liquid mixing processes [
127
]. In a radial flow packed bed catalytic reactor, ERT was used for generation of 3D flow maps and spatial velocity vector distribution based on an injected high conductivity tracer [
128
]. ERT is often applied for geophysical exploration, e.g., for investigation of different materials (e.g., volcanic materials) [
129
] or for imaging of the temperature variations in geothermal systems [
130
].
In comparison to the techniques discussed above, microwave tomography uses the propagation of electro-magnetic waves through the media, which includes both phase and attenuation measurements. Microwaves extend from 300 MHz to 300 GHz (corresponding to wavelengths between 1 m and 1 mm). The dielectric media determines their propagation velocity. Introduction of different electrical/magnetic properties in a homogeneous medium leads to reflection of a part of the EM wave, which is detected by the same or additional antennas. From these measurements, a tomographic image of the dielectric objects can be reconstructed, which is also possible at high repetition rates. These quantitative imaging techniques are also known as "inverse scattering methods". The microwave tomography technique can be applied for imaging of multiphase flows, e.g., in oil–gas–water flows in metal pipes [
131
,
132
], measurement of moisture distribution [
133
] or for measurement of density or material composition as well as detection of defects in materials [
134
]. Further information about these tomographic techniques and potential applications can be found in Ref. [
135
], and a comparison of different electromagnetic tomography systems for multiphase flow imaging is given in Ref. [
136
].
5.2. Ionization Detector and Ionization Current Measurement for Combustion Sensing
5.3. Laser Diagnostics for Studying Electrohydrodynamic Effects
5.4. Plasma Diagnostics
Finally, the plasma itself can be utilized in analytical chemistry, for example as atomic and molecular sources applied for optical emission spectroscopy (OES) and mass spectrometry (MS) [
2
]. Different kinds of plasmas are employed, such as inductively coupled plasma that is generated by a RF-supply or glow discharges [
160
], both of them operated in argon. The plasma enables elemental analysis of various types of samples in gaseous, liquid, or solid states. The sample is introduced into the plasma (as aerosol, liquid or solid particles) and it will be desolvated, vaporized, ionized, and excited. The generated ions can be measured with a mass spectrometer, while the photons emitted by the excited species are detected by an optical spectrometer.
Another type of optical emission spectroscopy is the "laser-induced breakdown spectroscopy (LIBS)" or "laser-induced plasma spectroscopy (LIPS)" [
161
,
162
]. It is a type of atomic emission spectroscopy and is thus characterized by a comparably simple experimental setup. The beam of a pulsed laser (with a laser power of a few tens of mJ) is focused on a spot inside a fluid or on a surface. Laser-induced plasma is generated due to the high laser fluence. After ionization, the atoms and molecules re-combine with electrons and they emit an element-specific radiation. This is spectroscopically analyzed regarding elemental composition in the measurement volume. In general, LIBS enables detection of all species in the volume at the same time. However, the molecules are atomized and, consequently, only information on the elemental composition is available. Thus, the molecular information must be reconstructed, which is easily possible when the included molecular species are known.
The LIBS-technique is applicable for analysis of hazardous or corrosive gas mixtures in cases where sampling systems are not usable. For example, LIBS was used for detection of low concentrations of fluorine, chlorine, sulfur, and carbon in air [
163
]. In Ref. [
164
], an LIBS-sensor was developed to detect important trace level impurities in hydrogen fuel, such as nitrogen, argon, oxygen. Furthermore, the breakdown threshold depends on the gas density. The threshold energy slightly decreases with the equivalence ratio and it strongly increases with temperature [
165
]. This dependency was used for thermometry in a laminar premixed methane-air flame of a Bunsen burner [
166
] and for determination of the reaction progress in a partially premixed turbulent jet flame [
165
]. In Ref. [
167
], different methane-, ethylene-, and propane-air mixtures were studied for determination of the local equivalence ratio using the ratio of the intensities of the atomic spectral lines of H, C, and O. In Ref. [
168
], it was found that the intensity ratios H
α
/O and C
2
/CN depend monotonically and almost linearly on the methane mole fraction in a wide range, which is applicable for measurement of the local equivalence ratio in in premixed and non-premixed flames, as well as in inert mixing flows.
6. Conclusions
Electric fields and especially plasma technologies seem to be feasible for many applications relevant in energy and process engineering. However, there are still many challenges to be solved in order to meet industrial requirements. The main constraint for application of plasma technologies at the industrial scale is the energy efficiency. Furthermore, the breakdown phenomena and the plasma interaction with gases, liquid and solid material and associated physics and chemistry are not fully understood. Nevertheless, the effort to study these processes is worthwhile because the control of these discharges allows for the efficient exploitation of its chemical reactivity. The optimization and scale up of these processes must be conducted while maintaining the energy efficiency. After that, large-scale applications will become likely. The development of an understanding of the fundamental plasma interactions requires a combined approach of new computational strategies and novel diagnostic techniques. Novel high-speed optical and especially laser-based diagnostics will play key roles in understanding the plasma–material interactions in fundamental studies. Another challenge is the transfer from fundamental science to process development and optimization. The application of electric field measurement techniques for fundamental studies and for online process monitoring, control and optimization can provide instant feedback on transport processes, reaction progress and process efficiency. Hence, these measurement techniques can help to reduce waste and to improve the overall plant energy efficiency.
Acknowledgments
The author would like to thank the editor and the anonymous referees of this article who provided many helpful comments and thereby contributed to the final manuscript.
Conflicts of Interest
The author declares no conflict of interest.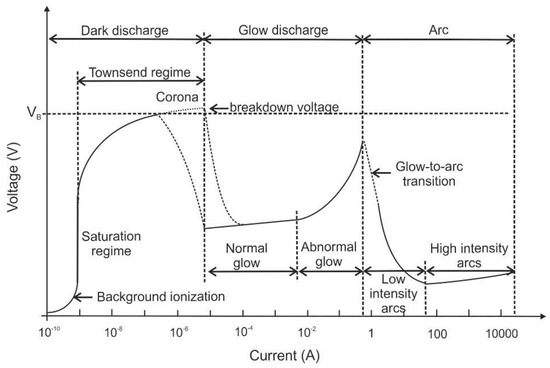 Figure 1.
Voltage-current characteristics of direct current (DC) electrical discharges, following Ref. [
1
].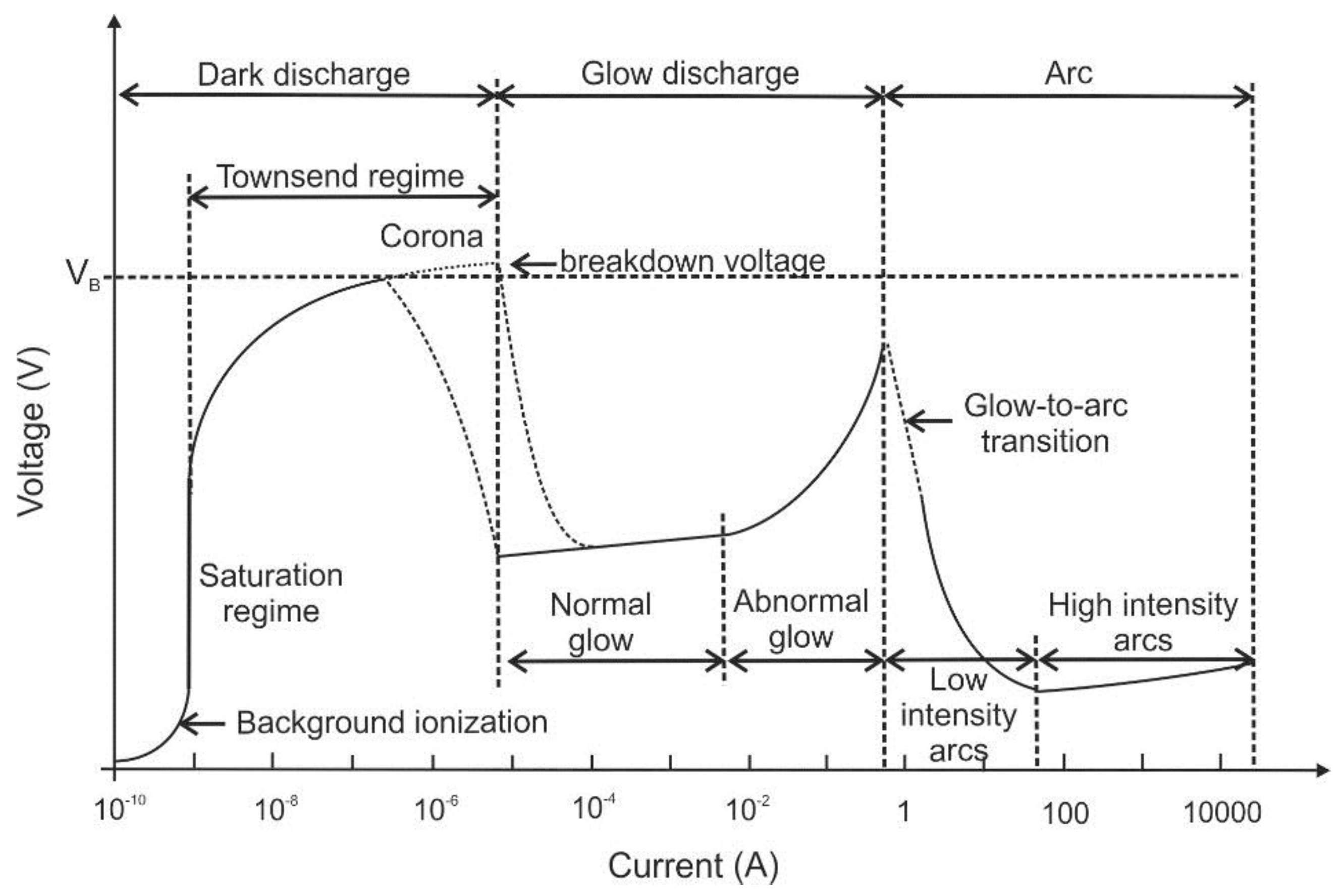 Figure 2. Electric field effect on premixed flames: schematic of the "ionic wind" for a laminar one-dimensional flame; a positively charged mesh electrode is positioned above the burner.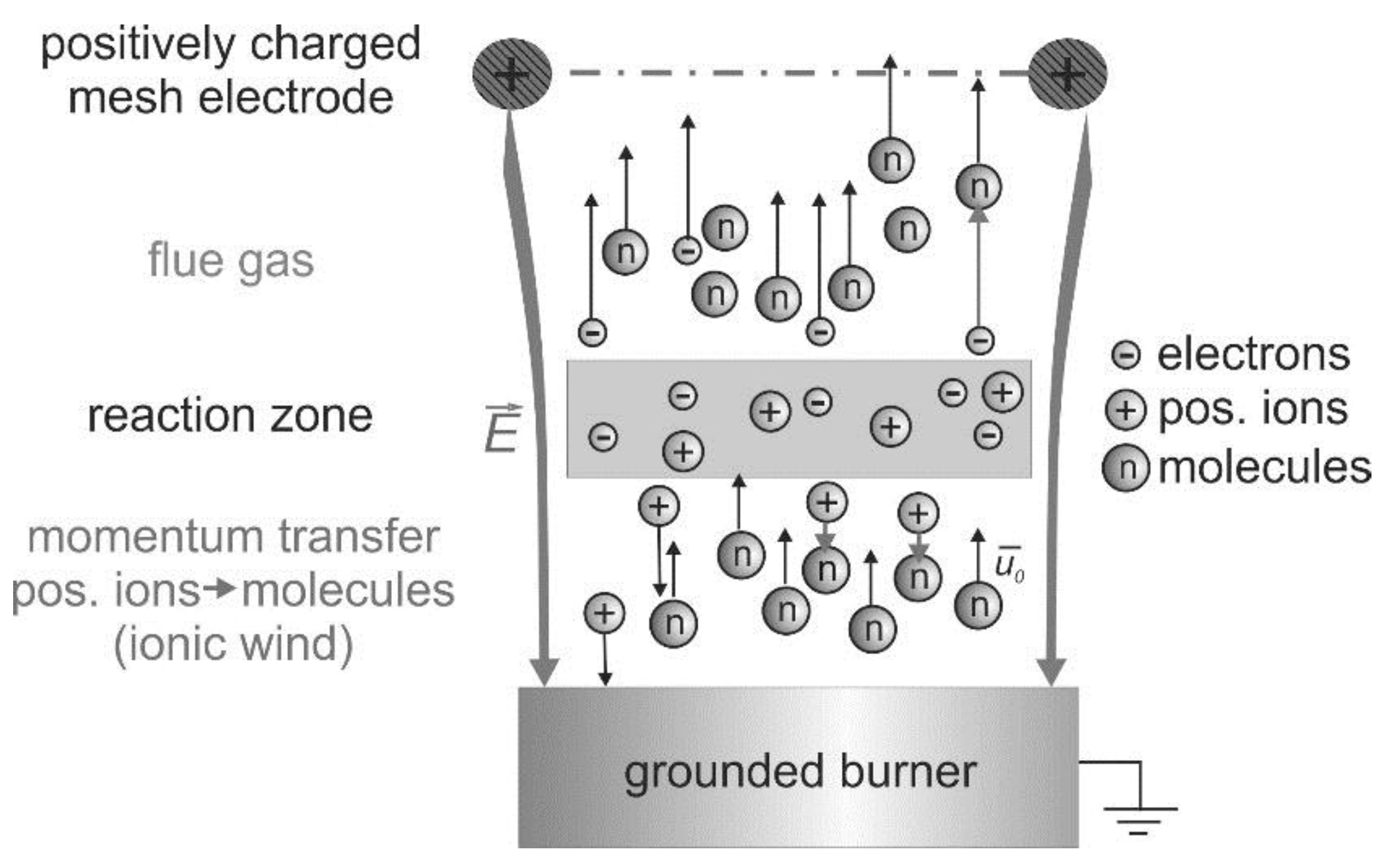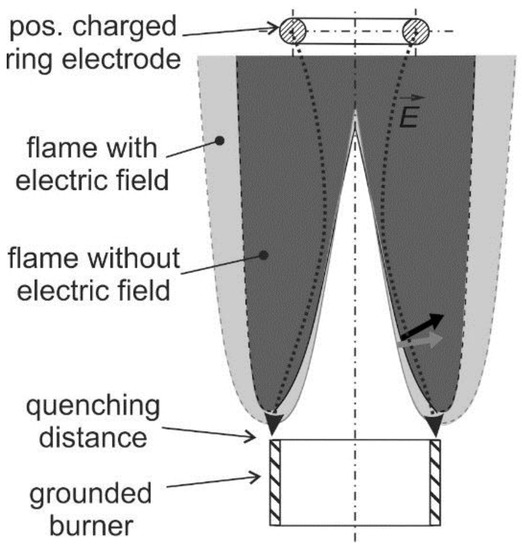 Figure 3. Electric field effect on premixed flames: Variations of flame shape in electric field directed to the grounded burner; a positively charged ring-electrode is positioned above the burner.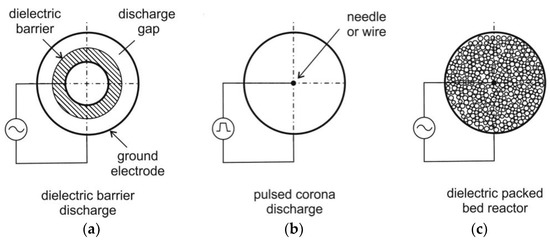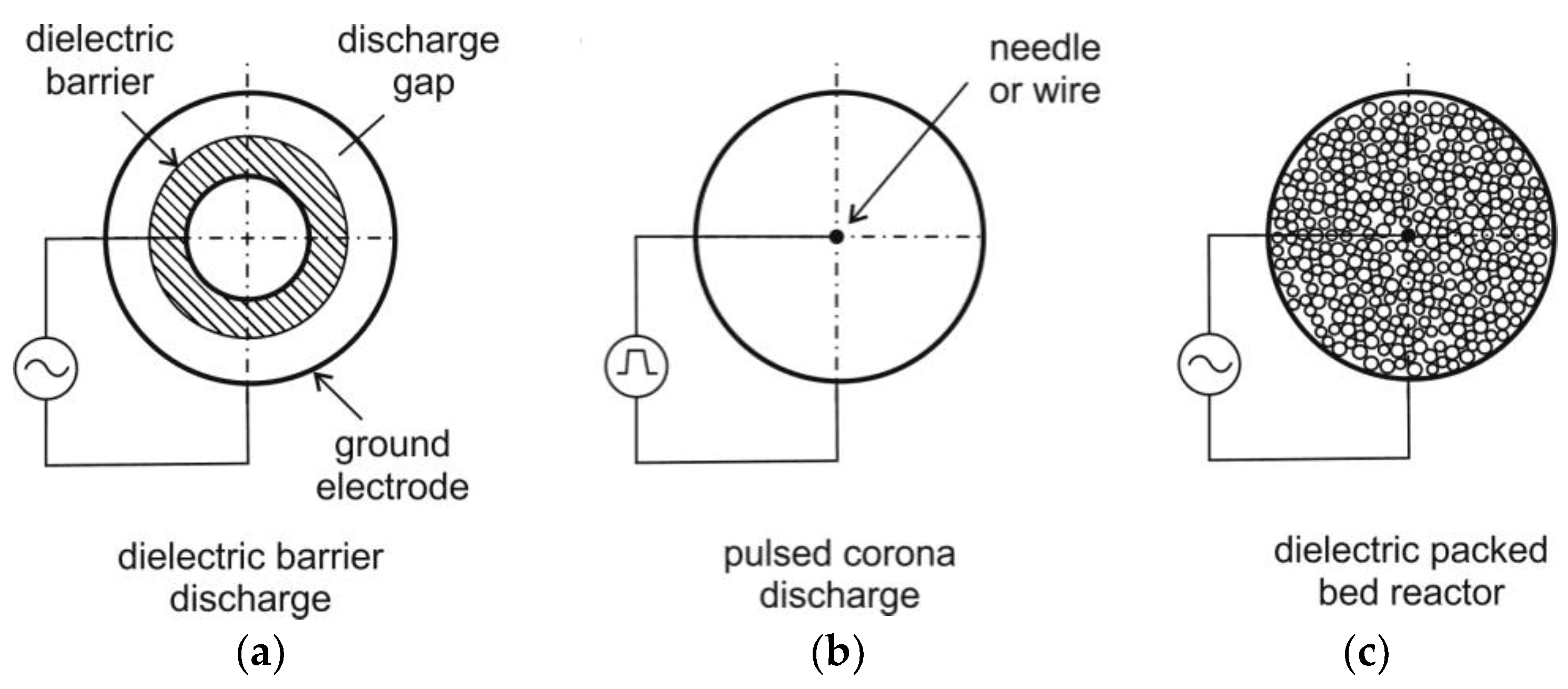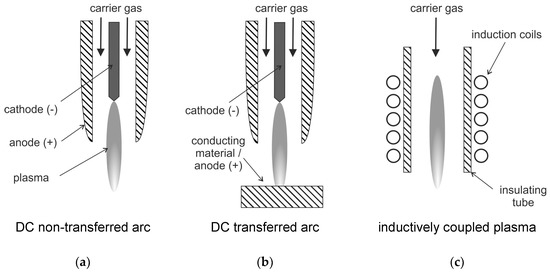 Figure 5.
Schematics of DC arc plasma torches: (
a
): non-transferred arc plasma, (
b
): transferred arc plasma, (
c
):radio-frequency RF inductively coupled plasma, following [
85
].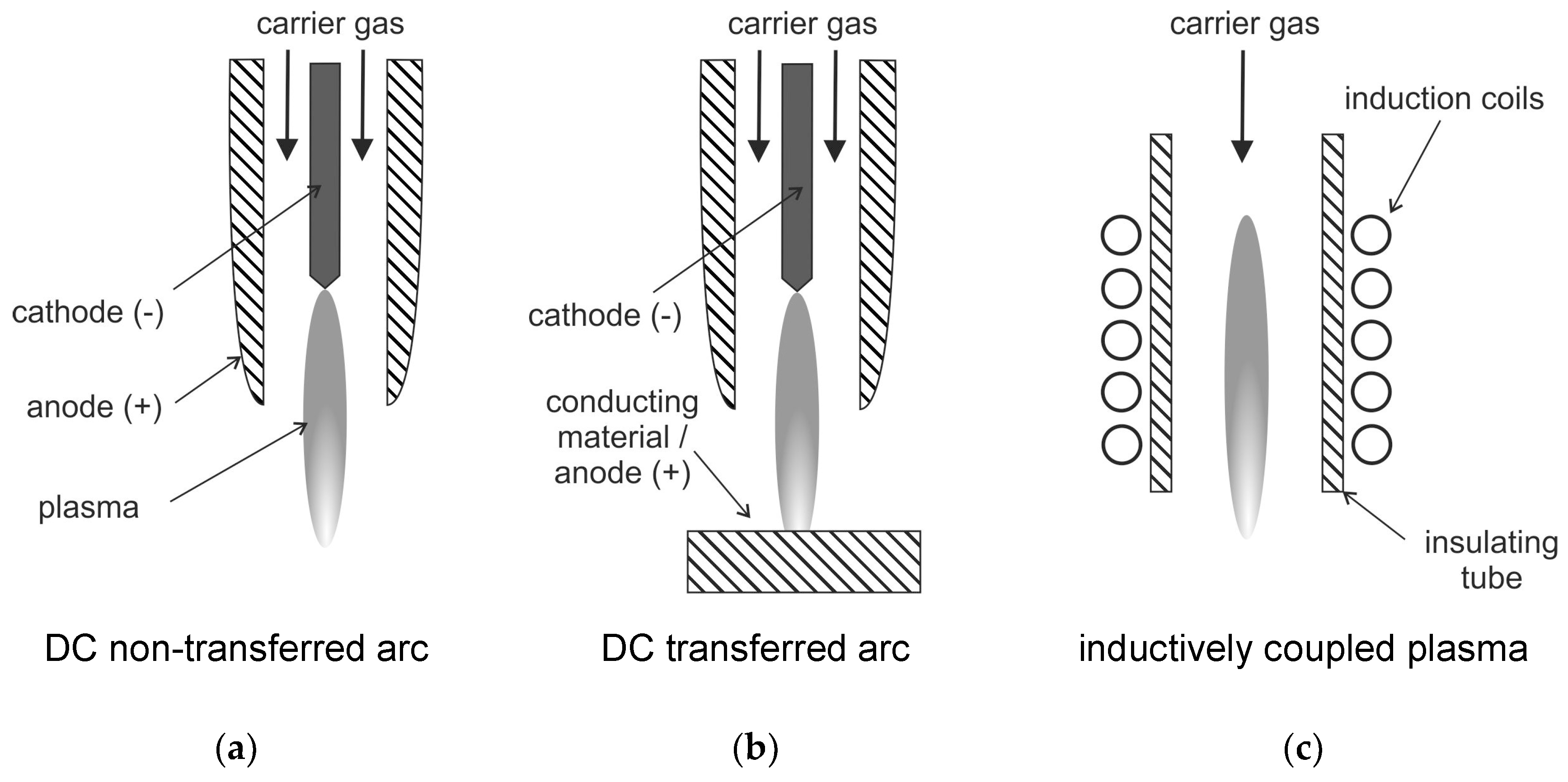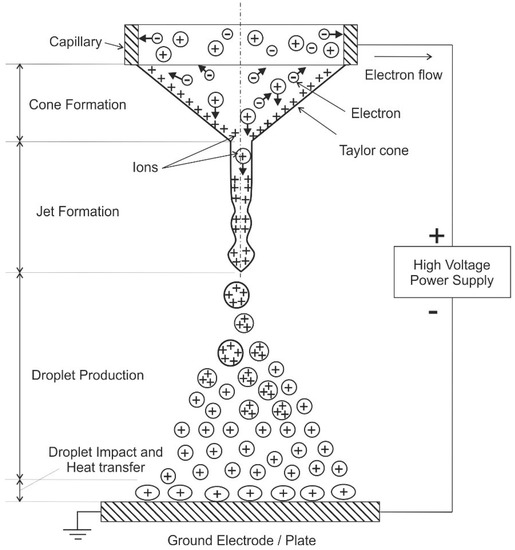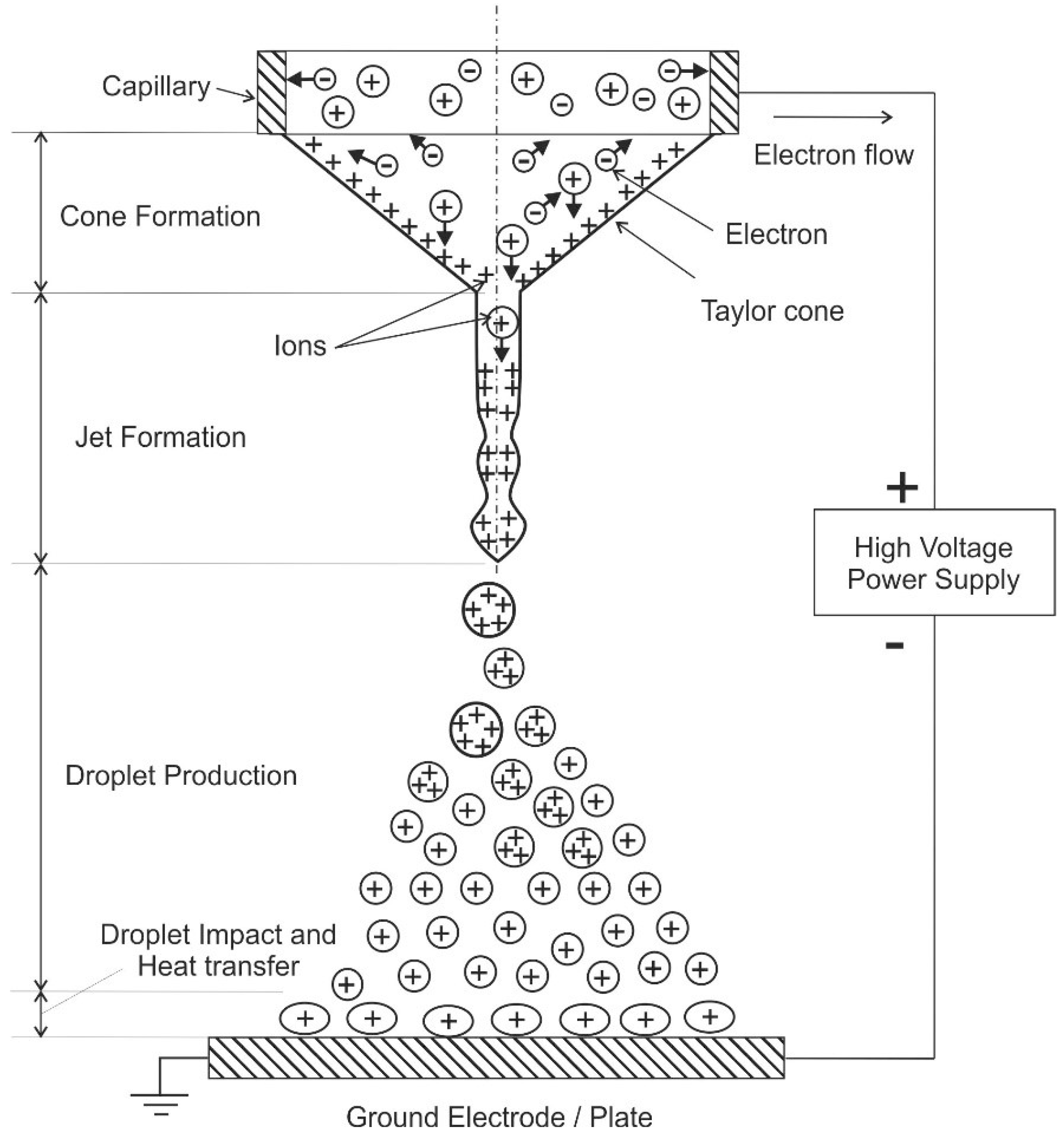 © 2018 by the author. Licensee MDPI, Basel, Switzerland. This article is an open access article distributed under the terms and conditions of the Creative Commons Attribution (CC BY) license (http://creativecommons.org/licenses/by/4.0/).